Where has the summer gone…….sigh.    This is the last Friday of the summer for me,  next week I go back to work.   Now I know I shouldn't complain, at least I have a job to go back to, and I was lucky enough to have 9 weeks off this summer.   I do feel as though it is almost time to go back, I miss my girls.   But could I just have a redo of the last 4 weeks, then I know I'd be ready for sure!      It's hard to believe that I'll be starting my 8th year at the Mount, where has the time gone?    It really becomes difficult to keep the momentum going after so many years at the same account.   There was so much wrong when I first arrived at the Mount, that looking like a superstar was too easy.   The problem now becomes how do you top yourself year after year?
I'll be the first to admit I didn't have my best year last year, but being in constant pain can do that to you….it's not easy to get inspired to work, let alone over achieve when you can't stand up for more than 10 minutes at a time.   But I do finally feel better, and I'm looking forward to over achieving this year.   At least I'm going to give it my best shot!
But let's not dwell on the past, because today my friends is a happy day…..it's Guest Post Friday!!   You may remember that last month I attended the Big Summer Potluck, and I may have mentioned all the wonderful food bloggers that I got to meet.  Today it's my pleasure to introduce you to one of my new friends from BSP3,  Carla from Chocolate Moosey  ( I love that name)!
When you visit Chocolate Moosey,  you'll find an abundance of sweet treats to choose from,  like Carla's Cheesecake Stuffed Peaches .   But you'll also find cookbook reviews and helpful blog posts like Carla's 5 Photography Lessons you're manual won't teach you.  You'll also find some delicious  imagery to drool over, Carla is quite the photographer.
So sit back, relax, put your feet up and get your stomach ready to rumble!!  As I give you………
Chocolate Moosey
Thank you to Chef Dennis for asking me to guest post today! For those of you who aren't familiar with my blog, I am a self-taught home baker who puts a twist on recipes. It's very hard for me to make a straight-forward brownie or straight-forward cheesecake. Nope, I have to pick out one thing to change, even if it's as simple as changing one ingredient or adding spice. I also have a from-scratch philosophy. No cake mixes, no pre-made whipped topping, no pre-made pie crust. I even make my own ice cream. Ok so once in awhile I'll cheat with boxed puff pastry, instant pistachio pudding, and of course pints of Ben and Jerry's, but for the easy stuff, it's always homemade and fresh.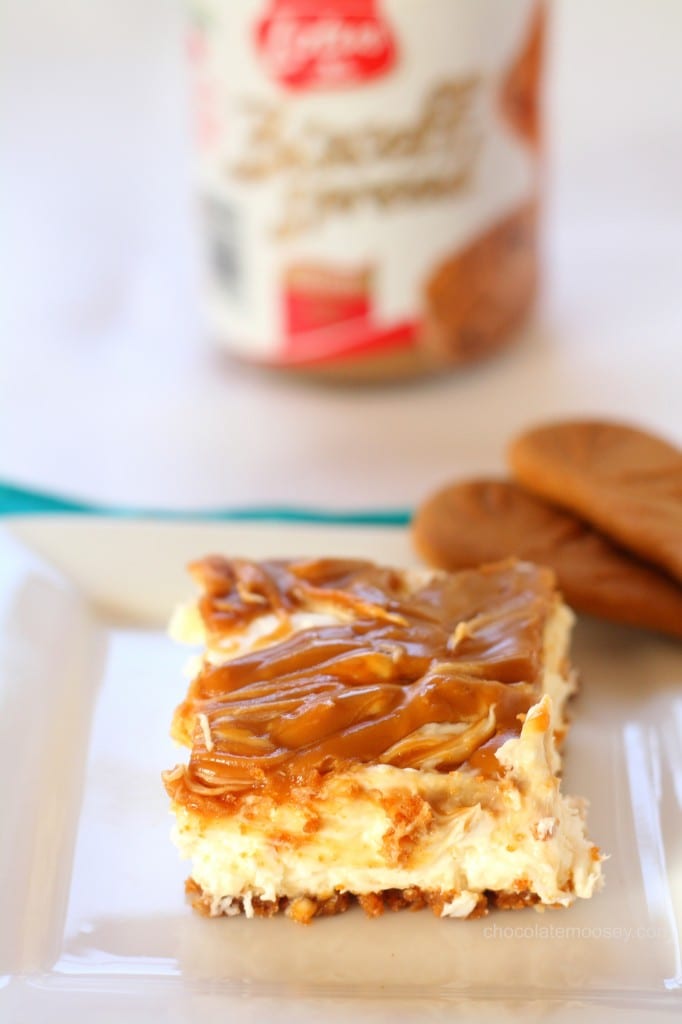 That brings me to this No-Bake Egg-Free Biscoff Swirl Cheesecake. Someone on Twitter asked me for a no-bake cheesecake recipe. I personally didn't have one, so I did some searching. Everything I found involved pre-made items, such as whipped topping in a container or already-made graham cracker crust. How hard would it be to make it all from scratch? I can crush up my own graham crackers and fold in homemade whipped cream. Besides, I've heard rumors about ingredients in whipped topping. Not good rumors. I also know that between the hot weather and people's fears of baking cheesecake, this no-bake recipe would be quite a hit. No cracking, no water baths, no oven. Just you and your mixer (and a way to crush cookies).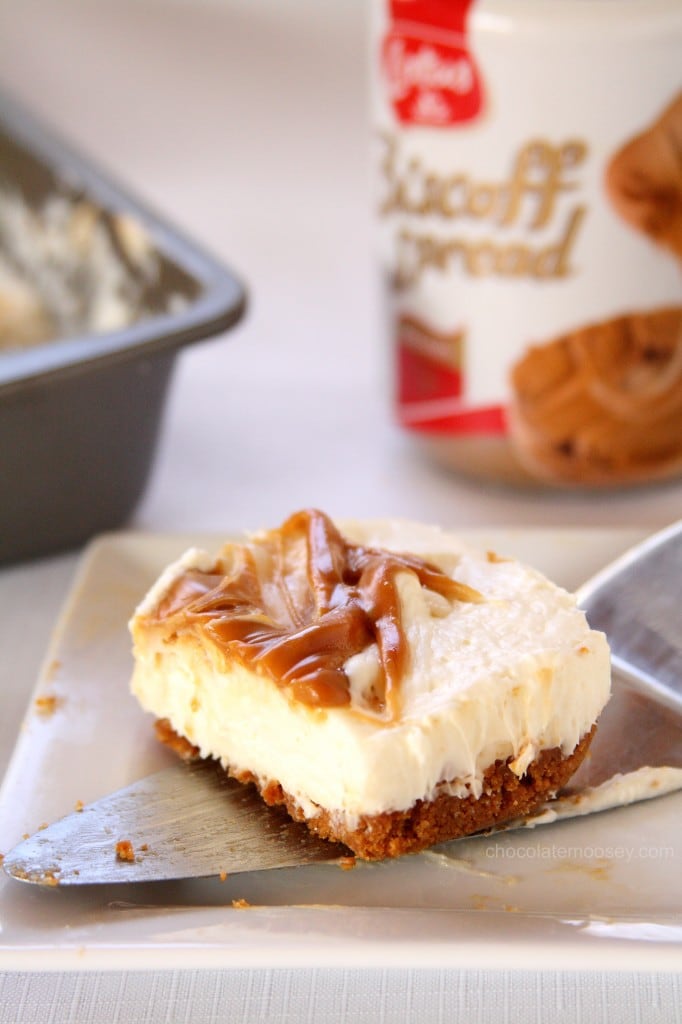 Now the important part – what kind of no-bake cheesecake do I make? There were so many variations running through my head. However, on Twitter for the past weeks I've been harassed…I mean…strongly encouraged to buy Biscoff. Biscoff is a company that makes these cookies you supposedly get on airlines. I never had them and didn't really care until everyone raved and swooned over Biscoff. Biscoff also makes a spread, similar to peanut butter but with cookies. So what does Biscoff taste like? Graham crackers with a hint of gingersnap spice. I was hoping for more of a caramel or even brown sugar taste. I knew I wanted to do a swirl on top, but since Biscoff makes both a spread and cookies, I used the cookies for the crust. My cheesecake needed a double-dose of Biscoff, after all.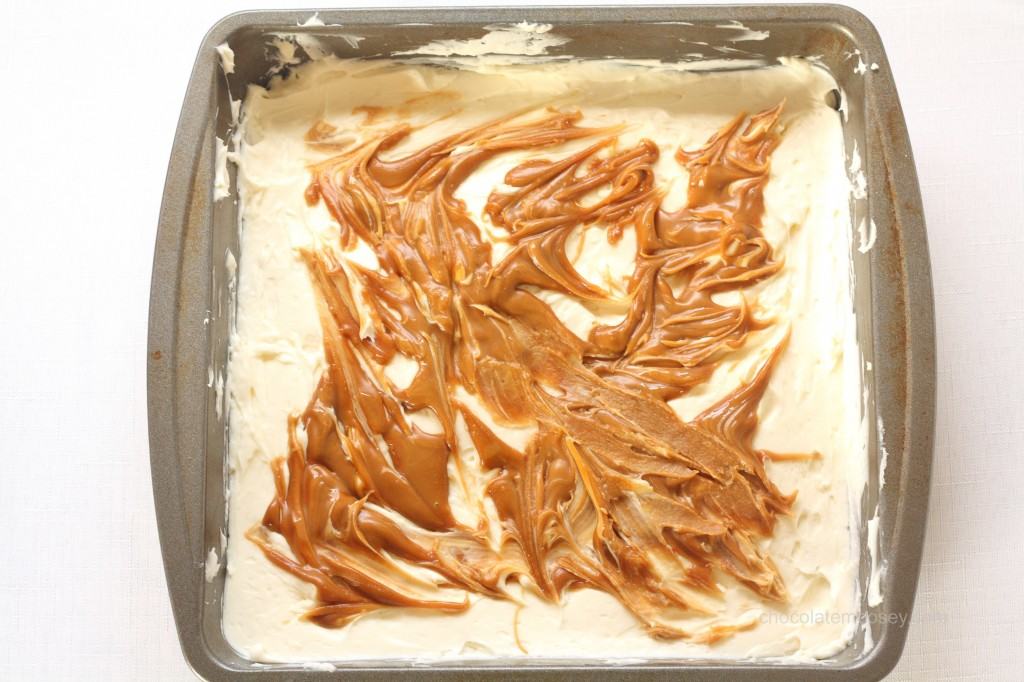 Just like most cheesecakes, you have to refrigerate before serving. The recipe says 4 hours, but since I made it at night, I let it sit overnight. I was tempted to set my alarm for midnight so I could have a piece, but I needed my beauty sleep.
The nice part about being no-bake is there are no eggs. I was a little nervous for the taste because typically, eggs make the batter rich. How tasty is just cream cheese, sugar, and whipped cream anyway? I really surprised myself because even though on paper the batter sounded boring, the creaminess you expect in a cheesecake is there. So if you don't have time to bake a cheesecake or if you are scared the top will crack, this no-bake recipe is for you.
Ingredients
1 1/2

cups

Biscoff cookie crumbs

90 gm

4

Tbsp

butter

melted, 60 gm

1/2

cup

heavy cream

120 ml

1 1/2

tsp

powdered sugar

8 gm

1/2

cup

sugar

100 gm

16

ounces

cream cheese

softened, 450 gm

1

tsp

vanilla

5 ml

1/4

cup

Biscoff spread

65 gm
Instructions
Mix together the cookie crumbs and butter. Press into the bottom of a 9x9 pan. Refrigerate while you prepare the batter.

In a medium bowl, beat the cream until it thickens. Slowly add the powdered sugar then beat until stiff peaks form (pull beaters straight up and the peaks should not fall). Set aside.

In a large bowl, beat together the sugar, cream cheese, and vanilla. Fold in the whipped cream. Spread evenly into the prepared pan.

In a small microwavable bowl, microwave the Biscoff spread until slightly softened (10-15 seconds). Drop by spoonfuls on top of the cheesecake batter then swirl with a knife. Refrigerate for at least 4 hours before serving.
How can you not love cheesecake, and that Biscoff swirl cheesecake  looks too good to be true.  I guess I'll just have to eat a few slices to make sure!!   Now before you forget, please head on over to Chocolate Moosey and say hello to Carla…….Just make sure to tell her Chef Dennis sent you!
With summer almost over, make sure you get out and enjoy these last few weeks of summer sunshine, I think it's going to be a long hard winter…..sigh