Traditional Scottish Shortbread Cookies has always been one of my favorite cookies. Made with four simple ingredients, flour, butter, sugar and salt, these crumbly, buttery, delicious shortbread cookies will be a sweet treat your whole family will love!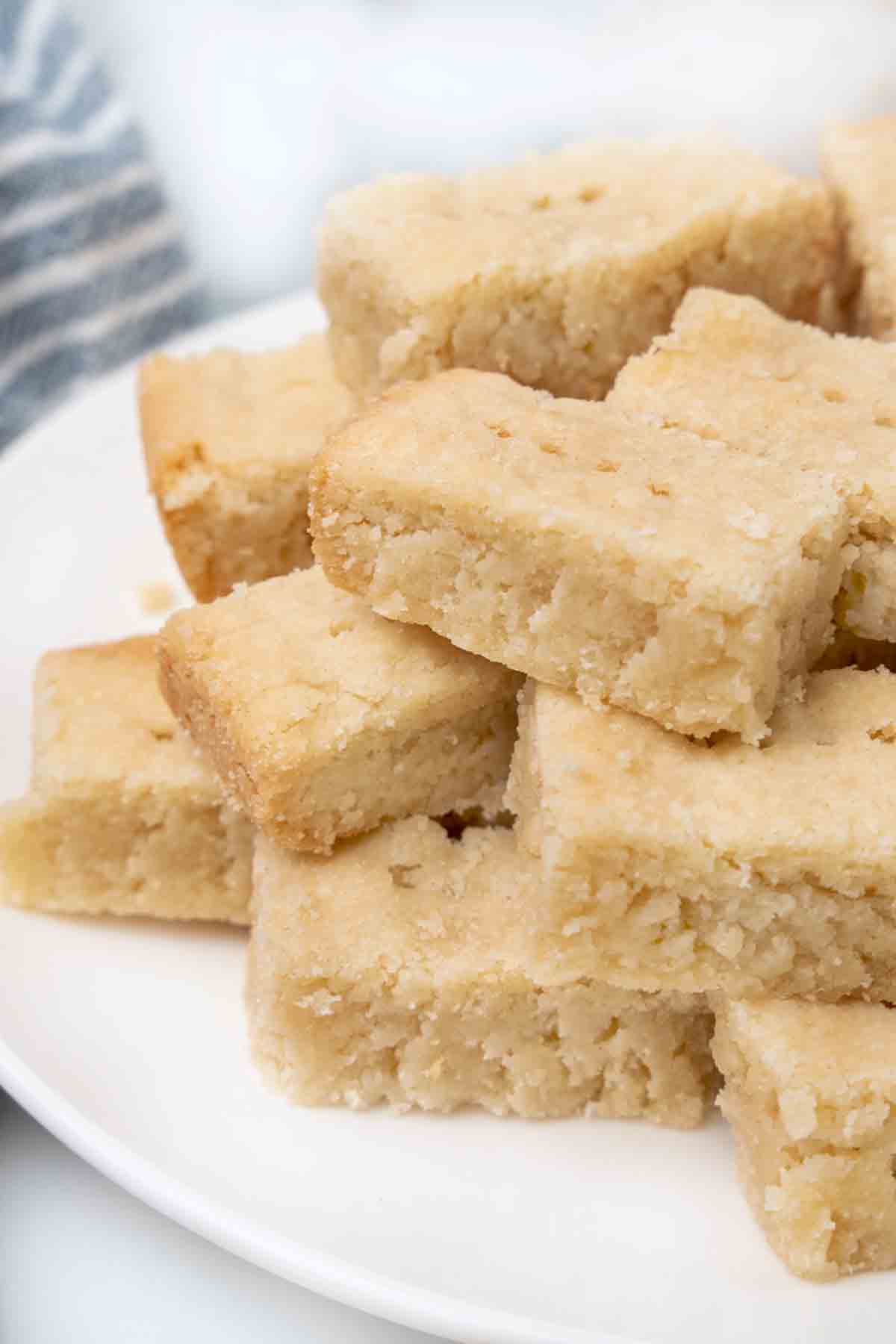 There are lots of shortbread recipes on the internet but not all of them are Scottish Shortbread recipes, and there is a difference. Trust me when I tell you this is the best shortbread cookie recipe you'll ever make.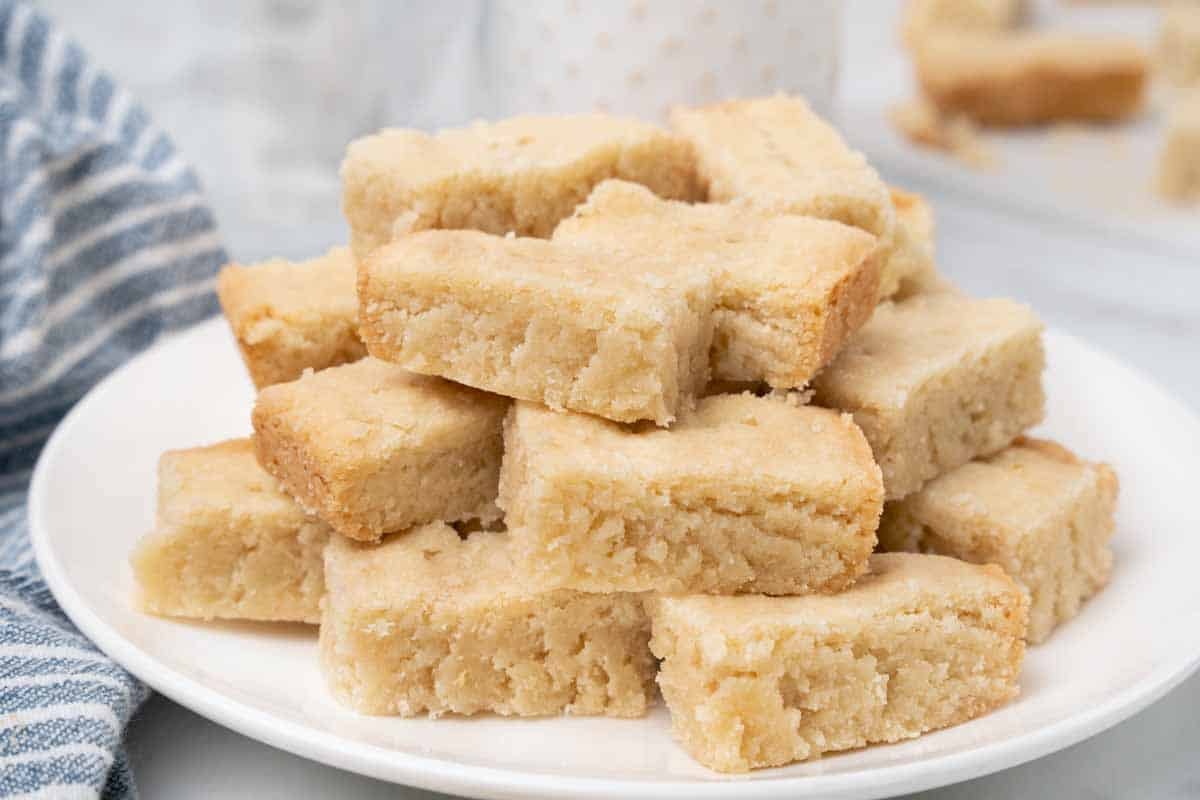 Although the baking time is a little longer than most cookie recipes, my traditional shortbread recipe couldn't be easier to make and the results are well worth the extra time in the oven.
If you love delicious cookies make sure to try my Pistachio Cornmeal Butter Cookies.
Ingredients to make Scottish Shortbread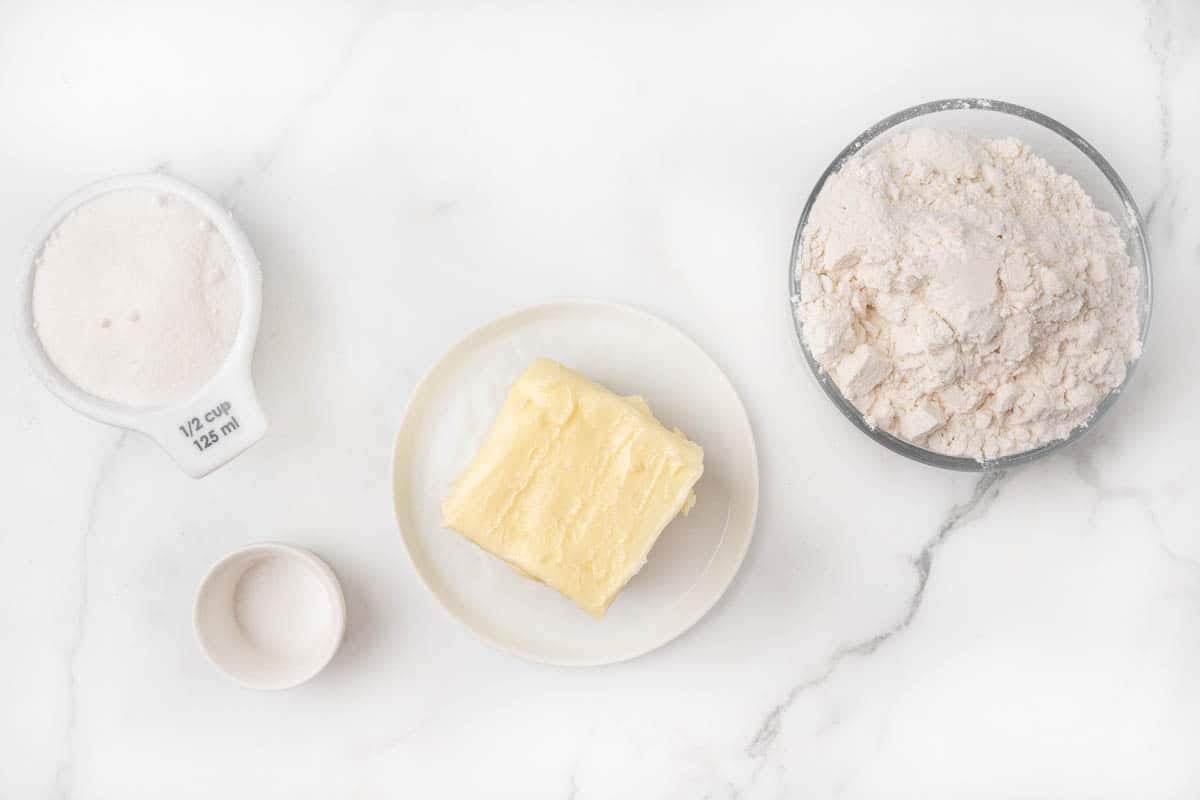 Let's start by gathering the simple ingredients we need to make Traditional Scottish Shortbread. In Chef Speak, this is called the "Mise en Place," which translates to "Everything in its Place."
Not only does setting up your ingredients ahead of time speed up the cooking process, it also helps ensure you have everything you need to make the dish.
Made with four basic ingredients
all-purpose flour
unsalted butter (European butter is best)
caster sugar (superfine white sugar)
table salt
How to make Traditional Scottish Shortbread
Line an 8×8 baking dish with parchment paper, leaving a 1-inch overhang on two sides for easy removal. Set aside until needed. *You can also use a 9×9 inch pan or round cake pan.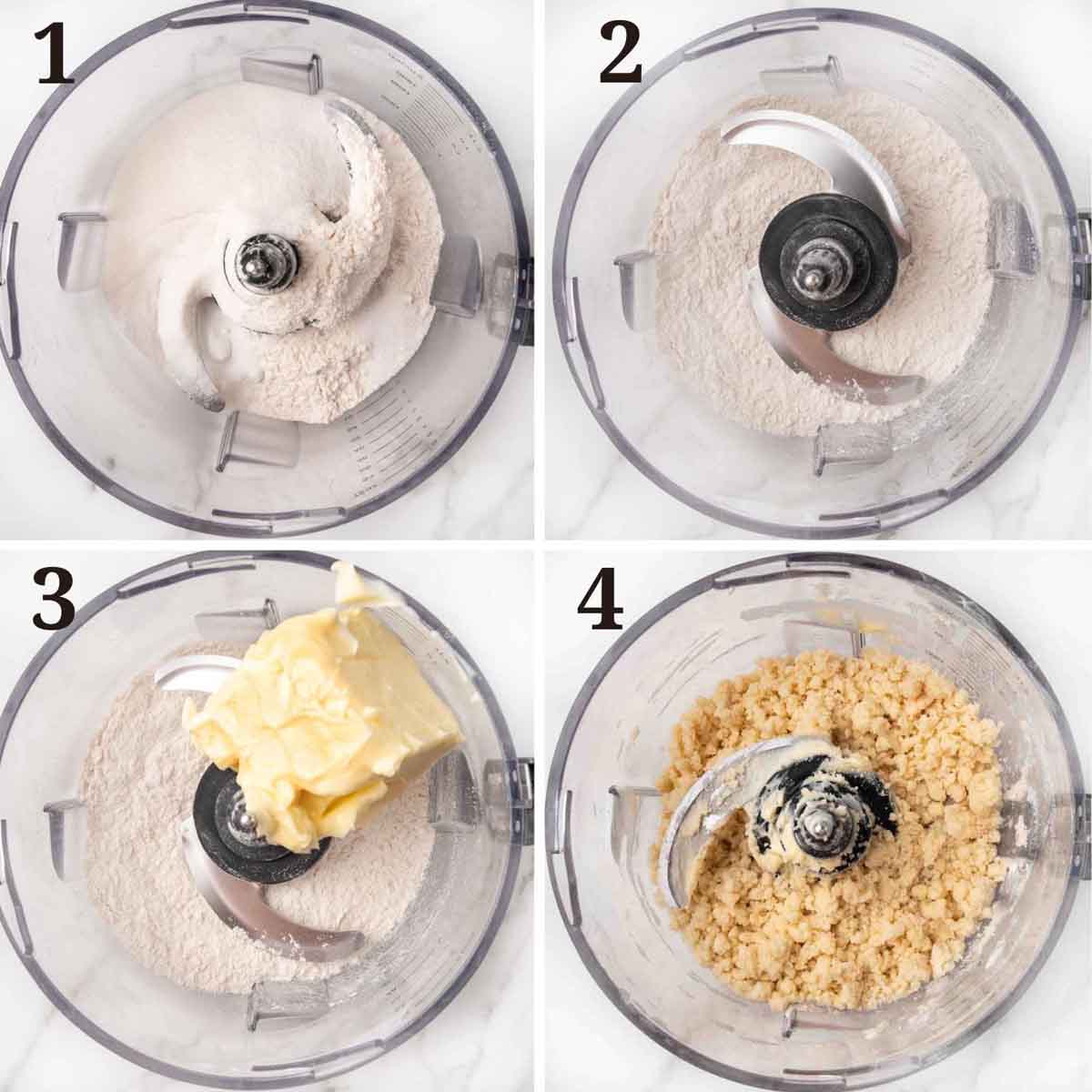 Add the flour, sugar, and salt to the bowl of a food processor (you can also use a large bowl with an electric mixer fitted with the paddle attachment to make the dough).
Pulse the dry ingredients until well combined.
Add the butter to the flour mixture. The butter should be room temperature but not too soft.
Pulse until the mixture resembles coarse breadcrumbs, but is still soft and pliable.
It might be easier to dump the dough out on a lightly floured surface to form the shortbread dough into a ball and use a rolling pin to form the sheet, but adding extra flour will negatively affect the cookie.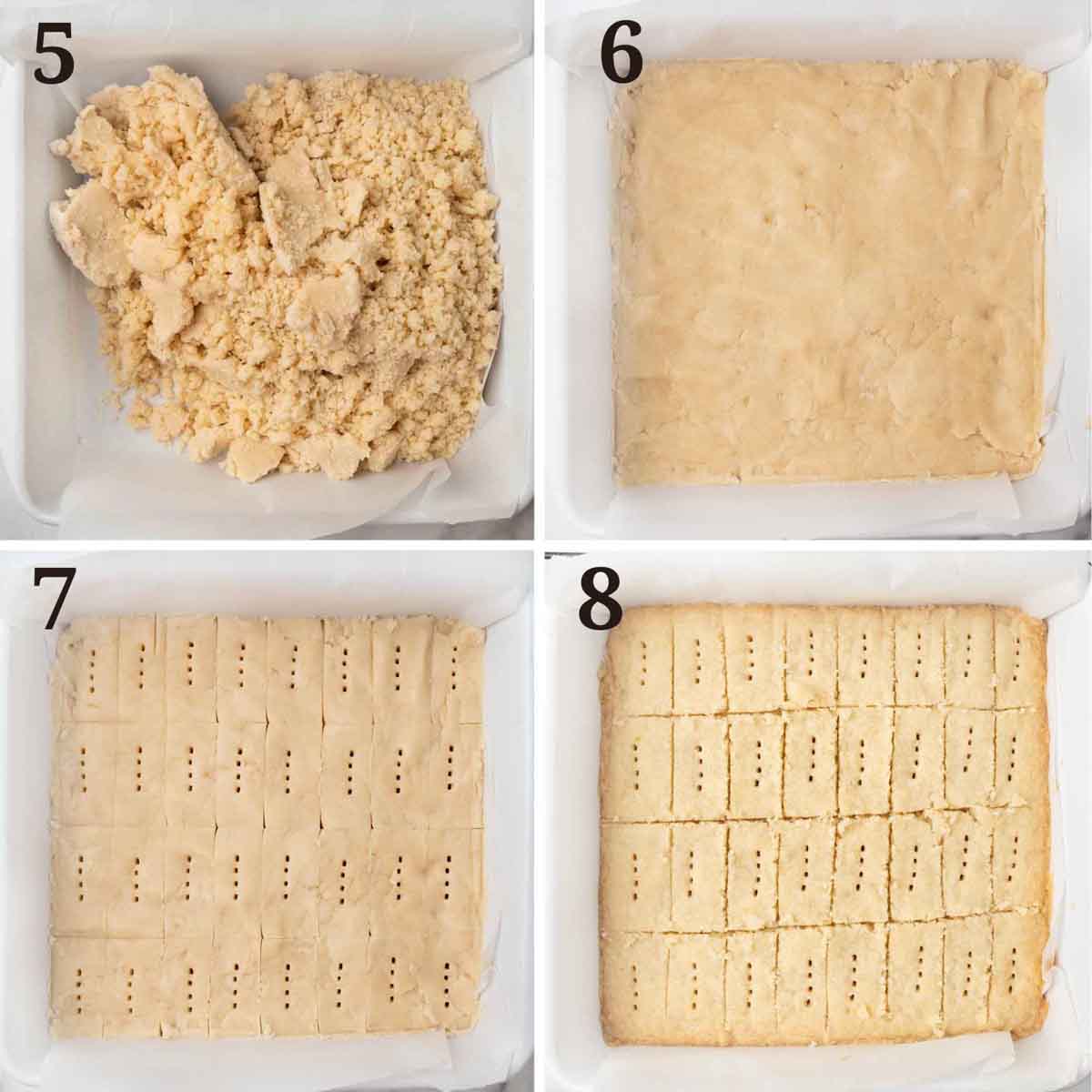 Add the mixture to the parchment-lined baking pan.
Press dough into the pan, using your fingers and hands to firmly press the mixture down. *If the shortbread dough is too dry to work with, it wasn't pulsed long enough.
Prick the dough at 1-inch intervals with the tines of a fork. Then score the dough with a sharp knife into 2 x 1-inch bars. Cover the pan with plastic wrap and chill for at least 2 hours.
Place the baking pan on the middle rack of a preheated oven and bake for 30-35 minutes, until set and lightly golden brown. Do not overbake or the cookies will be dry.
*Place the pan on a wire rack to cool for 5 minutes.
Cut the shortbread into bars using the lines you scored the dough with as a guide. Let the cookies cool completely before removing them from the pan.
You can also use a round cake pan to make these buttery shortbread cookies. Place a large circle of parchment paper in the bottom of the cake pan before adding the cookie dough.
I have seen recipes that use a cookie cutter to cut out individual cookies and bake them on a parchment-lined baking sheet, but that method yields dry cookies that don't have the same crumbly texture.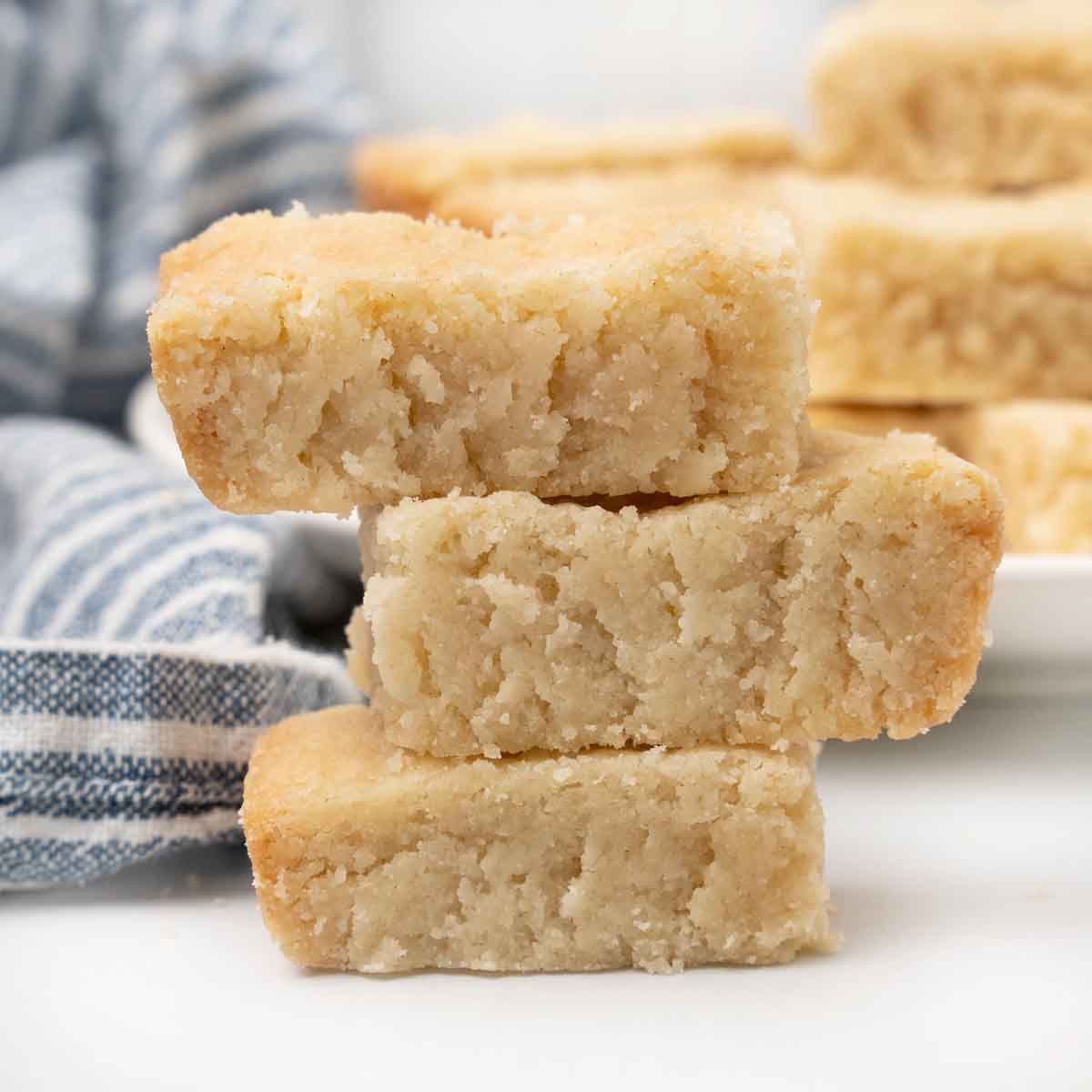 These delightful Scottish Shortbread cookies ( aka biscuits) can be kept in an airtight container at room temperature for 5-7 days and can also be frozen.
If you're looking for the perfect cookie for special occasions, dip the shortbread cookie in melted chocolate. That makes them even harder to resist and more delicious.
Recipe FAQ's
What's the difference between Scottish shortbread and regular shortbread?
Traditional Scottish shortbread is a simple recipe made with sugar, butter, flour, and salt. Other shortbread styles will include leavening agents like baking powder and baking soda, which makes them crisp instead of crumbly like traditional Scottish shortbread.
What is the secret to making good Scottish shortbread?
The most important ingredient is the butter. Use the best quality butter available, and make sure it's real butter. The other crucial part of the recipe is not to overwork the dough. That will make the cookies tough instead of tender.
Can I add other flavors to Scottish shortbread?
Absolutely! Although the traditional version is plain, you can add various flavors such as vanilla extract, lemon zest, almond extract, or even mini chocolate chips for a different twist on this classic cookie.
More Recipes You'll Love!