Eggplant Caponata is a vegetable mixture that accompanies meats and seafood and makes a delicious side dish, or appetizer served at room temperature with fresh crusty bread or crispy bruschetta.
It's important to use roasted eggplant as the base of this dish, roasted zucchini also helps create the foundation for this dish. Don't use fried eggplant or stove-cooked eggplant for this dish.
The combination of savory, sweet, and sour flavors elevates caponata to a new level of deliciousness! The roasted eggplant (and zucchini) adds a creamy texture, making this tasty vegetable relish almost spreadable.
Some recipes compare eggplant caponata to a Sicilian version of ratatouille, and some recipes make it in the same manner, but it's not really caponata when it's cooked stovetop. When it comes to Sicilian Cuisine, you won't often find garlic cloves or onion in Sicilian Caponata as their flavors tend to overpower the rest of the ingredients. I also prefer roasted red peppers' fuller flavor to red bell peppers.
Just remember, you'll find as many different versions of Caponata as there are Italian Grandmothers. Caponata is a staple of Sicilian Cuisine.
Ingredients to make Eggplant Caponata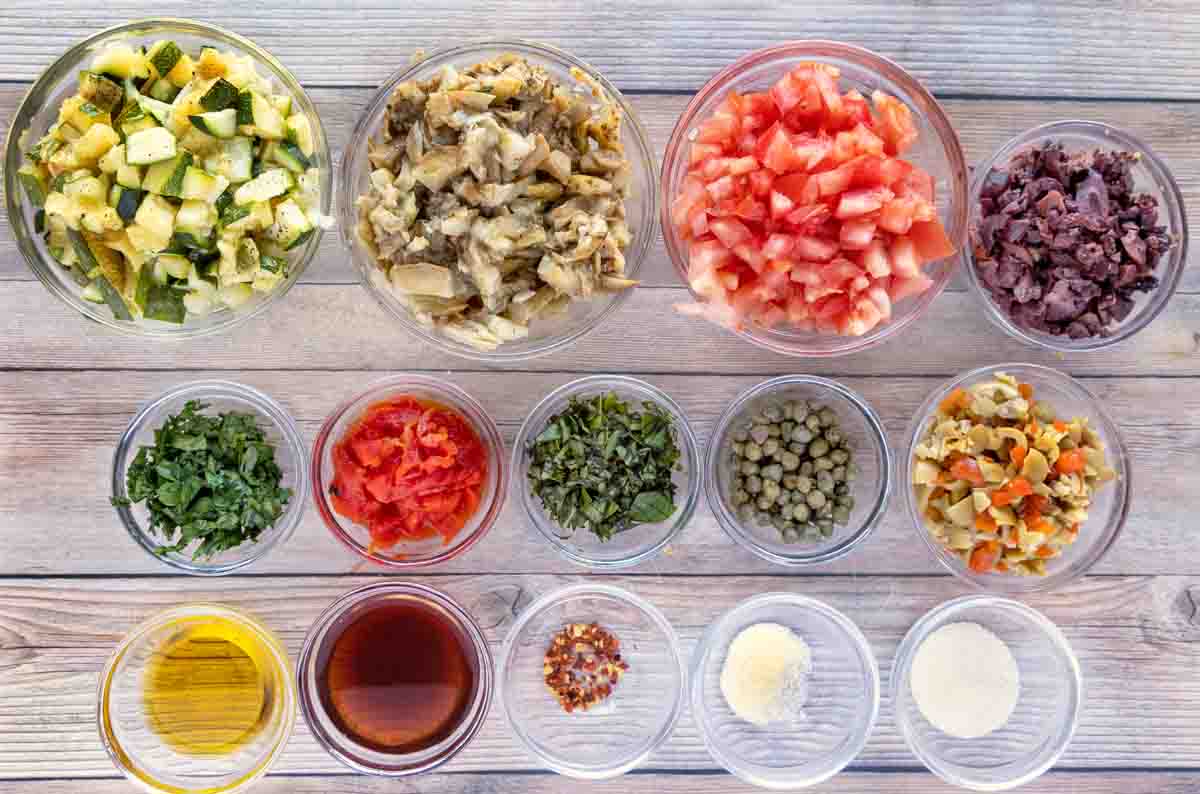 Let's start by gathering the ingredients we need to make my traditional Eggplant Caponata recipe. In Chef Speak, this is called the "Mise en Place," which translates to "Everything in its Place."
Not only does setting your ingredients up ahead of time speed up the cooking process, it also helps ensure you have everything you need to make the dish.
Made using fresh vegetables and simple pantry ingredients:
eggplant
zucchini
tomato
green olives
Kalamata or black olives
roasted red peppers
capers
red wine vinegar or balsamic vinegar
olive oil
Italian parsley
basil
sugar
red pepper flakes
salt
How to make Eggplant Caponata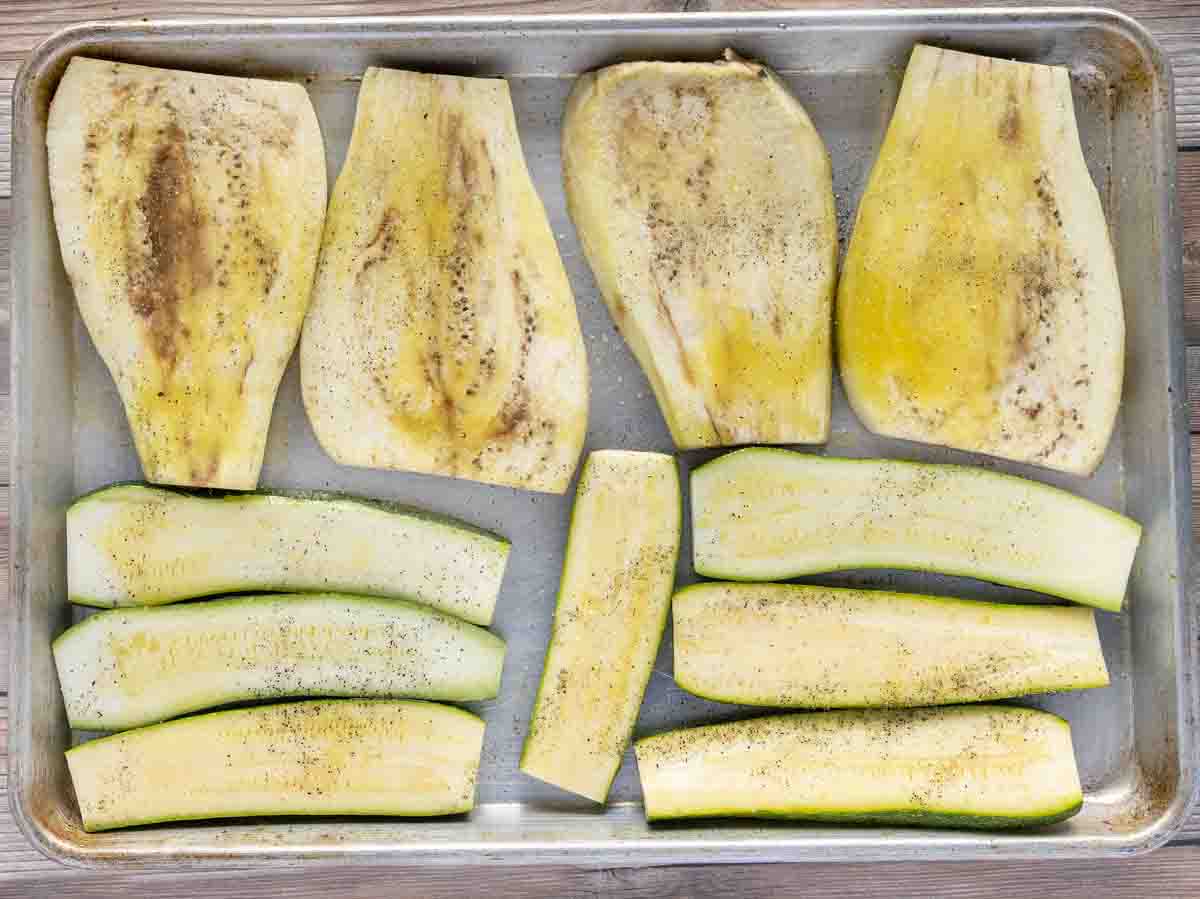 The first step is prepping the eggplant and zucchini for the cooking process. Brush the veggies with extra-virgin olive oil, season with salt and pepper, and set on a sheet pan.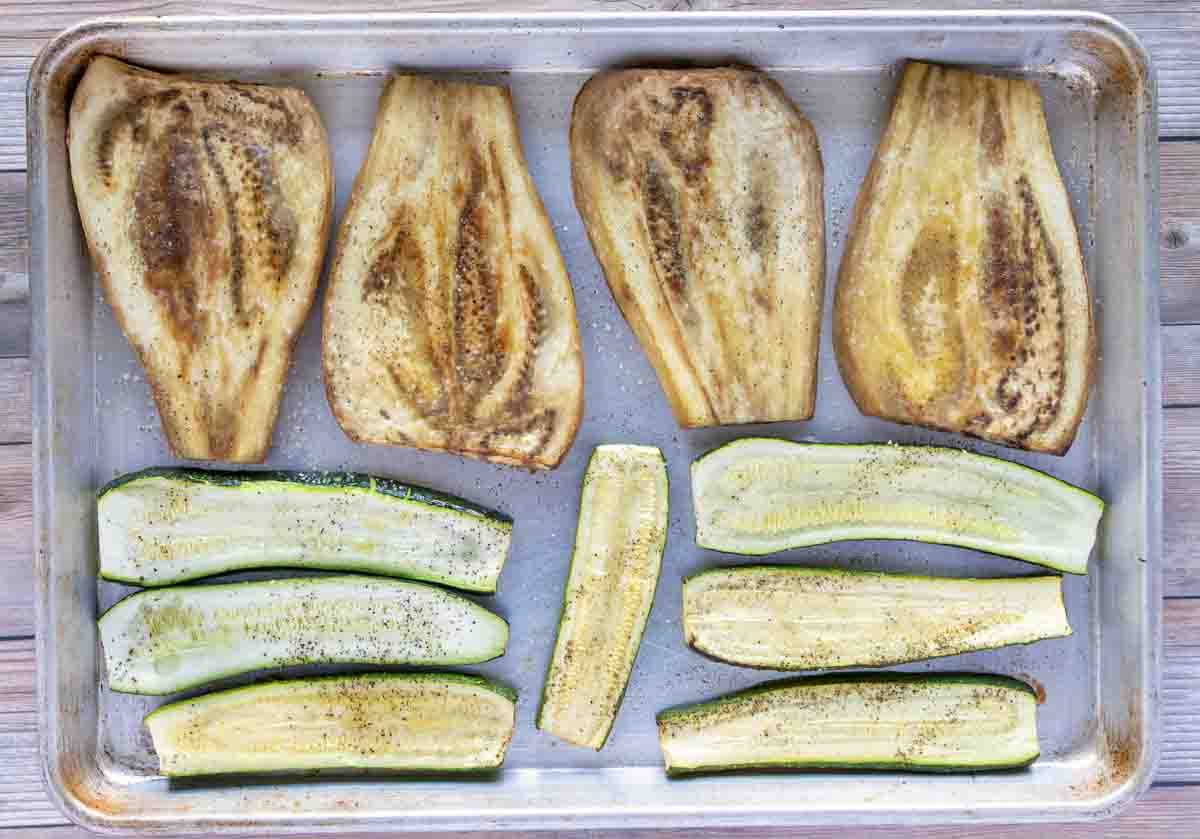 Place the sheet pan of prepared veggies on the center rack of a 350-degree preheated oven and roast the vegetables for 18-20 minutes.
*Let the eggplant and zucchini cool before chopping.
While the roasted vegetables are cooling, put the dressing for my homemade Caponata together.
Blend the vinegar, olive oil, salt, red pepper flakes, and just a touch of sugar to make the eggplant caponata dressing.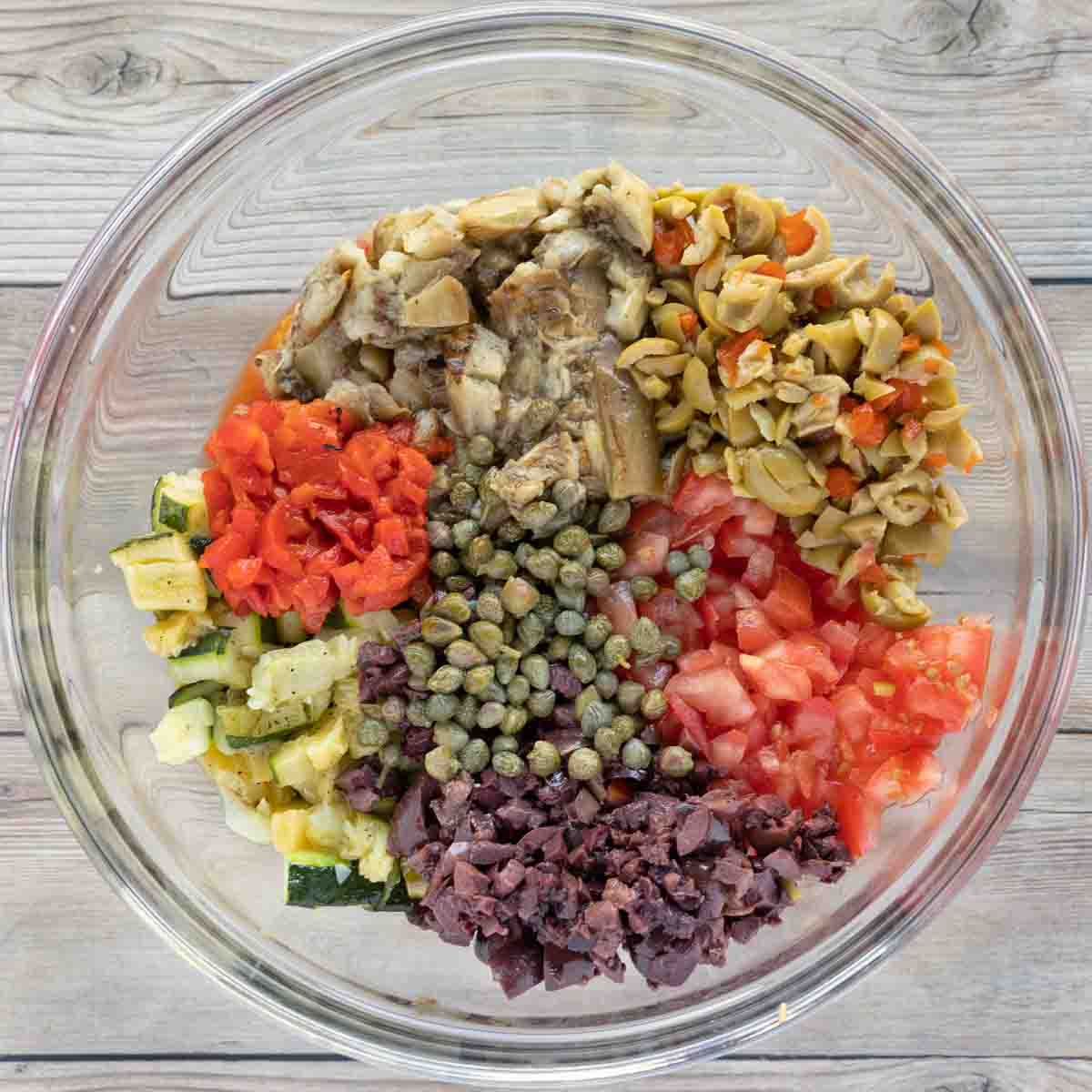 Place the chopped vegetables, eggplant pieces olives, and capers in a large mixing bowl.
Mix the ingredients together.
Add the dressing to the mixture and mix together.
Don't be tempted to make this dish with tomato sauce, crushed tomatoes, or tomato paste. You'll end up with more of a salsa than caponata, and trust me, you won't be happy with the results.
Add the chopped fresh herbs to the vegetable mixture and blend together.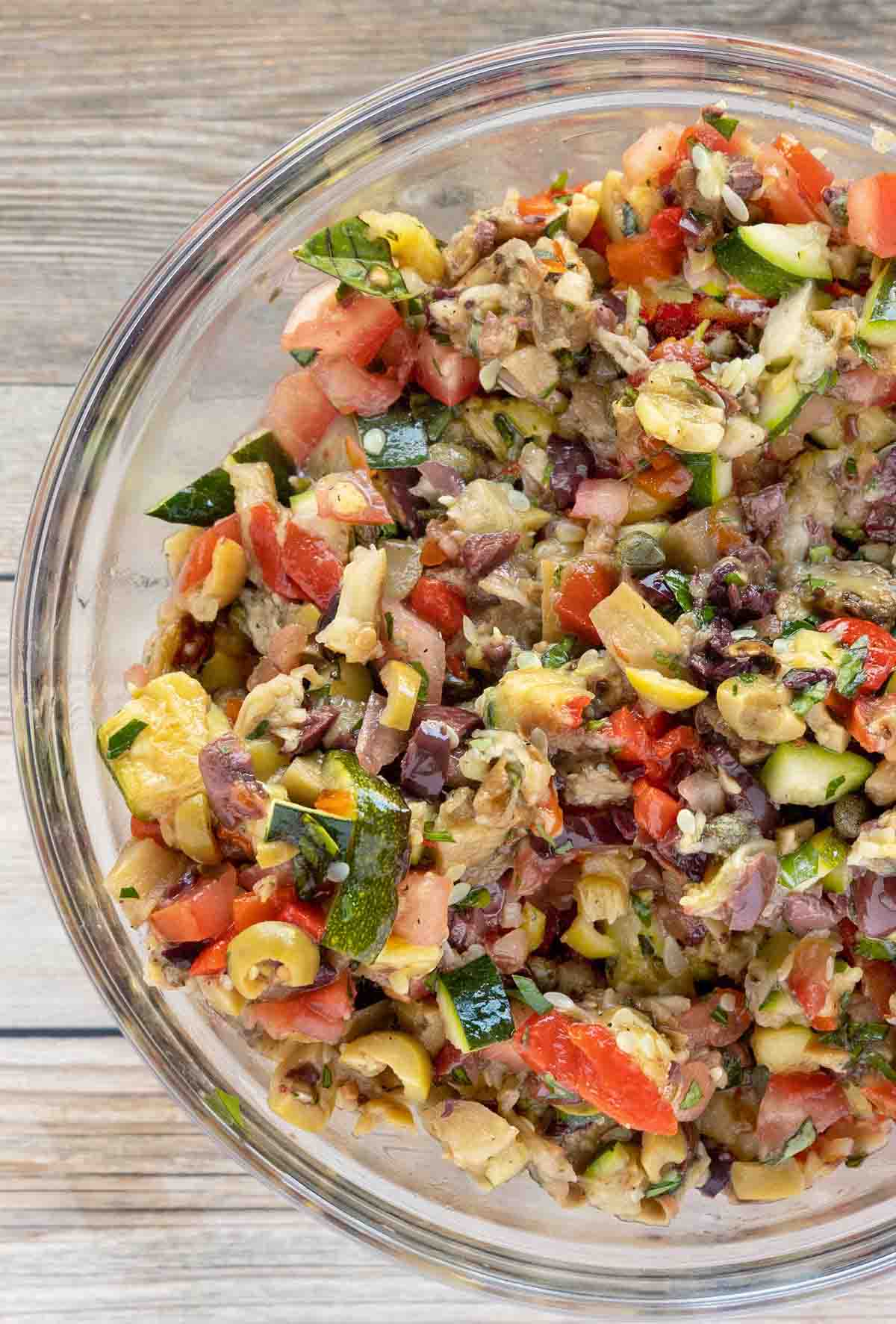 If there is any left after the first day, you'll find that my Sicilian Eggplant Caponata tastes even better the next day when the bold flavors have a chance to come together. If you have time, make this a day before you need it, the capanota's flavors will be even better!
One of my favorite uses for Eggplant Caponata is as a spread on Italian meat sandwiches…OMG delicious! This is one of my favorite eggplant recipes, and I promise my easy recipe is sure to be a hit with your family!
Recipe FAQ's
What does the word caponata mean?
In the Italian dialect of Sicilian, capunata is the word for a sailor's dish of bread steeped in oil and vinegar and chopped vegetables.
What is the difference between caponata and ratatouille?
The main difference is other than roasting the eggplant and zucchini, Sicilian caponata is not cooked. You'll also find olives and capers in caponata, which are not included in ratatouille.
More Recipes You'll Love!