My Cucumber Tomato Salad is delicious, light and refreshing salad made simple ingredients that can be made in less than 15 minutes. Made with garden fresh produce tossed with a simple vinaigrette makes this flavorful salad the perfect side dish for your next barbecue or family dinner.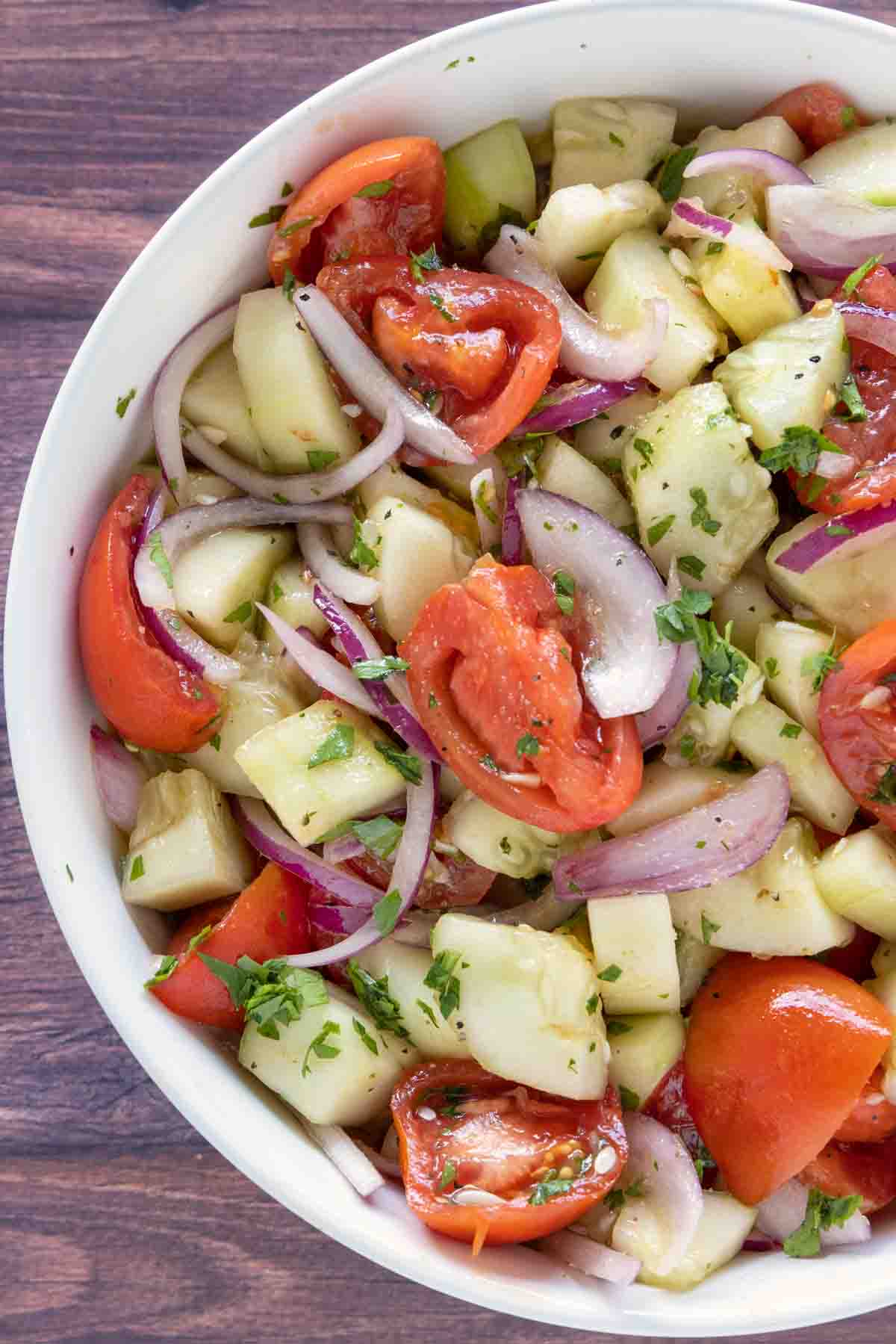 Crisp cucumbers and juicy tomatoes will make this simple salad full of fresh flavors a family favorite and one you'll love making.
My easy cucumber tomato salad recipe is made with ingredients you'll find at your local grocery store or farmers market. And if you'd rather not make your own dressing use your favorite balsamic or Italian dressing.
Another favorite summer time salad is my easy cole slaw.
Ingredients to make Cucumber Tomato Salad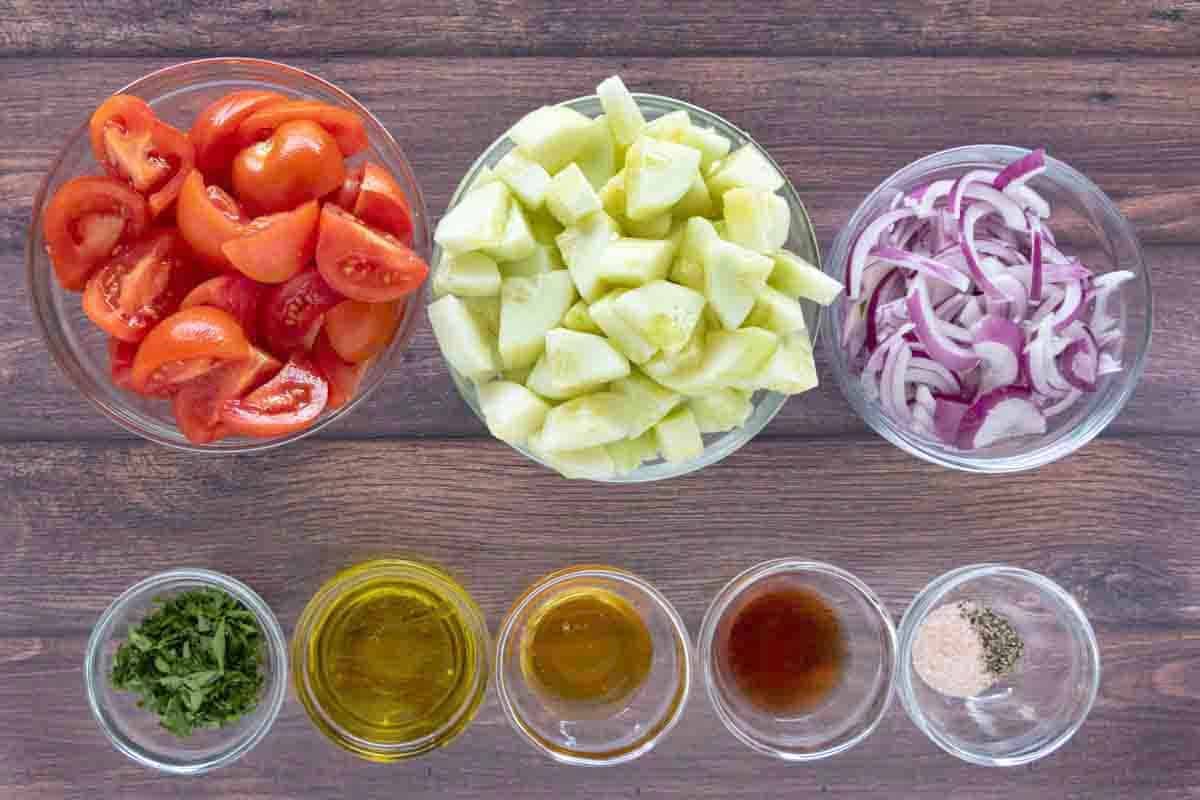 Let's start by gathering the ingredients we need to make my Cucumber Tomato Salad. In Chef Speak, this is called the "Mise en Place," which translates to "Everything in its Place."
Not only does setting up your ingredients ahead of time speed up the cooking process, it also helps ensure you have everything you need to make the dish.
What other ingredients can I use to make this salad?
I love the versatility of my tomato cucumber salad recipe, it's one of my favorite summer salads! You can add green bell peppers, celery, fresh herbs and use your choice of regular tomatoes, Roma tomatoes, grape tomatoes, cherry tomatoes, or your favorite heirloom tomatoes.
I used red onions for this delicious salad, but you can also use your favorite type of sweet onions.
Fresh dill, cilantro, or fresh basil leaves will add more flavor to this refreshing salad. When it comes to the type of cucumber, my choice is a regular cucumber, which needs to be peeled. You can also use English cucumbers or Persian cucumbers, which don't require peeling.
For the simple dressing you can use olive oil (my choice) or your favorite oil. You have options when it comes to the type of vinegar. Red wine vinegar, apple cider vinegar, white wine vinegar and balsamic vinegar are all good choices.
If you want to make a creamy cucumber tomato salad, add a little greek yogurt or sour cream to the dressing.
You can also add feta cheese, blue cheese, gorgonzola or cubes of your favorite cheese to this tasty salad recipe.
How to make Cucumber Tomato Salad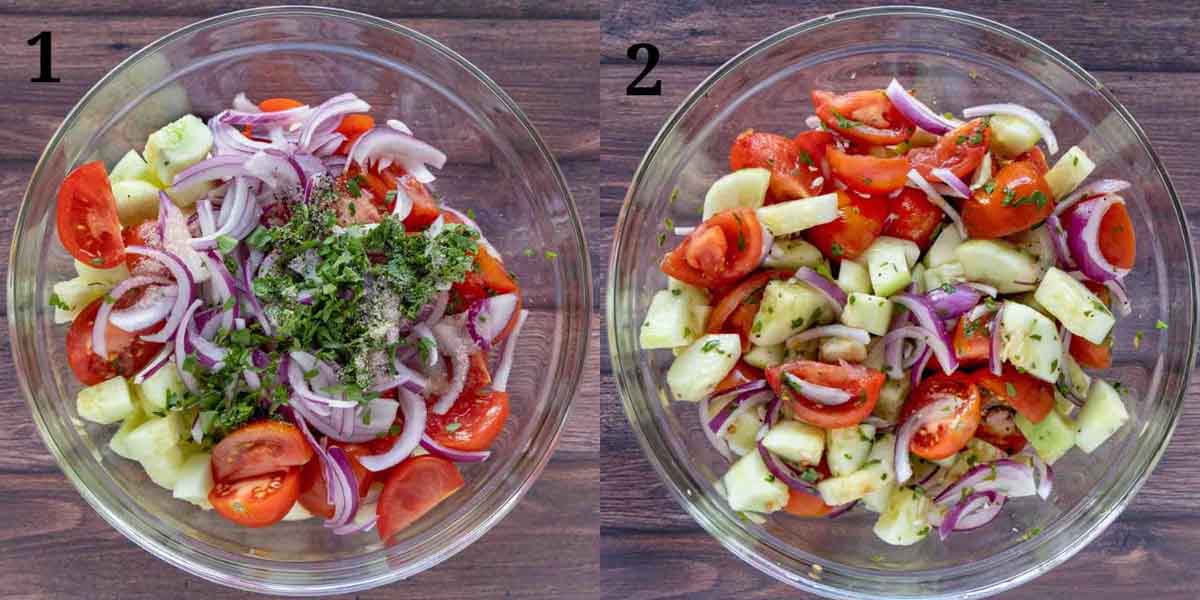 Add the tomatoes, cucumbers, red onion, and chopped parsley to a large bowl.
Season with salt and black pepper and toss to combine.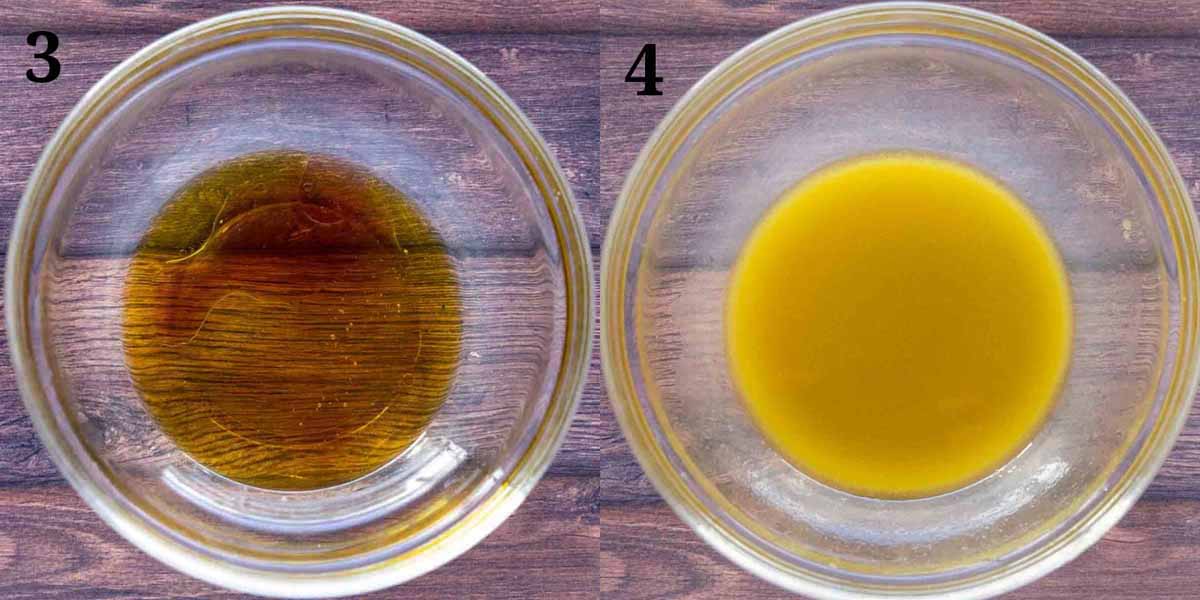 Add the olive oil, red wine vinegar, and honey to a small bowl.
Whisk to combine.
*You can also use your favorite Italian or balsamic dressing instead of making your own.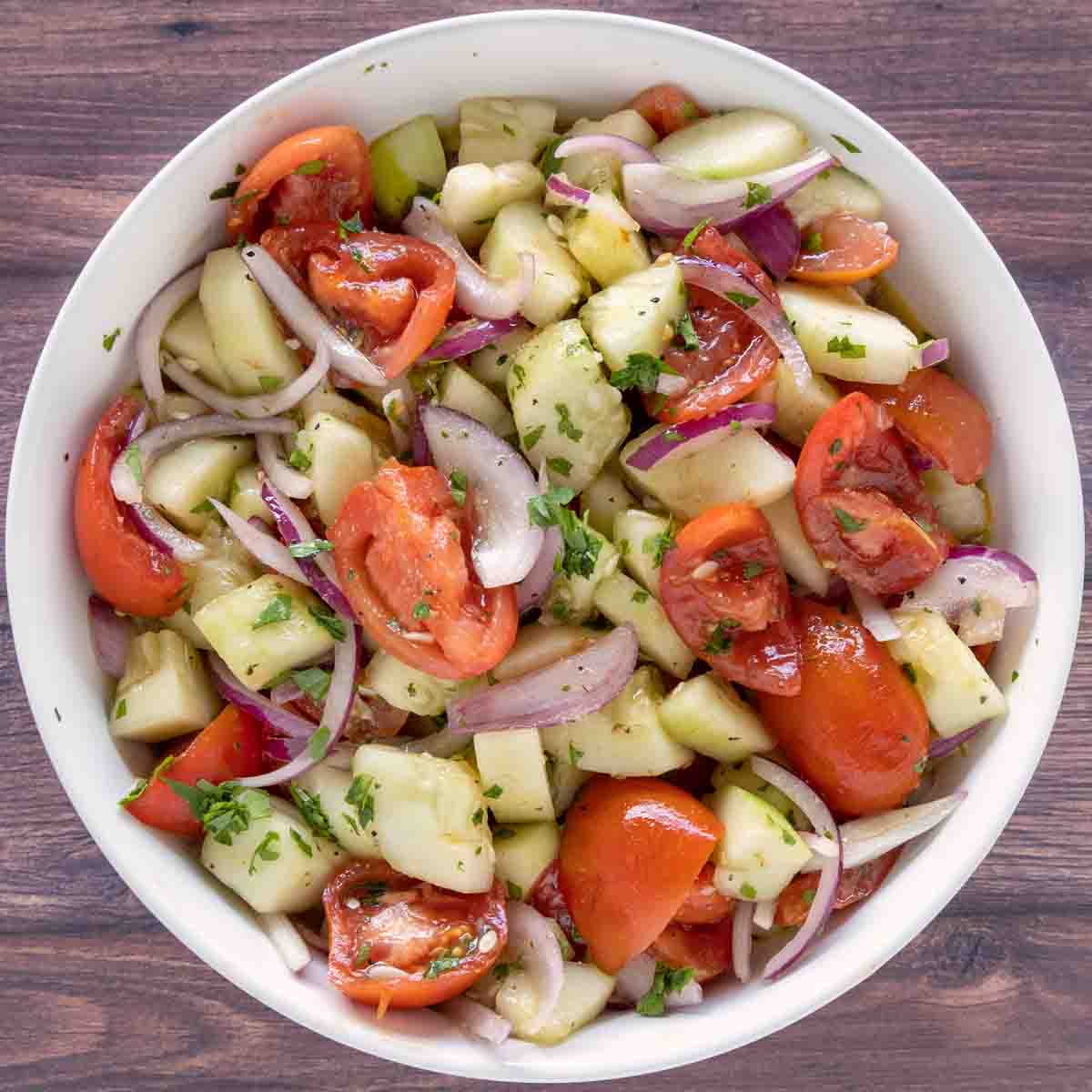 Pour the dressing over the cucumber salad and toss to coat the cucumbers and tomatoes. Cover the bowl with plastic wrap and refrigerate until ready to serve.
*The salad is best served within one hour of assembling. If you need it to sit for longer, do not salt the cucumbers and tomatoes and wait until ready to serve to add the dressing.
Recipe FAQ's
Can you make cucumber tomato salad ahead of time?
Yes, you can make it in advance. However, the salt in the dressing will draw water out of the cucumbers and tomatoes, which could make the salad a bit watery over time. It's usually best if eaten within 1 hour of preparing.
You can also leave the salt out until you're ready to serve.
What can I add to cucumber tomato salad?
I like to add feta cheese, bleu cheese, or gorgonzola cheese to the salad. It adds a sharp flavor that goes well with the mild taste of the cucumbers. You can also add chopped bell peppers, celery, or shredded carrots to the salad.
More Recipes You'll Love!