My oven roasted beets are a delicious and healthy side dish. You don't have to be a beet lover to enjoy the natural sweet flavor and earthy deliciousness of my roasted beet recipe. This simple recipe will become your go-to method for cooking beets!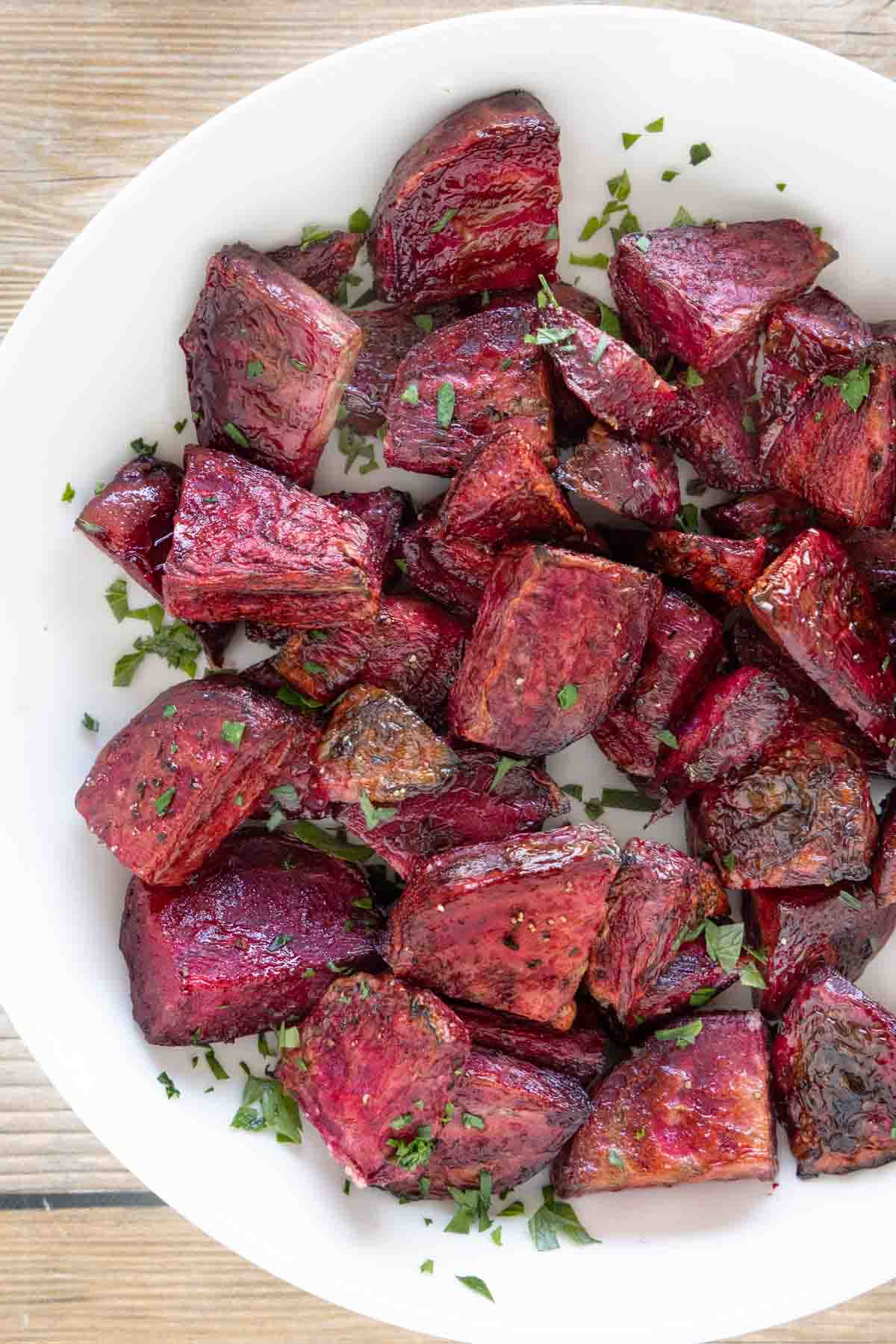 The easiest way to enjoy these delicious roasted beets is as a side dish. But if you really want to enjoy this beets recipe serve them on mixed greens with goat cheese and a drizzle of olive oil and balsamic vinegar to create a roasted beet salad.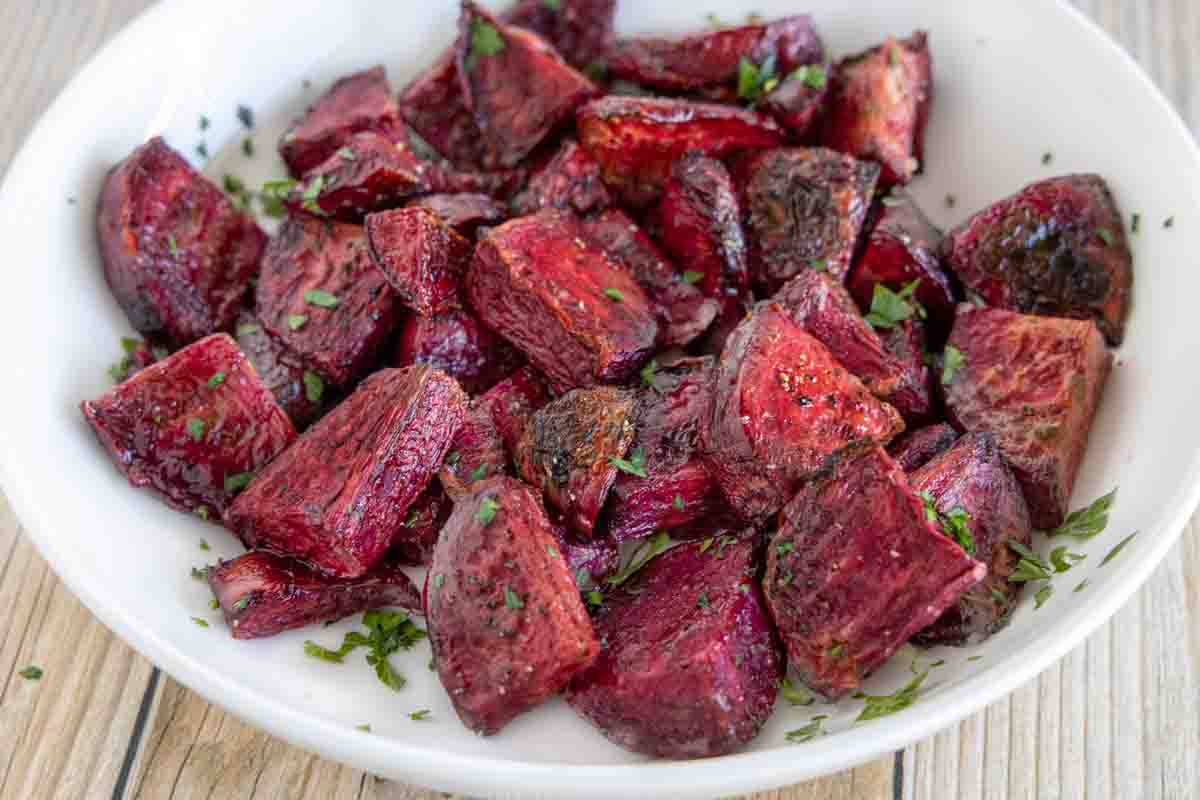 I've tried a lot of different ways to cook fresh beets, from roasting whole beets to pickling. But my favorite way and the best way I found to make cooked beets is to simply oven roast beets.
It's easy and only takes four simple ingredients to make one of my new favorite vegetables. If you love root veggies as much as I do, make sure to check out my Root Vegetable Paella.
Ingredients to make Oven Roasted Beets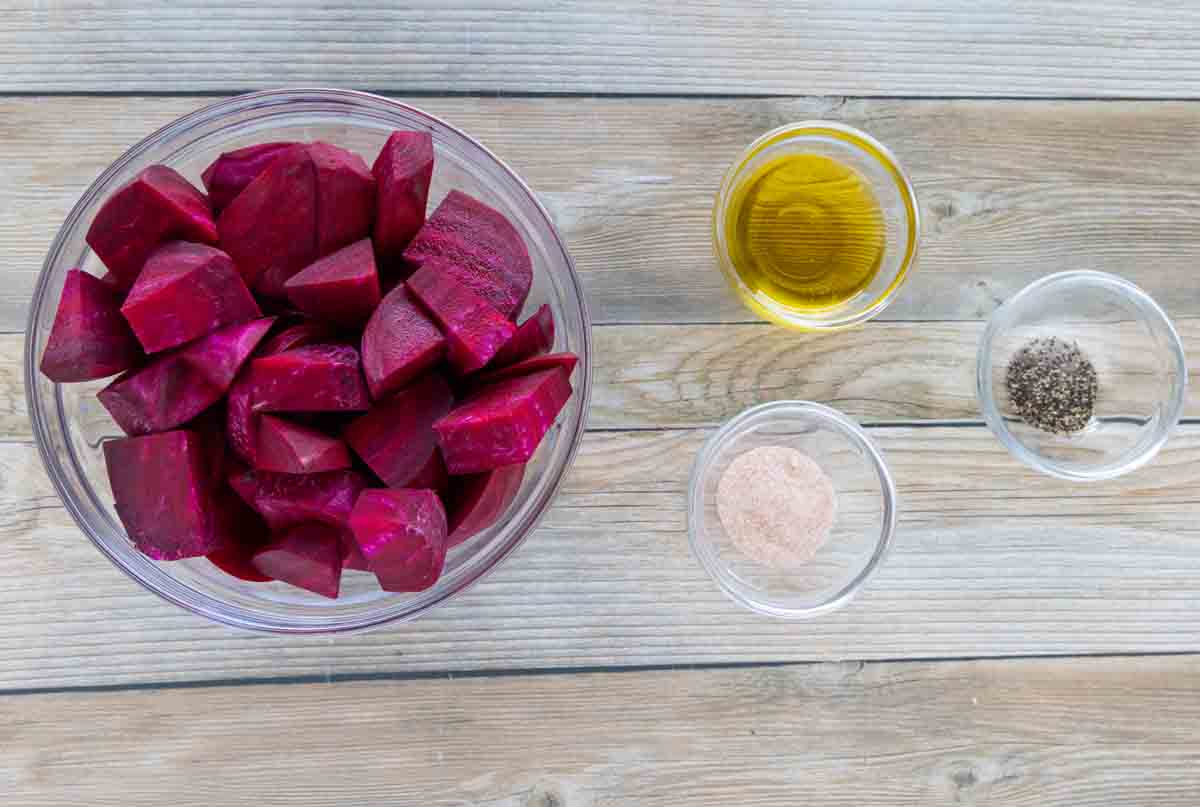 Let's start by gathering the ingredients we need to make Oven Roasted Beets. In Chef Speak, this is called the "Mise en Place," which translates to "Everything in its Place."
Not only does setting up your ingredients ahead of time speed up the cooking process, it also helps ensure you have everything you need to make the dish.
What type of beets should I use?
I used red beets to make this easy vegetable side dish, but you can use any type of beet thats available at your local grocery stores or local farmers market.
Golden beets are pretty much the same as red beets, just yellow in color.
White beets (avalanche beets) are the sweetest variety and due to the white color, they won't stain your hands.
Candy cane beets (Chioggia beets) are an heirloom variety that comes from Italy. This is also one of the sweeter beet varieties of this root vegetable.
How do I pick fresh beets?
When choosing beets at the market, the first thing to look for are green crisp leaves and stems. If the leaves are yellow, droopy or saggy, don't buy them. The roots should be firm and not soft and the beets should be free of soft or brown spots,
The size of the beets is something to take in consideration as well. Excessively large beets have an unpleasant woody texture, and aren't as tender or flavorful as smaller beets. The best beets should be no bigger than a tennis ball.
And don't throw out the beet greens. These bitter greens can be cooked or served in a salad.
How to make Oven Roasted Beets
Wipe any excess dirt from the beets and rinse in cold water.
Use a sharp vegetable peeler(or paring knife) to peel the beets (place them on a paper towel or piece of foil to avoid staining your counter or cutting board). Then using a sharp knife trim off the ends and cut them into ¾-1 inch chunks.
It's a good idea to wear gloves while working with beets, as the liquid will stain your hands.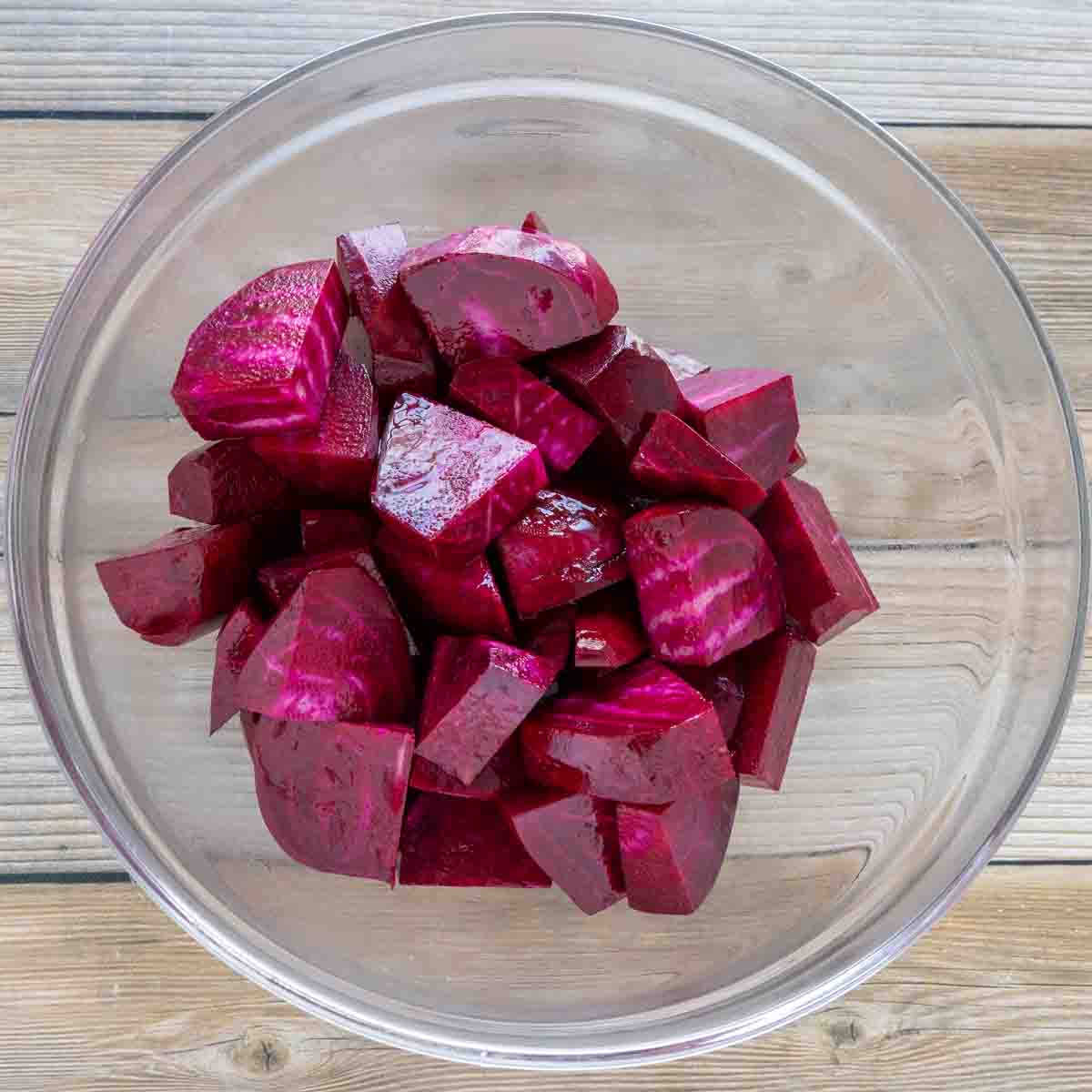 Place the cut beets in a large bowl and toss them with olive oil.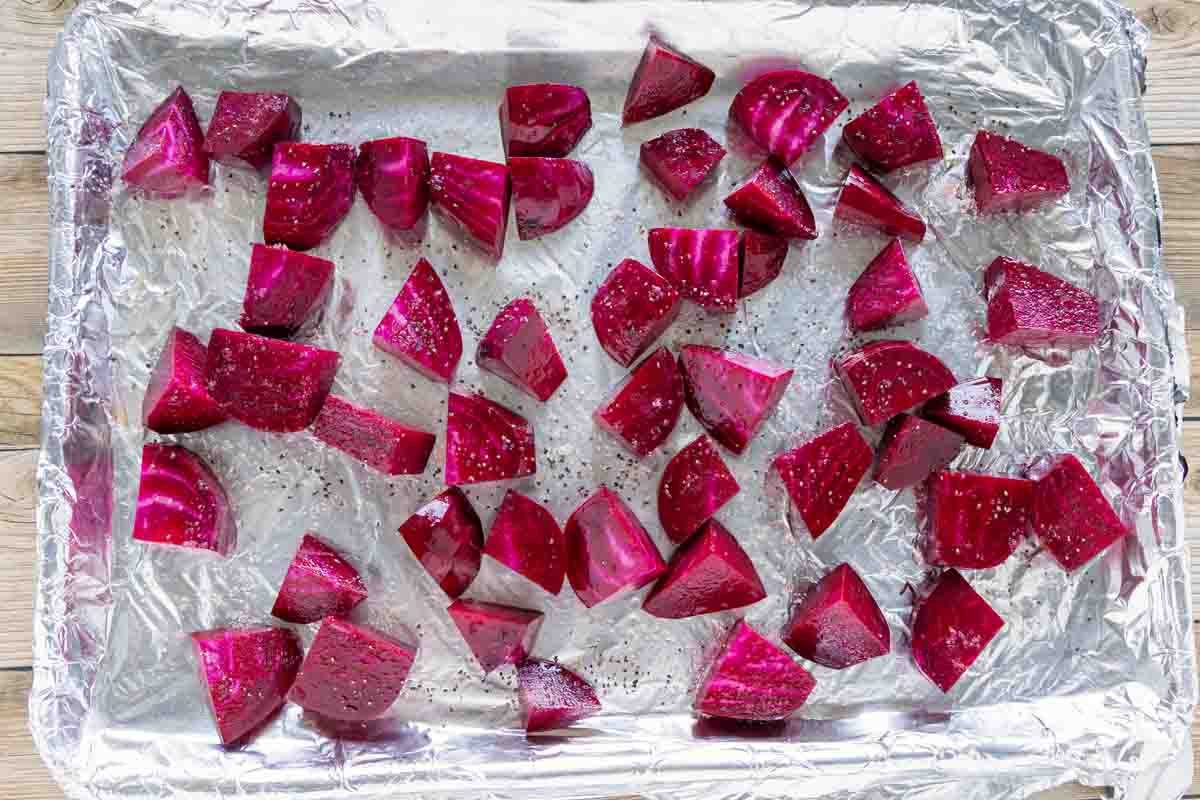 Line a baking sheet with aluminum foil (or parchment paper) and place the oiled raw beets cut side down in a single layer on a rimmed baking sheet (or baking dish). Leave a little room between each piece.
Season the beets with sea salt and black pepper to taste.
You can also add your favorite fresh herbs to seasoned beets. Fresh thyme is a nice addition.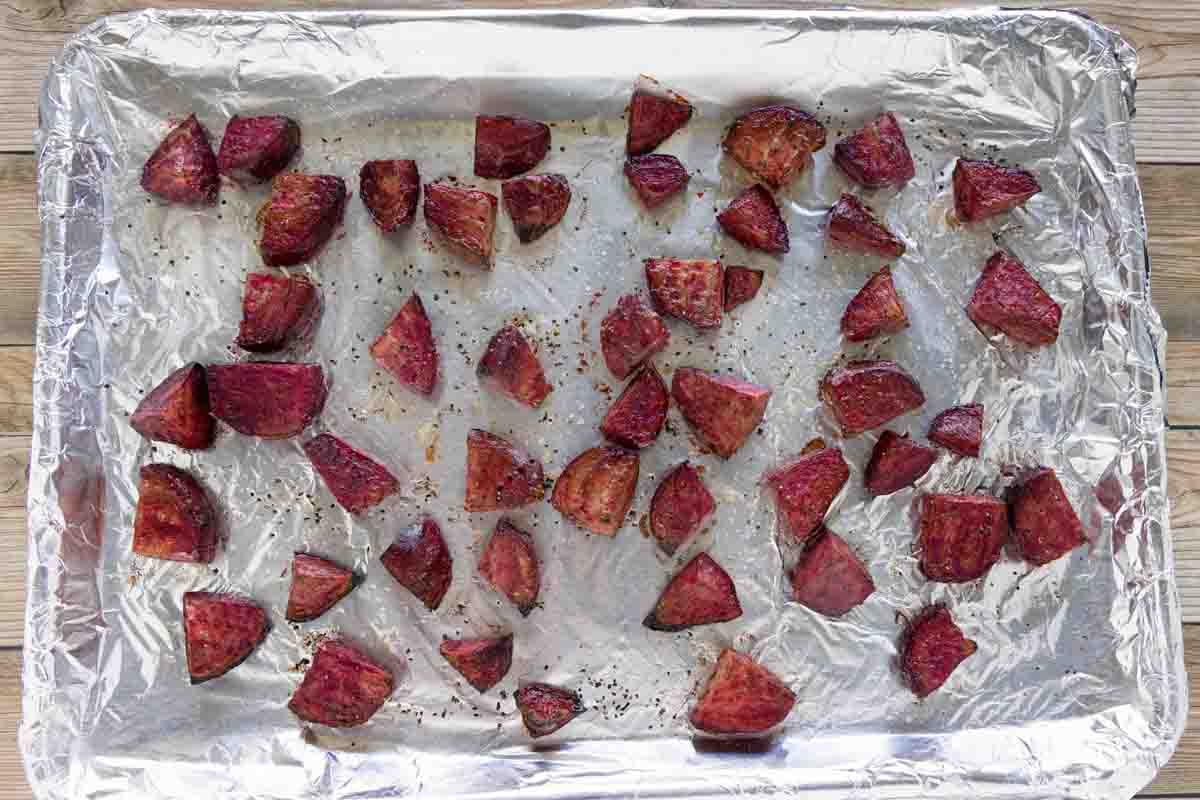 Place the baking sheet on the center rack of a preheated 400 degree F oven and roast the beets for 40-50 minutes, or until a fork easily pierces the oven roasted beets.
Keep an eye on the beets, high heat is the best way to get the natural sugars to caramelize, but if the roasting time is too long the beets will dry out and get tough.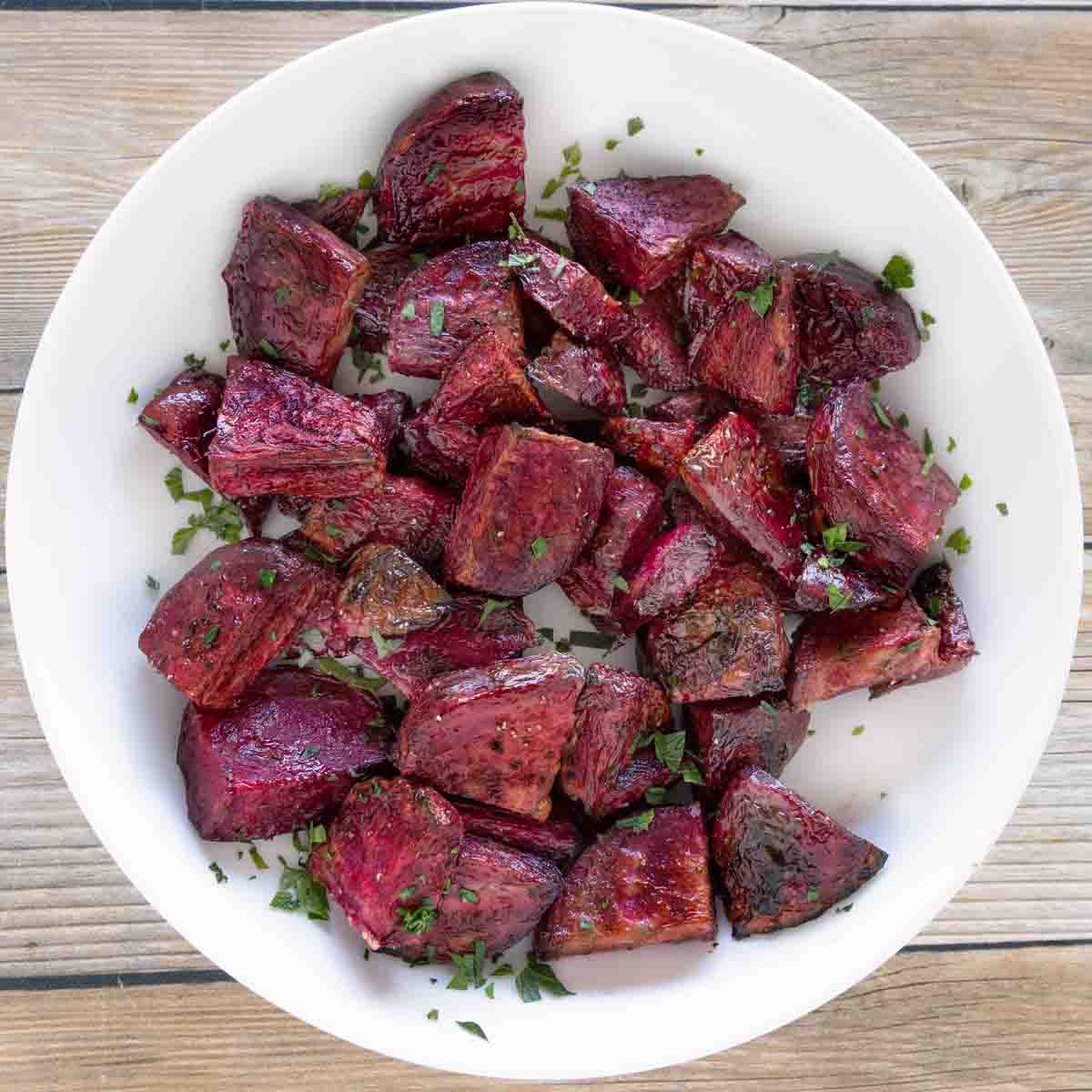 Roasted tender beets will be a great addition to your dinner table. This simple side dish of perfect roasted beets is guaranteed to be a family favorite and help your reputation as a home chef get stronger.
Store any leftover oven roasted beets refrigerated in an airtight container for 2-3 days.
Recipe FAQ's
Should I peel the beets before or after roasting?
While you can peel the beets after roasting, it's easier to peel them prior to roasting. Roasting peeled beets will also let the beet caramelize more fully without the skin.
Should I roast beets whole or in chunks?
For the best results roasted beets should be cut into chunks before roasting. Roasting whole beets is fine if you just want cooked beets, but you'll never get the great roasted caramelized flavor by roasting whole beets.
More Recipes You'll Love!
This post includes affiliate links. As an Amazon Associate, I earn from qualifying purchases.
This is my favorite vegetable peeler.