Traditional French Ratatouille is a bright and delicious stew of summer vegetables. Rich and flavorful with hints of olive oil, onion, garlic, and fresh herbs, quick simmered to allow the fresh vegetable flavors of the eggplant and zucchini to shine through.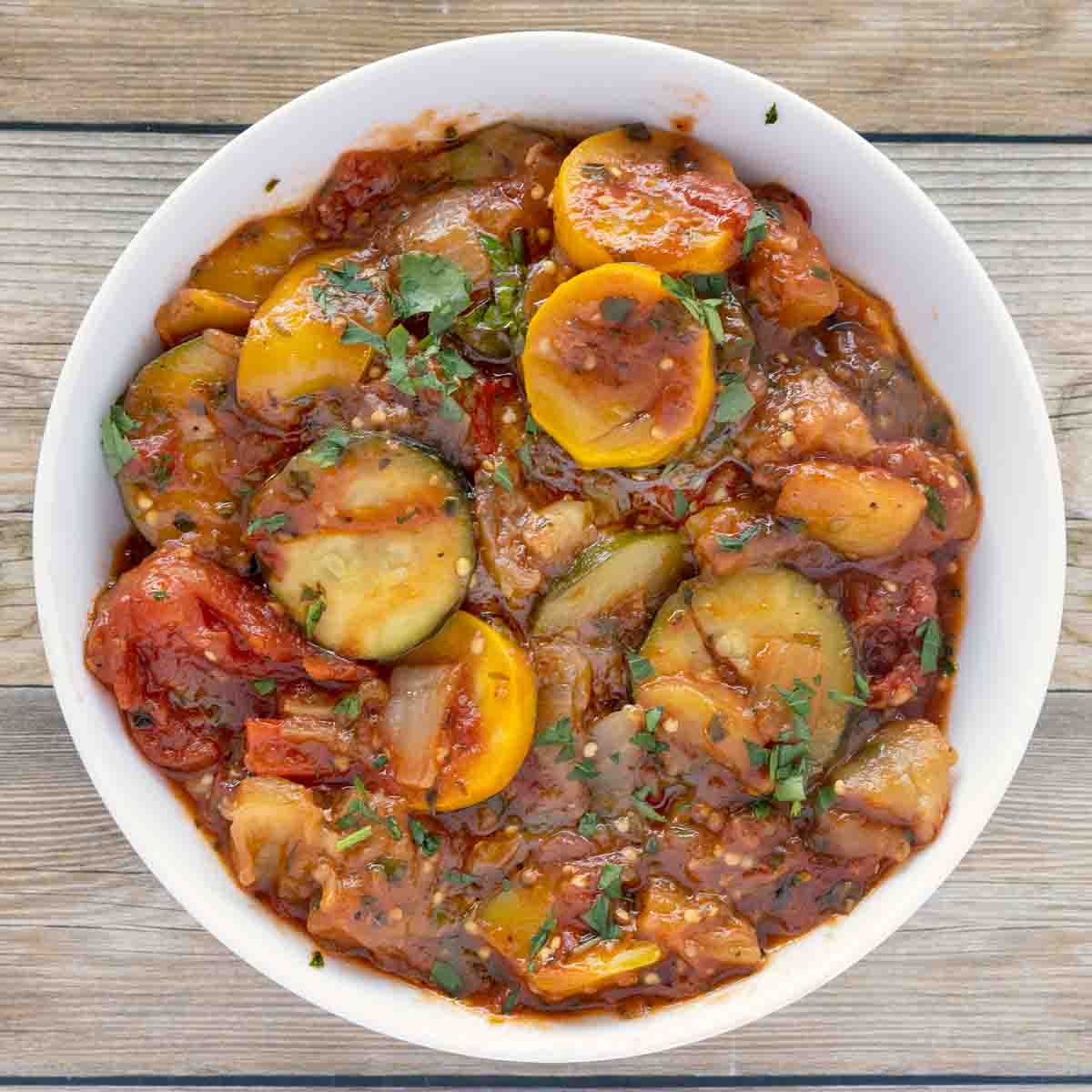 My traditional ratatouille recipe is easy to make and is the perfect accompaniment for chicken, pork, or beef. Or my favorite way, simply served with a crusty loaf of bread and Romano or parmesan cheese.
Originating in the South of France, ratatouille is made with yellow squash, zucchini, eggplant, red or green bell peppers, sweet onions, garlic cloves, and either fresh tomatoes or crushed tomatoes. Seasoned with salt, black pepper, red pepper flakes, fresh basil, and oregano. Not only is it a great way to use summer's bounty of fresh produce, it's amazingly delicious!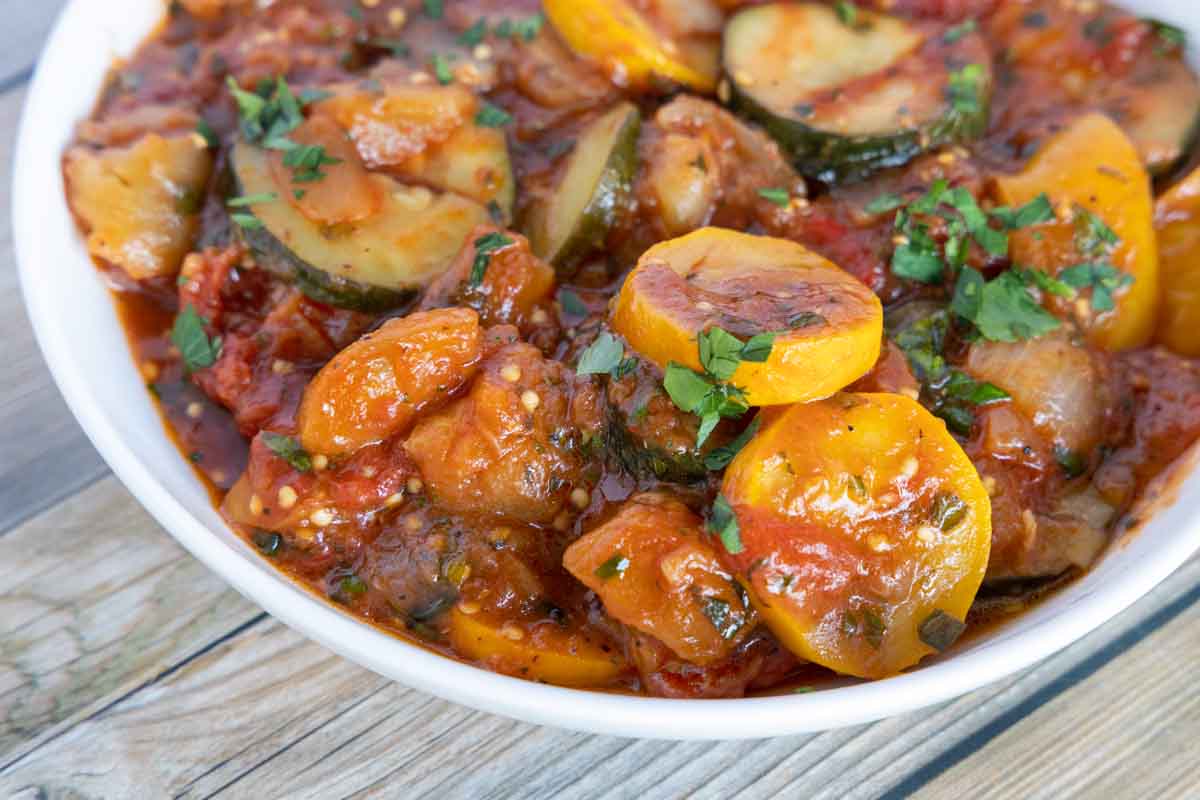 Making ratatouille properly doesn't take that long. It's just a few steps cooking the vegetables in the right progression so they don't get mushy. Then a quick simmer and you're ready to enjoy this classic French dish.
What I like the best about ratatouille is it can be served hot, at room temperature, or chilled. And honestly, it always seems to taste better the next day.
If you love vegetable dishes, you'll love my Sicilian Caponata Recipe.
What Ingredients do I need to make ratatouille?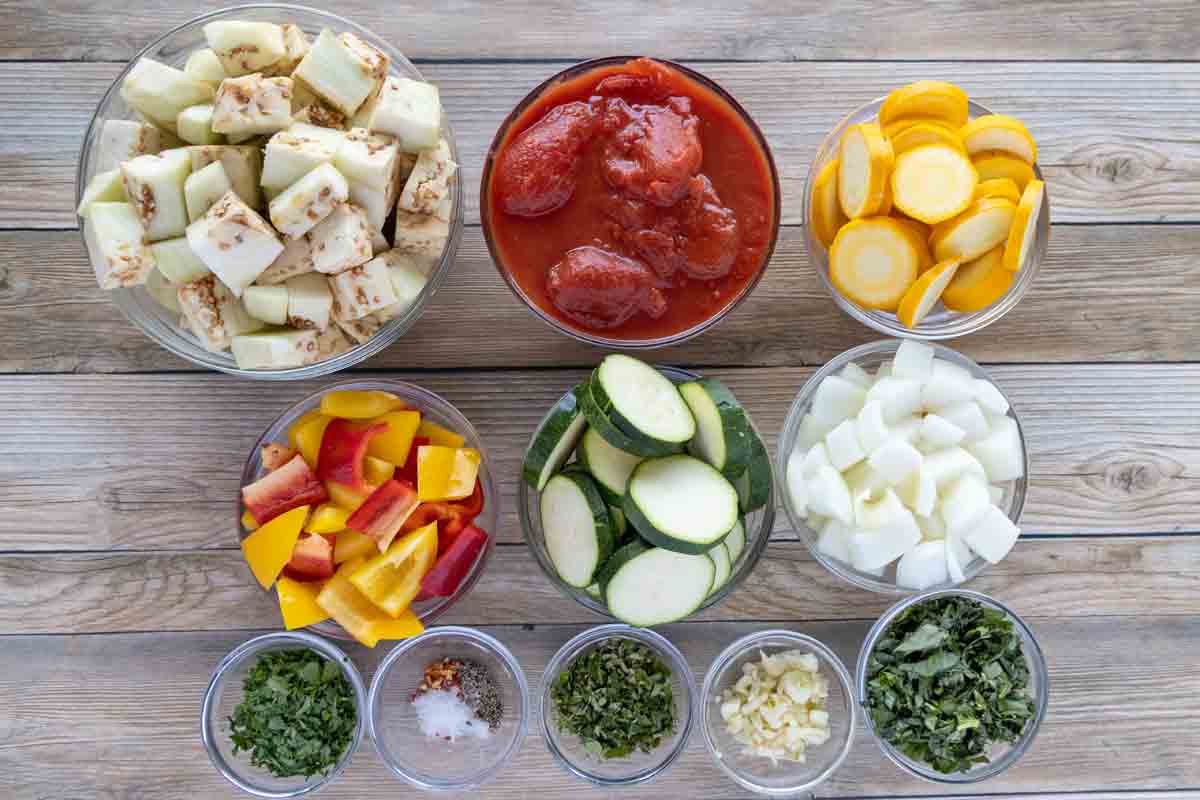 Let's start by gathering the ingredients we need to make ratatouille. In Chef Speak this is called the "Mise en Place" which translates to "Everything in its Place".
Not only does setting your ingredients up ahead of time speed up the cooking process, it also helps ensure you have everything you need to make the dish.
*You'll find some recipes that use a bay leaf, I've never been fond of the flavor so I leave them out, but feel free to add it to the seasonings.
*I used crushed tomatoes for my ratatouille because it cuts down on the simmering time. But you can use fresh tomatoes (even cherry tomatoes) in your version of this French classic, but if you do, you'll need to add a little tomato paste.
These are the ingredients used to make Ratatouille:
olive oil
sweet onion
red bell pepper
yellow bell pepper
garlic
eggplant
zucchini squash
yellow squash
San Marzano whole tomatoes in juice
fresh basil
fresh oregano or dried oregano
red pepper flakes
sea salt and black pepper
Italian parsley
How to make Authentic French Ratatouille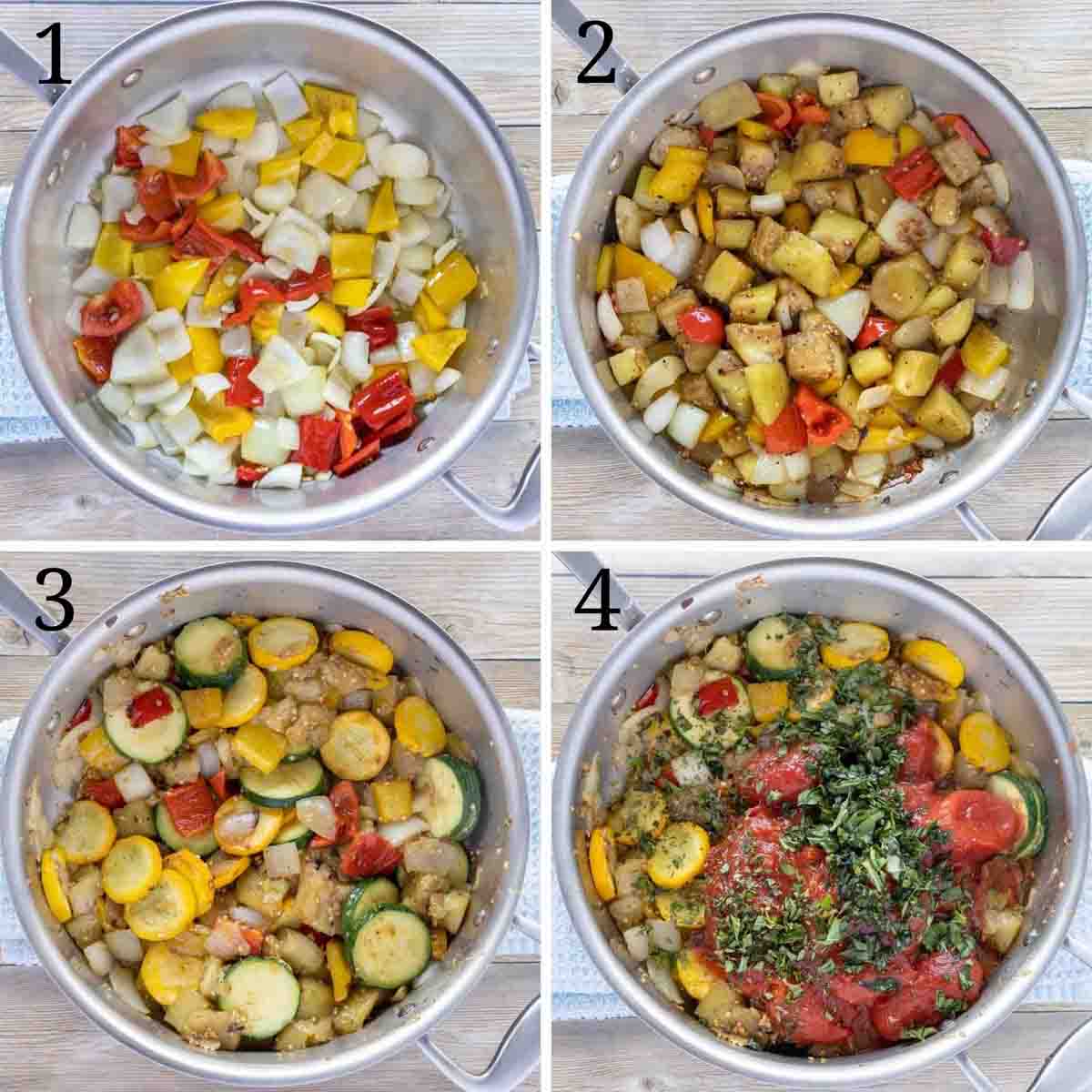 Add olive oil to a large saute pan or dutch oven over medium-high heat. Let the oil get hot then add the peppers, onions, and garlic to the pan and saute for 2 minutes
Add the eggplant and season with salt and pepper and let the eggplant cook for 10 minutes, or until the eggplant begins to look cooked.
Add the zucchini, and yellow squash to the mixture and let it cook for about 5 minutes. The vegetable slices should be slightly cooked.
Add the crushed tomatoes, basil, oregano and red pepper flakes to the mixture. Turn the heat down to a simmer and let the ratatouille simmer for 15-20 minutes or until the eggplant is fully cooked. Don't overcook the vegetables, they should not be mushy.
Can I use other vegetables to make this dish?
Traditionally, these vegetables are used in making this French vegetable stew. But I won't tell if you want to add mushrooms, olives, spinach, or your favorite bitter green to the mixture. After all, it's your dinner.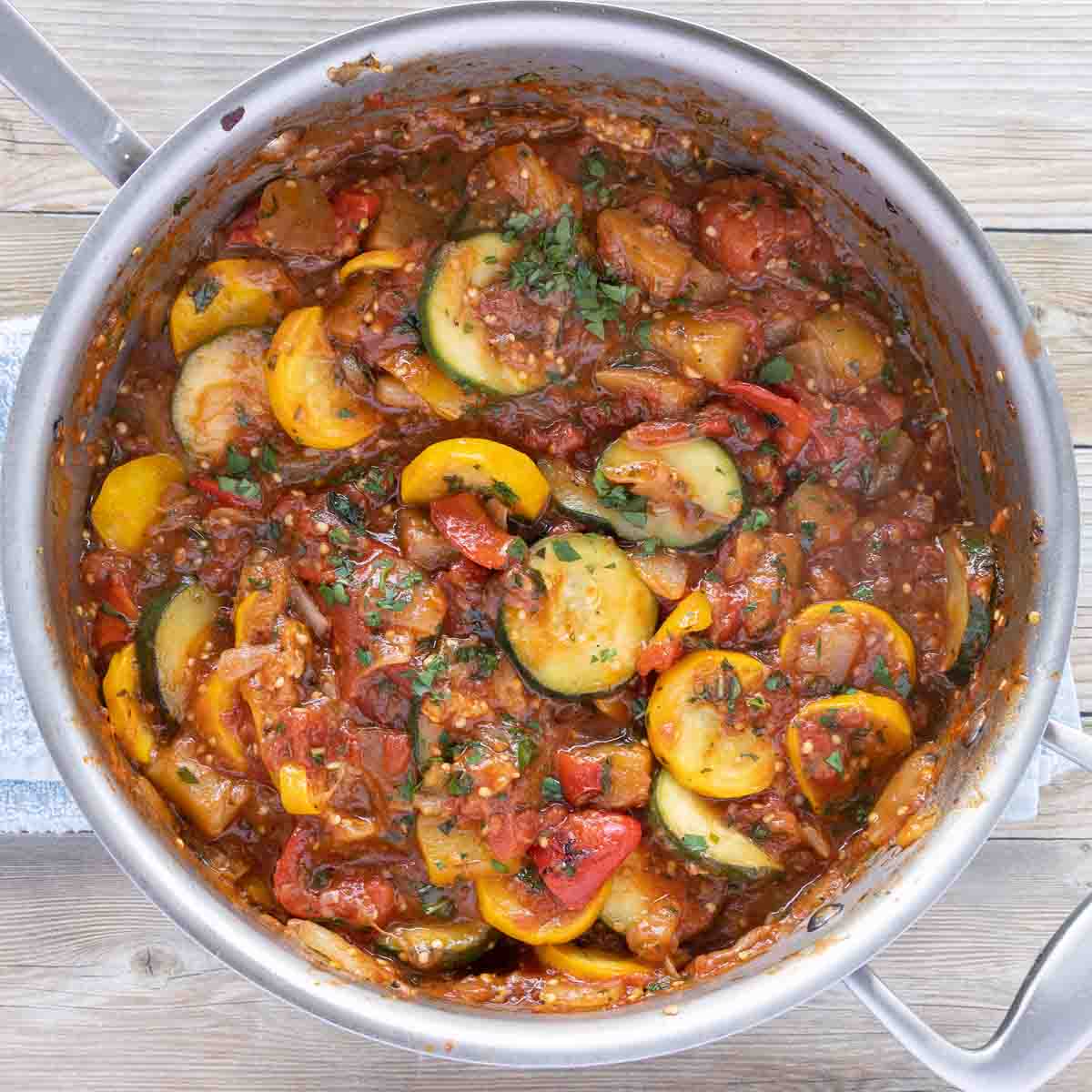 Reseason the ratatouille as needed and get ready to enjoy the best ratatouille you've ever had!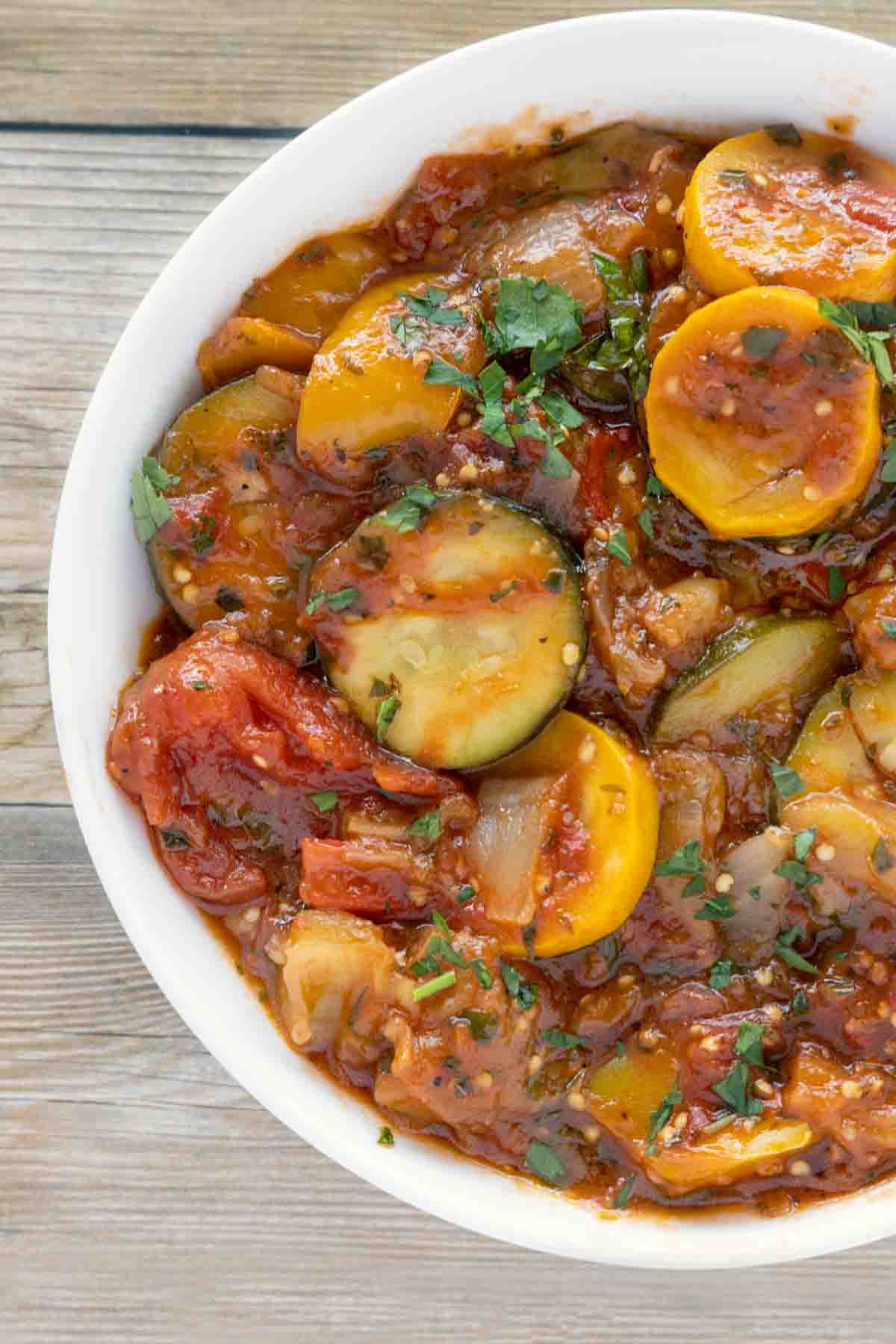 Serve my Traditional French Ratatouille as a side dish, over pasta, rice, or your favorite grain. It also makes a delicious topping for grilled or roasted chicken, beef, pork or fish.
Recipe FAQ's:
Can Ratatouille be made with fresh tomatoes?
Yes, it can. Fresh tomatoes were the original ingredient in the recipe and over the years cooks have substituted canned whole peeled tomatoes for ease of use, quicker cooking, and not having to worry about the tomato skins.
Is Ratatouille a French Dish?
Ratatouille is a rustic southern French vegetable stew whose origins are said to be from Nice, France. Its traditionally made with eggplant, zucchini, summer squash, bell peppers, sweet onions, and tomatoes. Its typically served during the summer months when fresh produce is abundant and can be served hot, room temperature or chilled.
Do I need to salt and drain the eggplant before cooking?
No, you don't. The salting process is supposed to keep the eggplant from absorbing as much oil, but I have never bothered with that process and have always had wonderful results in all the dishes I use eggplant in.
What is Ratatouille served with?
Ratatouille goes well with grilled or roasted meats, such as flank steak, chicken, pork chops, and leg of lamb. It also goes well with rice and of course crusty bread for dipping. But you can really serve this delightful vegetable stew with just about any entree.
More Recipes You'll Love!