Do you love flavorful spicy dishes? I do, and one of my favorites is my Cajun-Style Shrimp and Sausage. Served over a bed of rice, this hearty meal is sure to please your friends and family!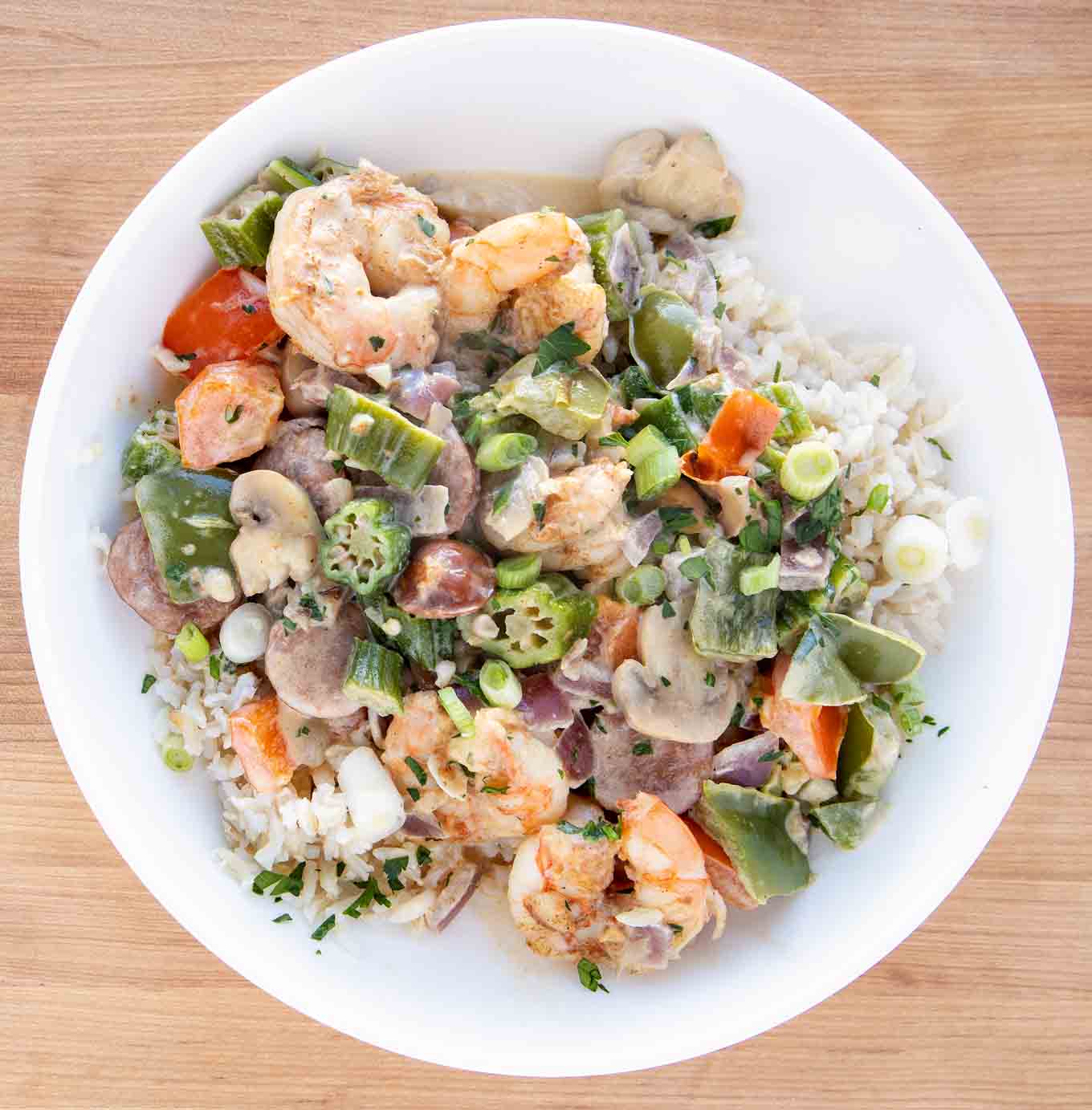 Creating restaurant-style dishes in your kitchen isn't as difficult as you might think. It always comes down to ingredients and a few easy cooking techniques.
The important thing to remember is that most recipes can be used as guidelines. To find true joy in the kitchen, you should cook with ingredients that both you and your family enjoy eating.
Learning to adjust recipes to use what you like to eat or what you have on hand will make your time in the kitchen a joyful experience rather than a chore.
What ingredients do I need to make Shrimp and Sausage?
Let's start by gathering the ingredients we need to make Cajun-Style Shrimp and Sausage. In Chef Speak, this is called the "Mise en Place," which translates to "Everything in its Place."
Not only does setting your ingredients up ahead of time speed up the cooking process, but it also helps ensure you have everything you need to make the dish.
Do I have to use Andouille Sausage?
No, you don't. You can substitute your favorite sausage for the andouille. This dish would also be great with chorizo and Italian sausage.
How do I make Cajun-Style Shrimp and Sausage?
Coat the shrimp with one tablespoon of the Cajun seasoning.
Heat the olive oil in a large skillet over medium-high heat. Add the shrimp and sauté for 2-3 minutes. Or until almost fully cooked.
Remove the shrimp from the pan and set on the side until needed.
Using the same pan, add the butter to the pan. Add the mushrooms, onion and peppers to the pan and sauté for 3-5 minutes. Or until the onions are translucent and the mushrooms and peppers are soft.
**Add additional olive oil or butter if needed
Add the okra, sausage, and garlic to the pan and continue to sauté for 3-4 minutes.
Add the chicken broth, cream, and Romano cheese to the pan. Reduce the heat to medium and allow the sauce to reduce by about one-third. Stir occasionally, allowing the sauce to let the flavor of the peppers and sausage release into the cream sauce.
Re-season to your taste with sea salt and black pepper. Then, it's time to add the shrimp back into the pan and bring the mixture back to a minimum temperature of 165 degrees.
**Add additional Cajun seasoning and/or hot sauce if you like heat.
Wouldn't you love to sit down to a bowlful of this delicious Cajun-style shrimp and sausage?
More Recipes You'll Love!