When it comes to breakfast nobody does it better than the South! And this Low Country Breakfast is one of my favorite examples of Southern Breakfast Cuisine.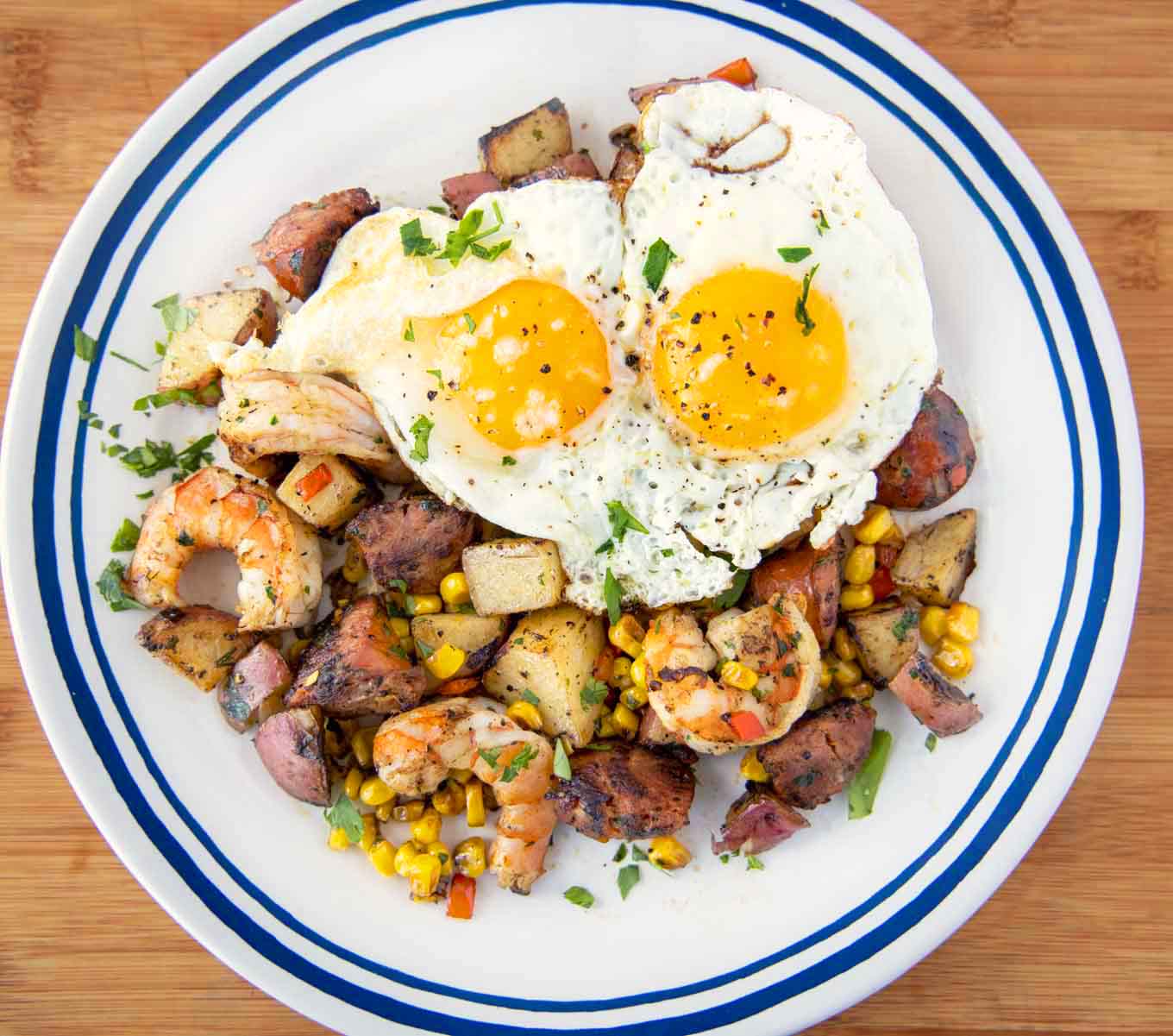 Creating dishes with local ingredients has always been my favorite way to cook deliciousness in my kitchen and our local shrimp have often found their way into my recipes and my dinner plate. The original recipe I sampled at the King and Prince Resort on Saint Simons Island used local Georgia Shrimp and local artisan andouille sausage.
What ingredients do I need to make a Low Country Breakfast?
For my adaption of this delicious Southern Breakfast, I used our local Florida Pink Shrimp and Adells Andouille Sausage I found in our local Publix Market.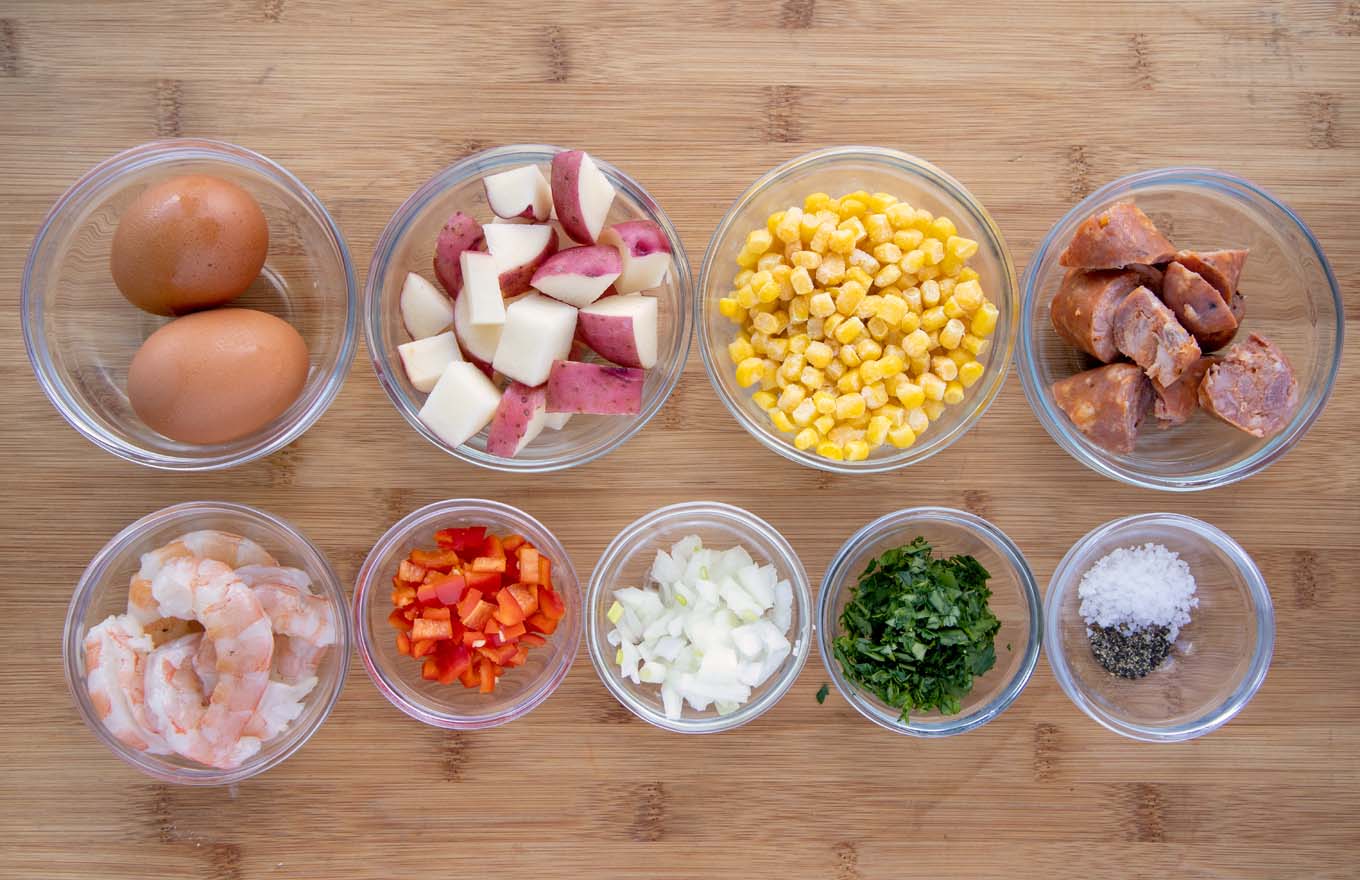 When I begin to cook I always gather my ingredients before beginning. This is called a Mise en Place which loosely translates into everything in its place.
Getting everything ready before you start cooking makes the process go more quickly and smoothly and also ensures you have everything you need before you start.
Do You Have to Use Andouille Sausage to make a Low Country Breakfast?
No, you do not. Fee free to use your favorite sausage in this dish. Mexican Chorizo would also be a good choice, but if you prefer another type of sausage, use that to create a breakfast that you will truly love. Cooking is all about making substitutions. Use what you enjoy eating to change up recipes and use what you have on hand.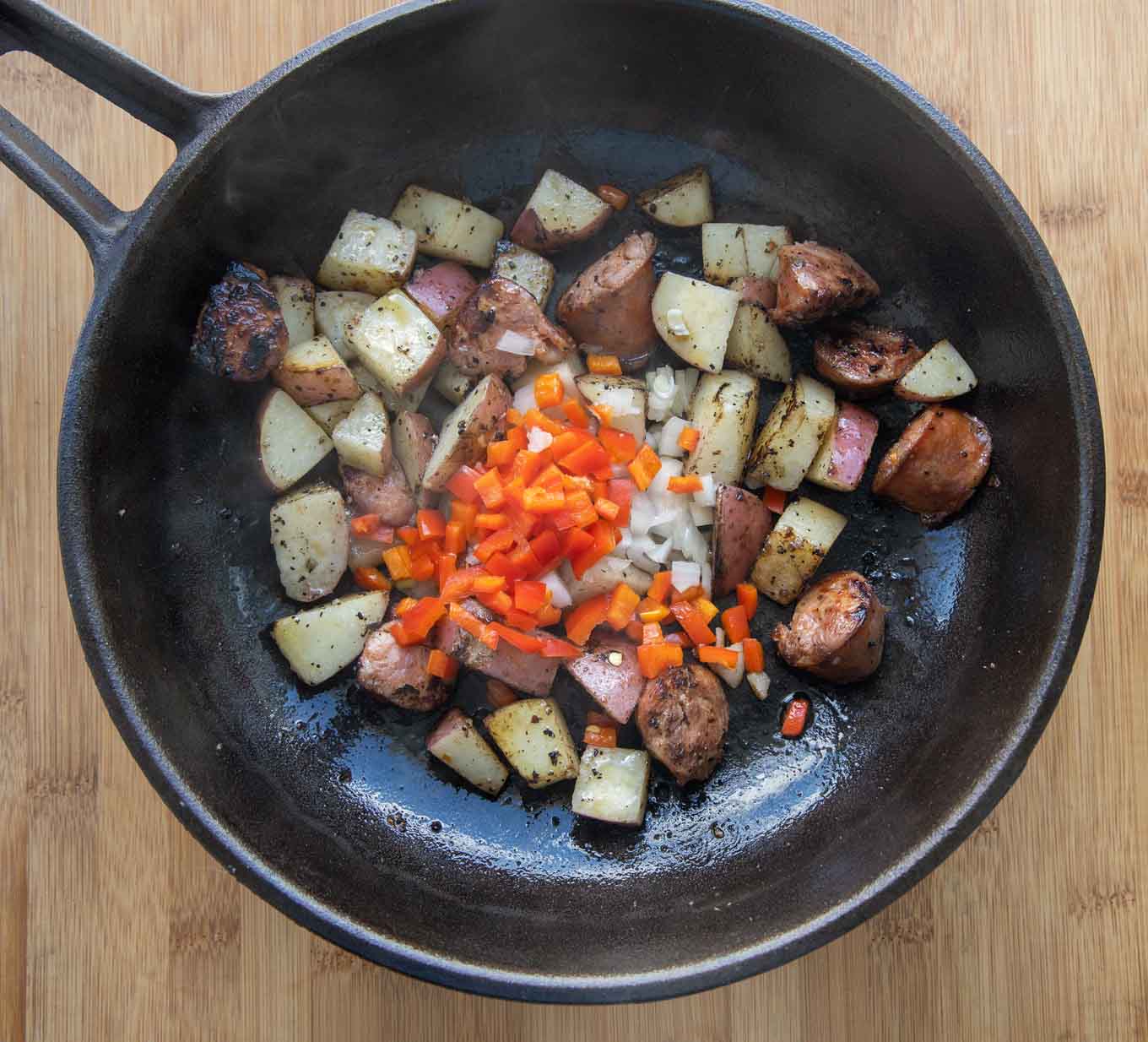 The first step in creating this delicious dish is sauteing the potatoes in your skillet over medium heat until they are almost done. Then add the andouille sausage and continue to sautee until the sausage starts to get some good color from the pan.
When the sausage is browned add the seasonings, peppers and onions and continue to saute for 3-5 minutes over medium heat.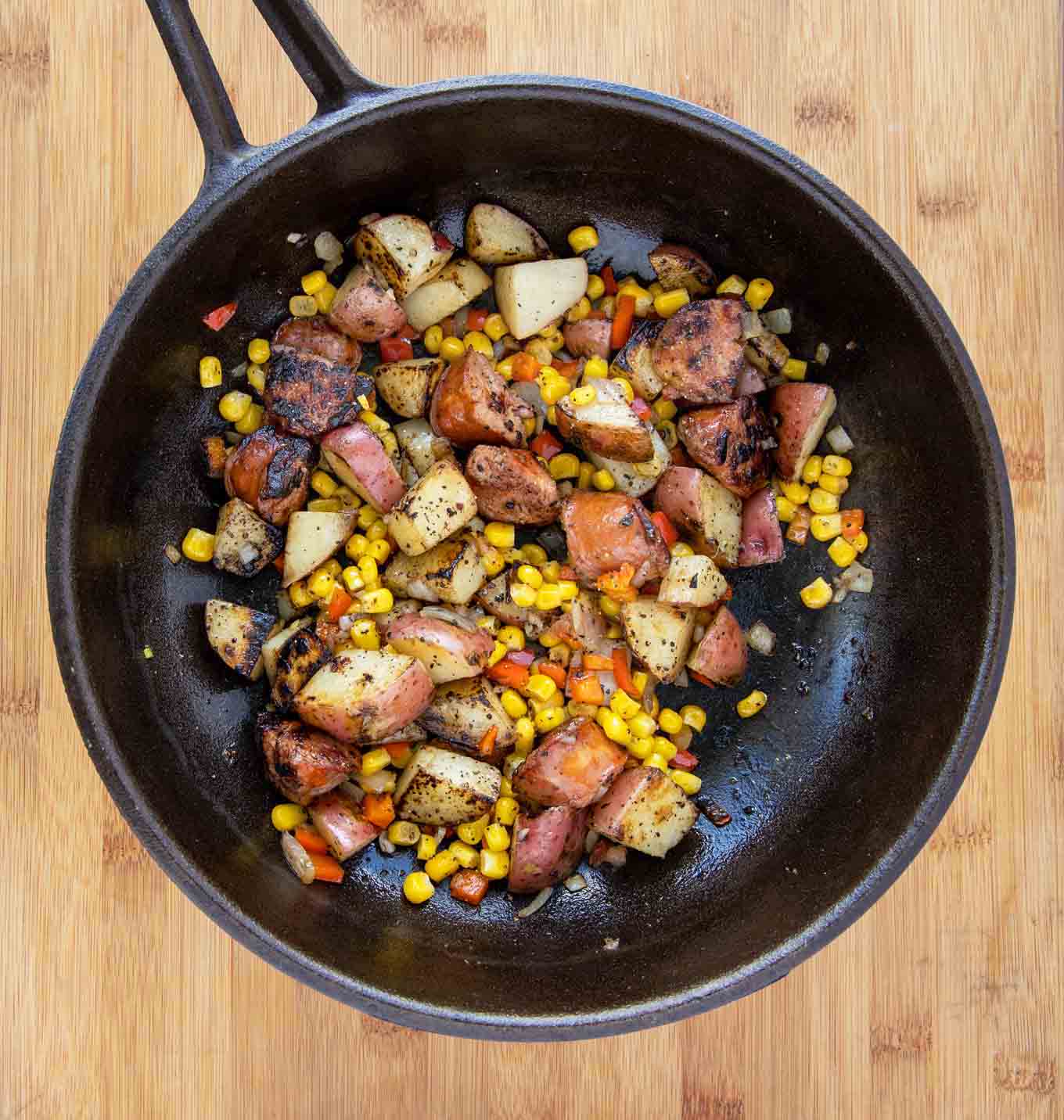 Add the corn to the pan and cook for 1-2 minutes.
Do I have to use corn to make this Breakfast dish?
No, you do not. Feel free to leave the corn completely or replace it with other vegetables.
Other good additions would be: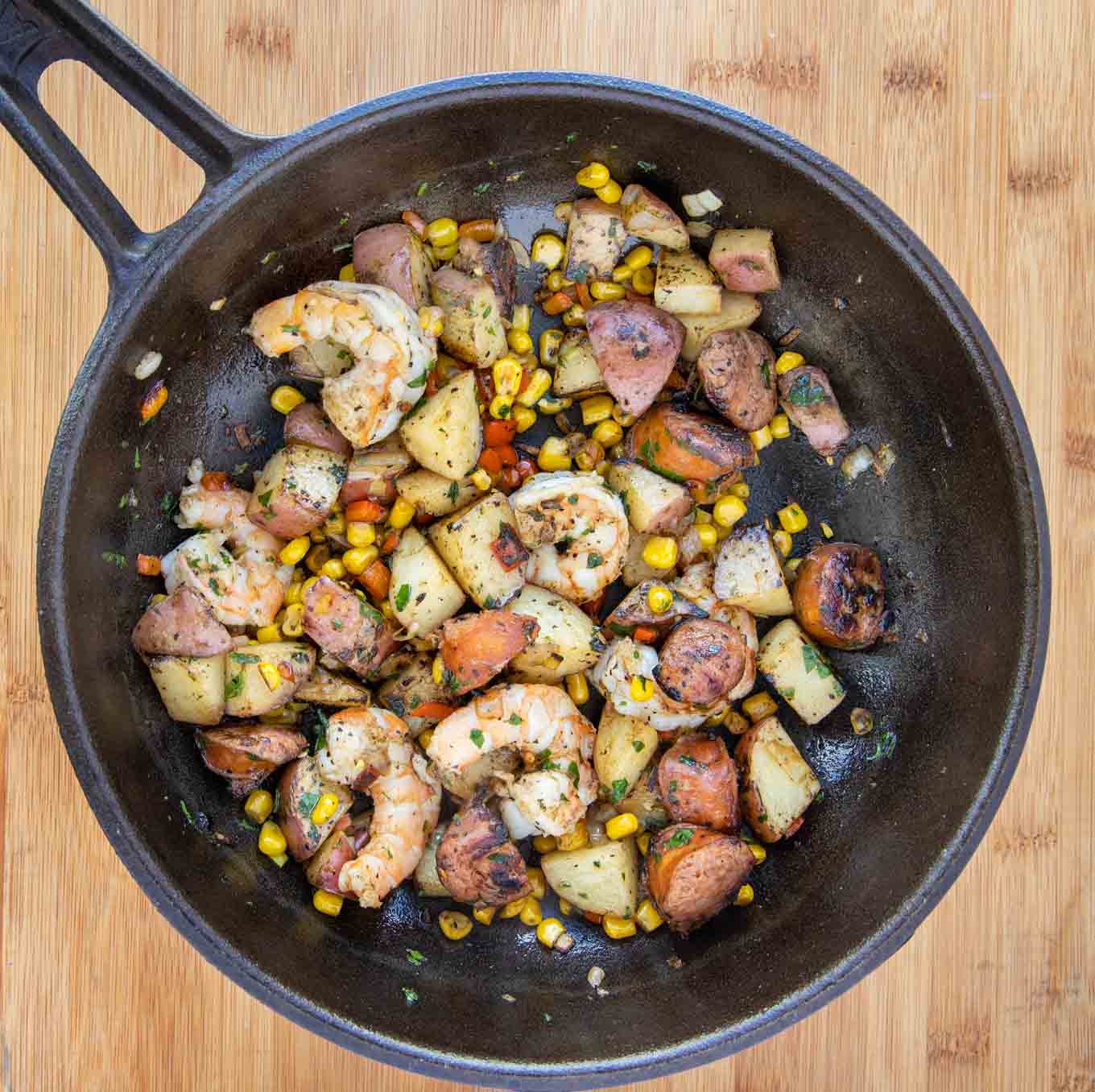 Once all those ingredients are cooked its time to add the shrimp. Shrimp don't take too long to cook and overcooking shrimp will make them tough and reduce the natural sweetness of the shrimp. So cook keep an eye on those shrimp!
When the shrimp are done, remove the skillet from the heat and loosely cover the pan while you cook the eggs.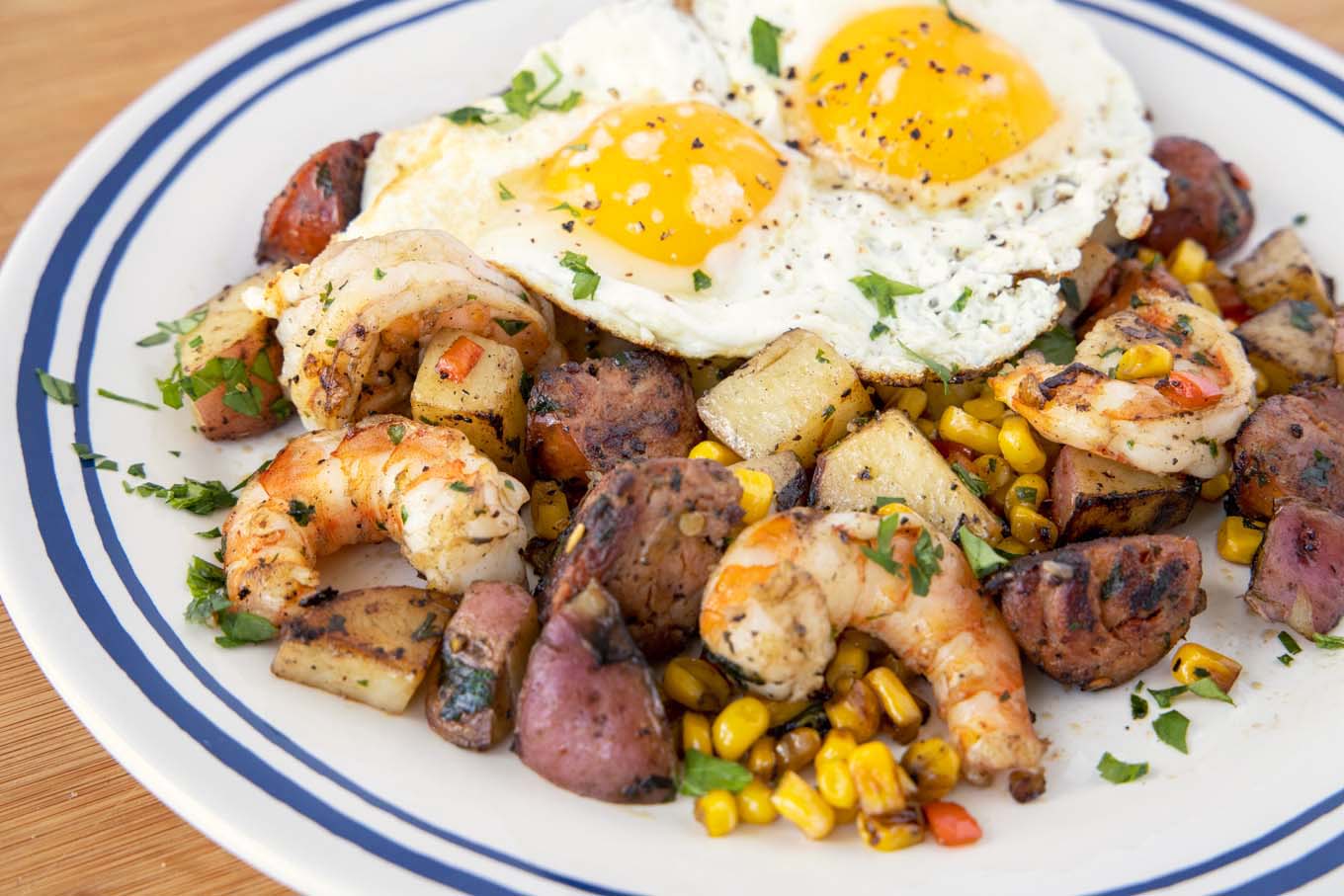 Serve up the finished skillet ingredients and top them with your favorite style of eggs. I love Sunny Side Up eggs but feel free to make them however you like.
You could even roll all the ingredients into a big flour tortilla and make an ah-mazingly delicious breakfast burrito.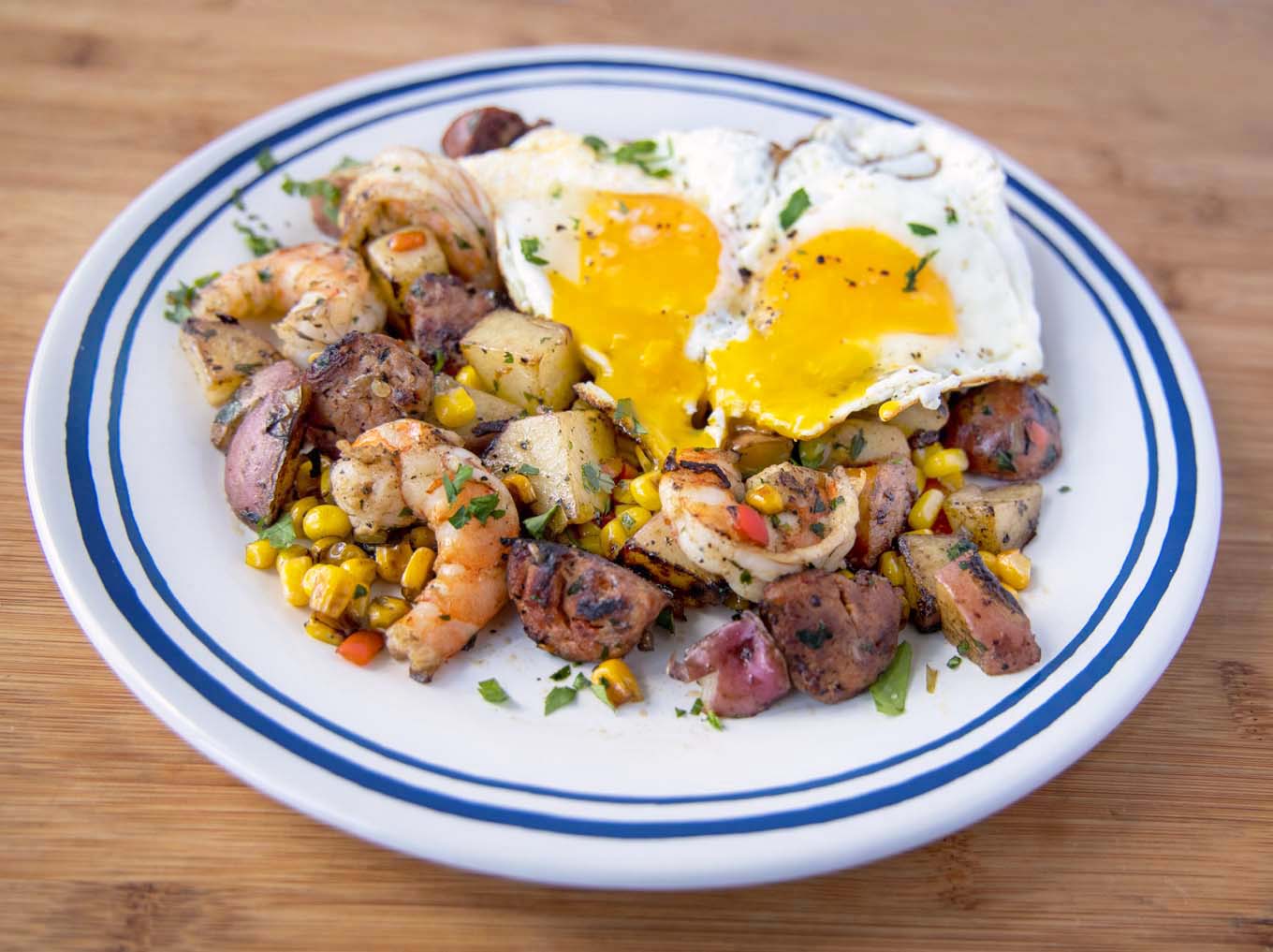 But after creating this deliciousness I want a little Yolkporn action on my plate and since we eat with our eyes, I've already created a visual feast!
More Recipes You'll Love!