If you're looking for a southern dish to wow your friends and family look no further than this southern classic Shrimp and Cheesy Grits.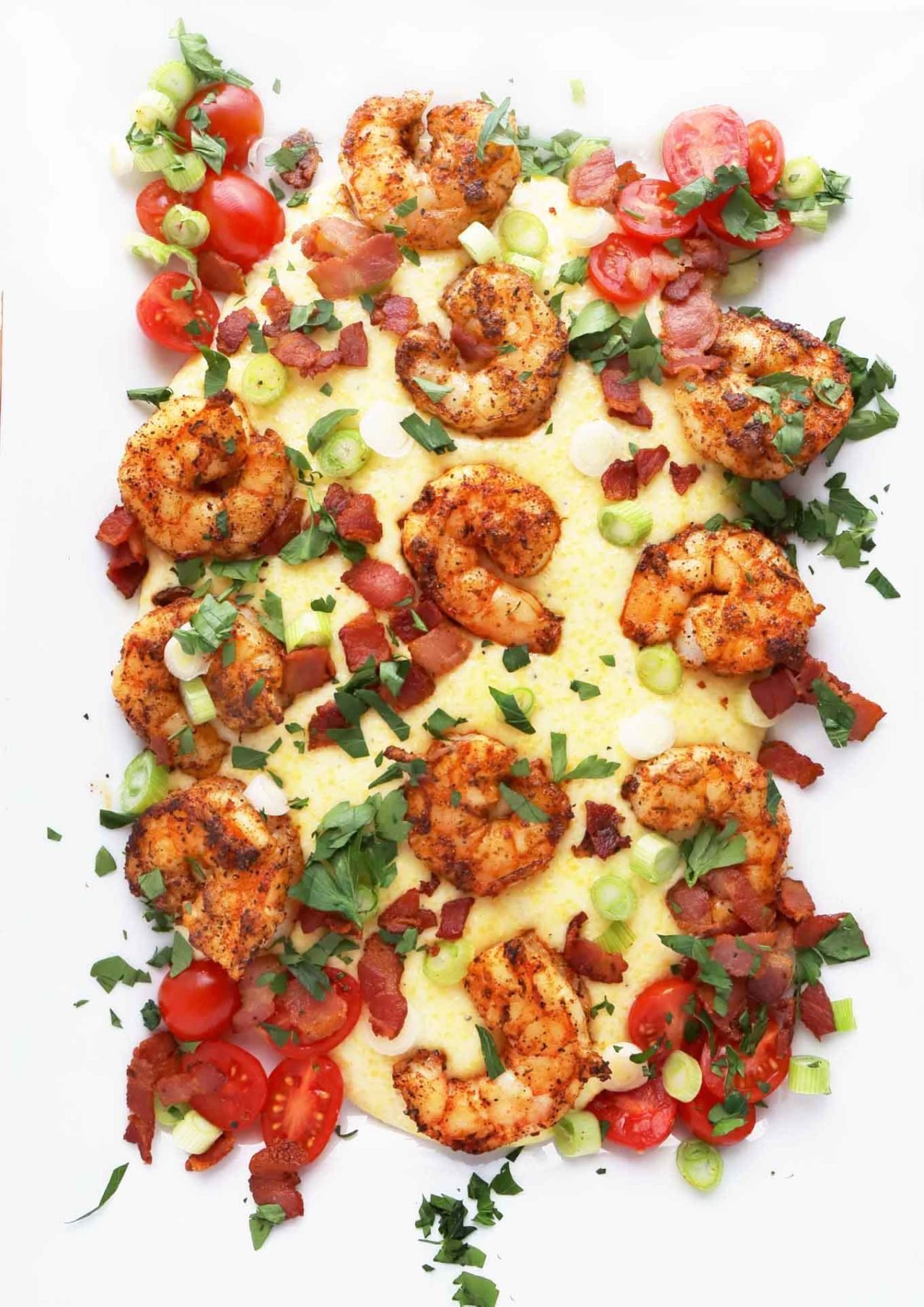 There are many variations on this Southern classic. My version of Shrimp and Cheesy Grits is a fresher version using uncooked sweet cherry tomatoes adding another flavor dimension to the dish. I don't rely on sauces to mask the individual flavors of the creamy cheesy grits and sweet gulf shrimp.
Rather than onions, I use scallions with a milder flavor and a bit of a crunch. It's very important to use good quality bacon, and I always look for "Humanely Raised" on the package.
That's the key to good bacon and will usually add other qualities you look for, Non-GMO, Vegetarian Fed and Pasture Raised.
How we treat our food is important for more than ethical reasons, it makes the food taste better.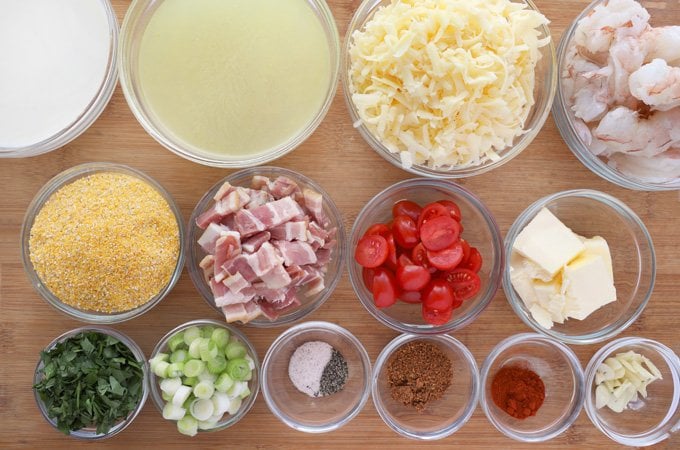 Let's start by gathering the ingredients we need to make Southern Shrimp and Cheesy Grits. In Chef Speak this is called the "Mise en Place" which translates to "Everything in its Place".
Not only does setting your ingredients up ahead of time speed up the cooking process, it also helps ensure you have everything you need to make the dish.
Since our dish involves an ingredient many of you are familiar with I'll explain a little bit about Grits before we start.
I use Palmetto Farms Stone Ground Yellow Grits that I purchase on Amazon (this is an affiliate link).
What are Grits?
Grits are similar in texture to cream of wheat, but they are made from ground dried corn. Because of their mild flavor, you can add just about any seasonings and ingredients to them, creating a southern classic or a family favorite.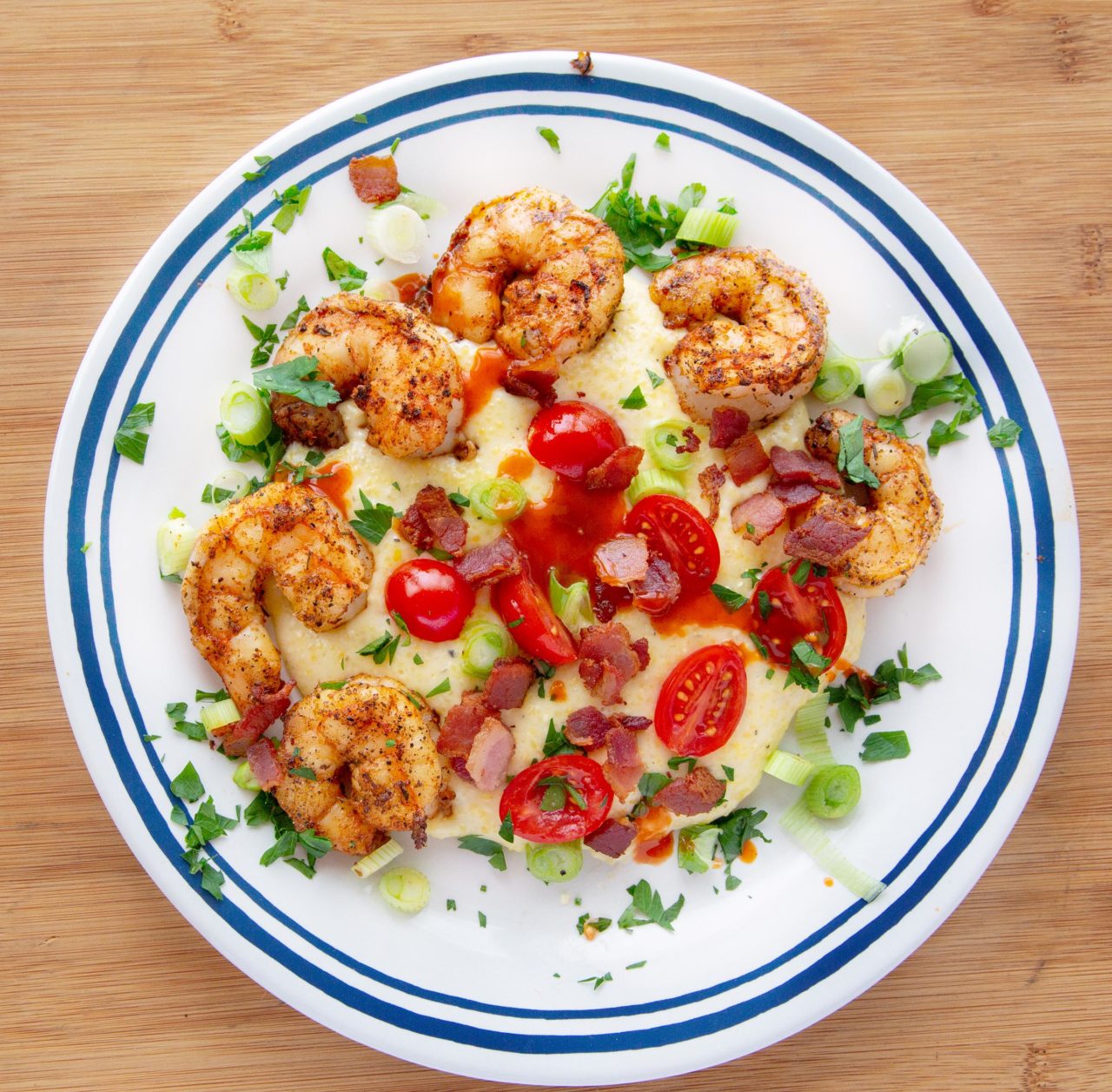 I saw these plates at one of my favorite home stores and had to pick up a few. Those blue-rimmed white plates remind me of the classic restaurant dishes of the 20th century. Have you ever heard the term Blue Plate Special?
It was an iconic phrase used by restaurants in the United States and Canada from the '20s through the '50s referring to a restaurant's special dishes.
If you like southern dishes that include shrimp my Shrimp Etouffee is just what you're looking for!
What kind of Grits can I use in this recipe and other recipes?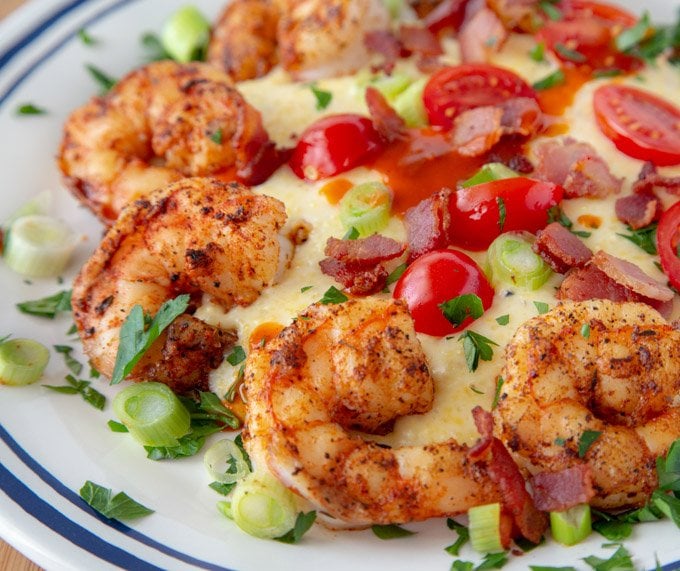 You can use any type of grits in your recipe that you have on hand or can find in your local grocer. Below you'll find information on all the types of grits that are available.
Stone-ground is my favorite variety of grits and can be found in yellow or white corn varieties as well as mixed together. These grits are made from whole, dried corn kernels that are coarsely ground in a mill. Stone ground grits cook up smooth, creamy, delicious, and full of a rich natural flavor. Not all grocery stores carry this type of grits because of a shortened shelf life but are the only grits I cook. I order my grits on Amazon.
Hominy is made from corn kernels soaked in an alkali solution (lye or lime) to soften the tough pericarp (outer shell or hull). The pericarp is rinsed, then removed, and the corn kernels undergo further processing to make hominy.
Quick and regular. These types of grits undergo processing, which involves removing the pericarp and germ (nutrient-rich embryo), so they have a longer shelf life. Regular versions are medium ground while quick are finely ground. This type of grits is much lower in nutritional value.
Instant. This precooked, dehydrated version has had both the pericarp and germ removed. They're widely available in grocery stores but are basically just a starchy food with little nutritional value.
Are Grits Gluten-Free?
Grits are made from corn and are naturally gluten-free. This means they're a suitable carb alternative for people who have to avoid gluten in their diet.
What Liquid Should I Use to Make Cheesy Grits?
I like to use half milk and half chicken stock so the grits are creamier and have flavor from the stock.
Use Vegetable stock or water to eliminate the chicken stock.
Use all water adding ¼ cup of heavy cream at the end.
What Kind of Cheese Should I Use in my Grits?
I like to use Sharp Cheddar Cheese in my grits as it adds a delicious cheesy flavor. You can also use Monterey Jack cheese, pepper jack or any type of cheese that makes you happy! It truly is comfort food and it should be a comfort food that you enjoy.
Chef Dennis Cooking Tips:
Bring the liquids to a boil then add the salt and grits. Bring the mixture back to a low boil whisking in the grits as it heats. When the grits are fully incorporated and have returned to a boil, cover the pot and turn the heat to simmer and cook until the grits are tender and creamy.
Stir grits using a whisk occasionally during the cooking process. This will help the grits thicken.
When the grits are done cooking add in the butter and cheddar cheese. Mix until fully incorporated.
Use good quality smoked bacon. I buy humanely raised pork products and the bacon leaves little grease when cooked.
Save some of the bacon grease to saute the shrimp.
Buy American or Mexican Shrimp from the Gulf of Mexico or the Pacific Ocean. Shrimp from the Atlantic coast of the US are also acceptable. Don't buy freshwater shrimp or farm-raised shrimp. Avoid shrimp from Asia, India or any the surrounding areas.
Dredge the shrimp in the seasonings before cooking. This will add some great color to the cooked shrimp.
Add the shrimp to a hot pan searing on each side for about one to two minutes depending upon their size.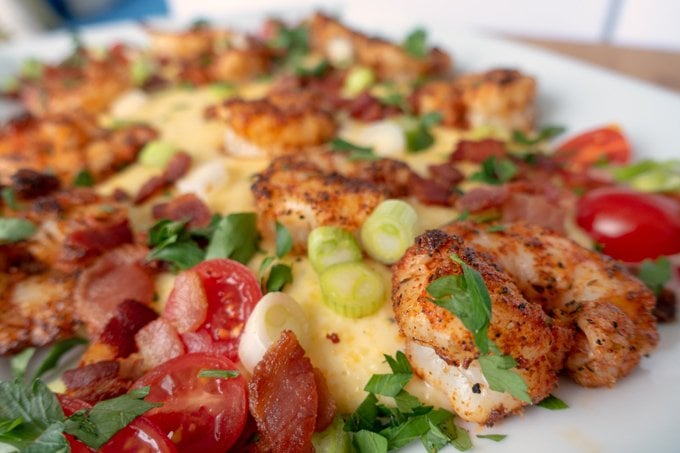 Wouldn't you love to sit down to a plate of my Shrimp and Cheesy Grits? Not a fan of shrimp? That's okay, make up your breakfast bowl with cheesy grits and top it off with a fried egg! And when it comes to grits for breakfast I love them the old-fashioned way with butter, salt and pepper.
Recipe FAQ's:
What goes with shrimp and grits?
My favorite side dish is collard greens, but any of your favorite greens will work to. You can also serve roasted or grilled vegetables as sides. Asparagus and broccoli are two of my favorites. Green beans also make a great side, cooked any way you like them or as a cold salad.
Are grits better cooked with milk or water?
Grits get their extra creaminess by cooking them in milk. For the most part grits are a blank canvas waiting for your favorite flavors, but cooking in milk is preferred to using water. The depth of flavor will be greater when using milk.
Are polenta and grits the same thing?
Although polenta and grits are both made from ground corn, the type of corn used is different. Polenta has a flakier, coarser grind which makes the end product sometimes chewy, while grits have a finer, smoother grind.
More Recipes You'll Love!