I love Chicken and waffles! Super crispy buttermilk fried chicken tenders served with fluffy and tender golden sweet potato waffles! It's a true Southern Classic and a dish that's easier to make than you think.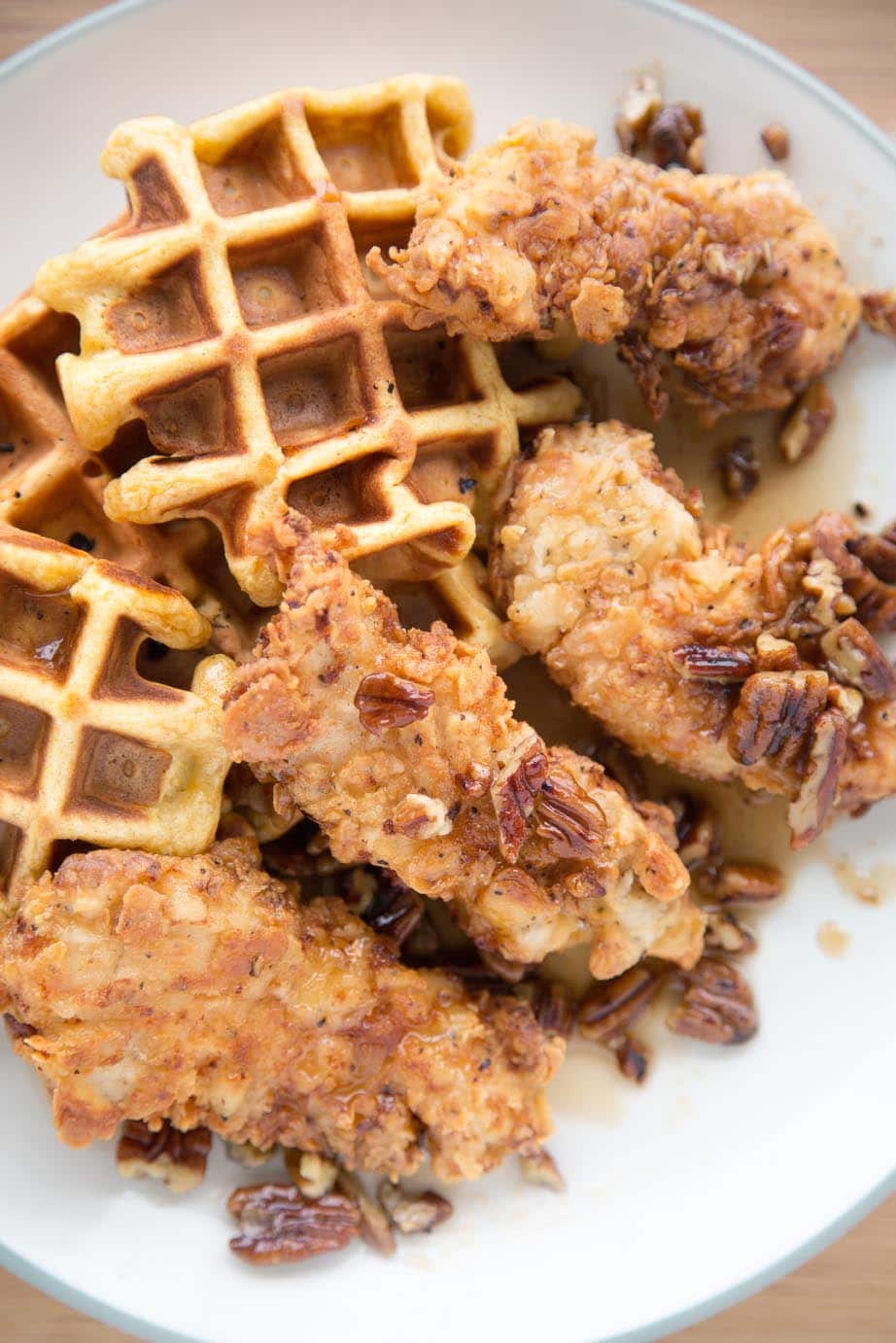 Not a fan of sweet potatoes, but that's okay I've got a recipe for buttermilk waffles that you can use instead. But trust me, once you try my sweet potato waffles you'll agree they are incredibly delicious and better than simple buttermilk waffles.
Are Chicken and Waffles a Southern Dish?
While thought of as Southern fare, Chicken and Waffles actually find their early beginnings at the turn of the 20th century in restaurants located in Chicago and California, claiming it was a Southern classic.
This dish would later find fame during the 1930s in Harlem, NY at the Wells Supper Club owned by Joseph T. Wells. Musicians playing at the club loved this breakfast for dinner dish and help it gain popularity.
What ingredients do I use to make chicken and waffles?
Let's start by gathering the ingredients we need to make Chicken and Waffles. In Chef Speak this is called the "Mise en Place" which translates to "Everything in its Place".
Not only does setting your ingredients up ahead of time speed up the cooking process, it also helps ensure you have everything you need to make the dish.
What Kind of Sweet Potatoes Should You Use?
You can use leftover sweet potatoes, bake them, steam them or microwave them. Any way you cook up your sweet potatoes just make sure they're soft enough to mash-up for the waffle batter.
*Soaking the chicken tenders in buttermilk makes the fried chicken even better, but it's not a deal-breaker.
If you're not a fan of sweet potatoes, here is a quick recipe for light and fluffy Buttermilk Waffles.
Ingredients:
1¾ cups all-purpose flour
2 Tbsp granulated sugar
2 tsp baking powder
1 teaspoon baking soda
1 tsp salt
1¾ cups buttermilk
½ cup unsalted butter melted and cooled to room temperature
2 large eggs
2 tsp vanilla extract
Instructions:
In a large bowl, whisk the flour, sugar, baking powder, baking soda and salt together then set aside until needed.
In a medium bowl, whisk the buttermilk, melted butter, eggs and vanilla extract together until well combined.
Add the buttermilk mixture to the flour mixture and gently whisk to combine. Do not overmix!
Spray your waffle iron with non-stick cooking spray, then preheat.
When the waffle maker is ready, add the batter according to the manufacturer's instructions and cook for 2 to 3 minutes, or until the waffle maker indicates they are ready. You don't have to make perfect waffles, I like them looking a little rustic.
How do I make Sweet Potato Waffles?
How do you properly fry chicken?
This is the time-tested method for making the best crispest fried chicken.
Always start the process by coating the chicken with a dry ingredient (which is usually flour).
Next, dip the chicken into an egg wash (beaten eggs with water or milk added).
Then back into the dry ingredient (commonly known as flour).
This is the preferred method for creating the best Southern Fried Chicken. Whether it's chicken tenders, or any bone-in or boneless pieces of chicken.
I always season the flour with salt and black pepper, but you can add a little cayenne, or cajun seasonings to the flour if you want to add some heat. You can also use buttermilk to make the egg wash or season the egg wash with some hot sauce, if you want to bring some heat to the chicken.
*After breading the chicken, place the pieces on a wire rack so they don't get mushy or stick together.
I was actually quite surprised how much the sweet potatoes helped the waffles. They were moist and flavorful without any hint that there might be sweet potatoes in them.
I cooked up all the batter and froze the extra cooked waffles for another day of deliciousness! The chicken was crisp and moist the perfect combination and the butter pecan syrup added another layer of flavor to the dish.
If you enjoyed this recipe you may also like these: