When it's time to serve up deliciousness to your friends when they stop by to watch the game, my Loaded Tater Tot Nachos are the perfect game-day comfort food to serve your guests.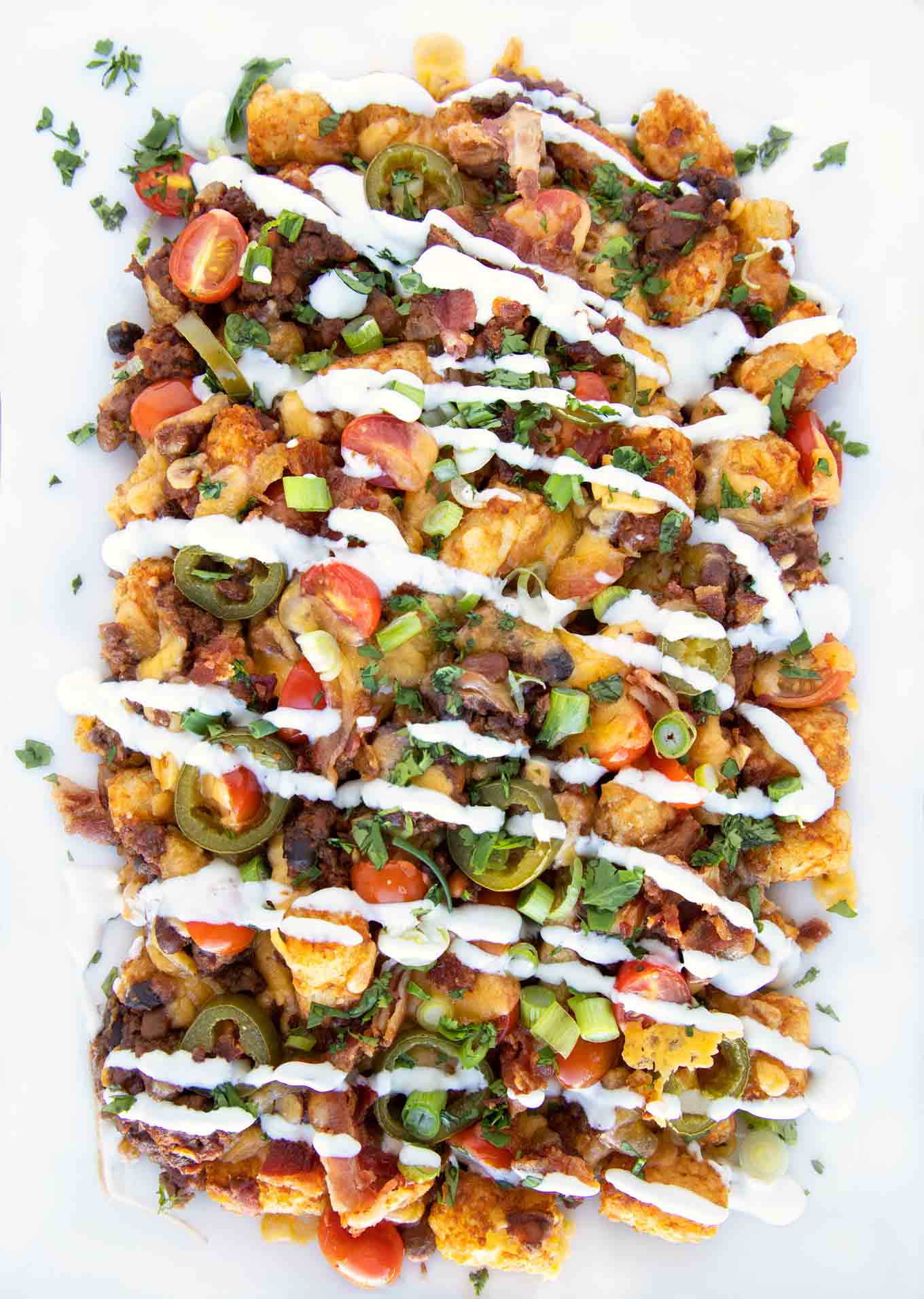 When it comes to sporting events the spicier the food the better. And it's hard to believe that there was a time that I had to stay away from the spicy foods that I loved because they triggered frequent heartburn symptoms.. For a chef that's almost a fate worse than death…sigh.
Ingredients to make Loaded Tater Tot Nachos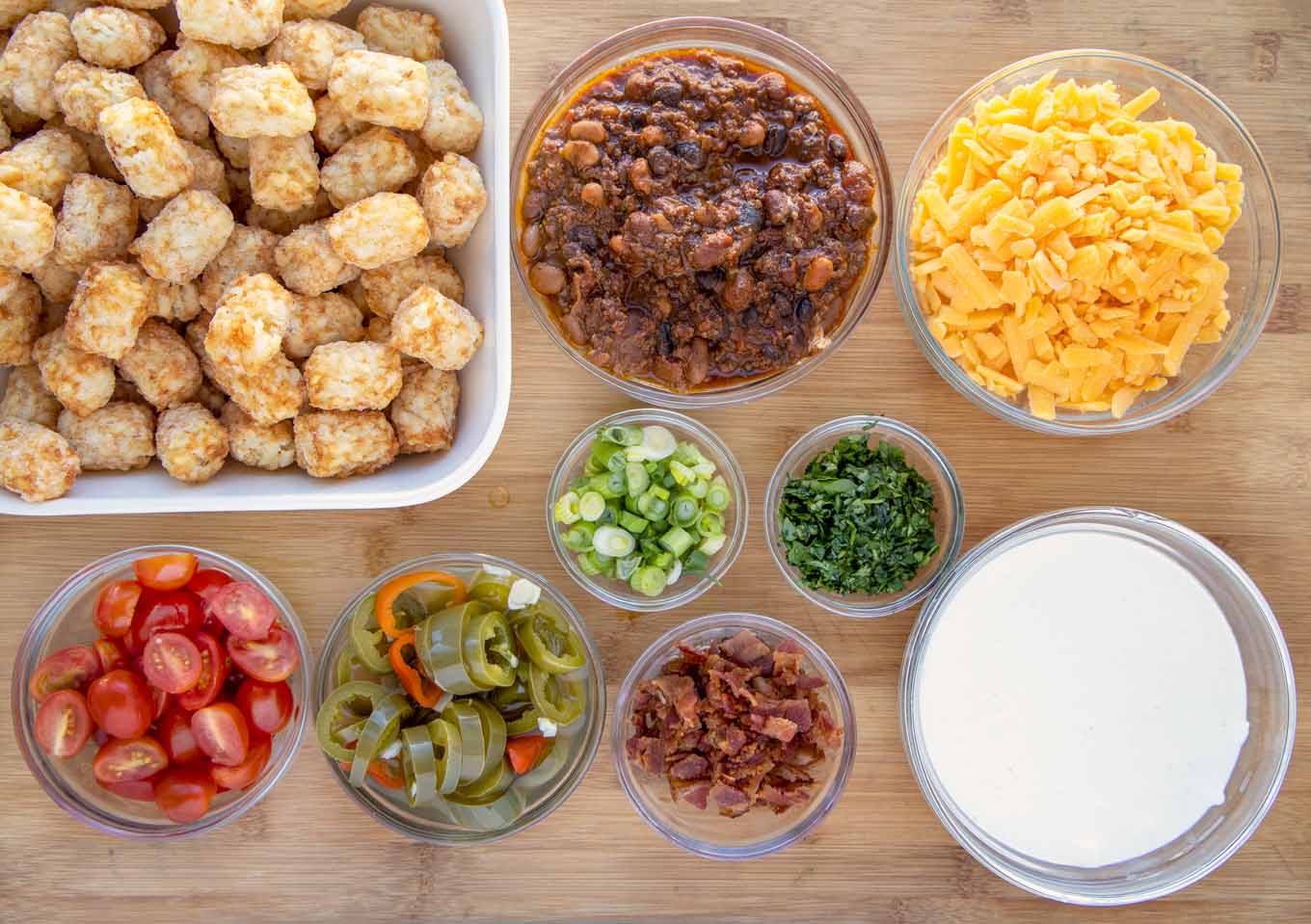 Let's start by gathering the ingredients we need to make Loaded Tater Tot Nachos. In chef speak this is called the mise en place (everything in its place).
How do I make Pickled Jalapñeos?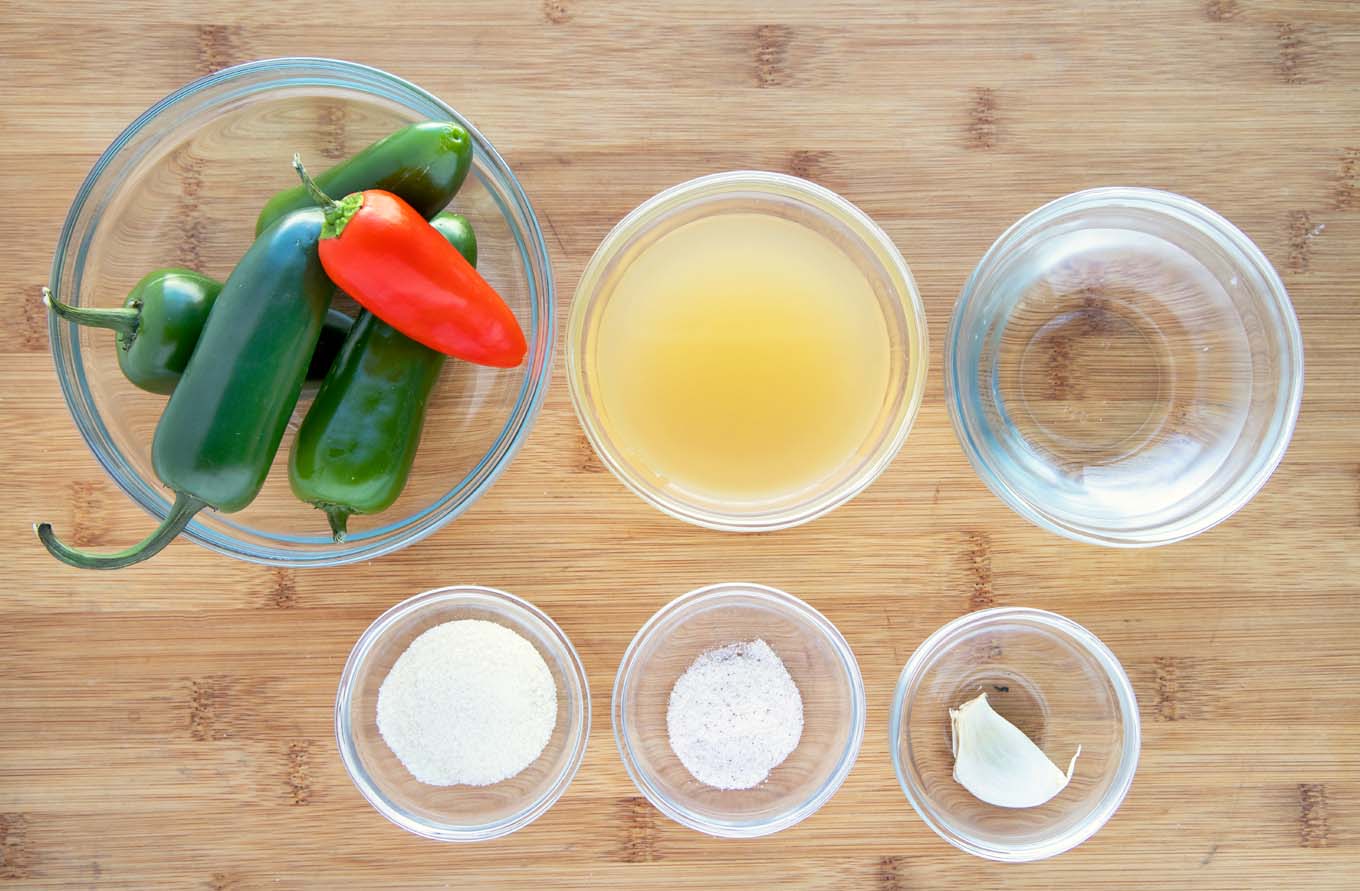 For this dish, I made the pickled jalapeños but feel free to pick up store-bought. But once you see how easy it to make your own you may change your mind. I added a sweet red pepper for color, feel free to leave it out or add more.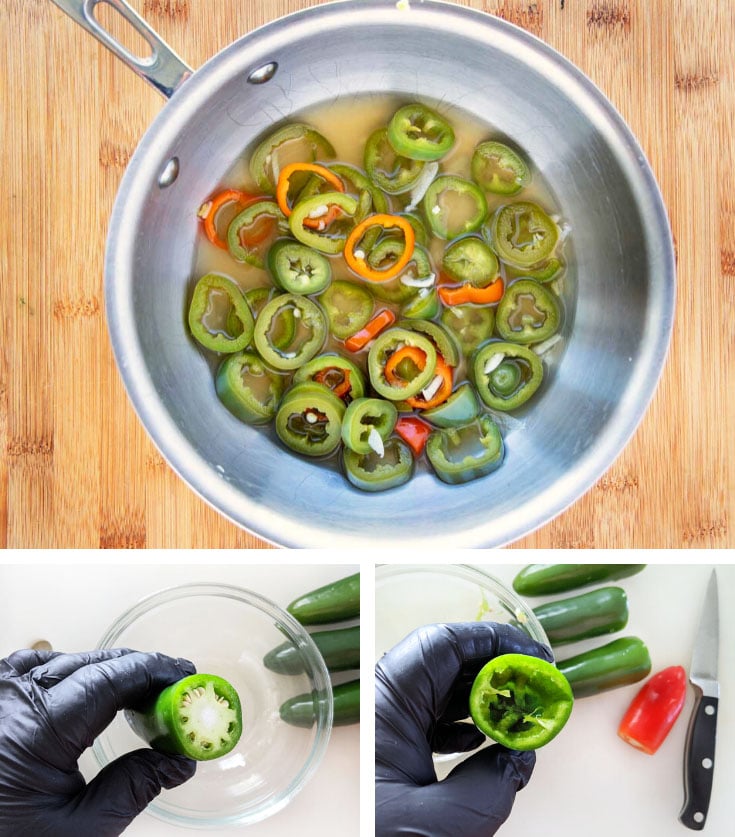 Place all the ingredients (except the peppers) in a saucepan and bring to boil. Turn off the heat and add the sliced jalapeños and red pepper. Allow them to sit for 10 minutes then place in jar with a lid along with the liquid and refrigerate until needed.
How do I reduce the heat of Jalapeños?
If you're not a big fan of heat but enjoy the flavor, removing the seeds will help reduce the heat. You can also rinse the peppers under cold running water to help reduce the heat. The pickling process will also help reduce the heat of peppers.
Chef Dennis Tip
Prepping the peppers is easy, but I do recommend wearing gloves to handle the peppers as well as having good ventilation. Just cleaning the peppers and rinsing them can cause you to choke. So be careful.
If you don't have gloves make sure to wash your hands three times. If you've ever touched your eyes or a delicate area after touching jalapeños or other hot peppers you know exactly what I'm talking about.
How do I make Lime Crema?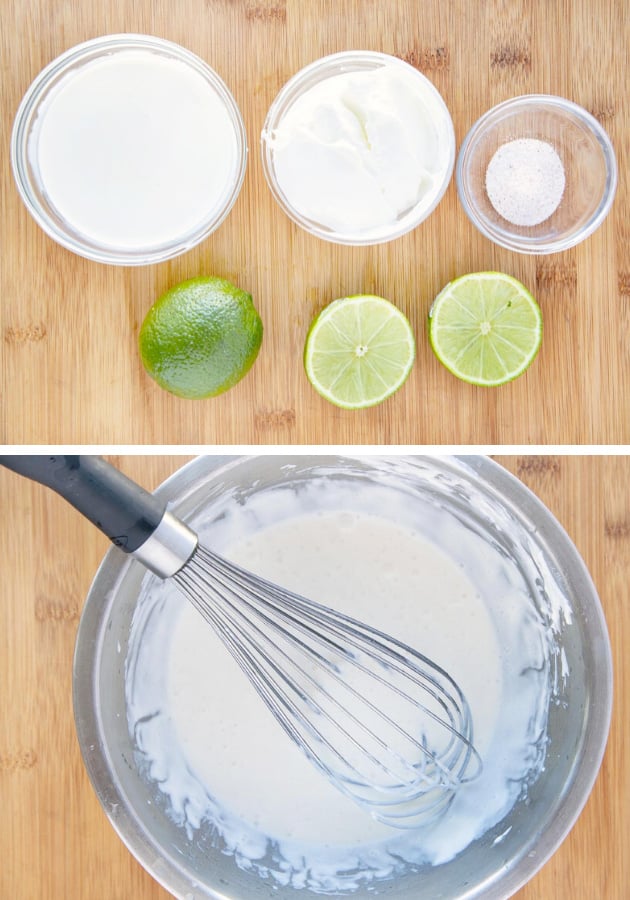 Making lime crema couldn't be easier. Just mix all the ingredients together and let the finished crema sit unrefrigerated for 90 minutes. Then cover and refrigerate until needed.
How do I make Loaded Tater Tot Nachos?
Now that you've prepped everything we need, let's get started with making the Loaded Tater Tot Nachos.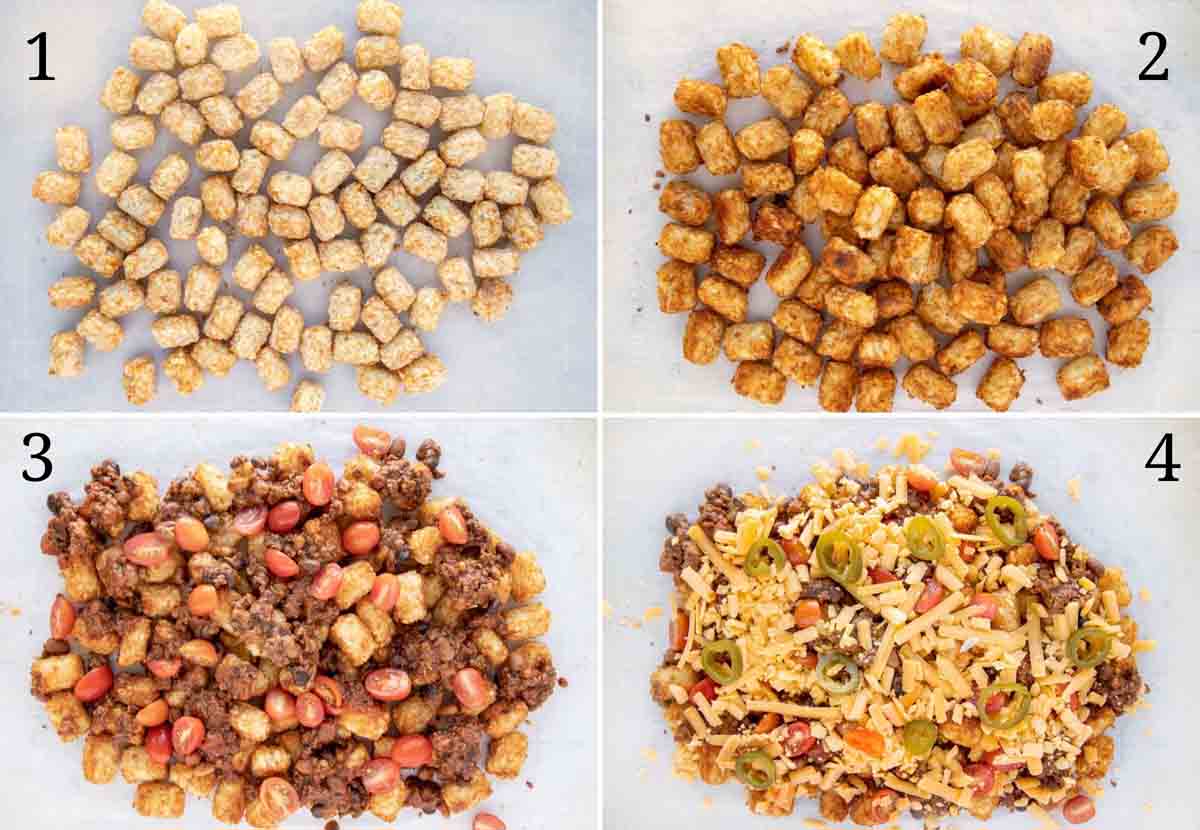 The first step is pretty easy. Place the frozen tater tots on a baking sheet lined with parchment paper into a preheated 450 F degree oven for 30 minutes. Using the parchment will make the process of transferring the finished tots to a serving dish very easy.
Cook the tater tots until golden brown and crunchy
Add the chili with beans and grape tomato halves to the tots.
Next, add the shredded cheddar and pickled jalapeños, then place them back into the 450 degree F oven for 5 minutes or until the cheese has melted.
**Feel free to use more or less of any of the toppings.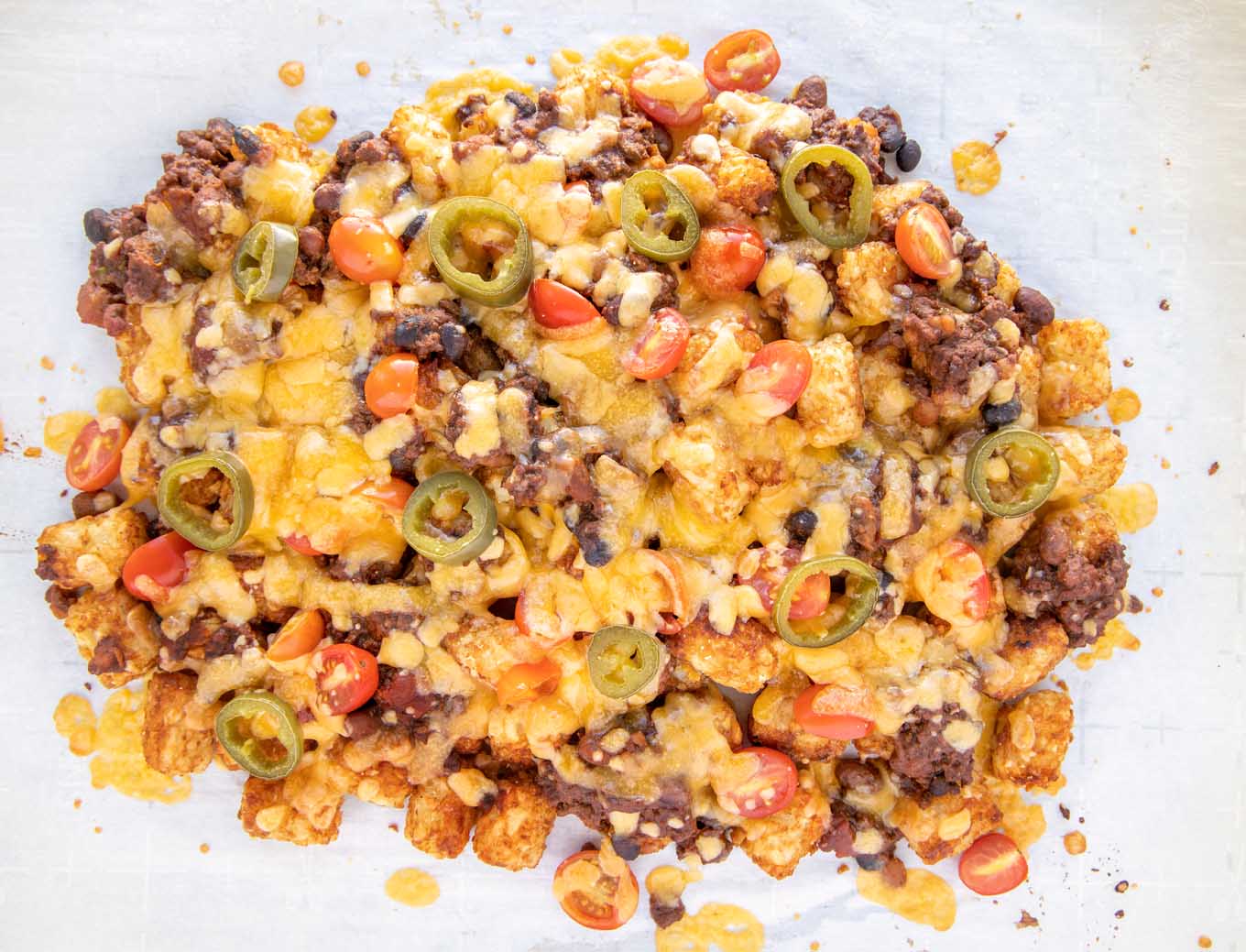 Remove the tots from the oven when the cheese melted. Carefully lift the parchment and using a spatula slide the tots onto your serving platter.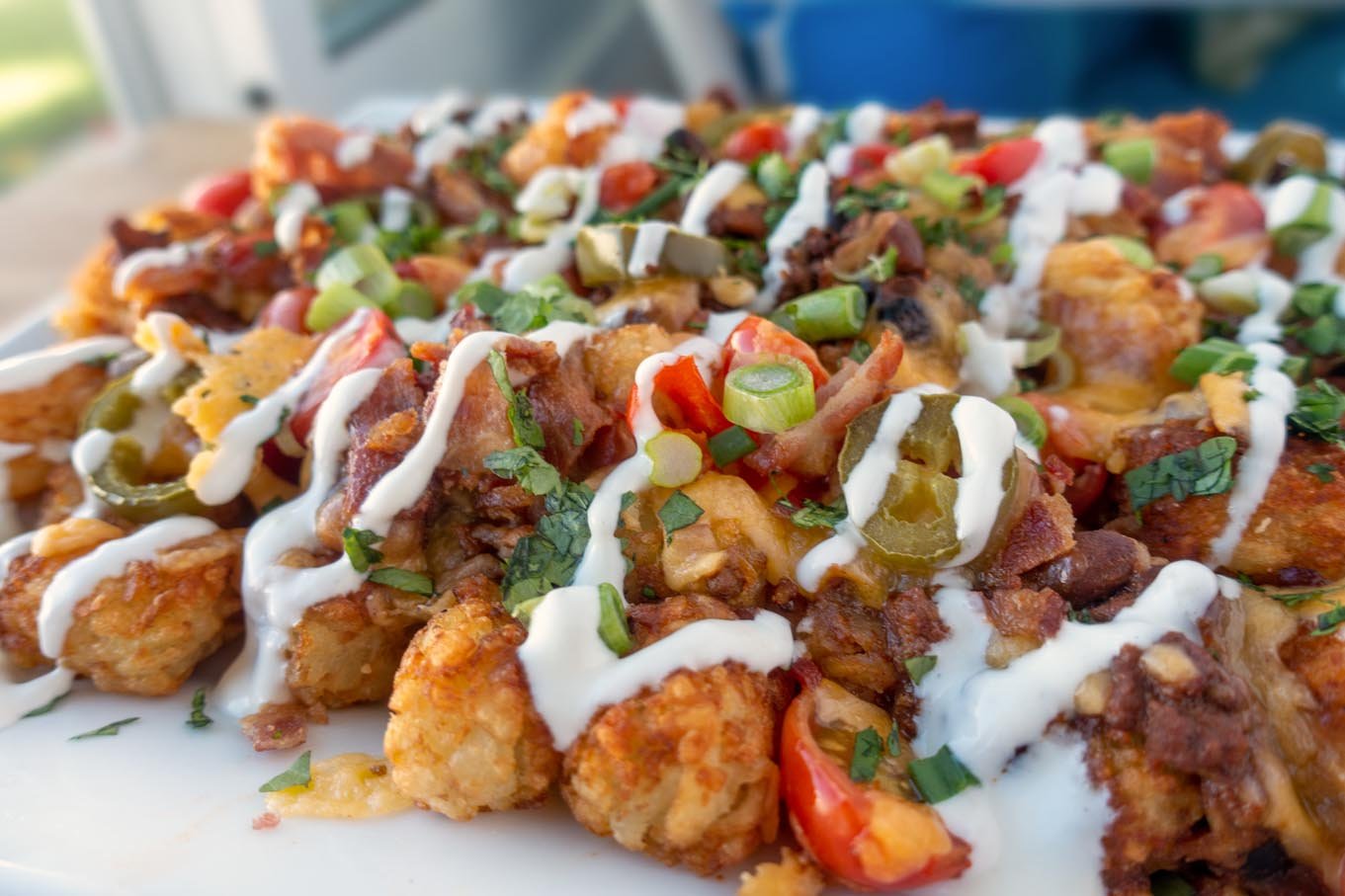 Top the tots with the bacon, cilantro and lime crema. Serve and enjoy!
Recipe FAQ's
What toppings can I use on Tater Tot Nachos?
The sky is the limit when it comes to toppings. It's all about your personal preference. Some of my favorites are nacho cheese sauce, crispy bacon or veggie bacon bits, scallions, sour cream, guacamole, sliced olives, black beans, diced red onion, and your favorite salsa.
Are Totchos the same as Tater Tot Nachos?
Yes. they are. Totchos is a cute name developed to incorporate the word tot with nachos.
What kind of cheese can I use on Tater Tot Nachos?
I love cheddar so that's usually my first pick, but Monterey jack is also a great choice. Want to get a little spicy with hot sauce? Why not add some bleu cheese crumbles. And if you want to get messy and delicious, cheese sauce is the perfect choice.
But basically any type of cheese you like to eat works on Totchos!
More Recipes You'll Love!