It's not difficult to make my Cheddar Lobster Dip and it's the perfect hot dip to serve when you want to impress your guests. I promise they'll love every delicious bite of this Hot Cheesy Lobster Dip
This post includes affiliate links. As an Amazon Associate I earn from qualifying purchases.
If you love warm dips my lobster dip is going to become one of your favorites. This creamy cheesy cheddar Lobster Dip is definitely a favorite in our home!
This is a sponsored post written by me on behalf of Mission®. All opinions are entirely my own.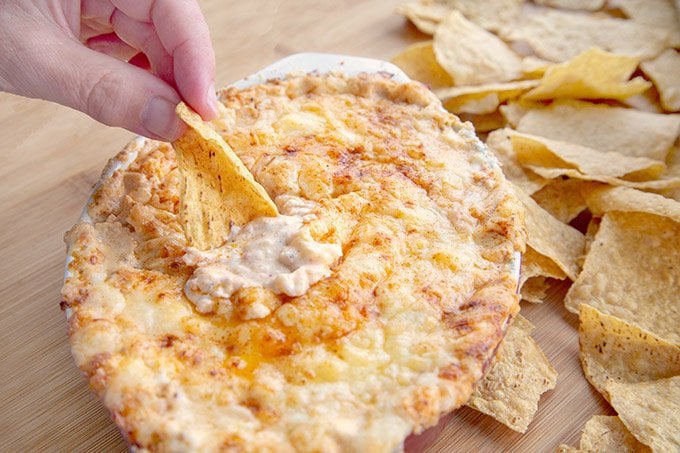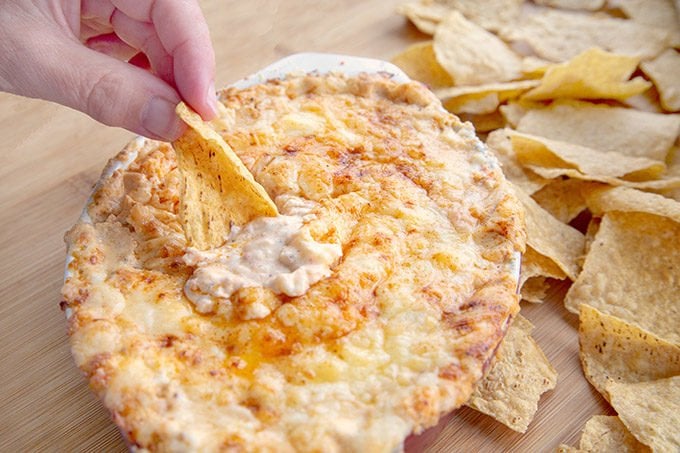 With the holidays in full swing, I've got friends and family visiting every chance they get and that means I get to spend time in the kitchen cooking up deliciousness to serve while Lisa plays hostess.
I have to admit that I love entertaining and enjoy the opportunity to share food with my friends and family. Lisa and I are the perfect pair when it comes to entertaining.
She's more of the social butterfly and enjoys mingling with guests outside of the kitchen, whereas I feel more at home in the kitchen and enjoy chatting with those that wander in for something to eat or drink.
What ingredients do I need to make a Lobster Dip?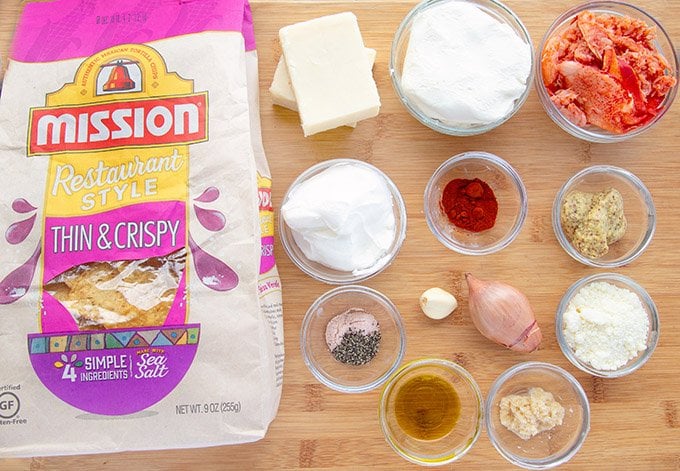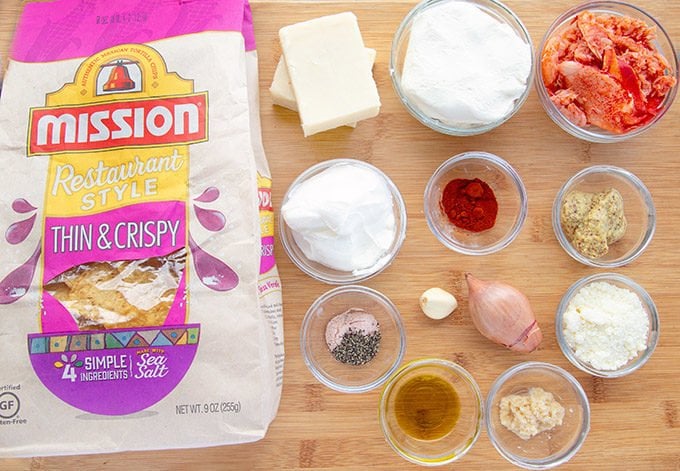 Let's start by gathering our ingredients (aka mise en place) for this dish. It's a good idea to get everything you need before you start to prepare any dish in your kitchen.
It's an easy way to see if you're missing anything you need before you start cooking. It makes the whole process go more quickly. And less time in the kitchen means more time with your family and friends.
My Cheddar Lobster Dip is really easy to make and you can find lobster meat at most upscale grocery stores in the area.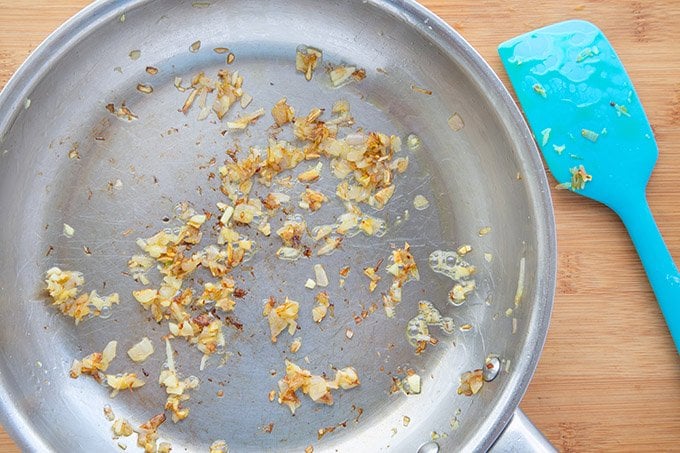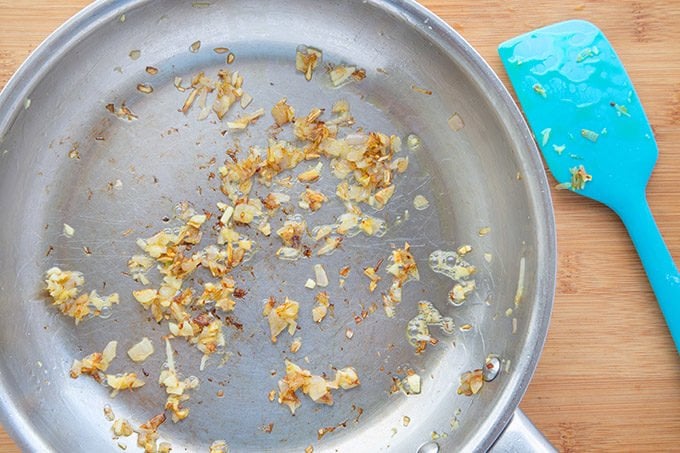 After gathering the ingredients and prepping the garlic and shallots, the recipe goes pretty quickly. Start by sautéing the aromatics (garlic and shallots) in a sauté pan briefly so you get the full flavor of them in your dip.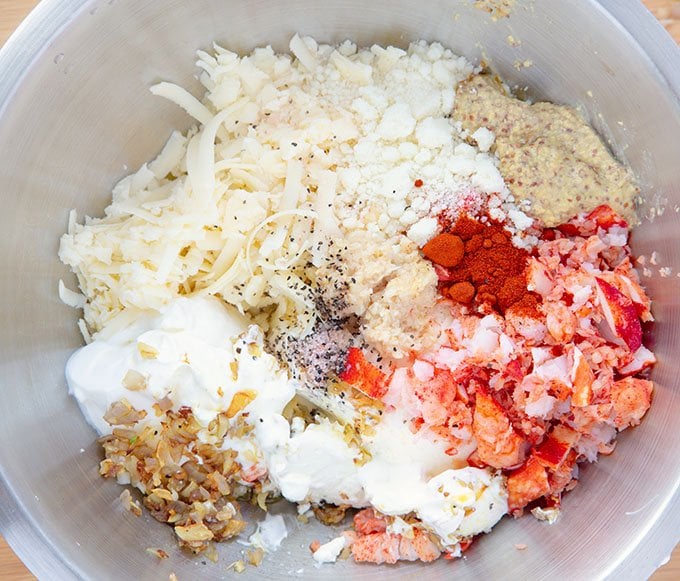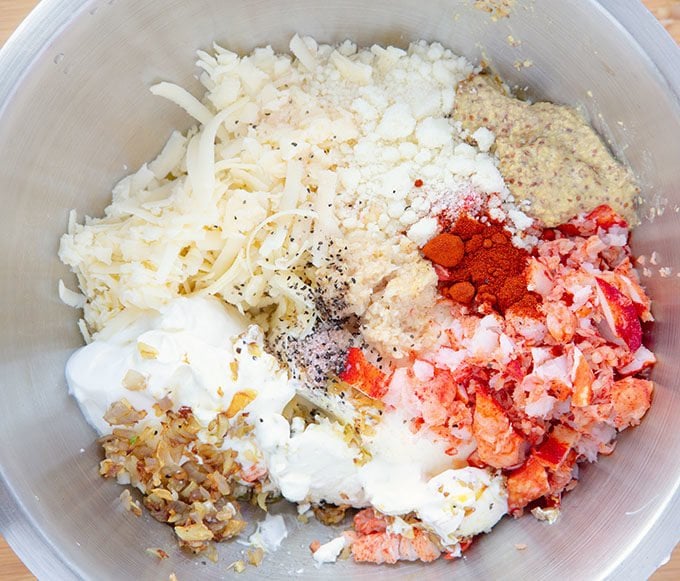 Then you add your ingredients into a mixing bowl. You can see I've chopped the lobster up a bit, but feel free to leave bigger pieces if you'd like.
What type of cheese can I use in this Dip?
I've used cheddar cheese in my recipe, but you can switch it out with Gruyere, Swiss or any of your favorites. If you'd like to use a more flavorful cheese, add it in small quantities so you don't overpower the lobster.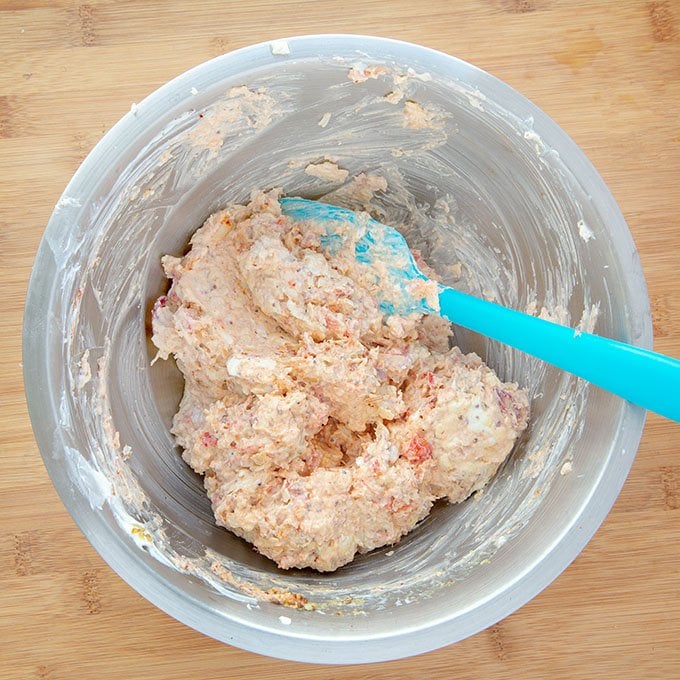 Mix all of the ingredients together (make sure your cream cheese is softened).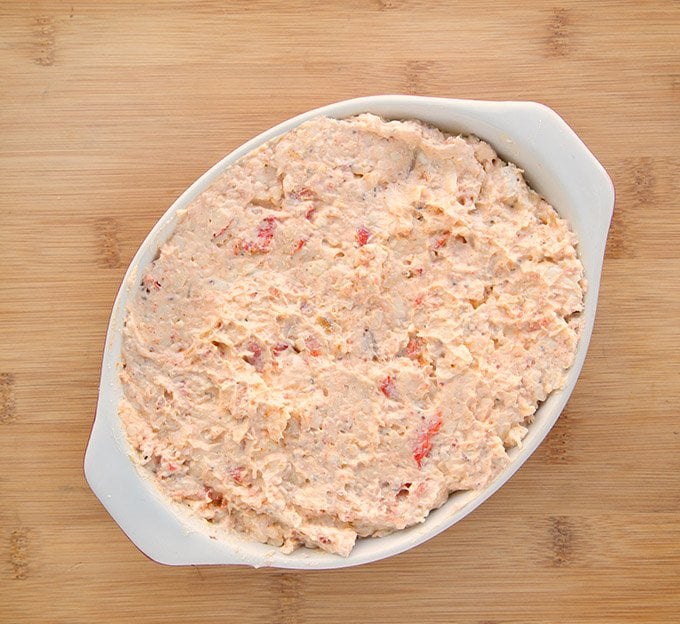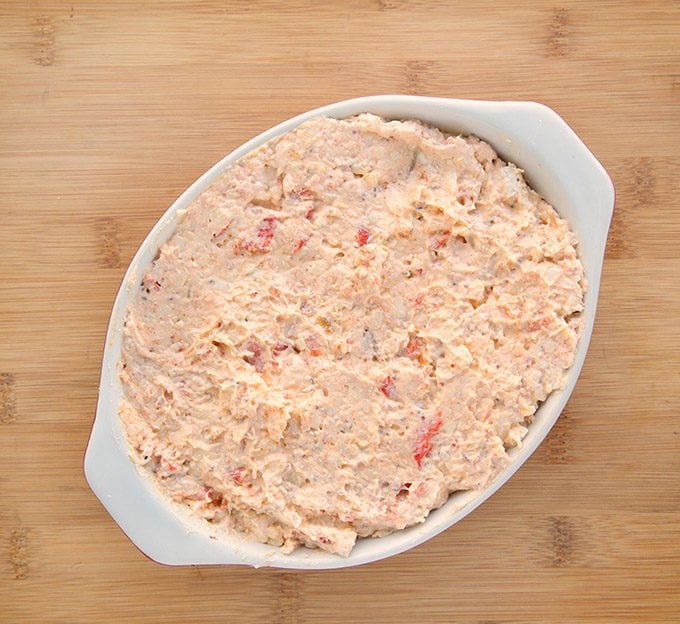 Spoon the Cheddar Lobster Dip into an oven-safe dish and smooth the top with a spatula.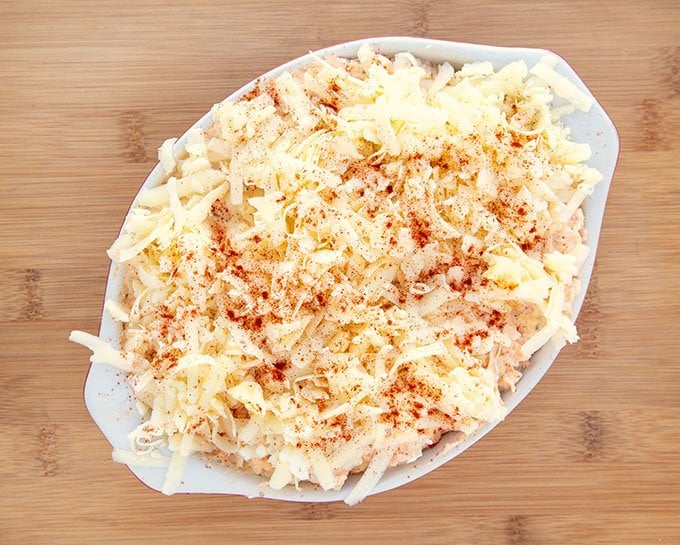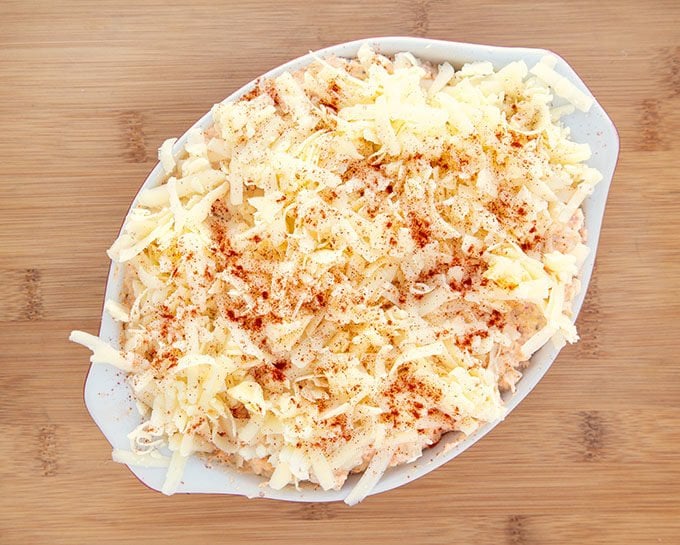 Top the dip with the remaining cheddar and sprinkle with the remaining smoked paprika. Next, bake at 375 degrees Fahrenheit for 20-25 minutes.
What Seasonings Can I use in a lobster dip?
I used smoked paprika in my Cheddar Lobster Dip, but you can use old bay, lemon pepper or any of your favorite seasoning combinations.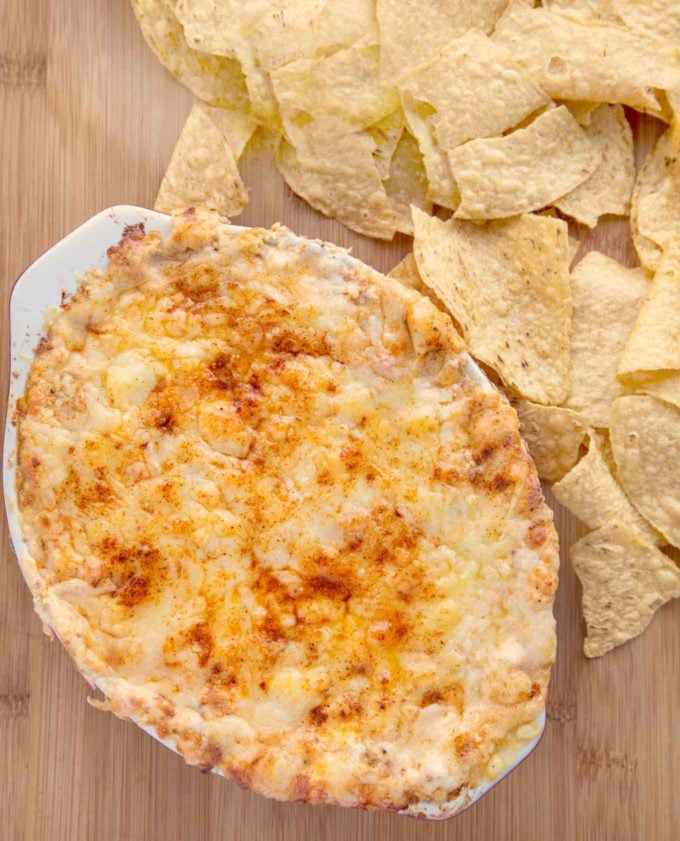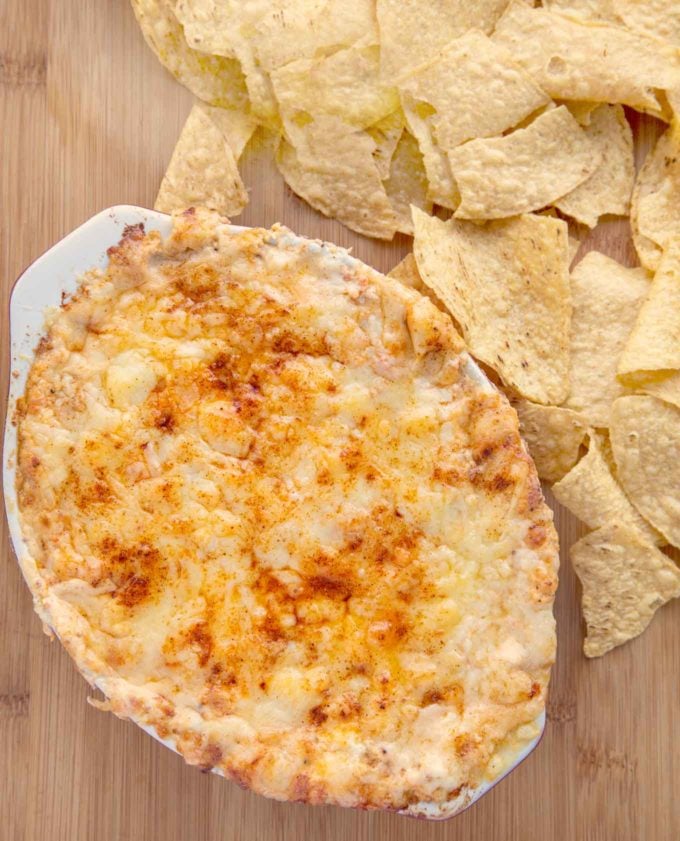 When it's time to serve up your Creamy Cheesy Cheddar Lobster Dip this holiday season make sure to have plenty of Mission Thin and Crispy Tortilla Chips on hand.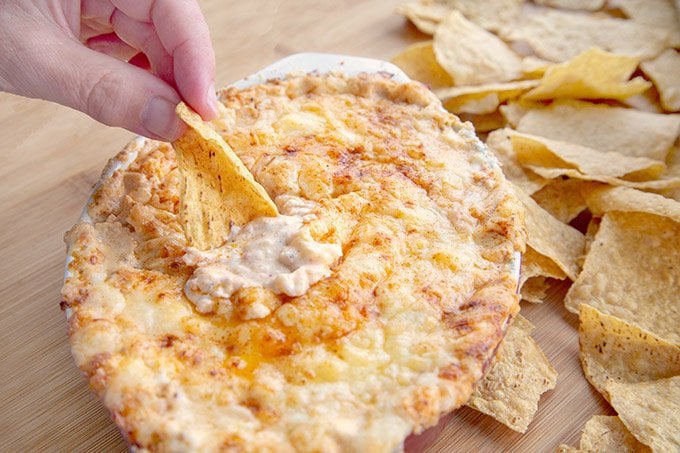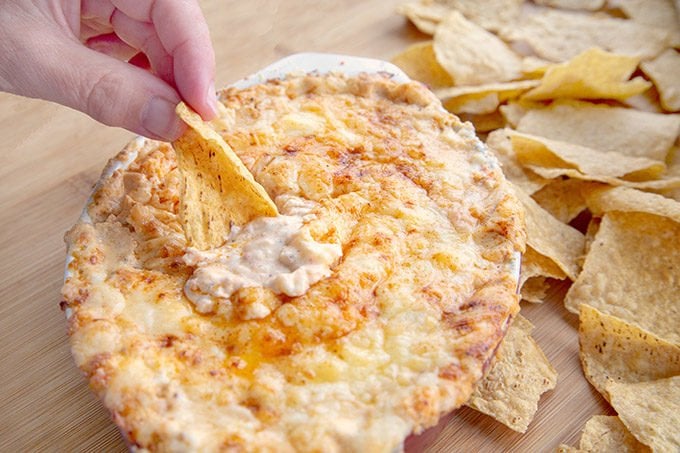 But, it all comes down to the taste….sigh. And my Creamy Cheesy Cheddar Lobster Dip didn't disappoint. It was ah-mazingly delicious! I loved how well it went with the flavor of the crispy tortilla chips.
If you love dips and Tortilla Chips, I know you'll love these recipes: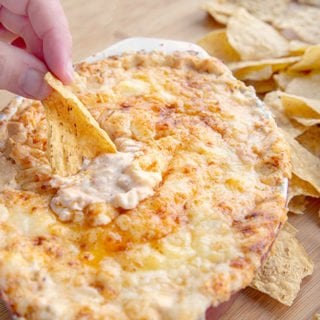 Print Recipe
Cheesy Cheddar Lobster Dip
It's not difficult to make my Cheddar Lobster Dip and it's the perfect hot dip to serve when you want to impress your guests. I promise they'll love every delicious bite of this Hot Cheesy Lobster Dip
Ingredients
Mission® Thin & Crispy Tortilla Chips

6

ounces

cooked lobster meat

(claw, knuckle and body meat)

1

teaspoon

olive oil

1

clove

garlic

minced

1/4

cup

chopped shallots

1

teaspoon

horseradish

1

teaspoon

smoked paprika

sea salt and black pepper to taste

8

ounces

grated cheddar cheese

8

ounces

cream cheese

softened

1/2

cup

sour cream

2

tablespoons

grated Romano cheese

2

teaspoons

Dijon mustard
Instructions
Preheat oven to 375 degrees Fahrenheit.

Heat a medium skillet to medium-high heat and add the olive oil. Add the shallots and garlic and sauté for 1-2 minutes or until fragrant. Season with sea salt and black pepper to taste.

In a mixing bowl, add the lobster, shallot/garlic mixture, half of the cheddar, the cream cheese, sour cream, Romano cheese, mustard and half of the smoked paprika. Mix well.

Add mixture into an oven-safe baking dish, spreading mixture evenly.

Add remaining cheddar cheese and smoked paprika.

Bake for 20-25 minutes at 375 degrees Fahrenheit or until cheese is golden and bubbly.
Nutrition
Calories:
477
kcal
|
Carbohydrates:
19
g
|
Protein:
17
g
|
Fat:
36
g
|
Saturated Fat:
17
g
|
Cholesterol:
128
mg
|
Sodium:
635
mg
|
Potassium:
180
mg
|
Sugar:
2
g
|
Vitamin A:
1170
IU
|
Vitamin C:
0.5
mg
|
Calcium:
372
mg
|
Iron:
0.6
mg