If you're looking for a delicious way to start your next get together or to make taco night extra special, try my Ultimate Nachos! Your friends and family will love this oh so flavorful dish!
Make your fall get-togethers festive with my Ultimate Nachos!
This is a sponsored post written by me on behalf of Mission®. All opinions are entirely my own.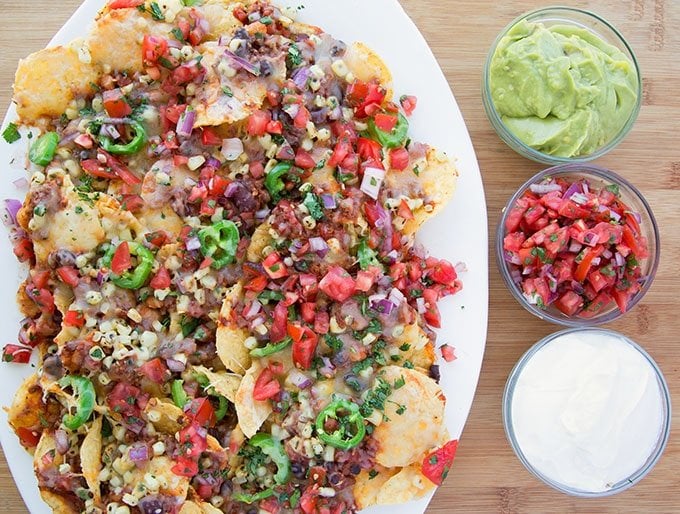 Sometimes I wonder what life would be like without all the amazing Mexican foods I love. My Abuela (grandmother) taught me well and thanks to her delicious cooking I learned to love Mexican food at an early age. I've always tried to make up for only being half Mexican by eating twice as much Mexican food. Can you see the logic?
I have to offer a disclaimer at this time that reading more of my post can result in drooling and hunger pains.
Watching football has always been a tradition in my family as it is in most of my friend's homes. And getting together to watch the game is more than just about the game. It's about spending quality time with people that make you happy. Food is the common denominator that brings people together. At a time of joy, at a time of sorrow and when its time for football.
So when your friends are over and the announcer belts out that phrase near and dear to our hearts "Are you ready for some football?", bring out my Ultimate Nachos and get that party started!
Let's start by gathering our ingredients for my Ultimate Nachos. In chef speak this is called the mise en place (everything in its place). It's a good idea to do this before you create deliciousness in your kitchen. It allows you to make sure you have all the ingredients before you start and saves time once you start preparing the dish.
To start off I've taken a piece of parchment paper and placed it on a flat cookie sheet. Pile the Chips high and get ready to add your toppings. The parchment paper lets you easily slide the mound of chips off without making a mess. Then you can start adding your toppings.
Growing up in Texas you have to love chili ( I think its a law). Truth be told in Texas chili doesn't have beans. Beans are usually served alongside the hearty meat-filled Texas chili. Not to mention, nothing says football more than chili!
But I like beans in my chili so I add 3 or 4 varieties of beans to my recipe. Feel free to use your favorite homemade or store-bought chili. The Ultimate Nachos will still be OMG delicious.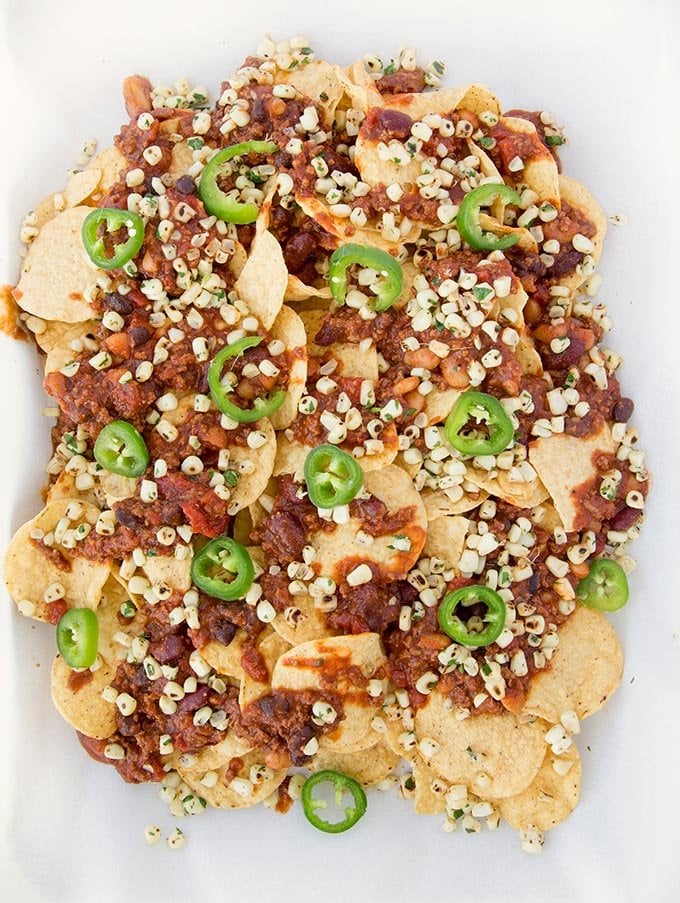 Growing up in a Mexican household, corn was a staple. Whether it was corn tortillas or the masa added to chili, we enjoyed corn in every form. Especially roasted off the cob. For my Ultimate Nachos, I took some of our sweet Florida corn off the cob and pan-roasted it so it caramelized just enough to bring out more of the natural sweetness. Add some sliced jalapeños (more if you like or none if you're not a fan) and were just about ready.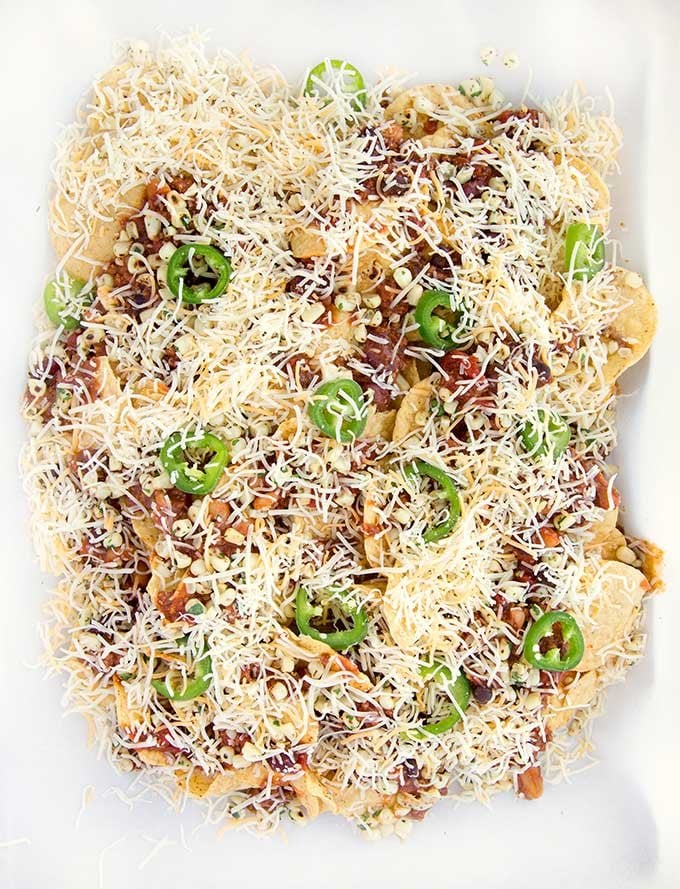 Last but not least we add the cheese (queso). Pile it on or add just enough to suit your tastes. I used cheddar for my nachos but feel free to use your favorite cheese (including bleu cheese) to make your Ultimate Nachos extra special!
Now it's time to place them in the oven, just long enough to melt the cheese. I used a 425-degree oven for about 7 minutes.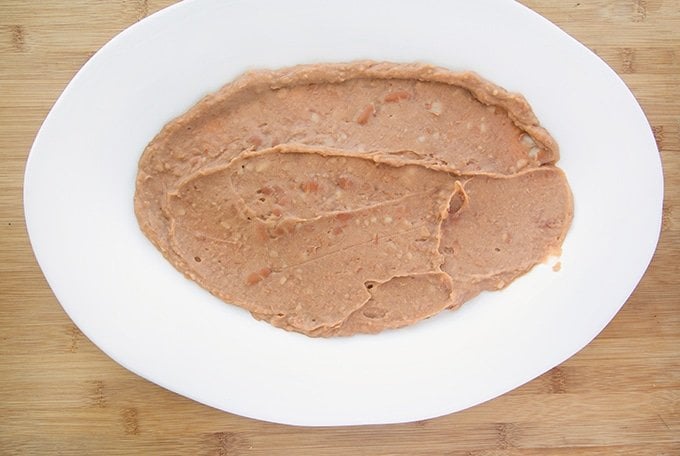 While the cheese is melting in the oven, you've got time to heat up your favorite refried beans. You can do this in the microwave or in a sauté pan. I was tempted to add another layer of cheese on the beans, I do love cheese….sigh.
After a few minutes in the oven, slide the nachos off of the parchment paper onto a platter with the refried beans. Top your creation with homemade salsa and its ready to serve for your guests at the football gathering!
Serve up these delicious Ultimate Nachos with your favorite toppings and watch them disappear before your eyes (I would make two platterfuls just to be on the safe side). They'll disappear faster than your favorite team scoring a touchdown!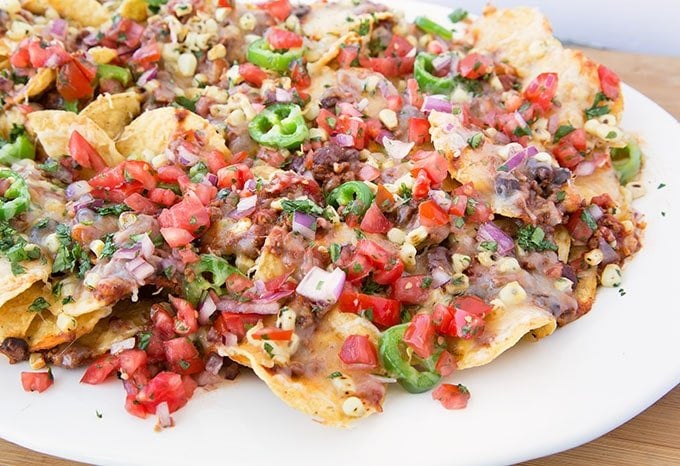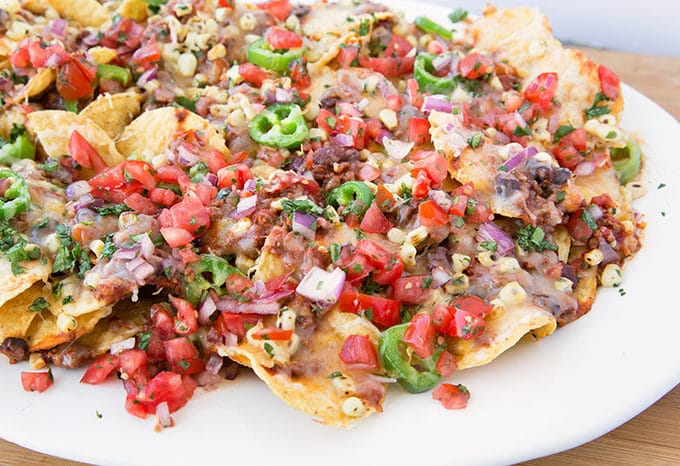 I have to tell you my nachos were ah-mazing! The sweetness of the roasted yellow corn, the spicy chili and refried beans made this plate of Ultimate Nachos a plate of joy….sigh.
But don't take my word for it, make my nachos for your next homegating party and let your friends tell you just how delicious they are. Empty plates don't lie!
If you love dips and Chips, I know you'll love these recipes:
Print Recipe
Ultimate Nachos
If you're looking for a delicious way to start your next get together or to make taco night extra special, try my Ultimate Nachos! Your friends and family will love this oh so flavorful dish!
Ingredients
Chili
2

tablespoons

olive oil

1

large

sweet onion

chopped

2

cloves

garlic minced

3-4

tablespoons

brown sugar

2

ounces

bourbon

2

pounds

ground beef

turkey or chicken can be substituted

15

ounces

kidney beans

drained and rinsed

15

ounces

chili pinto beans

or plain pinto beans

15

ounces

cannellini beans

drained and rinsed

24

ounces

crushed tomatoes

8

ounces

chicken stock

2

tablespoons

corn masa

or fine cornmeal

3

tablespoons

chili powder

1

tablespoon

ground cumin

2

teaspoons

dried oregano

2

teaspoon

sea salt or to taste

cayenne can be added for extra heat use with caution

optional
Salsa
1/2

cup

red onion

finely chopped

1/2

lime

juiced

1 1/2

cups

plum tomatoes

1

tablespoon

cilantro

chopped

1/4

teaspoon

salt

or to taste
Pan Roasted Corn
2

ears

corn

or use frozen

sea salt and black pepper to taste

1

teaspoon

cilantro

finely chopped
Assembly
2

cups

3 bean chili

from recipe above

1

cup

corn

pan roasted kernels

1

cup

salsa

from recipe above

15

ounces

refried beans

2

jalapenos

seeded and sliced into rounds

1.5

cups

cheddar cheese

shredded - or your favorite cheese

12

ounces

sour cream

12

ounces

guacamole
Instructions
3 Bean Chili
in a large skillet or pot add the chopped onions, garlic and olive oil. Sauté for a few minutes until the onions are lightly cooked.

Add brown sugar, mixing well and continue sautéing for 2 minutes. Carefully add bourbon, making sure it doesn't go near open flames.,

Allow the alcohol to burn off bourbon for a minute as the mixture continues to cook

Add ground meat and begin the browning process. You may need to add additional olive oil.

Brown all the meat continuously stirring to break up the meat. ( you may find a heavy wire whisk helpful in breaking up the chunks)

When the meat is browned begin adding in your seasonings ( remember you can always add more after its cooked for awhile)

Add tomatoes, chicken stock and beans combining all of the ingredients.

reduce heat to simmer and allow to simmer for 1 - 2 hours, stirring so it won't stick to the bottom

If chili begins to get too thick you can add additional stock or water to get it to the consistency you like.

10. Taste and re-season to your taste.

11. Be careful in adding Cayenne if you decide to kick it up a notch as a little goes a long way

reserve two cups (or more) for nachos and cool and refrigerate the remainder for another time.
Fresh Salsa
Mix red onion, lime juice, Roma tomatoes, cilantro, and salt in a bowl and allow to stand 15 more minutes for flavors to blend before serving.
Place corn in a hot sauté pan. Toss corn around pan to allow it to slightly brown. Remove corn from stove top and place on a plate to allow it to fully cool.
Season corn with sea salt and black pepper to taste. Add 1 teaspoon of cilantro to the mixture and set aside till needed.
Preheat oven to 425 degrees. Use a large flat cookie sheet to heat the nachos.
Place parchment paper on cookie sheet making the piece larger than you need, so it can be lifted off of the sheet easily.

Mound chips on top of the parchment paper.

Spoon heated chili on top of chips

Sprinkle corn kernels on top of chips. Then add jalapeños.

Top with as much shredded cheese as you desire. I used about 1 1/2 cups of cheddar.

Place cookie sheet of prepared nachos into a preheated oven for 7-10 minutes or until the cheese has melted.

While nachos are in the oven, heat the refried beans. You can use a microwave or a sauté pan.  Just make sure they reach a temperature of 165 degrees.   Place the heated beans on your serving dish, spreading them out evenly, leaving the edge around the platter uncovered.

Remove the nachos from the oven and carefully pick up the parchment paper and slide the nachos off of the paper. Be careful the pan is very hot and the paper can be hot to the touch.

Straighten out the nachos on the platter.

Add fresh salsa on top of the nachos. Serve with sour cream, guacamole and additional salsa.
Nutrition
Calories:
689
kcal
|
Carbohydrates:
59
g
|
Protein:
17
g
|
Fat:
42
g
|
Saturated Fat:
13
g
|
Cholesterol:
55
mg
|
Sodium:
1307
mg
|
Potassium:
812
mg
|
Fiber:
11
g
|
Sugar:
11
g
|
Vitamin A:
1090
IU
|
Vitamin C:
15.3
mg
|
Calcium:
356
mg
|
Iron:
4.5
mg