Homemade Buttermilk Ranch Dressing couldn't be easier to make and with a tangy flavor and creamy texture, you won't get in store-bought ranch dressing. The fresh herbs and seasonings make this creamy dressing irresistibly delicious.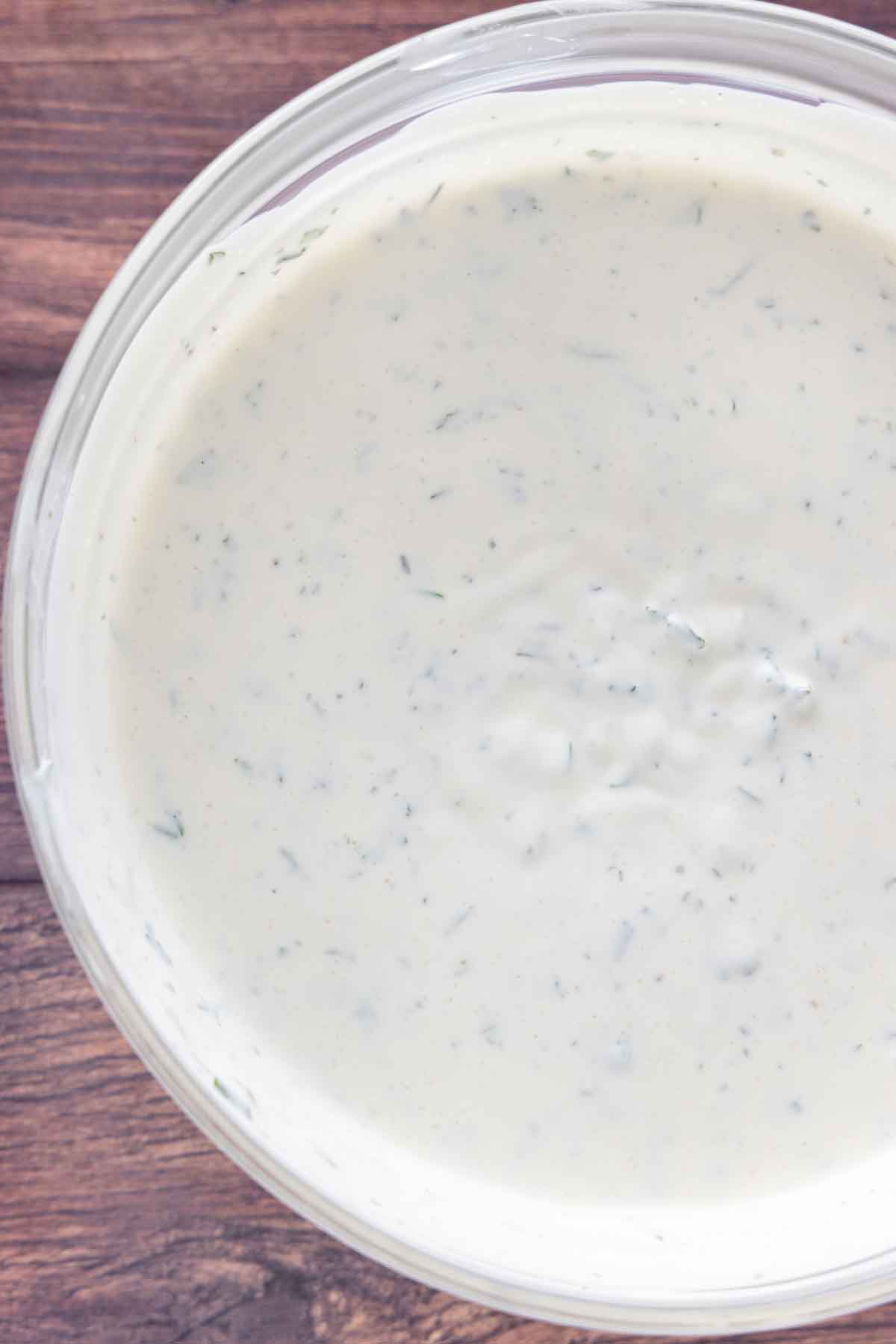 My homemade buttermilk ranch dressing is about as close to everyones favorite hidden valley ranch, just without all the unnecessary added ingredients.
Ranch salad dressing is my wife's favorite salad dressing, and since it takes less than ten minutes to make, I always have it on hand.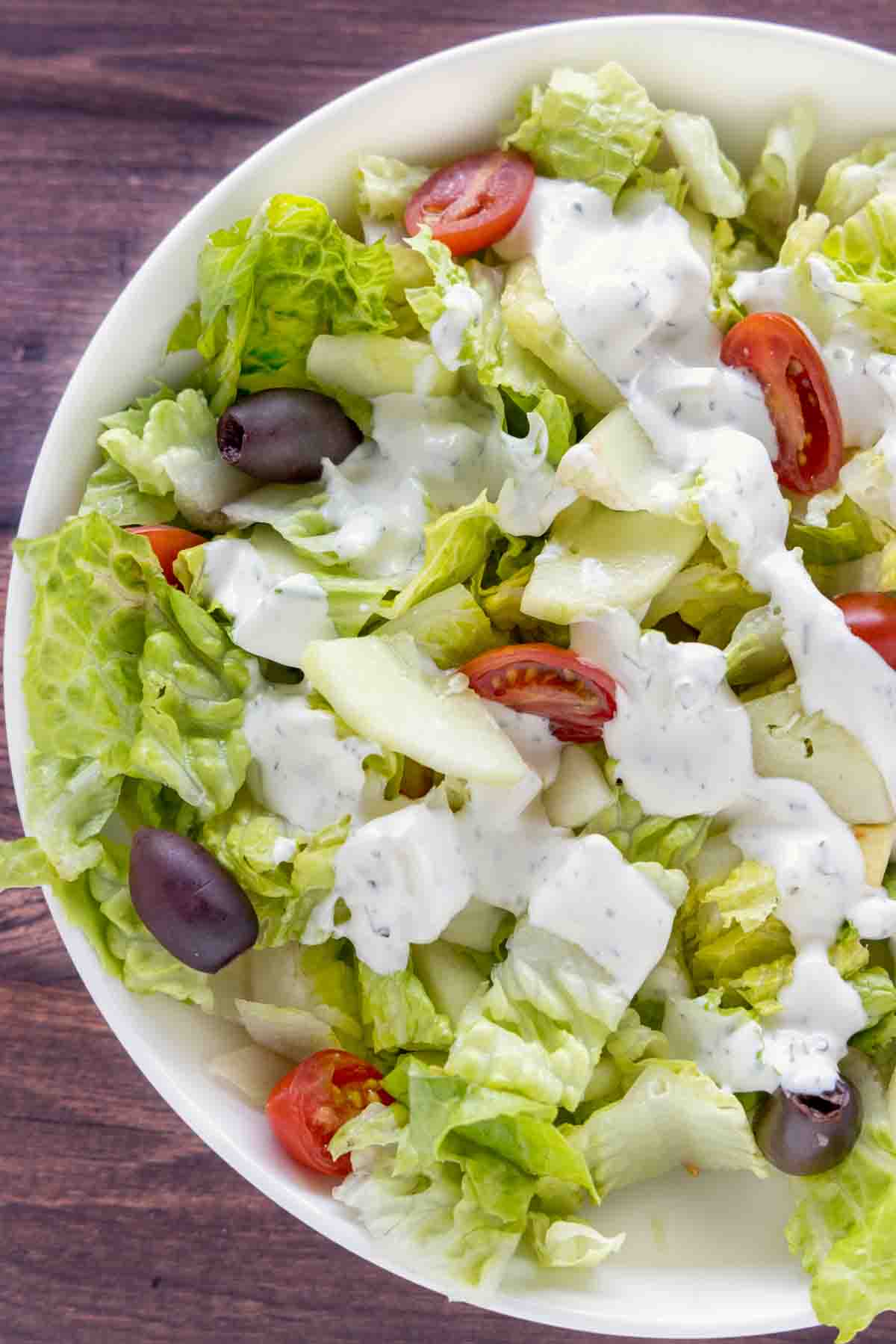 If you're looking for a delicious, easy to make homemade dressing, I promise my Buttermilk Ranch dressing will not disappoint. It's a delicious way to enjoy a green salad and it makes a great dip too!
If you enjoy make homemade salad dressings, make sure to try my homemade bleu cheese dressing.
Ingredients to make buttermilk ranch dressing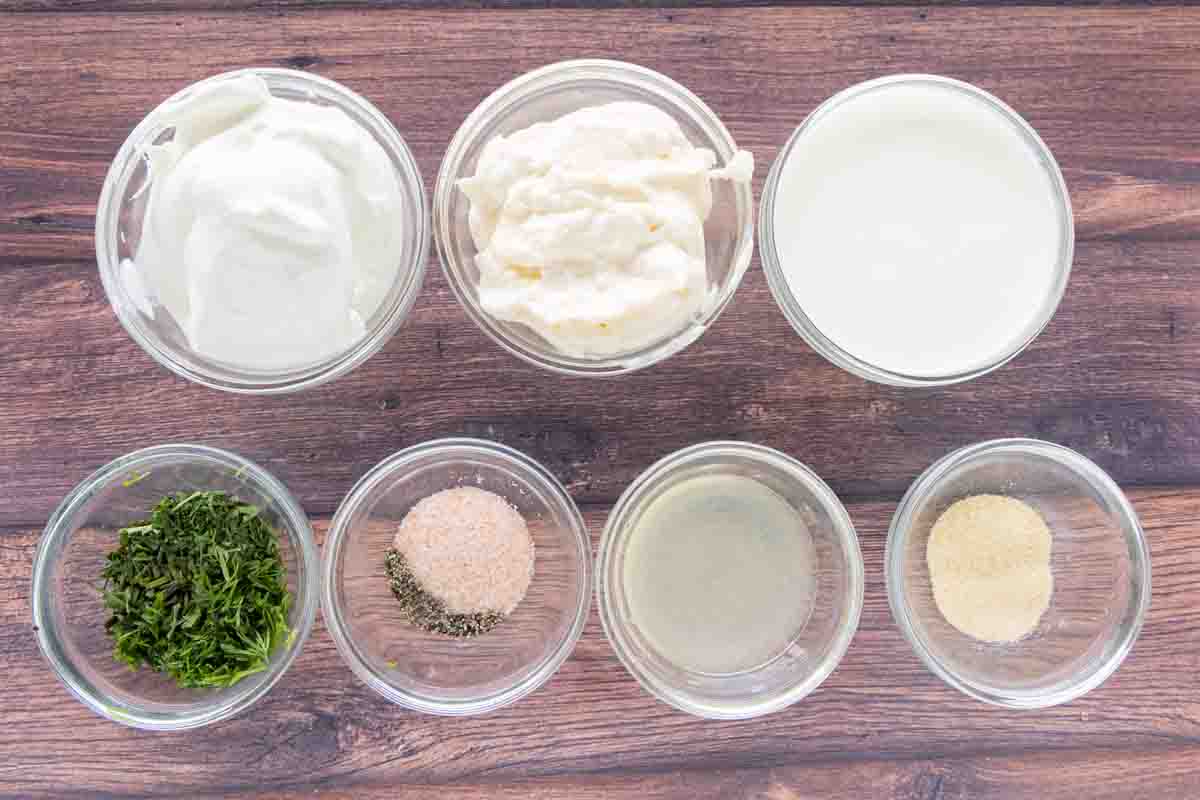 Let's start by gathering the ingredients we need to make Buttermilk Ranch Dressing. In Chef Speak, this is called the "Mise en Place," which translates to "Everything in its Place."
Not only does setting up your ingredients ahead of time speed up the cooking process, it also helps ensure you have everything you need to make the dish.
Made with simple ingredients
buttermilk or whole milk
mayonnaise
sour cream or plain Greek yogurt
fresh lemon juice
dried chives
dried fennel
dried parsley
garlic powder
onion powder
table salt
black pepper
I love the flavor boost the tangy buttermilk gives ranch dressing, but you can also make it with whole milk. You can also make your own buttermilk by adding lemon juice or apple cider vinegar to regular milk, but nothing beats the the flavor of real buttermilk!
If you want to make a vegan version of this delicious dressing, you can use cashew milk with vegan mayonnaise and sour cream.
Dried herbs actually work better with this dressing, but you can use fresh chives, fresh parsley, and fresh dill if you prefer fresh over dried, but you will need to use twice as much of the fresh herb to get the right flavor.
You can also substitute Plain Greek yogurt or plain regular yogurt for the sour cream. The yogurt will add a nice tang to the my homemade buttermilk ranch recipe.
How to make Buttermilk Ranch Dressing
Add the mayonnaise, sour cream, and buttermilk to a large bowl.
Whisk the ingredients until smooth and creamy.
Add the seasonings to the mixture.
Whisk to combine the seasonings into the dressing fully.
For a thicker consistency, use a few tablespoons less buttermilk. For a thinner dressing add a few tablespoons more of buttermilk to your homemade salad dressing. The amount of buttermilk is a personal choice when making homemade ranch dressing.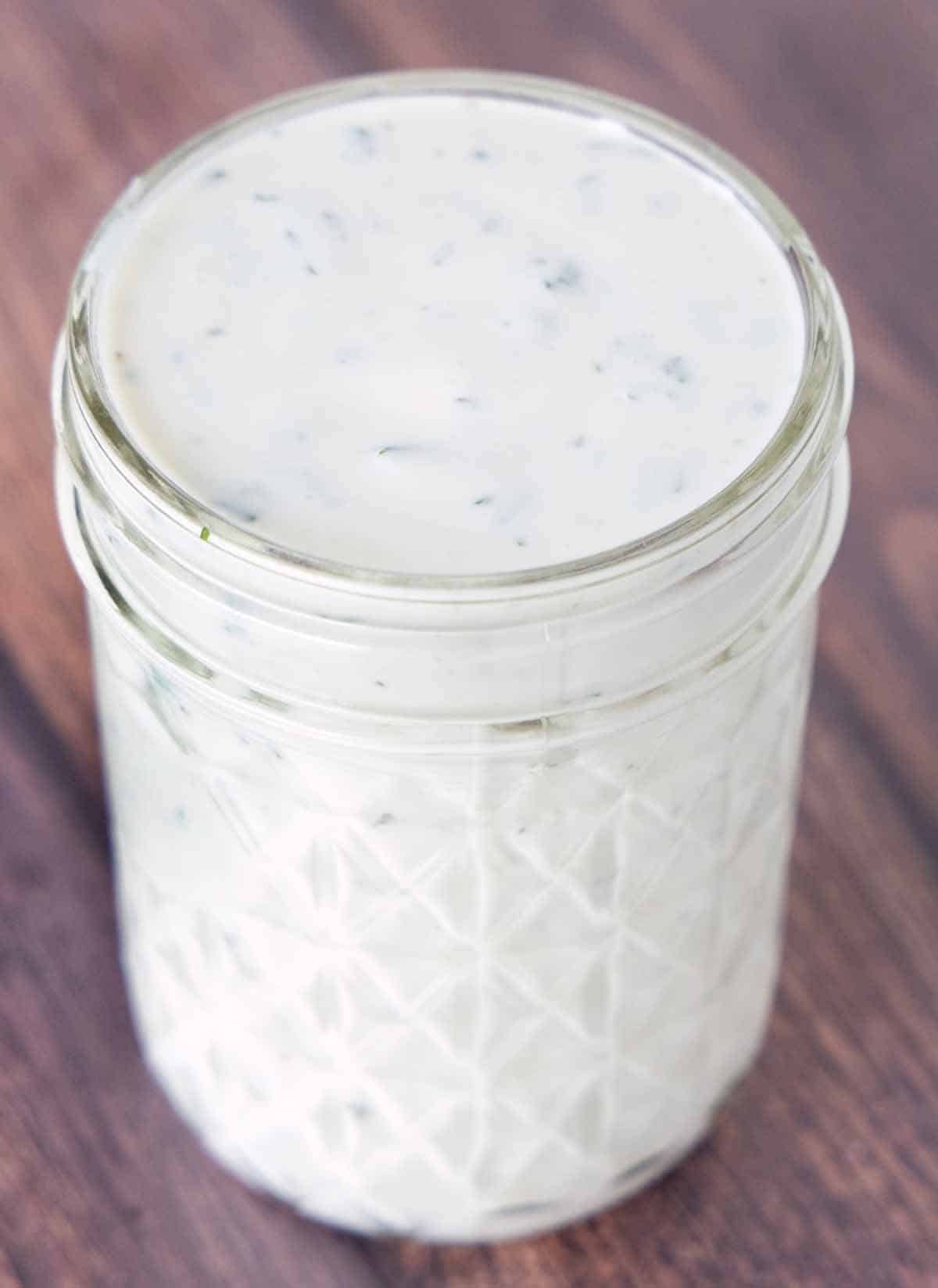 Pour the dressing into an airtight container and refrigerate until ready to use. The dressing should be allowed to set for 4 hours (overnight is best) to let the flavors build; it will taste much better the day after making it.
I use decorative little mason jars to store my homemade salad dressings.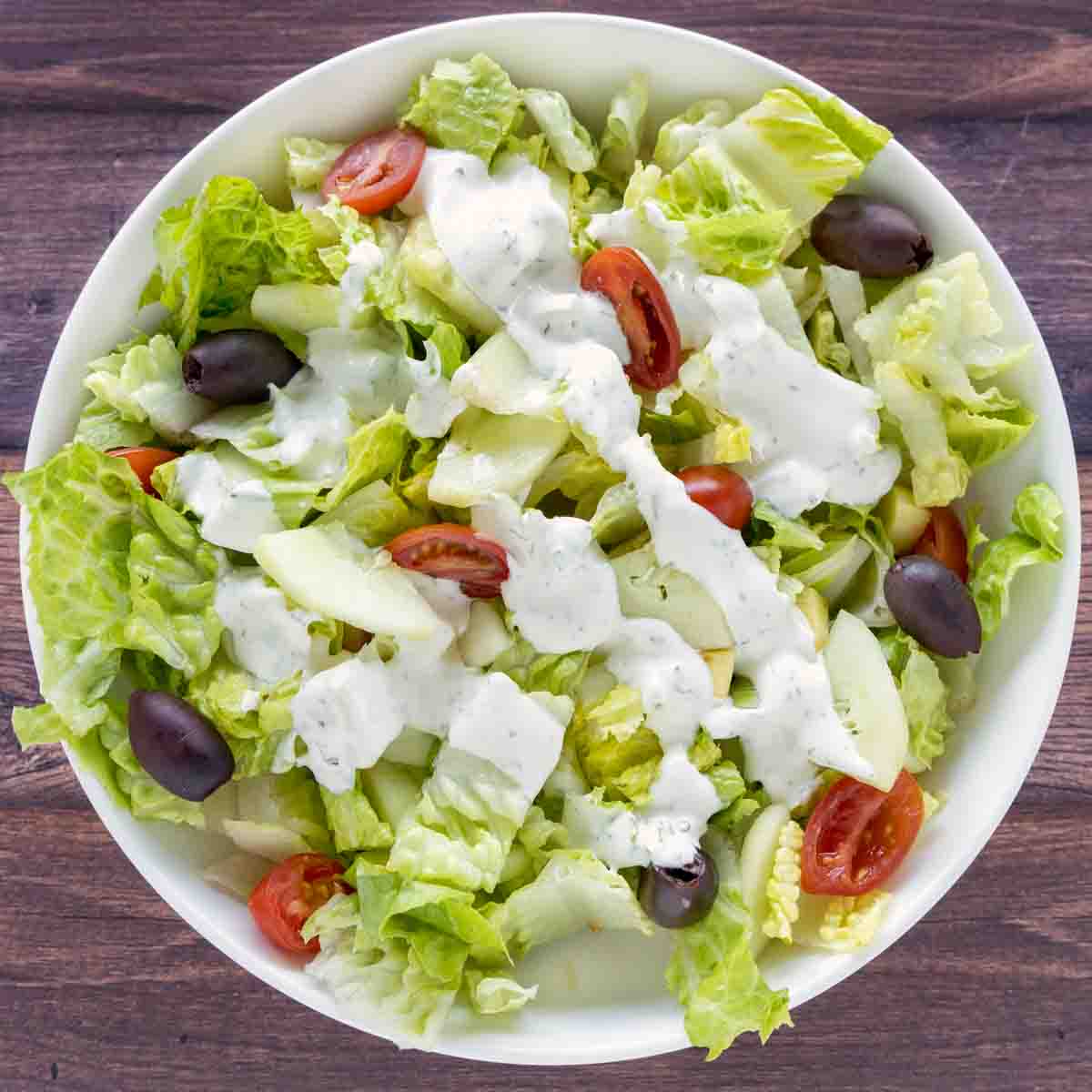 I love, love, love buttermilk ranch. It's a delicious salad dressing, but can also be used as a dip for raw veggies, french fries, potato chips and even drizzled on pizza crust.
Recipe FAQ's
What is ranch dressing made with?
Ranch dressing starts with a base of mayonnaise and sour cream, with buttermilk or milk added. This creamy and flavorful dressing is seasoned with dried chives, dried parsley, dried dill weed, garlic powder, onion powder, salt, and black pepper.
How can I use Buttermilk Ranch dressing?
This delicious dressing is not just for salads, it also makes a delicious dip for vegetables and buffalo chicken. It also makes a great topping for baked potatoes, asparagus, and broccoli.
Do I have to use buttermilk to make ranch dressing?
No, you don't. You can use whole milk instead of buttermilk and use plain yogurt instead of sour cream or mayonnaise for the tang you get from the buttermilk.
More Recipes You'll Love!