Create deliciousness this summer with my Grilled Planked Salmon Dip.
This is a sponsored post written by me on behalf of Mission®. All opinions are entirely my own.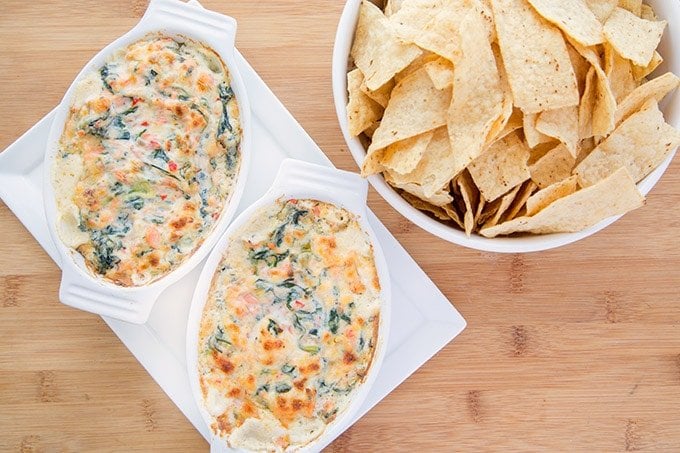 After spending a good portion of my life in kitchens on the east coast, I acquired a love for seafood. But that didn't include salmon until I discovered Pacific Northwest Salmon, that was a game-changer for me!
So today I'm sharing a grilled planked salmon dip recipe that will have your friends standing on chairs applauding. You can, of course, use Atlantic salmon to make this dip, but I went with my new favorite salmon, "Sockeye". Not only does it have the salmon flavor I enjoy, it also has a beautiful red color.
My inspiration for this dish comes from a trip that I took to the Pacific Northwest many years ago. The motel we had been staying at was next to a residential district and as luck would have it our next-door neighbors were grilling fresh salmon they had caught earlier in the day. Well, I guess I looked hungry because they invited me over.
After an amazing dinner of just-caught grilled salmon, we sat around and talked until the wee hours of that beautiful summer night. Swapping recipes and tall tales we polished a few bottles of wine that night and I made some new friends. We had talked about what to do with the leftover cooked salmon from our summer barbecue and decided that salmon cakes and a salmon dip were both good choices. This is the dip I learned to make on that delicious summer night.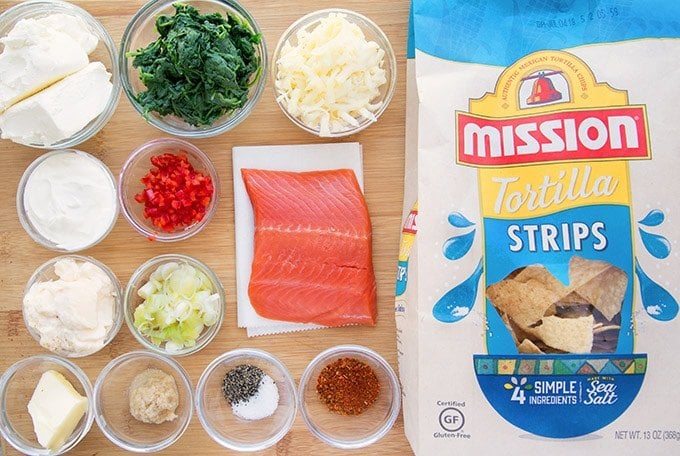 Let's start by gathering the ingredients for my grilled salmon dip. In chef speak, this is called a Mise en Place (everything in its place.) This is a good way to save time while you're cooking and to make sure that you have all the ingredients ready for your dish.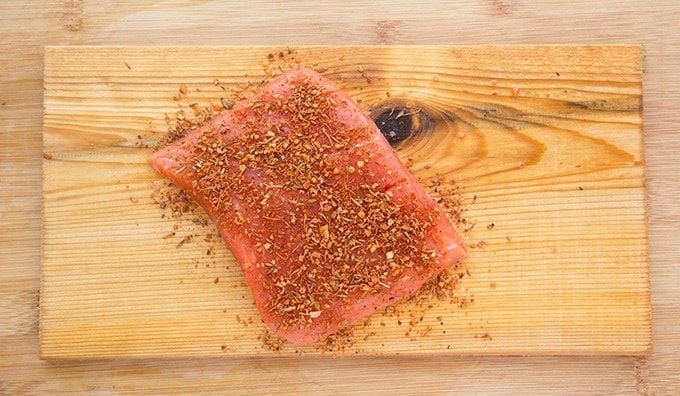 I used a cedar plank for my salmon to give it a little more flavor. Cooking on a plank is easy, you just need to remember to let the plank soak for at least an hour (2 hours is best) before using it. This allows the plank to add that smoky flavor without catching on fire. I used a Cajun seasoning for the salmon but feel free to use your favorite seasoning.
If the salmon has skin on the bottom there is no need to take it off before cooking. The salmon will lift right off the skin when it's done.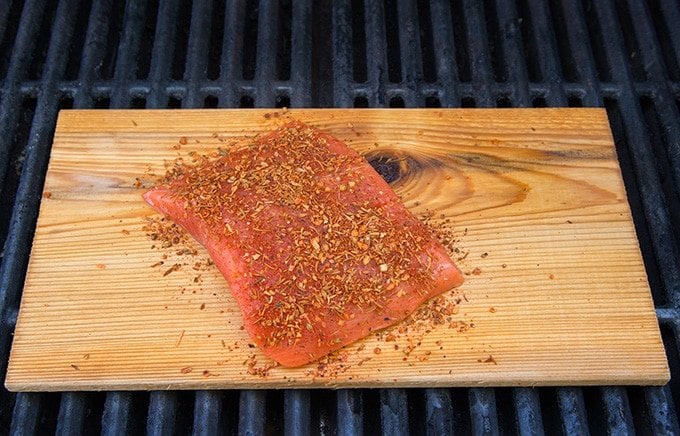 You're going to use indirect heat to cook the planked salmon. That means that after preheating your grill, you're going to turn off the center burners, leaving the two outside burners to provide the heat (if your grill only has 3 burners turn the plank long ways and place the plank over the burner that is turned off). Close the cover and allow the salmon to cook uninterrupted for 12-15* minutes. This will be a little on the underdone side which is perfect for the dip. If you like your salmon a little more well done add 2-4 minutes to the cooking time. Just be careful not to cook it too long so the salmon doesn't dry out.
*Cooking times may vary depending on your grill.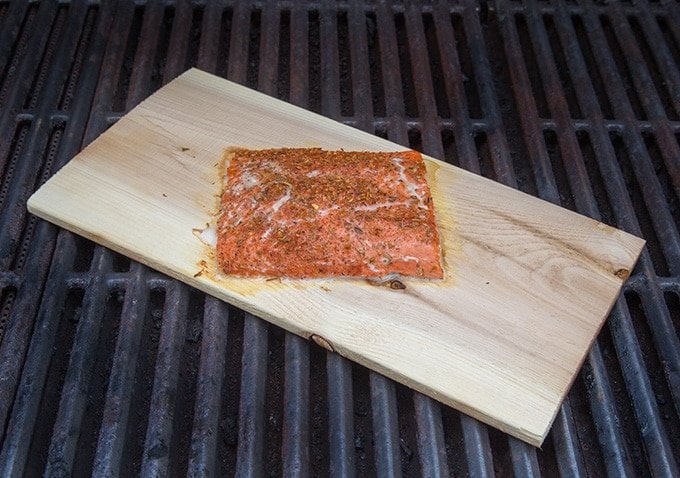 The plank will completely dry out but shouldn't burn, using this cooking method. What it will do is impart some amazing flavors as the steam from the cedar plank helps cook the salmon.
After the salmon is fully cooked, take it off of the plank and allow it to cool on a clean plate. Once the salmon has cooled you can begin breaking it apart by hand. It should flake nicely. *The planks can only be used once.
I do love cooking on my grill and often make neighbors jealous with the interesting dishes I cook up during the summer.
Cooking outside is fun and you can cook just about anything outside that you can cook inside and for some reason, food cooked on a grill is always tastier, especially during the summer.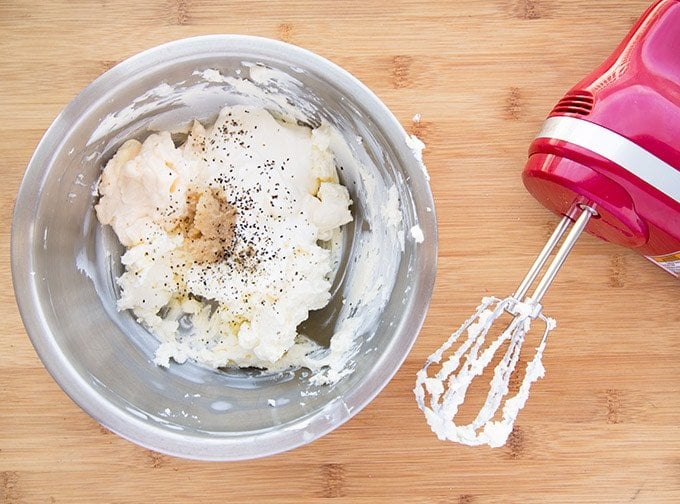 While the salmon is cooking, start on the dip. Whip the cream cheese until it softens then add the mayonnaise, sour cream, horseradish, sea salt and black pepper. Use a hand mixer to blend these ingredients together.
After the mixture has been blended, it's time to add the cooked salmon, spinach, red peppers, cheddar cheese and scallions. Blend this all together using a rubber spatula. You don't want to break up the salmon too much.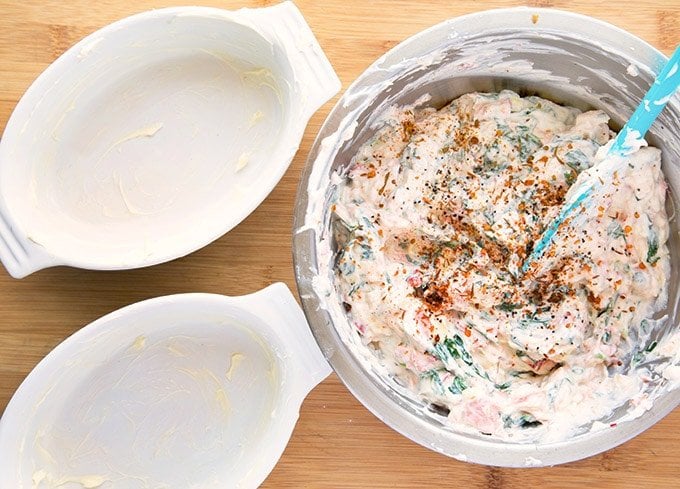 Butter the baking dishes before adding in the salmon dip mixture. I used two small ovals, feel free to use whichever size serving dish that works best for you.
Somehow the words "perfection on a plate" come to mind after tasting this delicious dip. The grilled salmon blends so well with the spices and cheese creating a symphony of flavors….sigh
But don't take my word for it. Make this dip for your friends during a summer get-together and let them tell you just how delicious it is.
If you love dips I know you're going to enjoy these favorites!