Sometimes I think I make a Prime Rib Roast, so I have leftovers to make the Best Prime Rib Sandwich. But don't worry if you don't have leftover prime rib; this also makes an incredibly delicious leftover Roast Beef Sandwich!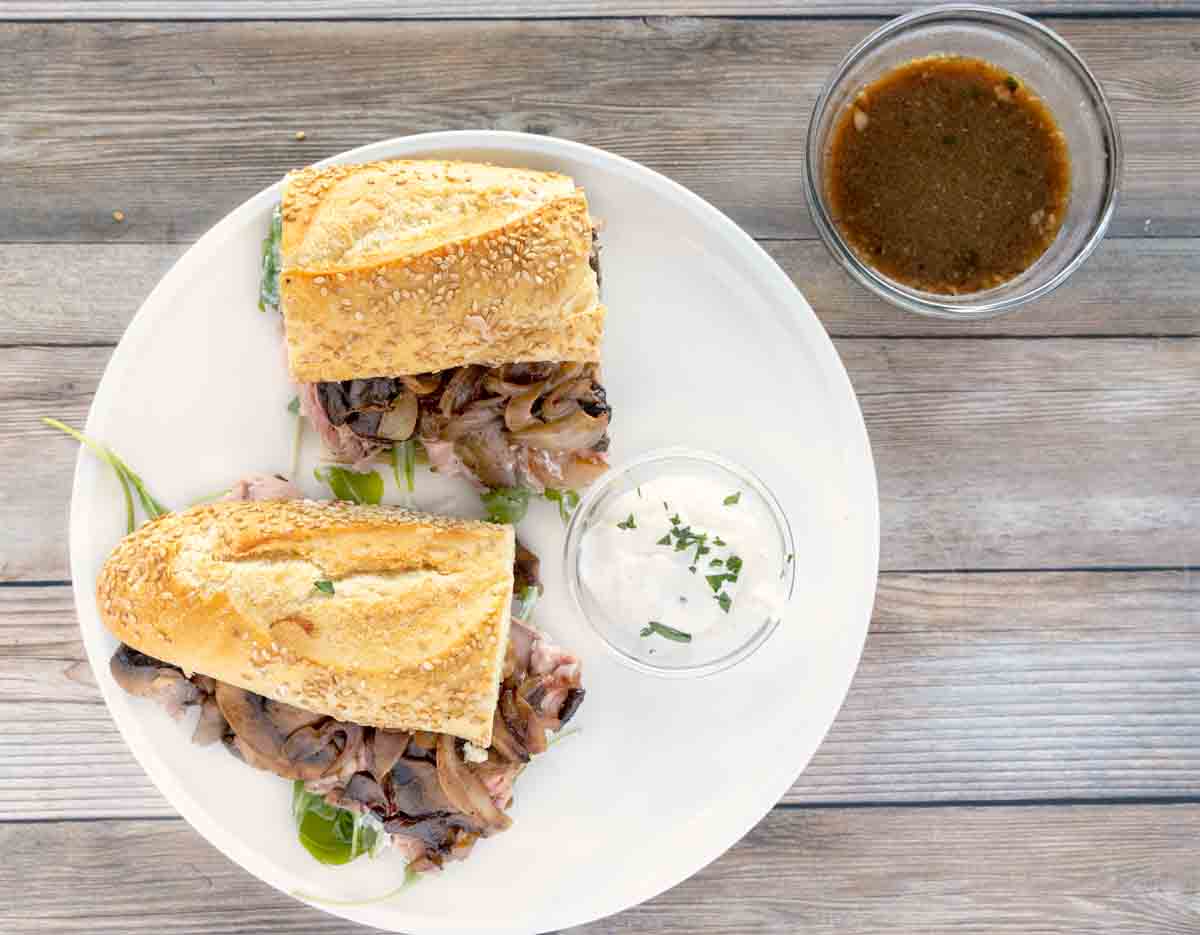 If you have leftover prime rib roast, this is a delicious way to make use of the prime rib leftovers. My Prime Rib sandwich is loaded with slices of tender, juicy, medium-rare seasoned prime rib and topped with warm caramelized onions and mushrooms. Finished with a slathering of my creamy horseradish sauce.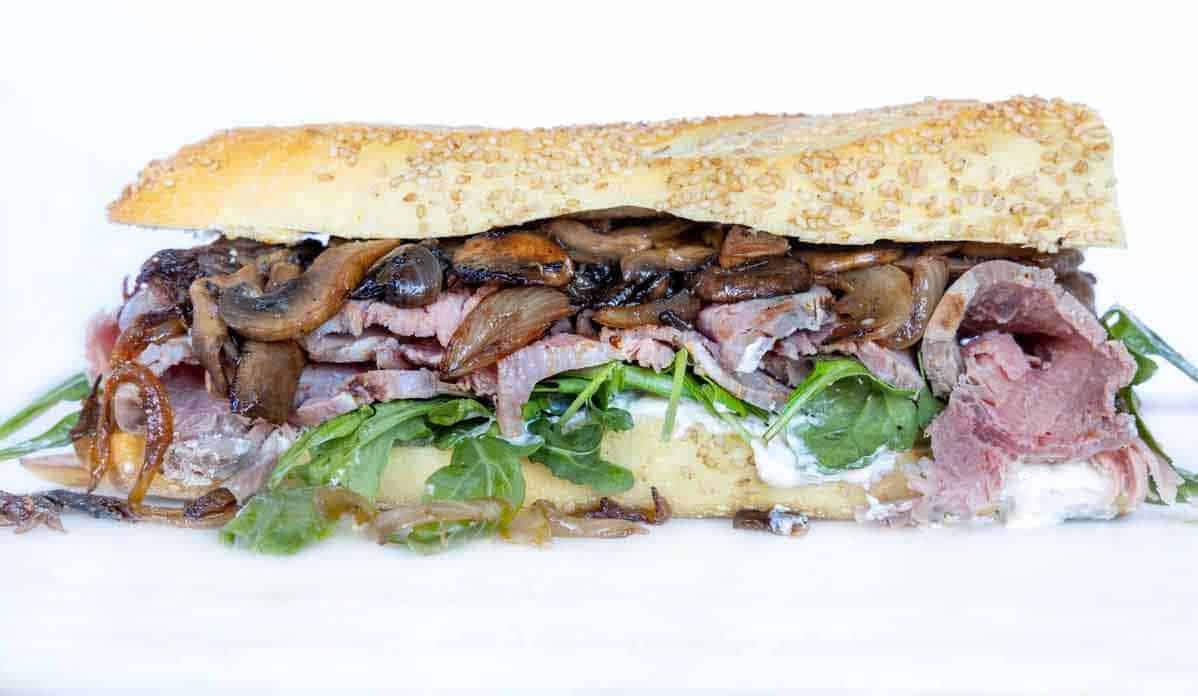 Add some arugula to the sandwich, so you can say you ate your vegetables. Seriously, it adds another level of flavor to this prime rib sandwich recipe!
*Not a fan of mushrooms; you can leave them out. Of course, you'll never know what you're missing!
Prime Rib Sandwich Ingredients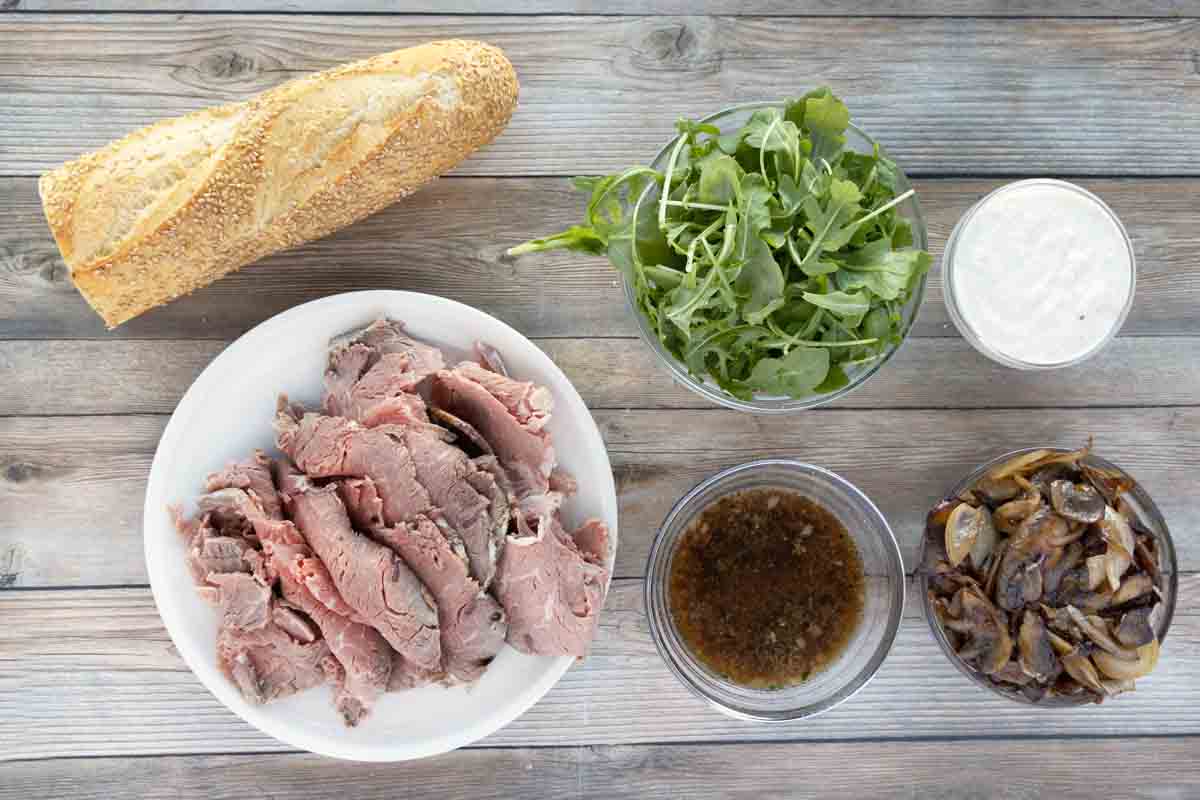 Let's start by gathering the ingredients we need to make Prime Rib Sandwich. In Chef Speak, this is called the "Mise en Place," which translates to "Everything in its Place."
Not only does setting your ingredients up ahead of time speed up the cooking process, it also helps ensure you have everything you need to make the dish.
thin slices of leftover prime rib
sweet caramelized onions and mushrooms
loaf of french bread (or hoagie roll)
creamy horseradish sauce (or mayonnaise and prepared horseradish)
arugula
au jus
If you're not a fan of mayonnaise, dijon mustard would be a tasty substitute.
How to make caramelized onions & mushrooms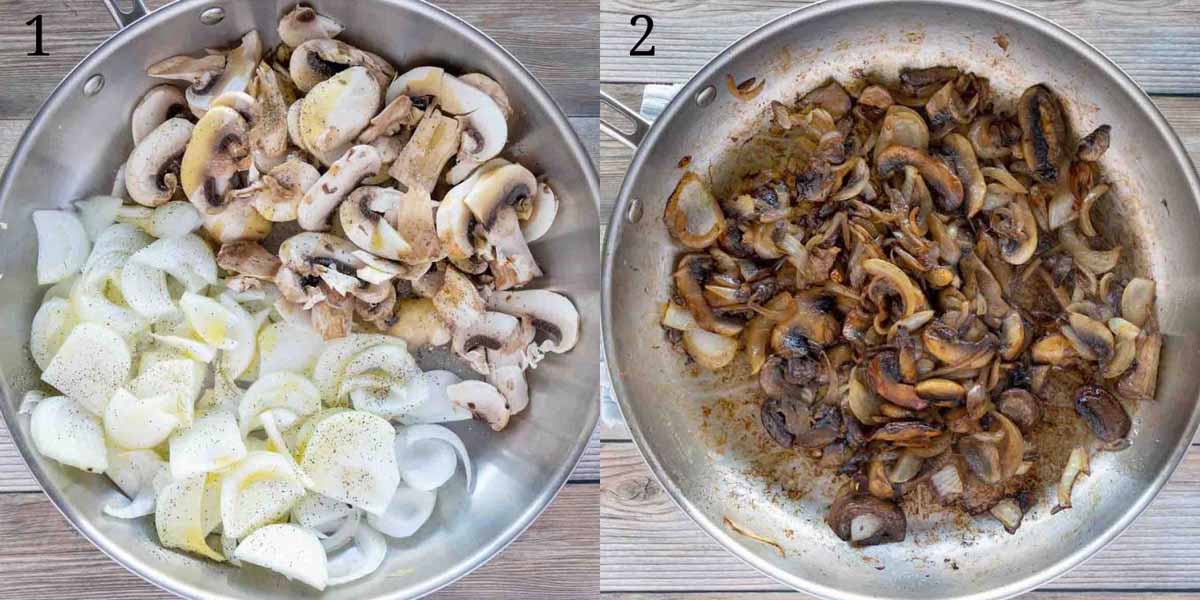 Melt 2 tablespoons of butter in a large skillet. When the butter is melted, add the sliced onions and mushrooms to the pan.
Saute the onions and mushrooms over high heat until they begin to brown. Let them cook for 3-5 minutes without moving them around, so they have a chance to begin the caramelization process.
Turn the mushrooms and onions over and reduce to medium heat and let them continue to cook for another 5-7 minutes. Stir them around during this part of the process.
*The sweet caramelized onions and mushrooms help make this the Best Prime Rib Sandwich. But if you're not a fan of mushrooms? It's okay to leave them out.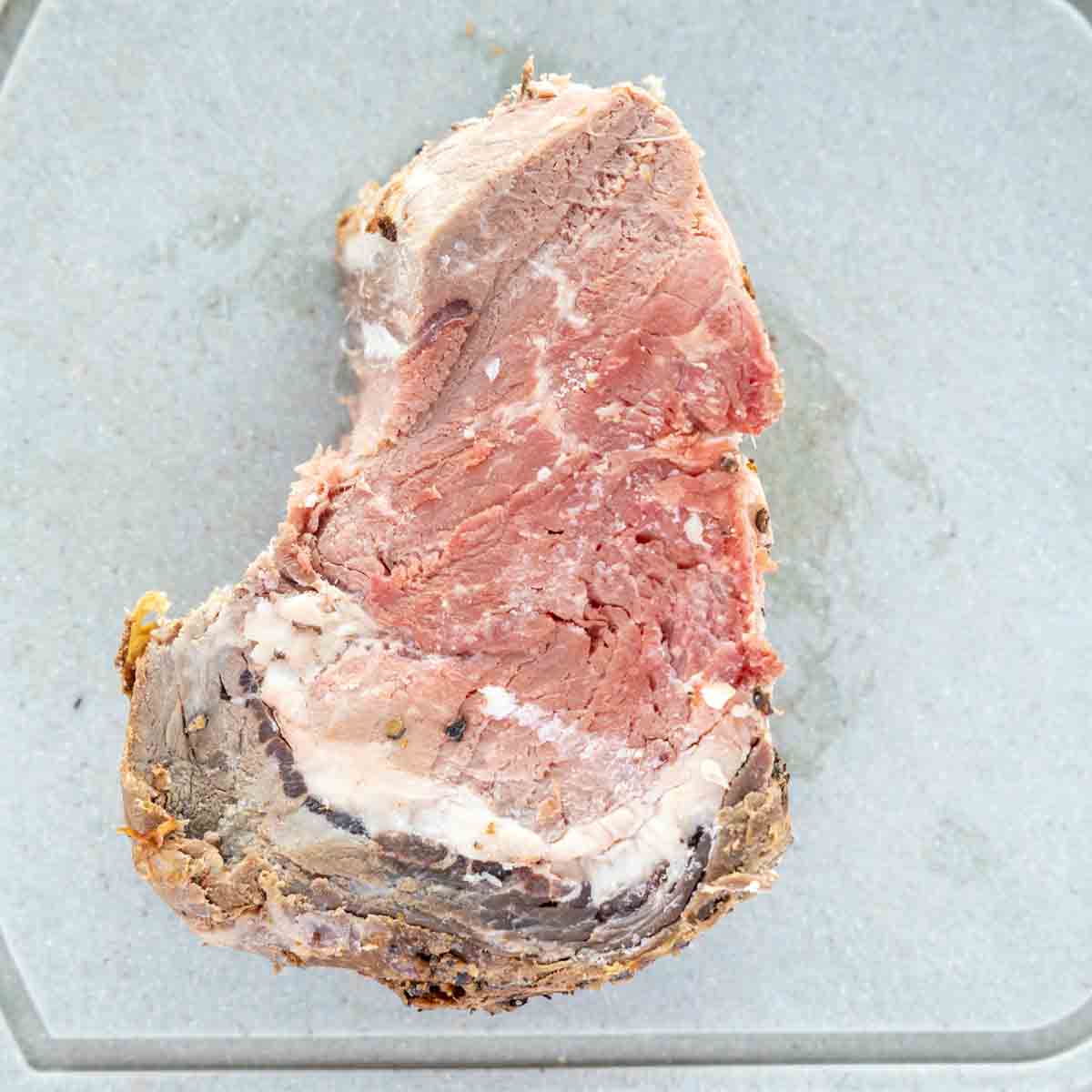 While the mushrooms and onions are cooking, trim the leftover prime rib. Remove the bone and extra fat from the edges of the meat. Take out any fat deposits from the middle of the beef ( I took this picture before removing the piece of fat in the middle).
Slice the prime rib into thin slices.
How to make Leftover Prime Rib Sandwich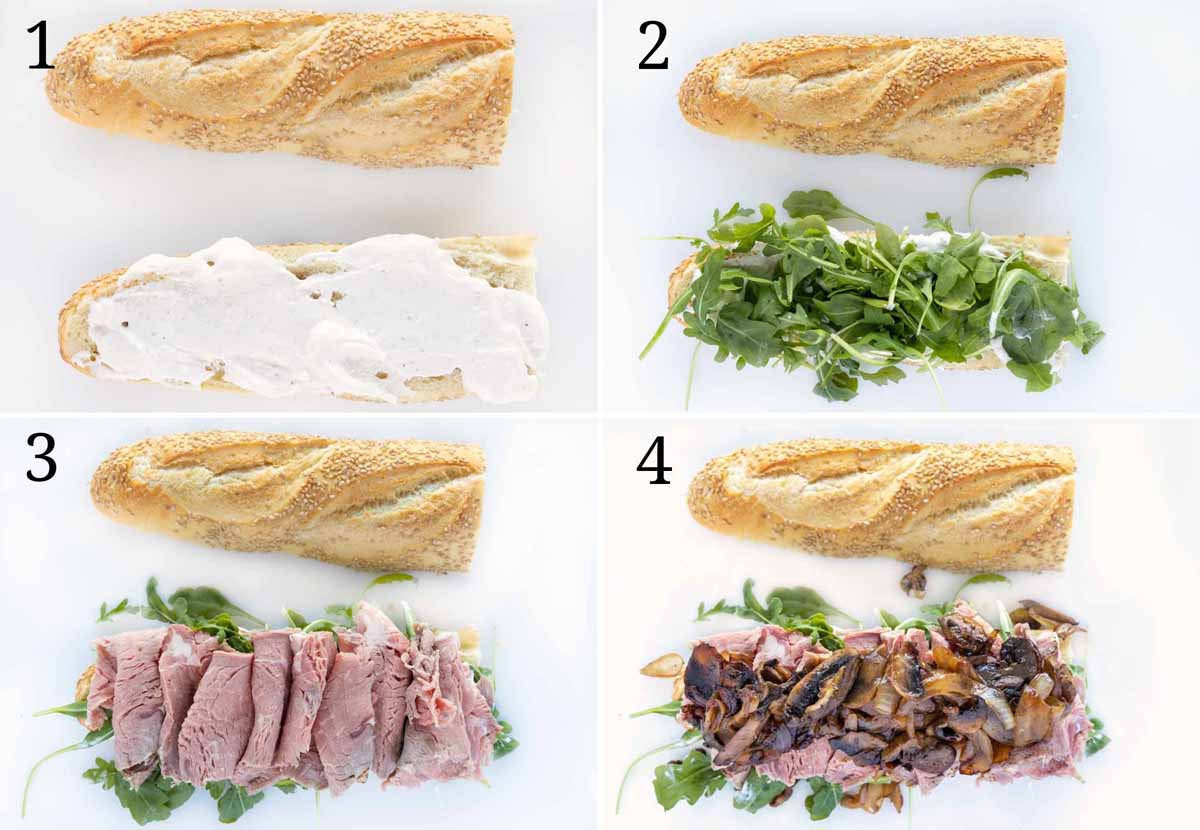 Slather a good amount of creamy horseradish sauce on the french bread.
Add a good handful of arugula (the peppery flavor really of arugula improves the overall flavor of the sandwich).
Place thinly sliced prime rib on top of the arugula ( I like to fold the meat, setting it side by side so it's not just lying on top of each other).
Add the caramelized onions and mushrooms to the sandwich.
*Add a few slices of provolone cheese (or swiss cheese) to the sandwich for additional flavor. If you want melted cheese, add the slices before the warm mushrooms and onions, and the heat will help melt the cheese.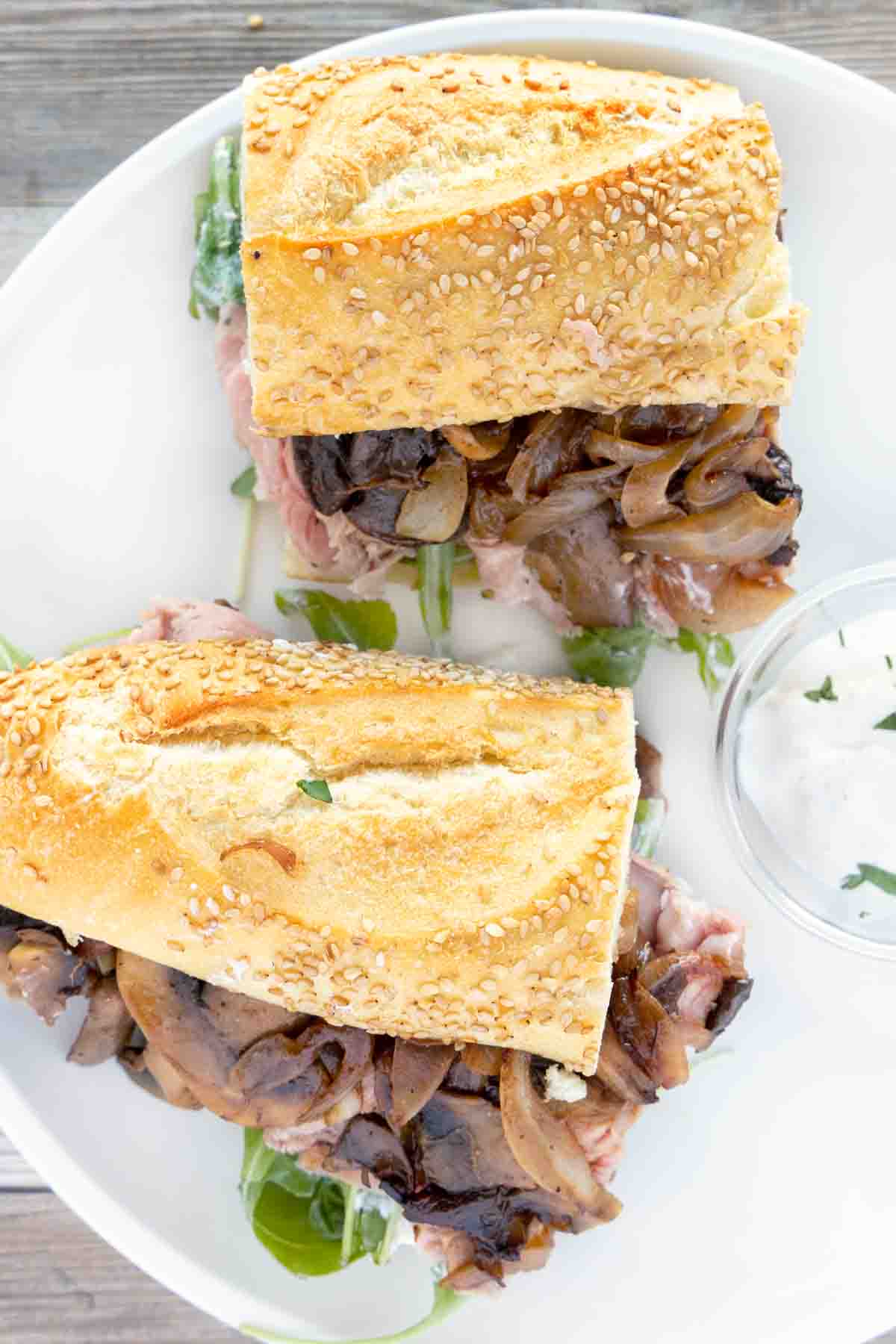 Serve the sandwich with au jus and extra horseradish sauce.
Make this sandwich with leftover roast beef and you've got yourself a variation on the classic French Dip sandwich.
Recipe FAQ's
How do you reheat prime rib?
Place the leftover prime rib roast in a baking dish with a ¼ cup of beef broth. Cover the dish with foil and place it in a preheated to 300°F oven. Reheat until an internal temperature of 165 degrees has been reached.
What should I serve with a prime rib sandwich?
Green Salad, pasta salad, and potato salad are all great choices. Mac and cheese and roasted potatoes are tasty hot choices.
What kind of bread should I use for a prime rib sandwich?
I like using a French baguette, but hoagie rolls or kaiser rolls are also good choices. Toasting the roll is also a nice touch.
More Recipes You'll Love!