My ultimate soft shell crab sandwich is without a doubt one of the best seafood sandwiches I've ever had. The buttermilk egg wash, does wonders to the crispy, crunchy exterior of the soft shell crab.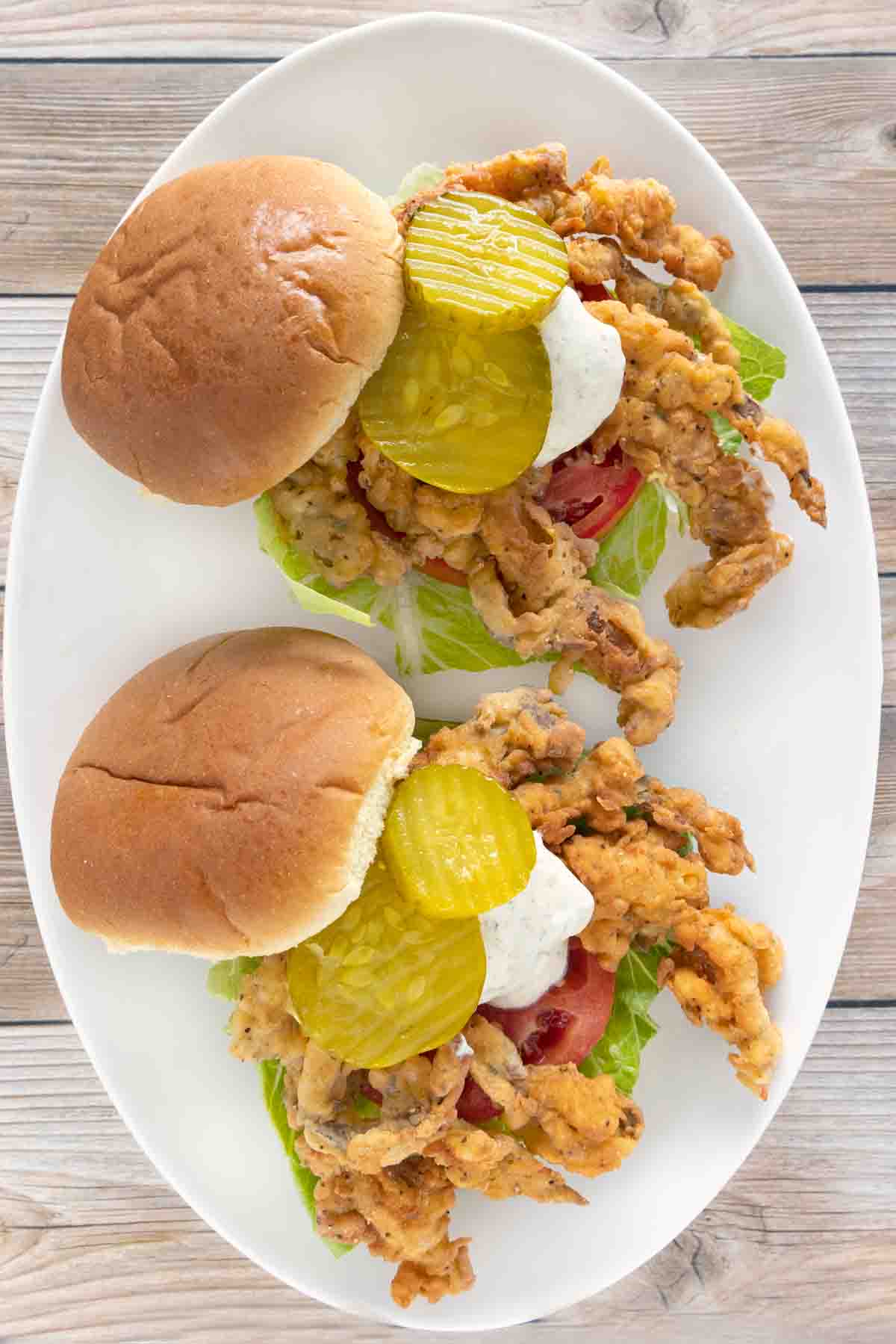 Add the moist flavorful fried soft shell crab to a brioche bun, with crisp lettuce, sweet sliced tomatoes, homemade tartar sauce, and pickle chips, and you have a sandwich of legendary status!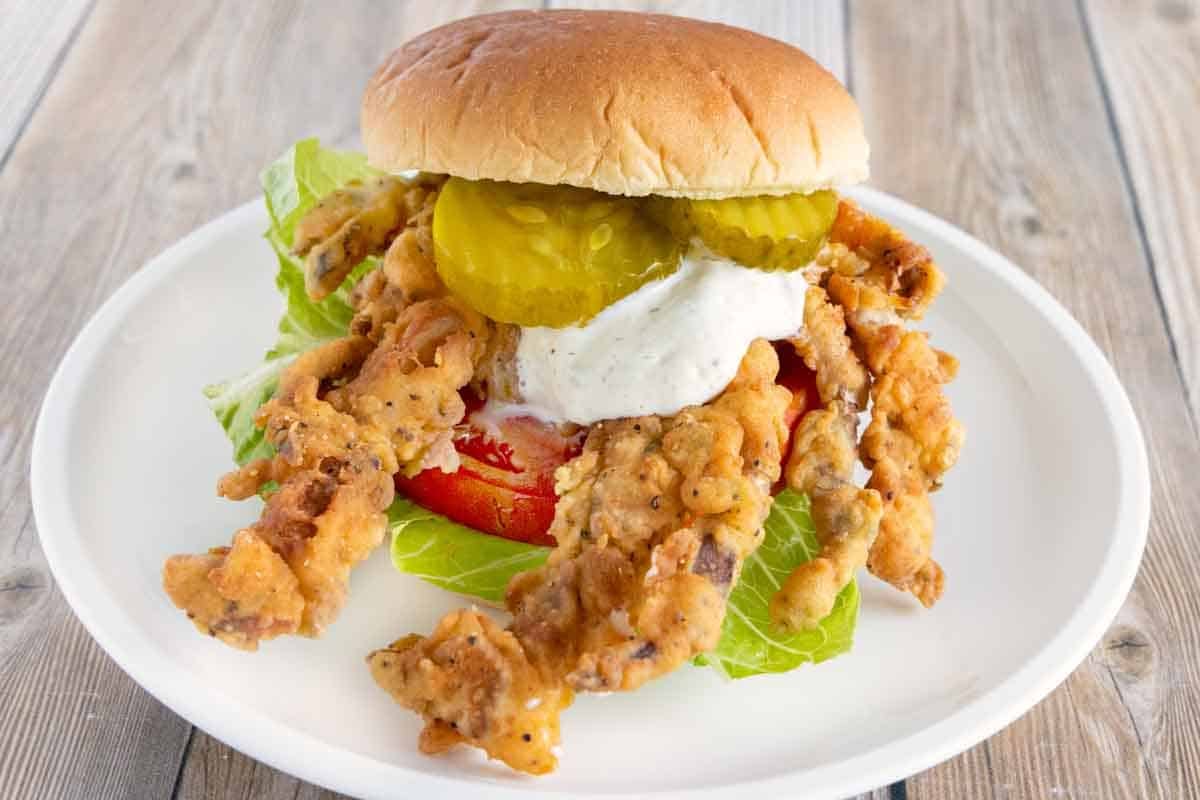 If you've ever wanted to make a sandwich that would impress your friends and family my soft-shell crab sandwiches are definitely what you're looking for. Not only does the fried soft shell crab look impressive, it is pure joy with every bite.
If you love blue crabs, make sure to try my Baked Maryland Crab Cakes and Maryland Style Jumbo Lump Crab Imperial.
Ingredients to make Soft Shell Crab Sandwich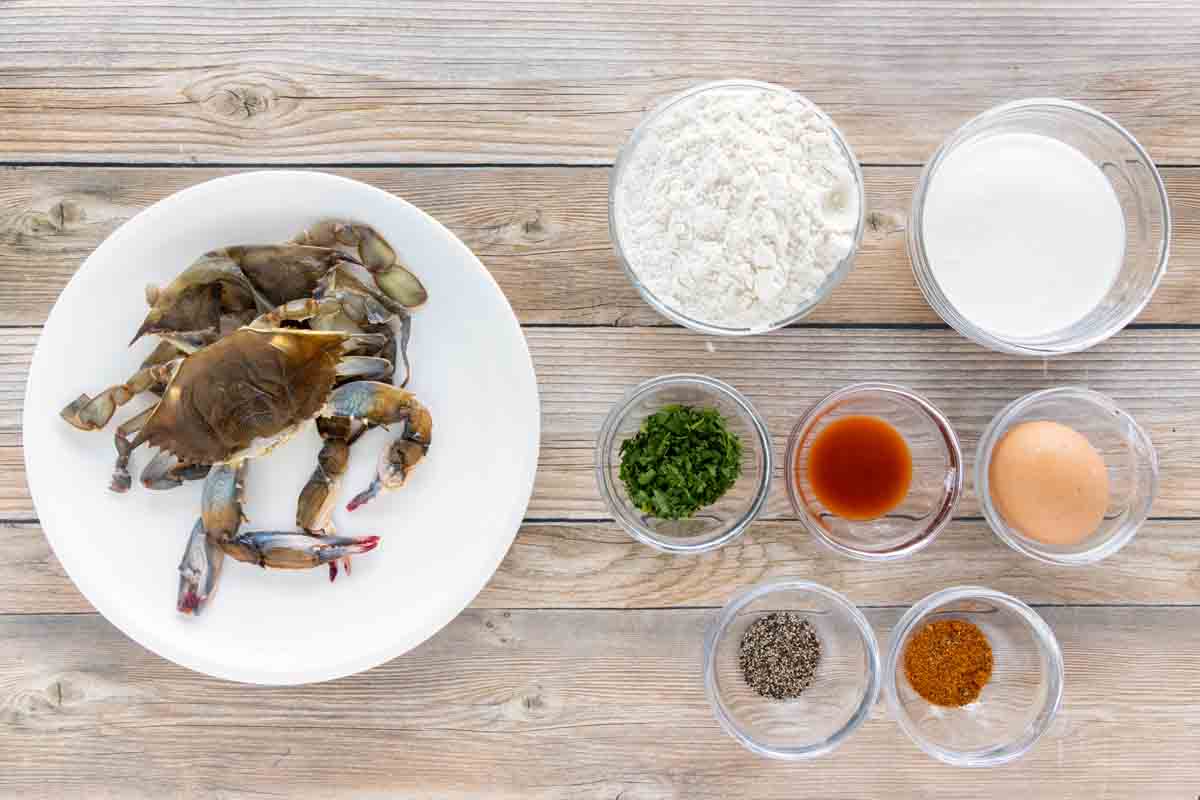 Let's start by gathering the ingredients we need to make the Best Soft Shell Crab Sandwiches. In Chef Speak, this is called the "Mise en Place," which translates to "Everything in its Place."
Not only does setting up your ingredients ahead of time speed up the cooking process, it also helps ensure you have everything you need to make the dish.
What are soft-shell crabs?
Soft shell crabs are not a distinct species of crab but rather the term soft-shell refers to a stage in the life cycle of certain species of crabs. Most commonly used in cooking are the blue crabs found in the Atlantic Ocean and the Gulf of Mexico, which is without a doubt the best tasting crab in the world.
Crabs, like other crustaceans, have a hard exoskeleton (outer shell) that doesn't grow as the crab grows. In order for the crab to grow, it must shed its old shell, with a process called molting. Before molting, the hard-shell crab forms a new, soft shell beneath the old one. When the old shell is discarded, the soft shell is what is left until it hardens, which takes a few days.
It's during this brief window (soft shell crab season), when the crab's new shell is still soft, that the crab is considered a "soft shell crab." Which is prized in the culinary world.
How to make a Soft Shell Crab Sandwich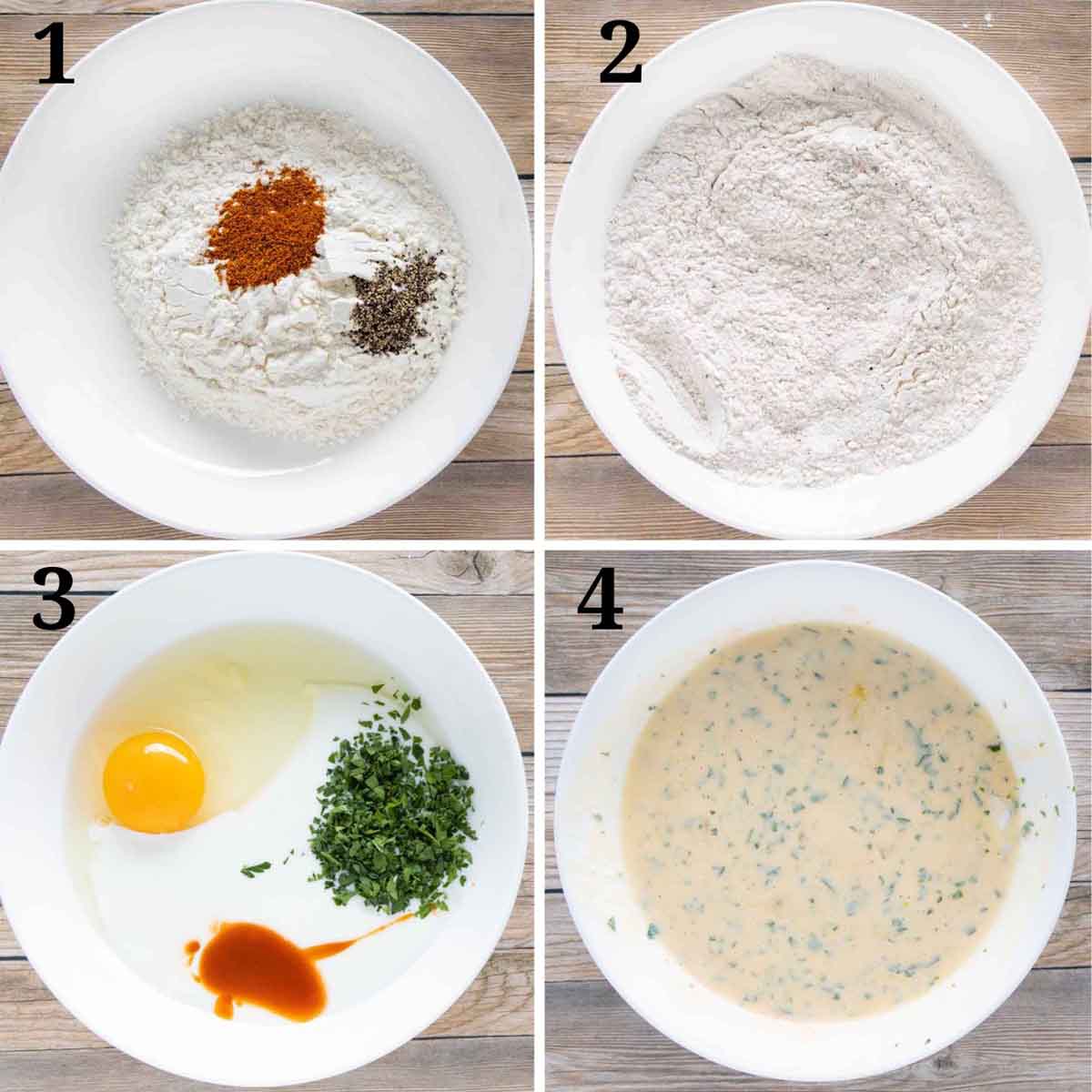 Add the all-purpose flour, old bay seasoning, and black pepper to a shallow bowl.
Mix well to combine the flour mixture.
Add the buttermilk (or whole milk), egg, hot sauce, and chopped Italian parsley to a shallow bowl.
Whisk to combine.
I added the chopped parsley thinking I was making a batter more than an egg wash. It didn't show through the breading as I hoped it would, so feel free to leave out the parsley. If you're a fan of heat you can add a little cayenne pepper to the flour mixture.
Thaw the soft-shell crabs if frozen.
Pat dry the cleaned crabs with paper towels.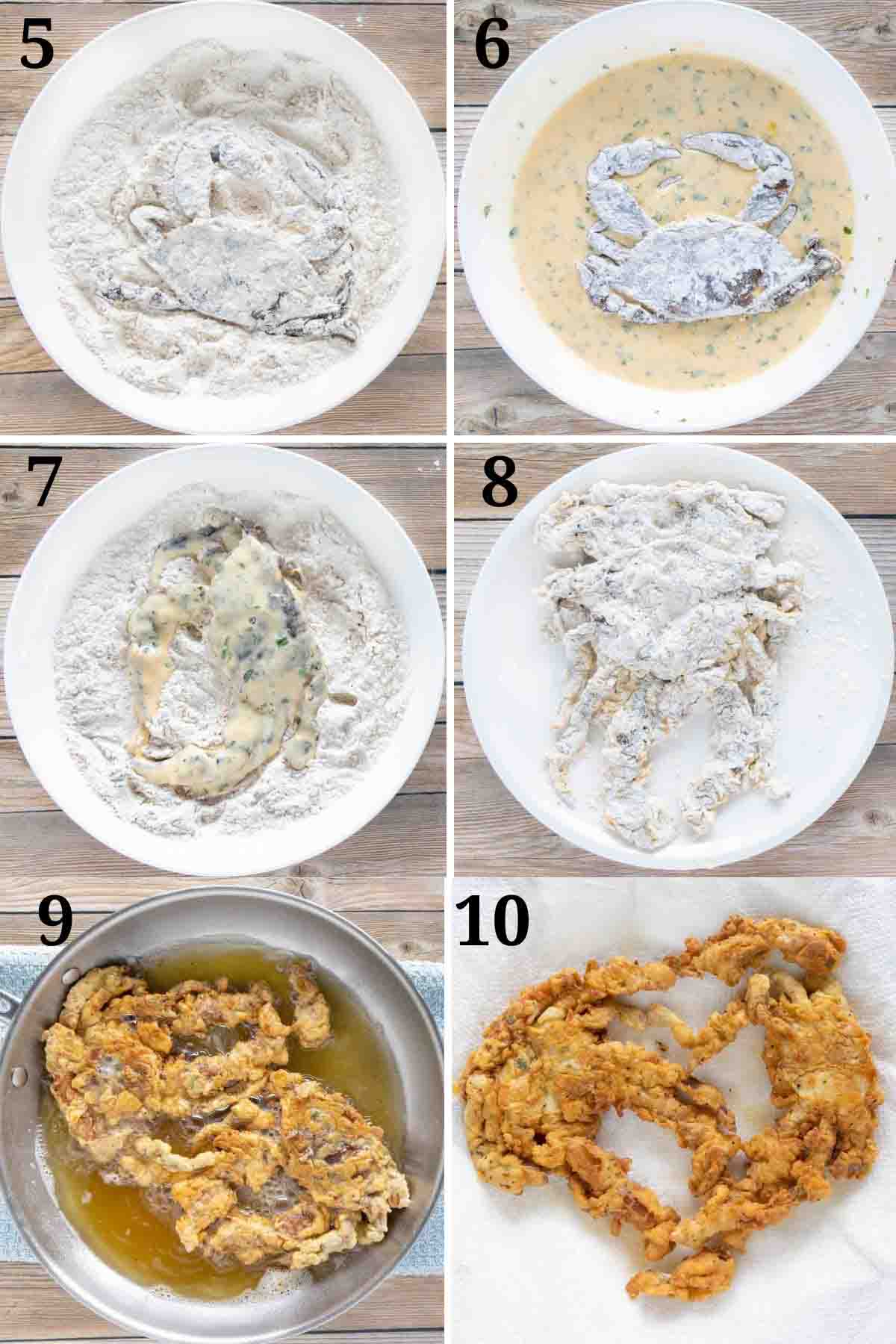 Dredge crabs in the seasoned flour, shaking off the excess flour.
Dip the floured crab into the egg batter to fully coat in the egg wash. Let any excess drip off.
Place the egg-washed crab into the seasoned flour for a second coating of flour. Shake off excess flour.
Add one inch of cooking oil to a large skillet over medium-high heat. When the oil is shimmering (approx 325 degrees F), add the breaded soft shell crabs in a single layer to the skillet.
Cook the crabs in the hot oil for 3-4 minutes on each side until golden brown and crispy.
Drain the fried crabs on paper towels (or wire rack) to remove the excess oil.
I generally fry seafood in corn oil, but you can use canola oil, olive oil, or your favorite cooking oil. Just make sure it has a high smoke point.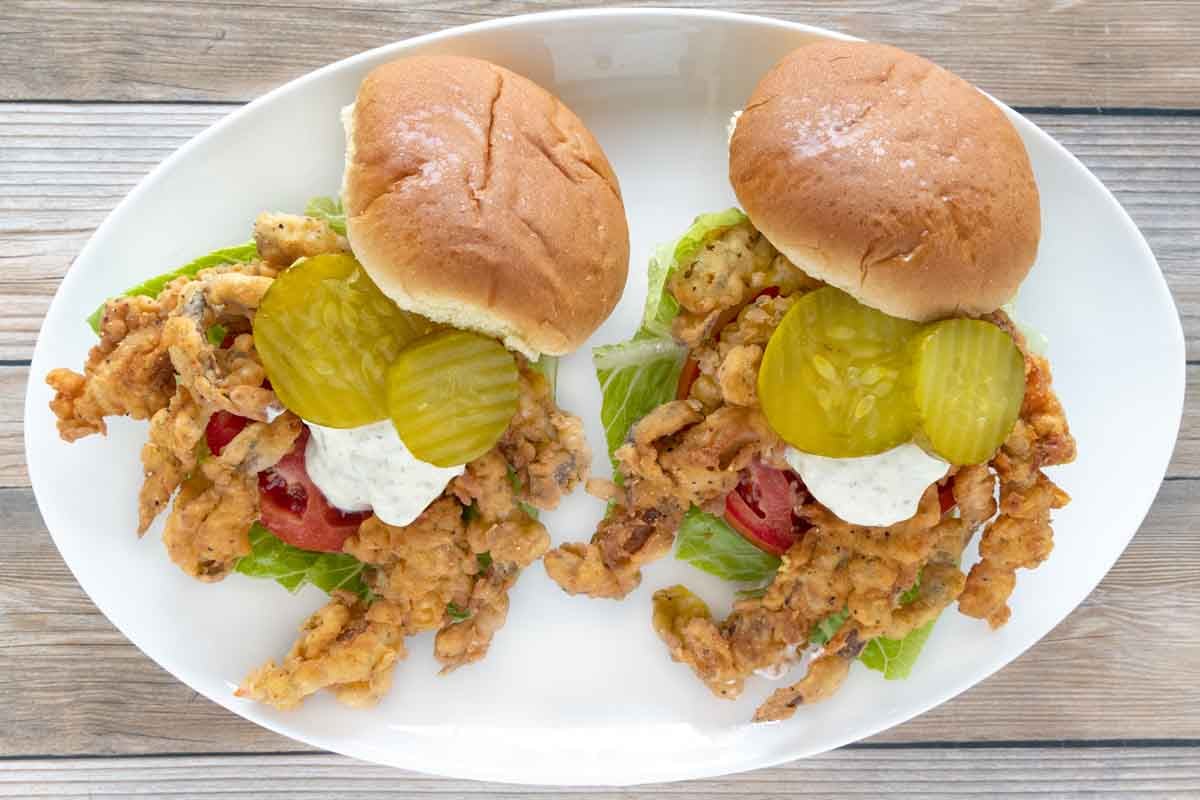 Add lettuce leaves, and a thick tomato slice to the bottom of a hamburger bun.
Place the fried soft shell crab on top of the tomato slice and top with tartar sauce and pickle chips. Add the top of the bun and enjoy!
If your not a fan of tartar sauce, you can use plain mayonnaise, cocktail sauce, or hot sauce on your soft shell crab sandwiches. I used bread and butter pickles, but you can also use dill pickle chips.
Recipe FAQ's
Do you eat the entire soft shell crab?
Yes you do. After its been cleaned, with the inedible parts removed, and cooked the entire crab is edible. It's truly a delicious culinary adventure you don't want to miss.
What should I serve with a soft shell crab sandwich?
I love french fries and fries seasoned with old bay (crab fries) served along with homemade coleslaw is a delicious way to enjoy this sandwich.
You can also serve it with corn on the cob, potato salad, macaroni salad, or your favorite sauteed greens.
Are soft shell crabs healthy?
They're high in Omega-3 fatty acids, which is essential to maintaining heart health and a good source of Vitamin B12.
More Recipes You'll Love!
I bought my soft shell crabs from SizzleFish. I am not affiliated with them, nor do I make any money from affiliate sales, but I do buy seafood from them as they are a reputable source of quality seafood.