Can you say Smoked Salmon Quesadillas? Wouldn't they be perfect for your next Brunch, Lunch or Dinner?
Add some fun to your menu with my delicious quesadillas!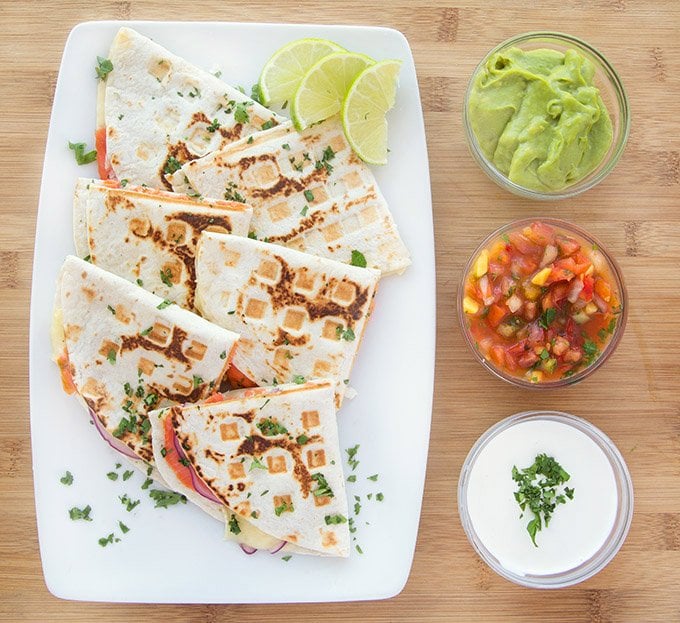 I love fun food especially when it's ah-mazingly delicious! And my smoked salmon quesadillas definitely fall into both those categories!
What Can I Make with my Waffle Iron?
If you're like most people that own a waffle iron, you never use as much as you'd like to. Did you know it can double as a sandwich maker? It sure can and don't be limited to just using bread, flour tortillas and pita bread would also work great!
I decided to use a waffle iron for my quesadillas because I love quesadillas and to be perfectly honest, guys just like to make things more interesting. You know boys and their toys.
Now if you don't own a waffle maker, or just don't feel like dragging it out, you can always make these on the stovetop or your barbecue grill (put foil down on the grill first)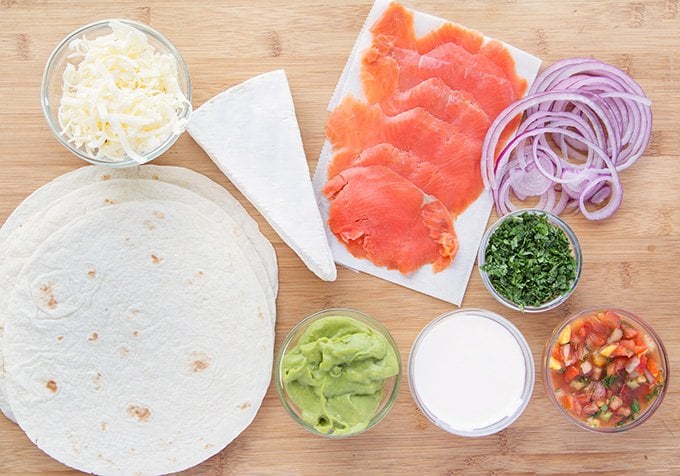 Let's gather our items together for our quesadillas. In chef speak, this is called the mise en place (everything in its place). It's also a good habit to get into, that way you know if you're missing any items before you start cooking.
What kind of cheese can I use in my quesadillas?
I used brie because it seemed like a good match for the smoked salmon and I used cheddar because I love cheddar and thought it would pair well with the brie. Feel free to use your favorite cheese in these quesadillas. Remember recipes are guidelines and you're always going to enjoy eating and cooking more if you use ingredients you like!
How to make Waffle Iron Smoked Salmon Quesadillas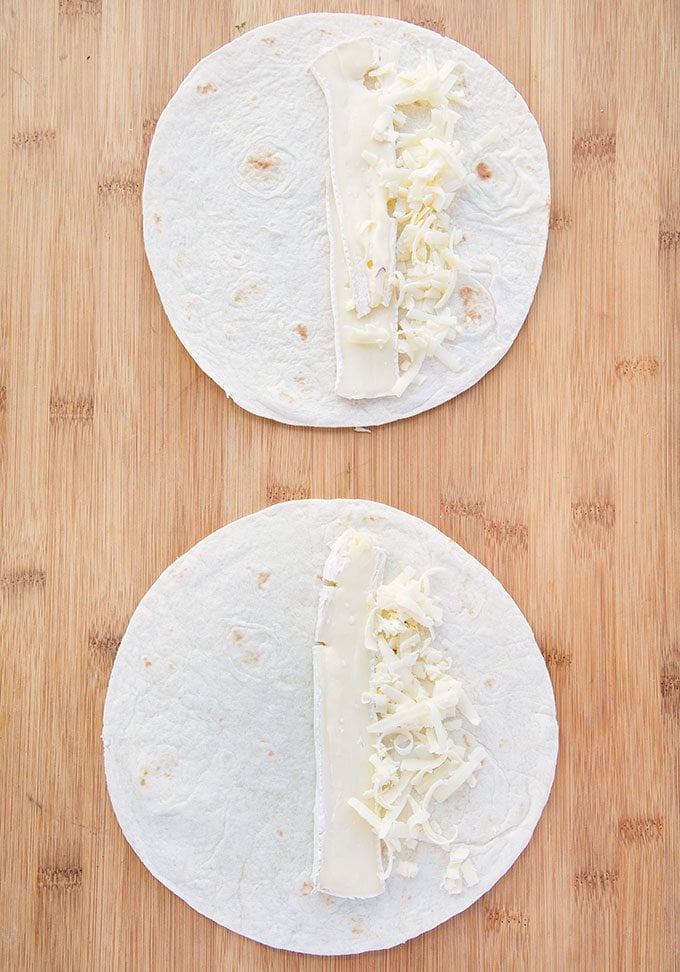 Start off by placing a thin slice of Brie and some shredded cheddar on the Mission Super Soft Flour Tortillas.
Then add the smoked salmon slices and thinly sliced red onion on top of the Brie.
Pre-heat your waffle iron to its hottest setting. When the waffle iron tells you it's ready, place the folded smoked salmon quesadilla on the preheated waffle iron and close the lid. Apply just a little pressure for 30 seconds or so to get good contact with the grates. Depending upon your waffle iron this could take 3-4 minutes.
Chef Dennis Tips* If you have interchangeable plates for the waffle iron, you can also do them on the flat griddle sides. Or alternatively, just use a large skillet or griddle on your stovetop.
You can't imagine just how delicious these quesadillas are. You may even get more of the wives and girlfriends over to watch the football game with you when you serve them something this creative and delicious. You could even tell them you came up with the idea all by yourself, I don't mind.
Chef Dennis Tips* If everyone on your guest list isn't a fan of smoked salmon, set a quesadilla bar with other protein options and allow everyone to build their own quesadillas.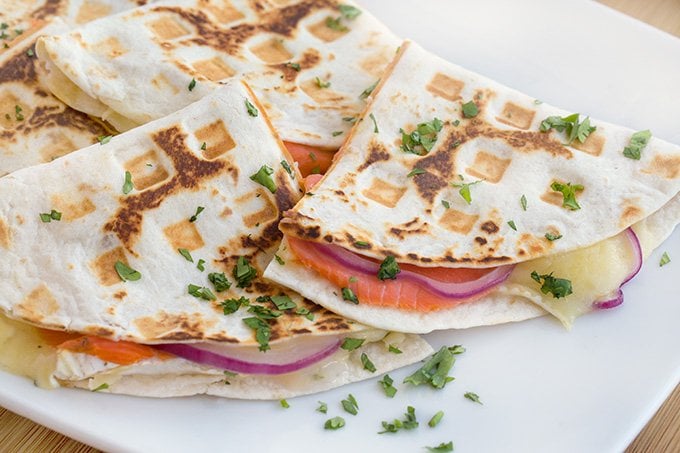 I'm getting really hungry looking at these quesadillas. The brie smoked salmon and red onion complimented each other perfectly. I added cheddar because I love cheese and they were my quesadillas. Feel free to use your favorite cheese or just brie if you like. Recipes are guidelines, it's okay to color outside of the lines and make the recipe your very own.
If you love to cook and like fun recipes, you may also like these: