Packed with hearty vegetables and lean ground beef in a rich and flavorful tomato broth, my easy hamburger soup is a delicious and easy-to-make soup that the whole family will love. Perfect for a weeknight meal or game day.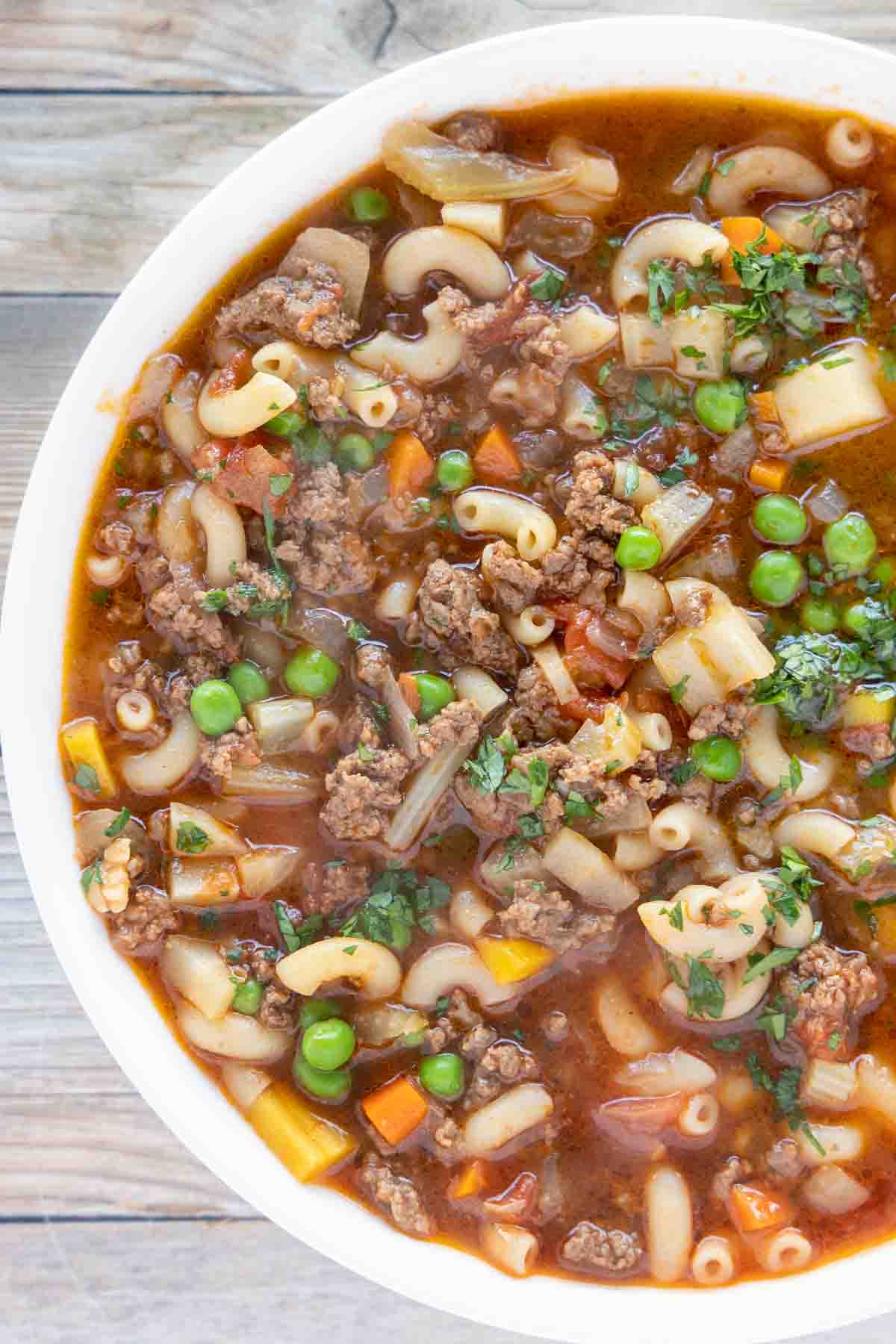 My grandmother used to call this hearty hamburger soup a Poor Man's Soup. That was because it used ground beef, which, believe it or not, used to be inexpensive. Over the years, I've made this many different ways, with vegetables I had on hand and different kinds of pasta, rice and grains.
You can swap out the pasta for potatoes, using russet potatoes, Yukon gold potatoes or red potatoes. You could even use sweet potatoes if you prefer.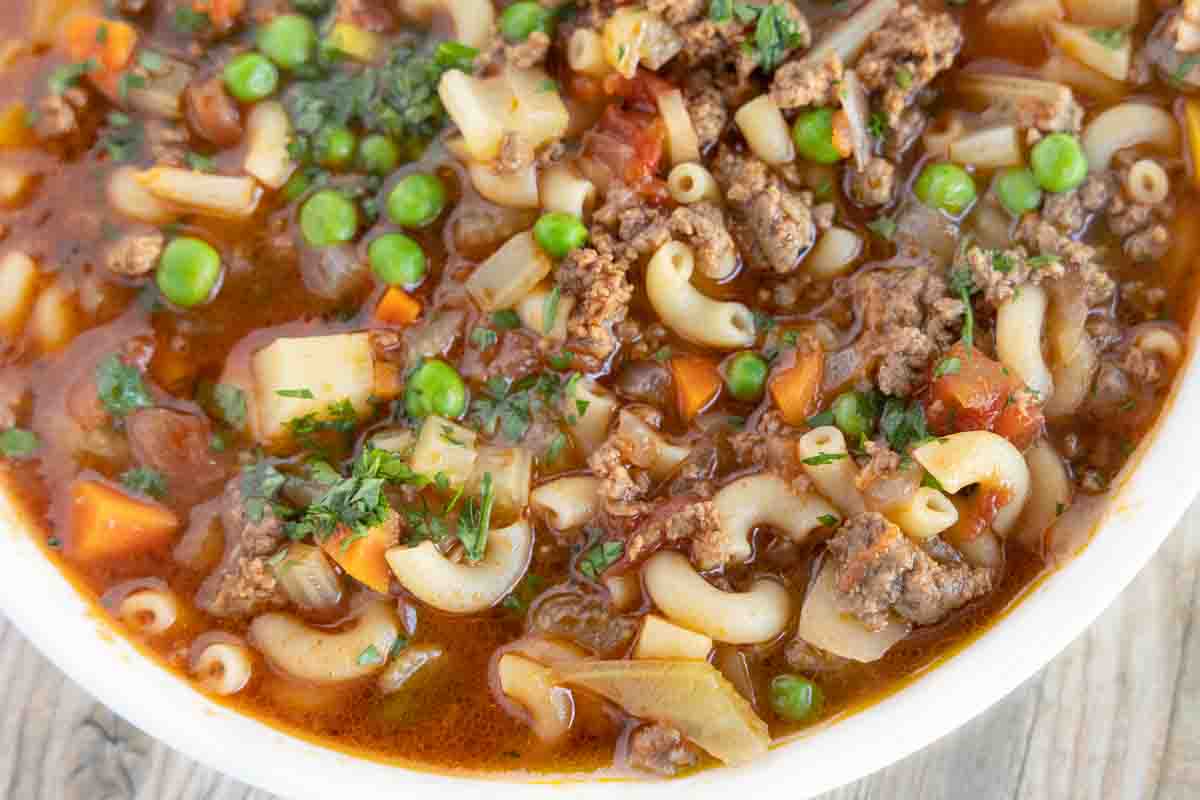 It's easy to customize this soup to fit your family's taste preferences and use what you have on hand. I love adding half Italian sausage meat instead of all ground beef when I make this soup.
Sometimes I use chicken broth instead of beef broth, and if you don't have diced tomatoes, use tomato sauce (not spaghetti sauce) or tomato puree. You can also customize the flavor profile by adding some heat with chili powder or a little bit of sweetness with brown sugar.
No matter how you make this easy hamburger soup, your family is going to love it. Serve it with crusty bread for dipping and they'll be in heaven!
Ingredients to make Hamburger Soup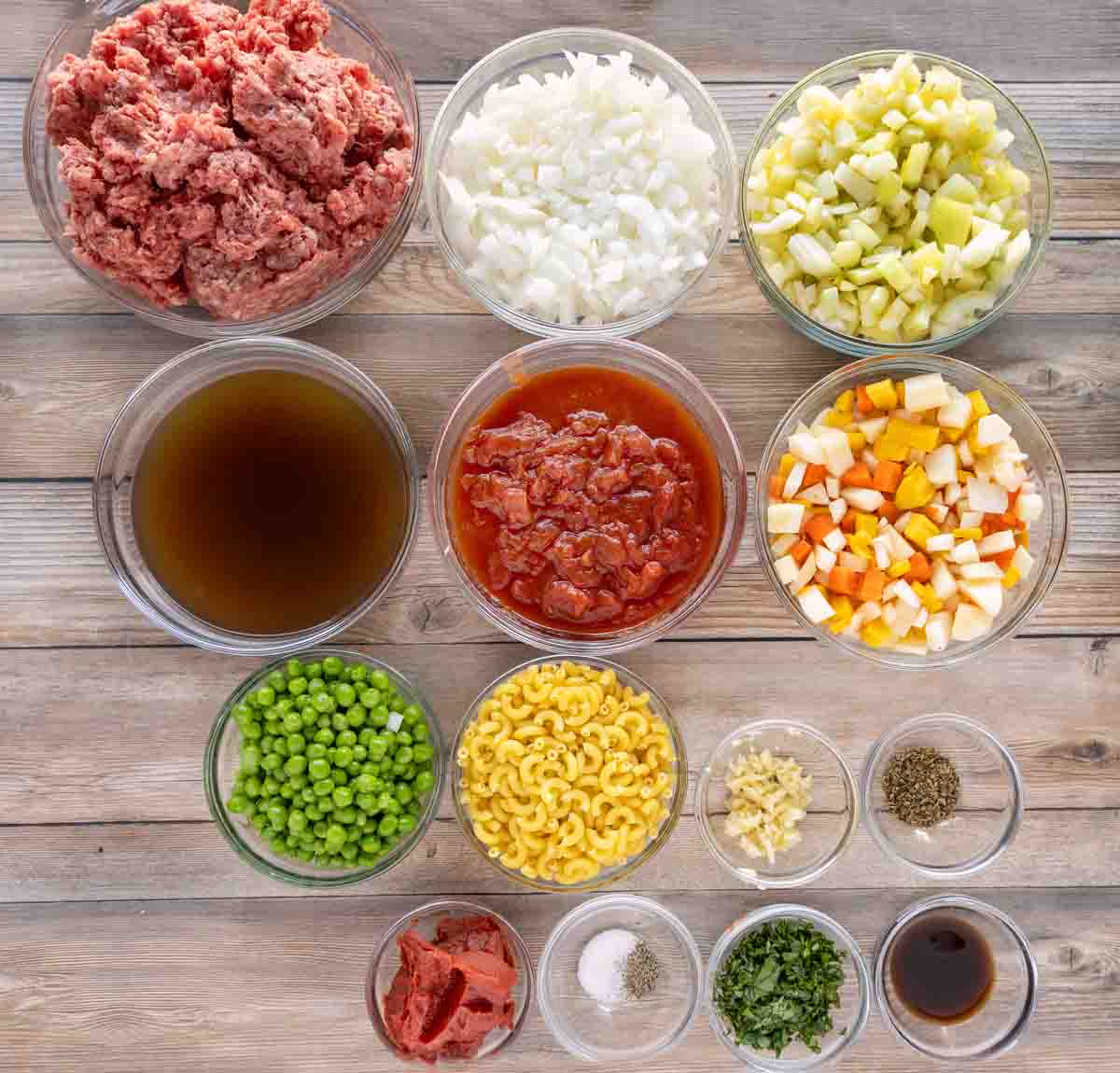 Let's start by gathering the ingredients we need to make Hamburger Soup. In Chef Speak, this is called the "Mise en Place," which translates to "Everything in its Place."
Not only does setting up your ingredients ahead of time speed up the cooking process, it also helps ensure you have everything you need to make the dish.
Simple pantry ingredients and fresh vegetables
lean ground beef
onion
celery
carrots
garlic
beef broth
diced tomatoes with juice
tomato paste
dried oregano
Worcestershire sauce
elbow macaroni – optional
frozen peas
salt and black pepper to taste
fresh parsley
How to make Hamburger Soup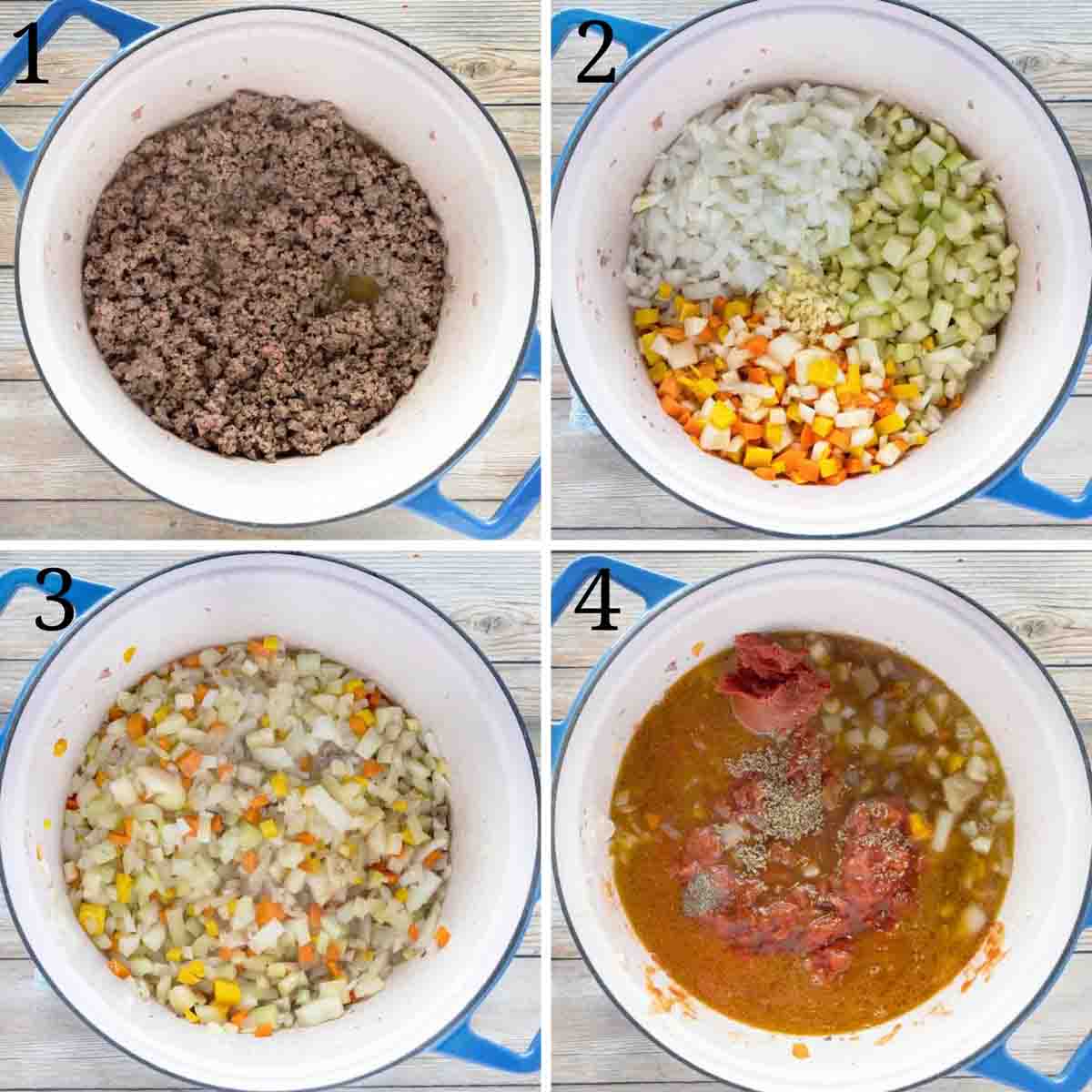 Add a tablespoon of olive oil to a large pot or dutch oven over medium-high heat. Add the ground beef to the pot and stir until browned. When the ground beef is browned, turn off the heat and remove the ground beef from the pot. Set aside until needed.
Add the diced carrots, onions, celery, and garlic to the pot with additional olive oil if needed.
Saute the veggies over medium-high heat for 2-3 minutes.
Add the tomatoes, tomato paste, oregano, Worcestershire sauce, and beef broth to the pot. Mix well and season with salt and black pepper to taste.
You could add a little red pepper flakes if you'd like a little heat in the soup. You can also use whatever fresh vegetables you have on hand.
Add the ground beef back into the pot, along with any juice or fat that was released by the beef. Mix well. Bring to a boil, then reduce the heat to low and simmer for 25-30 minutes.
Add the elbow macaroni to the pot and mix well. Continue to simmer for 8-10 minutes over medium-low heat.
Add the peas and chopped fresh parsley to the pot.
Mix well and continue to simmer for another 5 minutes or until the soup has reached the temperature of 165 degrees F.
Serve the soup with a loaf of crusty bread, a green salad, and one of my favorite old-fashioned desserts like rice pudding. It's the perfect meal for a chilly night, or for that matter, any night.
Once the soup has cooled to room temperature, store it in an airtight container in the refrigerator for up to 5 days. Or freeze the soup in a freezer-safe container for up to 3 months.
This tomato beef soup recipe is one of my favorite comfort foods. And if you're a fan of beefy recipes, you might also like my sloppy Joes or beef kofta kabobs.
Recipe FAQ's
Can I make hamburger soup in a crock pot?
You sure can. Give the beef and vegetables a quick saute, then add the remainder of the ingredients (except pasta and peas) to the crockpot and let it simmer for an hour. During the last 15 minutes, add the pasta. Add the peas and parsley right before serving.
What is hamburger soup made of?
Hamburger soup is a combination of ground beef and lots of veggies. There are the standard soup veggies like onion, celery, and carrots, but then you can add lots of other vegetables (especially tomatoes and potatoes), as well as herbs and spices, too
Can you freeze the soup?
If you have any leftover soup, it can be frozen in airtight freezer-safe containers and can remain frozen for up to 3 months.
More Soup Recipes You'll Love!