You're going to love my Pasta Fagioli soup, loaded with ditalini pasta, cannellini beans, pancetta, vegetables, and a deliciously flavorful tomato broth. This hearty soup is the perfect addition to your dinner table!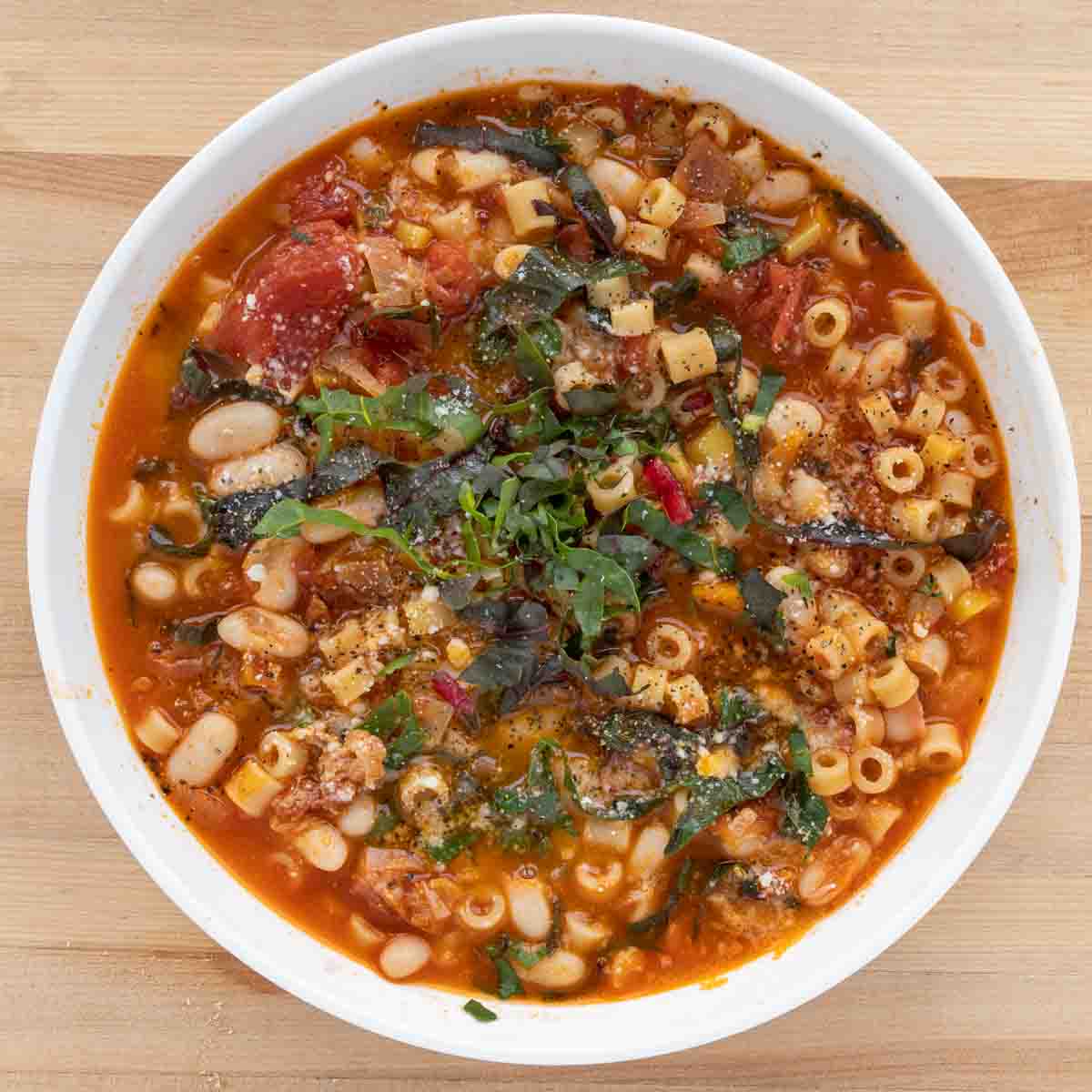 If you've never heard of this Classic Italian Soup, let me start by sharing how to pronounce its name correctly. Can you say Pasta Fazool?
This easy-to-make traditional Italian soup is a satisfying dish that will warm your body and your soul, it's the ultimate comfort food.
There are as many pasta fagioli soup recipes as there are Italian grandmothers and each one will have its own special touch. So, feel free to adjust this pasta fagioli recipe to fit your palate.
Ingredients to make Pasta Fagioli Soup
Let's start by gathering the ingredients we need to make Pasta Fagioli. In Chef Speak this is called the "Mise en Place" which translates to "Everything in its Place".
Not only does setting your ingredients up ahead of time speed up the cooking process, it also helps ensure you have everything you need to make the dish.
I use whole peeled San Marzano tomatoes (crushing them by hand or with an immersion blender) for all my cooking, but you can substitute your favorite crushed tomatoes or even tomato sauce (not pasta sauce). And while ditalini may be traditional, feel free to use another tiny pasta shape — elbow macaroni also works well.
*If you're not a fan of heat, leave out the red pepper flakes.
Can I add meat to pasta Fagioli?
Yes, you can. The Olive Garden's pasta e fagioli has meat in it. You can use lean ground beef, ground turkey, or sweet, or spicy Italian sausage in your soup.
Bacon can also be substituted for the pancetta.
How do I make Pasta Fagioli?
In a large pot over medium heat, add the olive oil and the pancetta. Cook until the pancetta is beginning to crisp. Remove the pancetta and place it on a paper towel-lined plate to drain. Save until needed.
Add the celery., carrot, onion, and leek to the pot. Allow the veggies to cook until they begin to soften, about 5 minutes.
Add the pancetta back into the pot along with the minced garlic and cook for 1-2 minutes.
Add the hand-crushed tomatoes, chicken broth, red pepper flakes, bay leaves, thyme, salt, and pepper to the soup pot. Lower the heat to medium-low and simmer for 10 to 15 minutes
Add the cannellini beans and al dente pasta to the soup and continue to simmer for another 10 minutes
Reduce the heat to low, add the thinly sliced chard (or greens of your choice) and Romano cheese (or freshly grated parmesan cheese) to the soup, and simmer for 10 minutes.
*If you want to keep the soup vegetarian substitute vegetable broth for chicken broth. You can also use beef broth for a different flavor profile.
*When it comes to the variety of canned beans to use, I prefer cannellini beans. That said, any creamy beans will work well, from red kidney beans to great northern beans, butter beans, or even black beans.
*Pro-tip: Adding parmesan rind to the soup while cooking can give it savory flavor.
The soup is finished except for one final taste to make sure the seasonings are good. Adjust the seasonings as needed before serving it solo or with a side of crusty bread.
*If you aren't going to use all the soup in one setting, or intend to freeze some of the soup, DO NOT ADD all the pasta to the pot. Instead, place the pasta in the serving bowls and ladle the very hot soup over it. Place leftovers of this hearty Italian soup in an airtight container to enjoy the next day.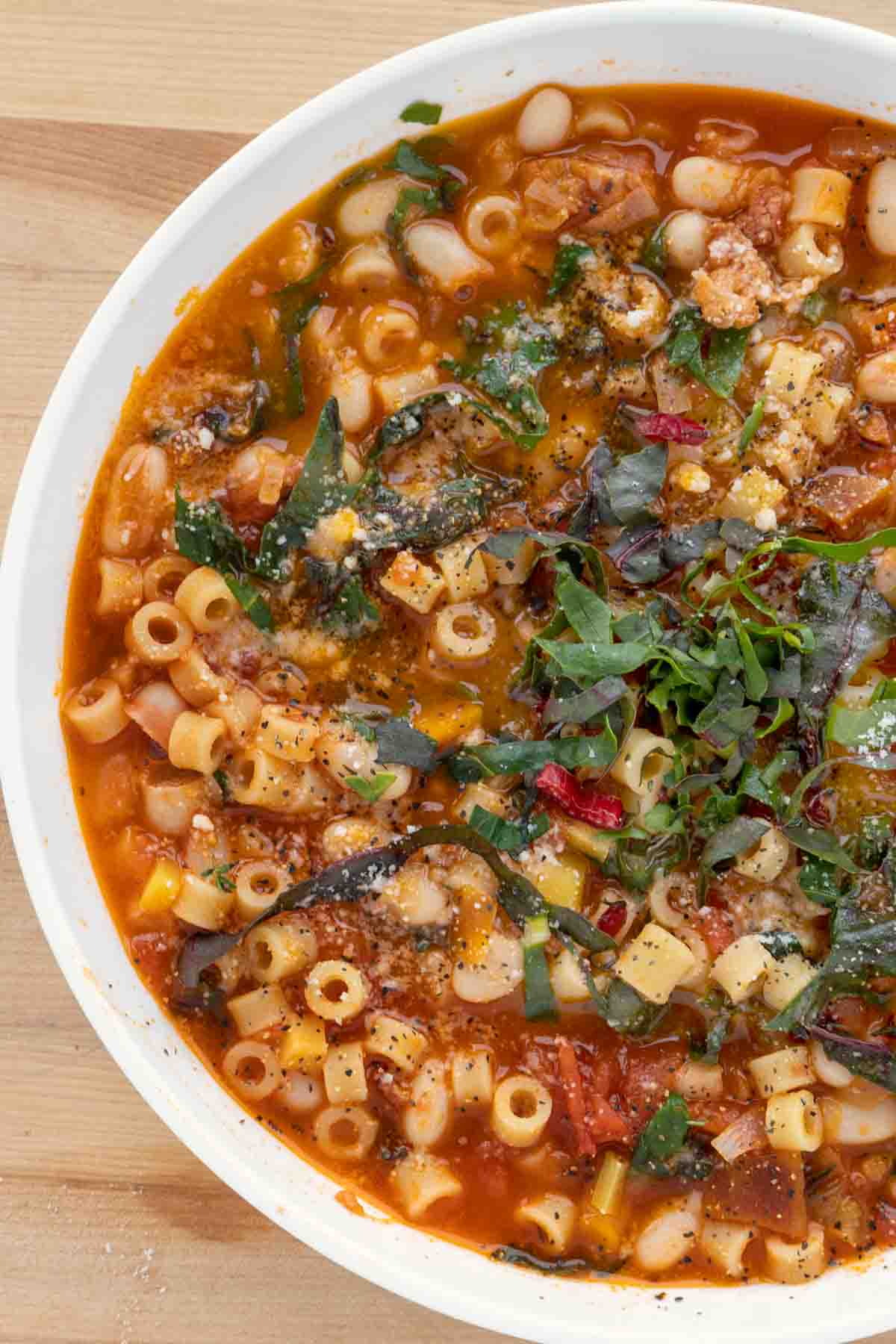 Garnish the Pasta Fagioli with ribbons of chard, grated Romano cheese, and freshly ground black pepper.
This soup is the perfect light dinner, lunch, or starter for an Italian feast!
Pasta e Fagioli Soup Recipe FAQ's:
Does pasta fagioli contain meat?
Pasta Fagioli can contain meat, but you can easily omit it for a simple vegetarian recipe.
What is the difference between fagioli and minestrone?
The two are very similar soups. The primary difference between the two is that the pasta fagioli contains meat, while the minestrone does not.
Do I have to add tomatoes to Pasta e Fagioli?
No, you don't. Different regions make this classic Italian soup differently. Some recipes don't call for tomatoes. Just add extra broth to make up for the tomatoes.
What type of pasta should I use to make Paste Fagioli?
Ditalini is the preferred pasta for this Italian soup, but you can use any small pasta shape, such as tubetti, anelli, small macaroni, or small shells, can be used as a substitute.
More Soup Recipes You'll Love!