Everyone loves Macaroni Salad, it's an American Classic! Made with simple pantry ingredients and some of your favorite additions, this creamy, tangy, delightfully delicious pasta salad will be a welcome addition to your table any time of year.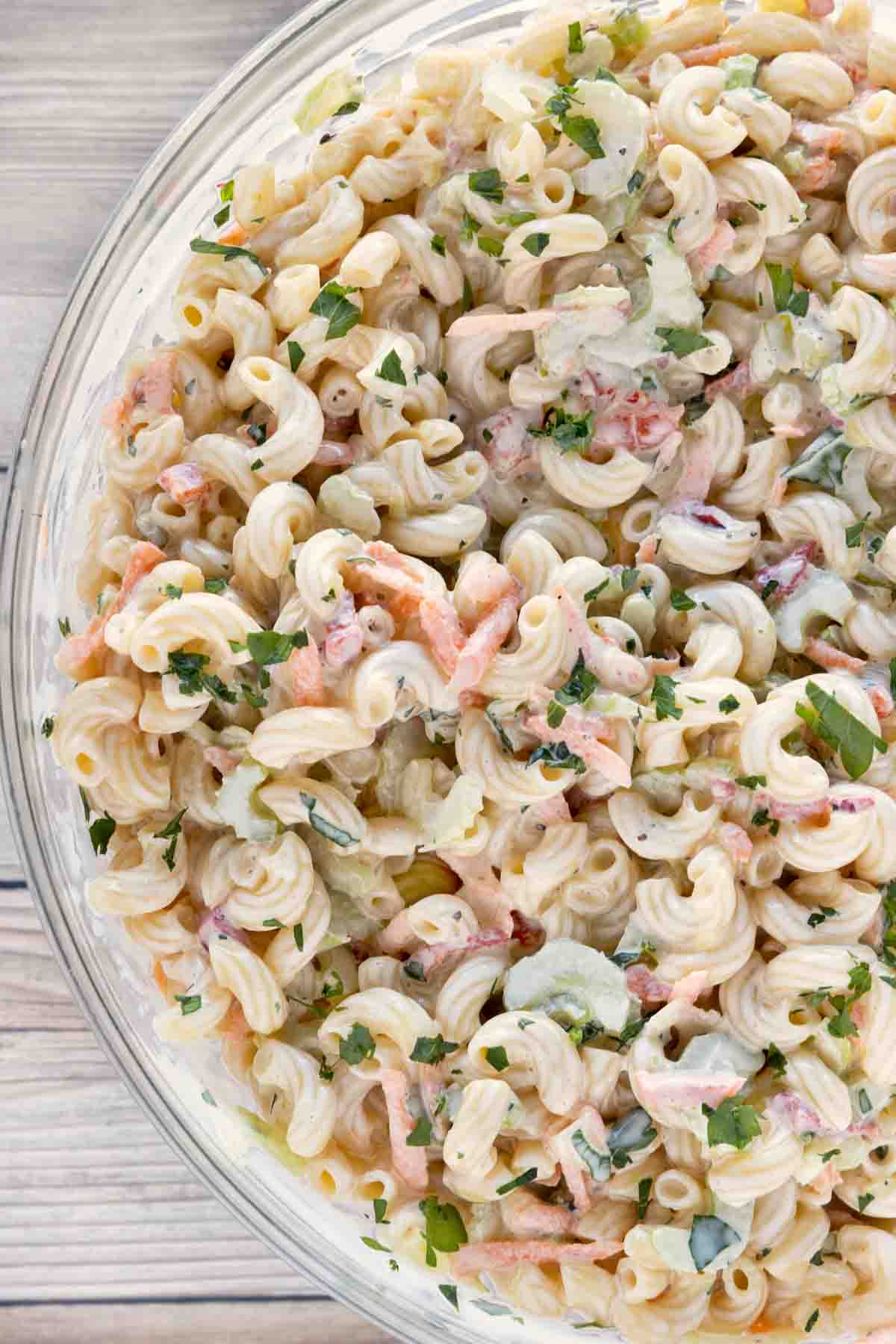 Macaroni salad is a classic American dish that has been enjoyed by generations of people. It's a simple yet flavorful side dish that's perfect for picnics, potlucks, barbecues, summer parties or any other occasion where you want to bring a delicious side dish that's easy to make and everyone will love.
My creamy macaroni salad is the perfect side dish for summertime fun.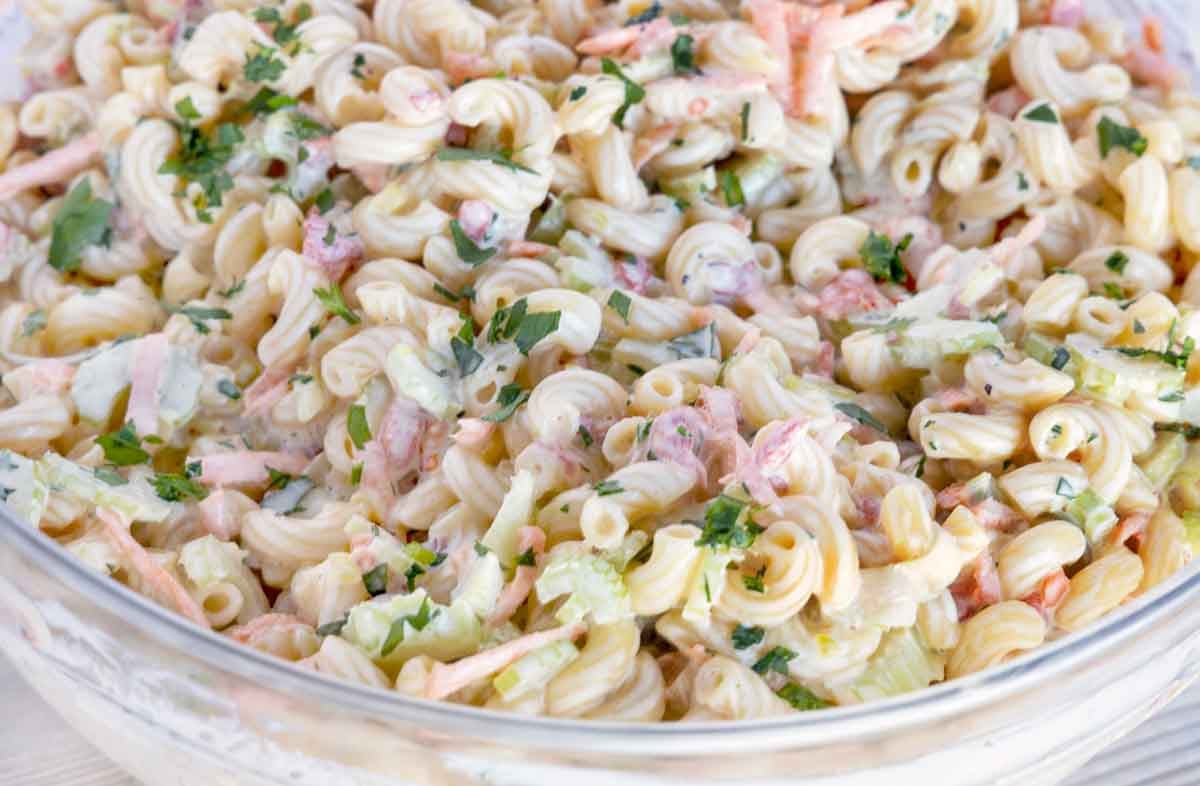 This is definitely my favorite pasta salad recipe. I've made a lot of salads during my years as a chef and this is the best macaroni salad recipe, I've ever used.
If you love this recipe, try my Tuna Macaroni Salad Deluxe.
Ingredients to make Macaroni Salad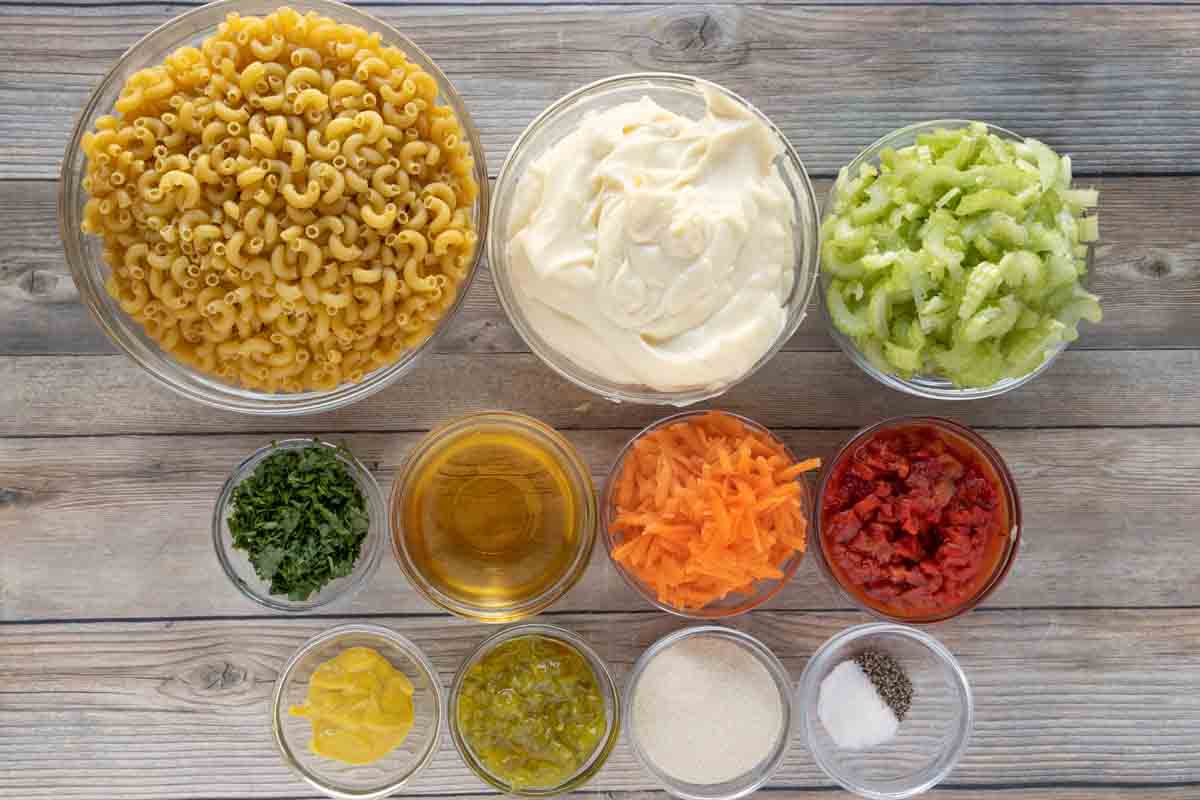 Let's start by gathering the ingredients we need to make this classic side dish, Macaroni Salad. In Chef Speak, this is called the "Mise en Place," which translates to "Everything in its Place."
Not only does setting up your ingredients ahead of time speed up the cooking process, it also helps ensure you have everything you need to make the dish.
Made with simple ingredients
elbow macaroni (or your favorite pasta shape)
mayonnaise (or if you like a sweeter flavor use Miracle Whip)
celery
carrots
roasted red peppers (or bell peppers)
apple cider vinegar (or white vinegar)
sweet relish (or pickle juice for a tangy flavor)
yellow mustard (or dijon mustard)
granulated sugar
salt and black pepper
chopped parsley
For a healthier version you can substitute some of mayonnaise with Greek yogurt.
How to make salad dressing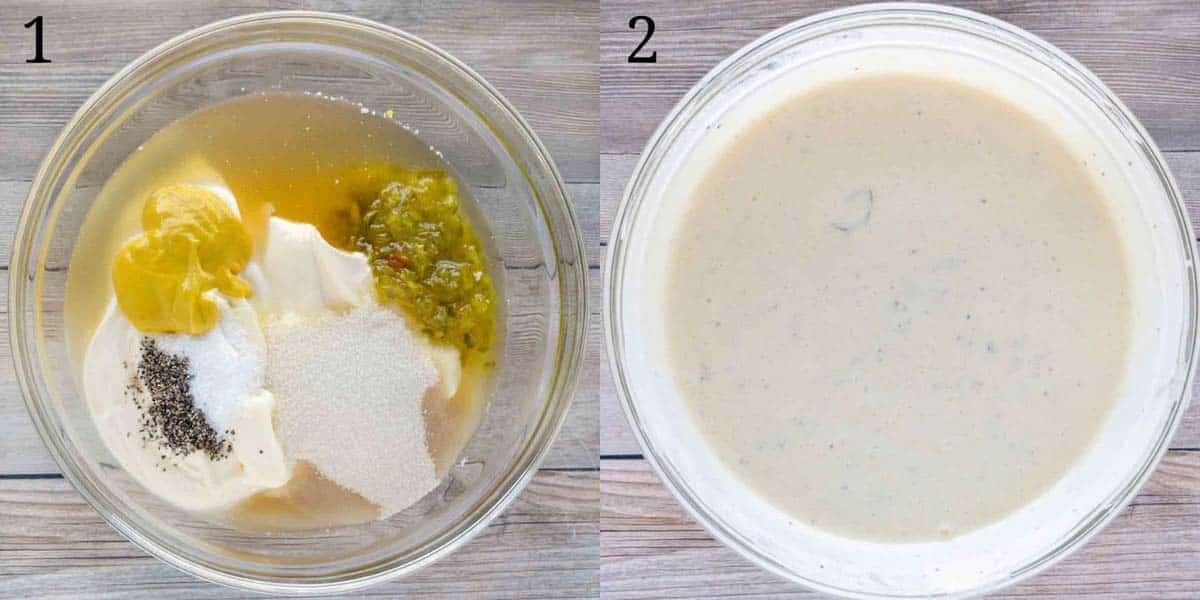 Add the mayonnaise, yellow mustard, sweet pickle relish, apple cider vinegar, granulated sugar, salt, and black pepper to a small bowl.
Whisk the ingredients together until well blended. Refrigerate until needed.
How to make macaroni salad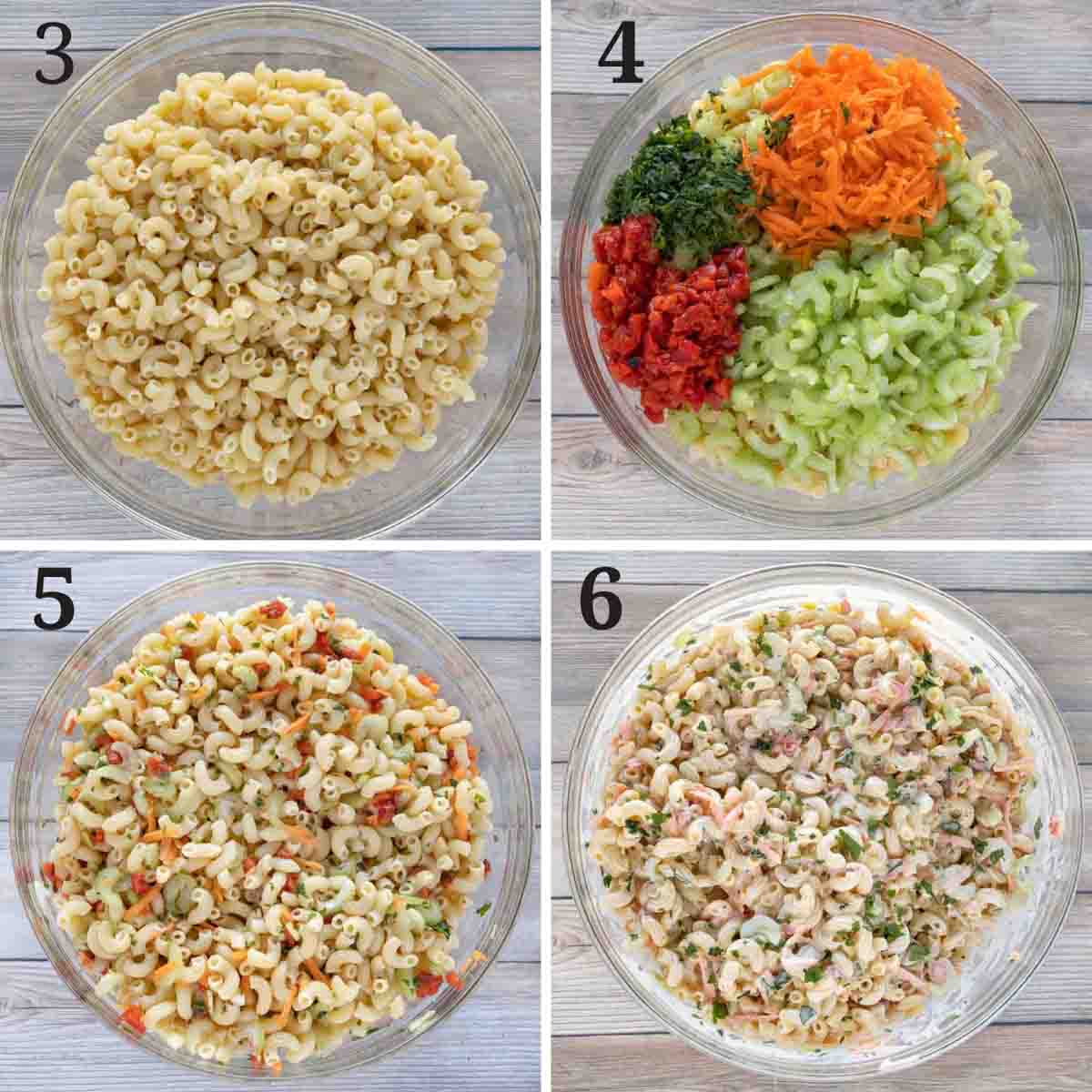 Cook the dry elbow macaroni in a large pot of salted water, following the package directions for al dente pasta. Drain the cooked pasta and rinse with cold water. Make sure the macaroni noodles are well drained before using.
Place the cooked well drained pasta in a large bowl.
Add the thinly sliced celery, roasted red peppers, shredded carrots and chopped italian parsley to the bowl.
Mix all the ingredients together until well blended.
Add the creamy dressing and mix until all the ingredients are well coated. Refrigerate for at least two hours before serving.
I like to add chopped red onions or sweet vidalia onions to my macaroni salad, but more and more people don't seem to like the flavor. If you like onion, feel free to add some into the salad, or add onion powder to the dressing.
Additional Macaroni Salad add-ons:
sweet baby peas (fresh or frozen)
chopped hard-cooked eggs
bacon bits
green onions
small cubes of cheese
tuna, chicken or shrimp
chopped pineapple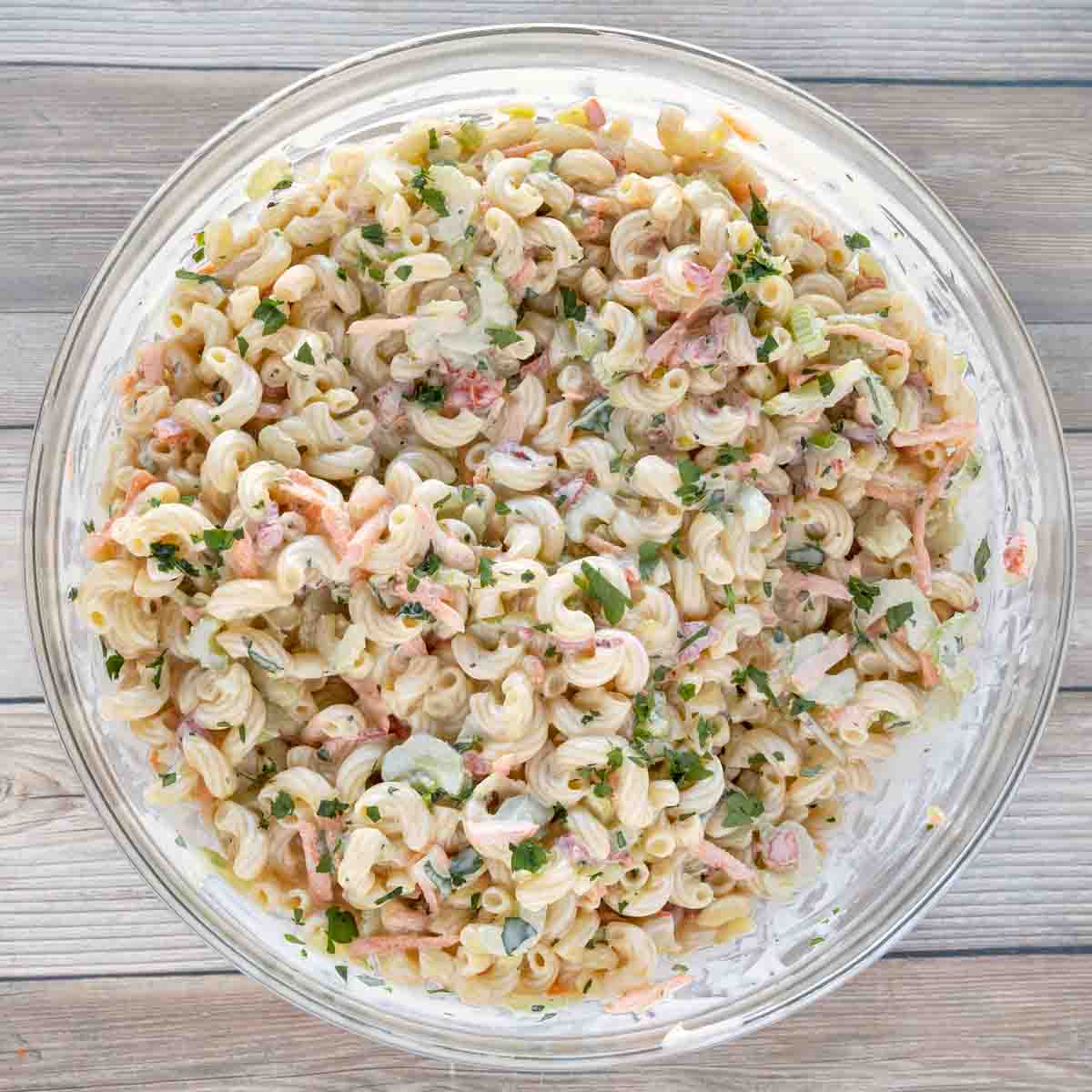 It's always a toss up at our house which is the best salad to serve at summer parties. I always go for macaroni salad and my wife likes potato salad. So we have both!
You can make this salad ahead of time and the it will definitley taste better the next day. But the noodle will continue to soak up the dressing and it won't be as creamy. If this happens, you can make more dressing and add it to the macaroni salad when you serve it.
Recipe FAQ's
Should I rinse the macaroni for the salad?
Anytime you're making a cold salad using pasta, it definitely needs to be rinsed.
This rule does not apply to hot pasta, as it should never be rinsed. The starch in the water is what helps the sauce adhere to your pasta.
Can I add other ingredients to my macaroni salad?
Absolutely, add the ingredients you enjoy eating to your macaroni salad. You'll see, hard-cooked eggs, cooked shrimp, chicken, tuna, peas, small cubes of cheese, bacon bits, and other fresh vegetables to the salad. You may need to make additional dressing depending on how much you add to the macaroni salad.
How long will macaroni salad last in the refrigerator?
Macaroni salad will last 3-5 days refrigerated and stored in an airtight container. It does not freeze well.
More Recipes You'll Love!