Beef Kofta kebabs are a delicious and versatile dish that has been enjoyed for centuries across the Middle East and beyond. These succulent meat skewers are made with ground beef, infused with fragrant spices, and grilled to perfection.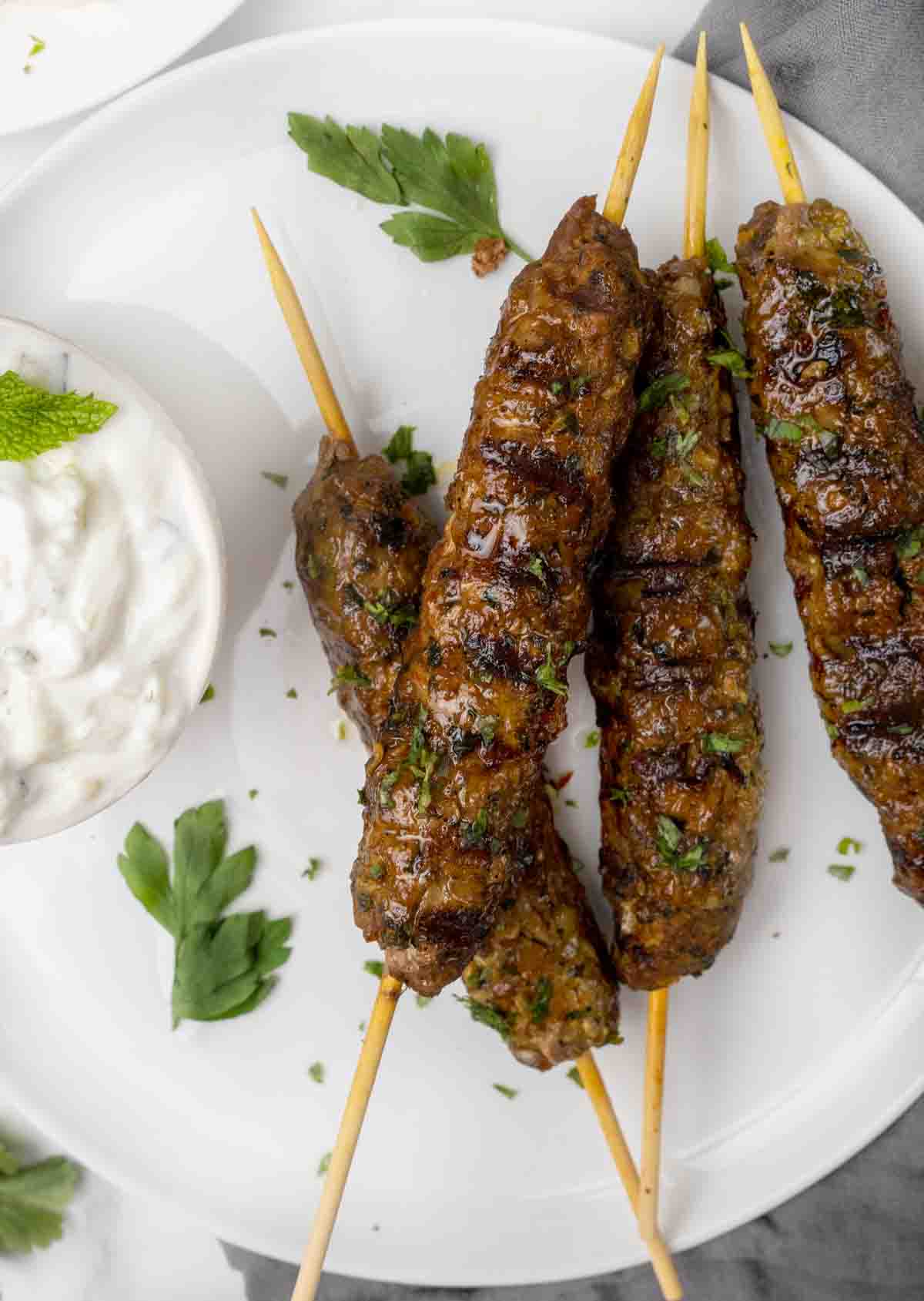 Good ground beef is important when making Beef Kofta Kebabs. Use lean ground beef that has a good balance of fat content. The fat adds moisture and flavor to the kebabs, ensuring they remain juicy and tender when cooked.
I've had Lebanese kebabs made with ground lamb that were OMG delicious, so if you're a fan of lamb, you can use ground lamb to make these delicious kabobs.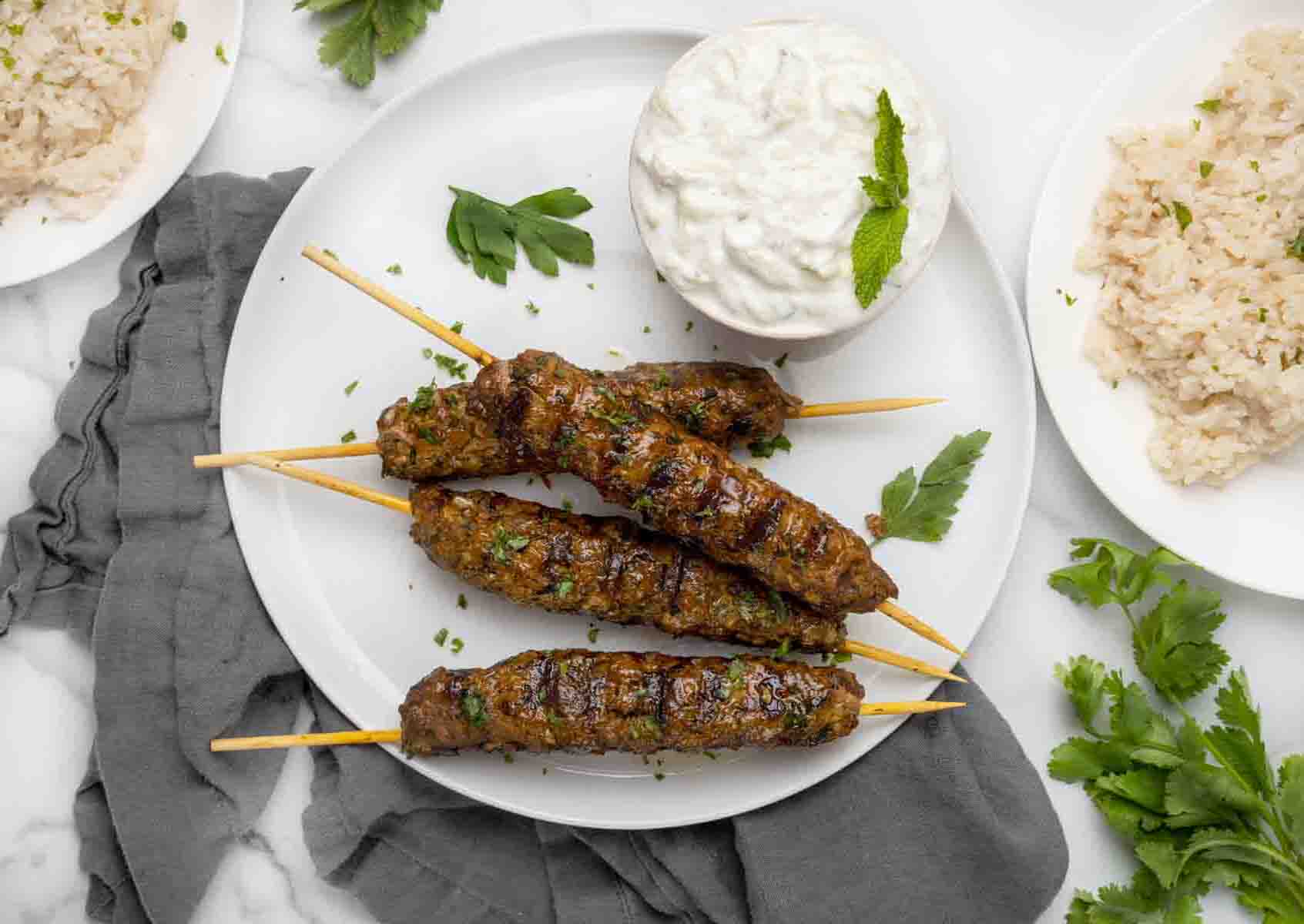 These delicious beef kababs can be made on an indoor grill pan or over the open flames of your outdoor grill. If you don't have a grill, these Beef Kafta Kababs can be made on a baking sheet in your oven.
One of my other favorite ground beef dishes is my Greek Pasta Bake.
Ingredients to make Beef Kofta Kebabs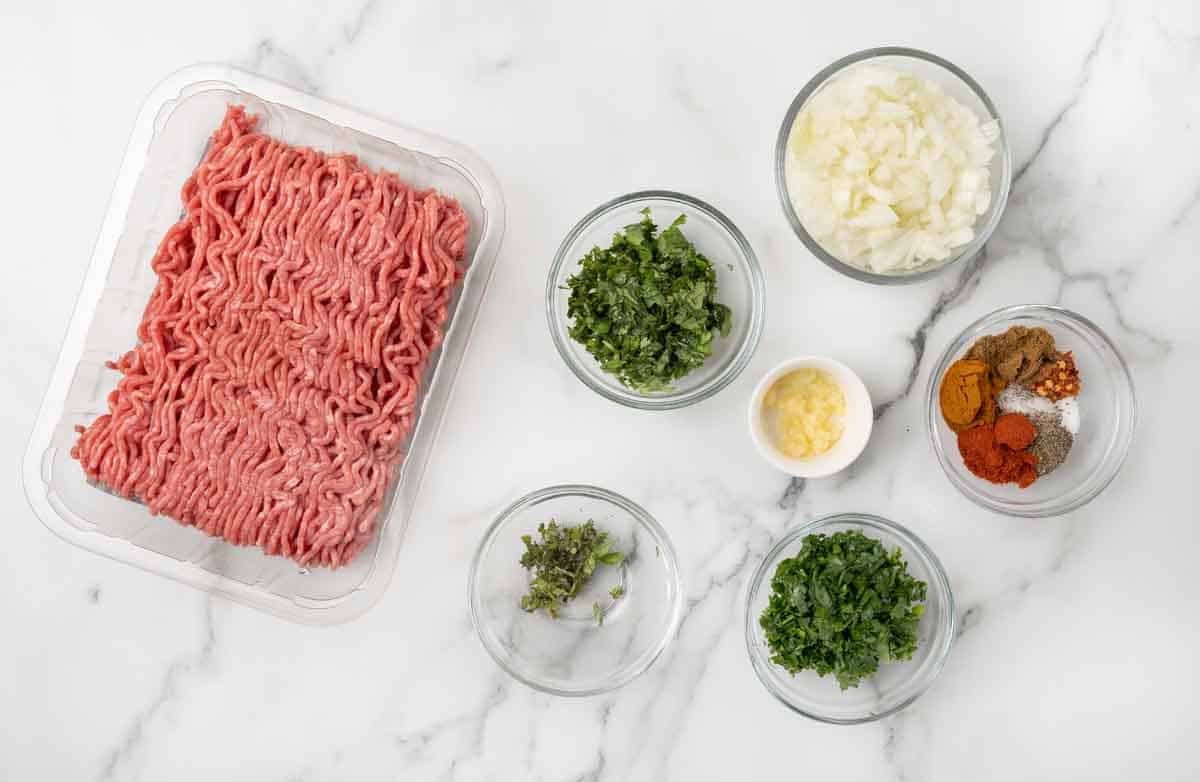 Let's start by gathering the ingredients we need to make Beef Kofta Kebabs and Tzatziki Sauce. In Chef Speak, this is called the "Mise en Place," which translates to "Everything in its Place."
Not only does setting up your ingredients ahead of time speed up the cooking process, it also helps ensure you have everything you need to make the dish.
Made with simple ingredients
ground beef (or ground lamb)
fresh garlic cloves
onions
fresh parsley
fresh mint
fresh cilantro
sweet paprika (or smoked paprika)
cumin
turmeric
salt
black pepper
red pepper flakes. (if you like heat, you can add a little cayenne pepper)
The key to great beef kafta kabobs lies in the quality and blend of spices used. Traditional middle eastern spices can include cumin, coriander, paprika, turmeric, red pepper flakes, cinnamon, and cloves. Fresh herbs are also important to the blend and can include fresh parsley, fresh mint, and fresh cilantro. Combined with the richness of ground beef, these spices create an aromatic and flavorful base for the kebabs.
But remember, these are suggestions, use the flavors you enjoy eating. Mix and match your favorite seasonings from the list to make a spice blend that your whole family will love.
How to make Beef Kofta Kebabs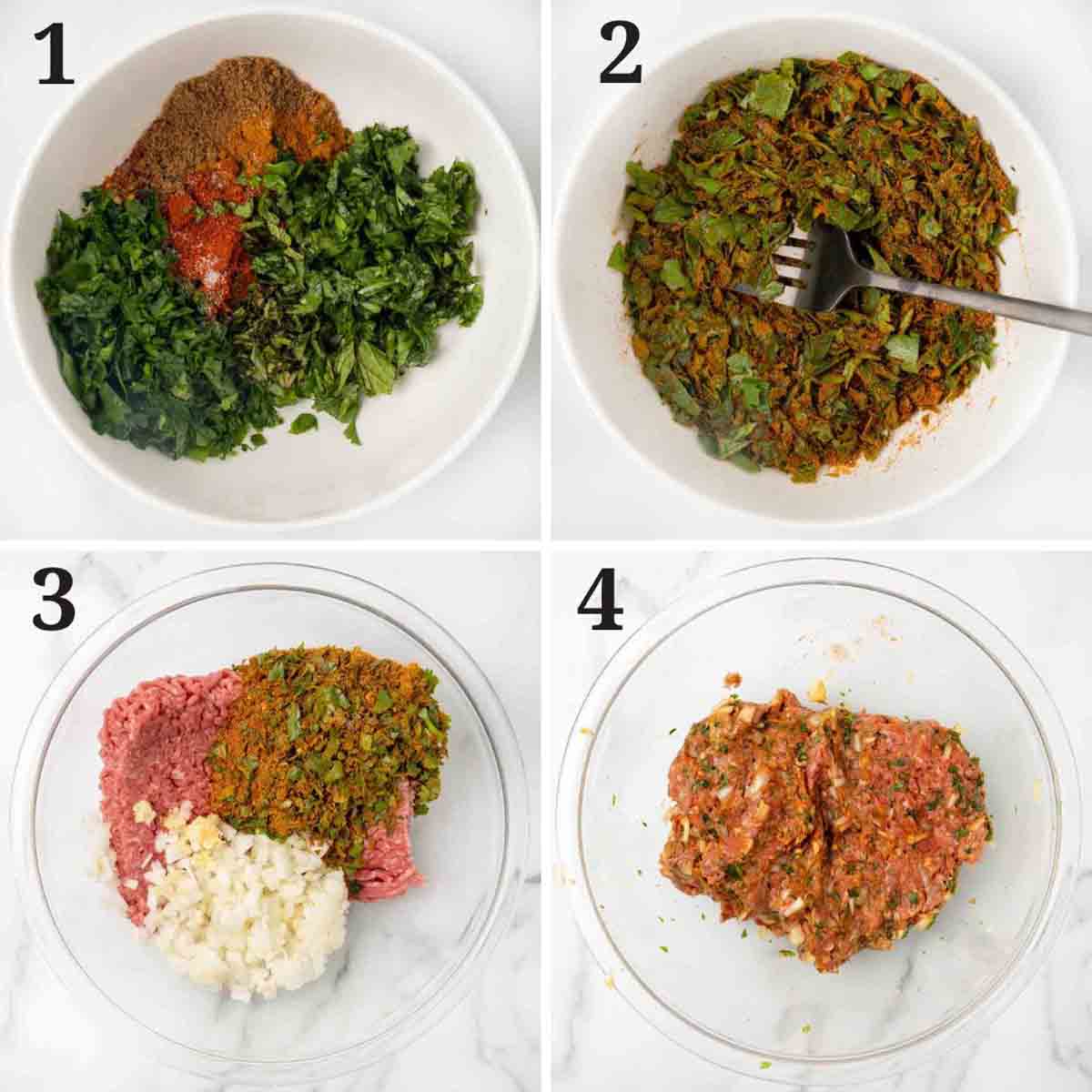 Add all the seasonings to a bowl.
Whisk the seasonings to blend together.
Place the ground beef, spice blend, chopped garlic, and chopped onions in a large bowl.
Mix the ingredients together to combine. Cover with plastic wrap and place in the refrigerator for 30 minutes to give the seasonings time to bloom.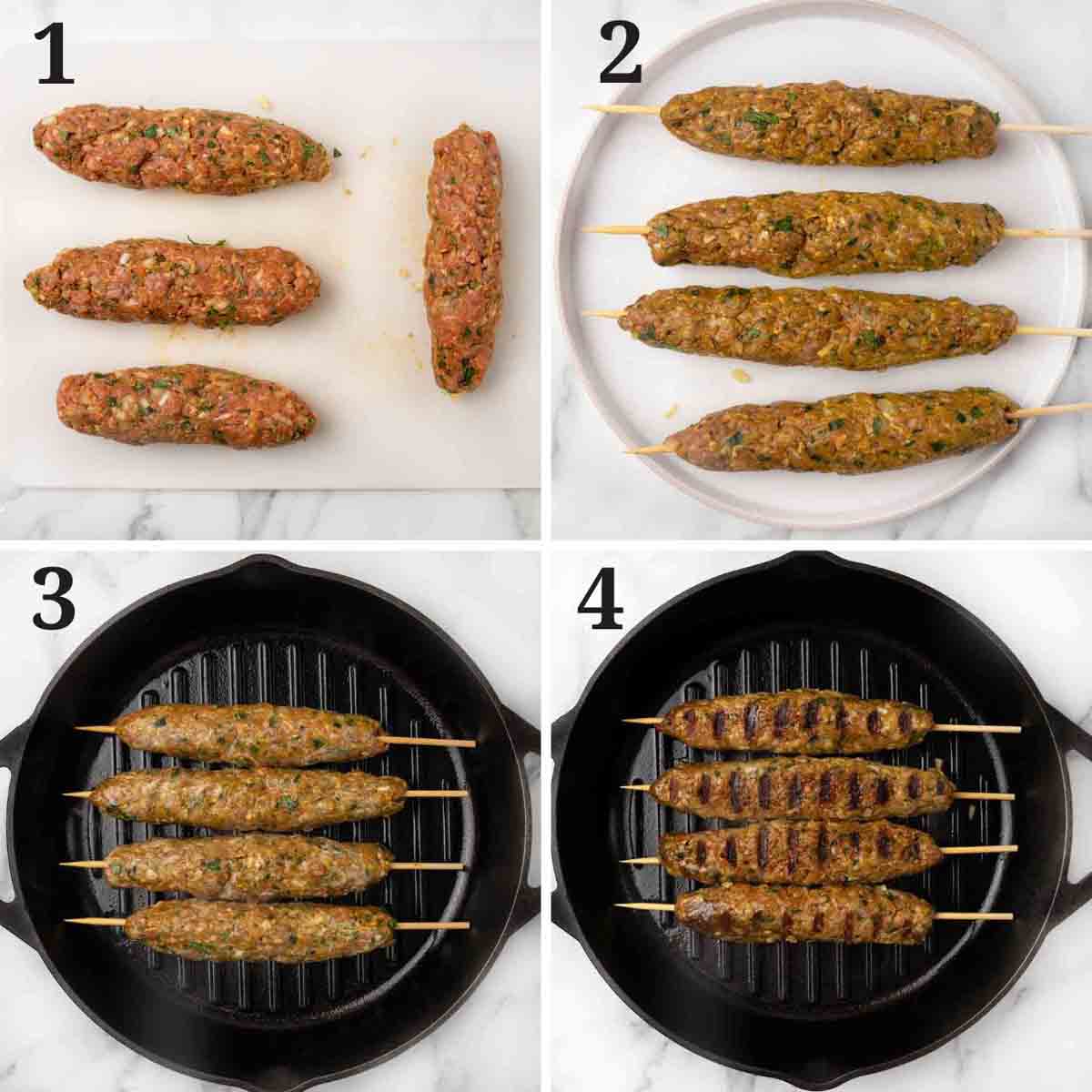 Shape the seasoned beef into logs (oblong shape).
Skewer the kafta meat with the wooden skewers (or metal skewers), squeezing the mixture to mold it to the skewer.
Place the kabobs on a hot grill pan over medium-high heat and cook for 5-6 minutes.
Turn the beef kofta kabobs halfway through the cooking process and continue to cook for an additional 5-6 minutes or until an instant-read thermometer reaches an internal temperature of 165 degrees F.
You can also use a gas grill or charcoal grill to cook the kabobs. Beef Kofta Kabobs can also be cooked in a 350-degree oven for 15-18 minutes.
How to make Tzatziki Sauce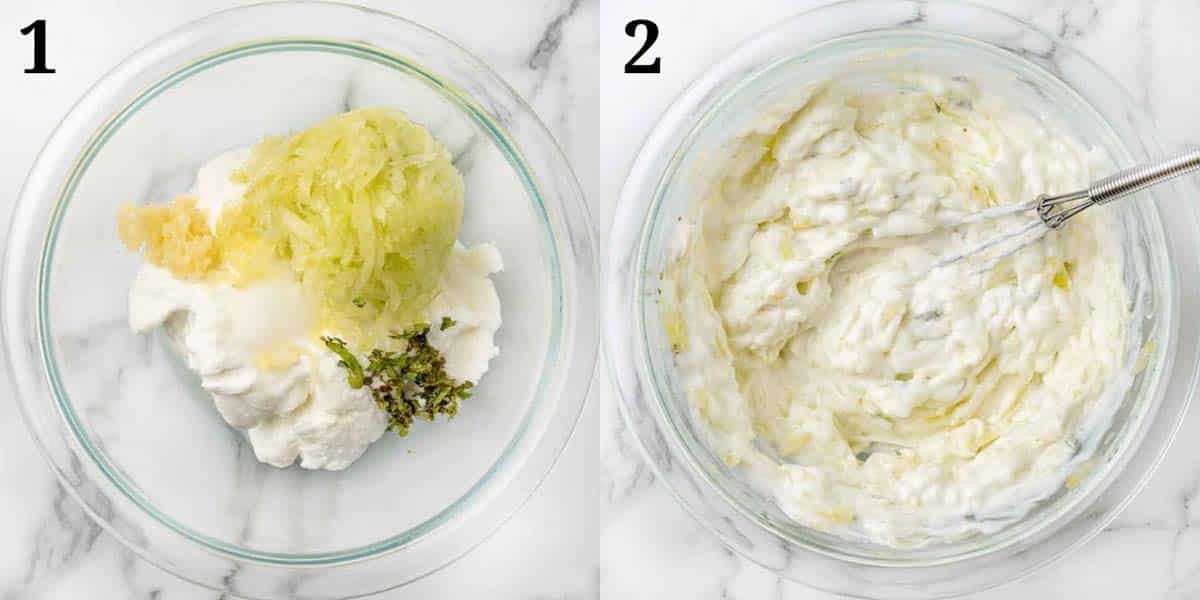 Add the Greek yogurt, cucumber, fresh chopped mint, fresh lemon juice, and salt to a medium bowl.
Whisk the ingredients together to combine. Cover with plastic wrap and refrigerate the sauce until ready to serve.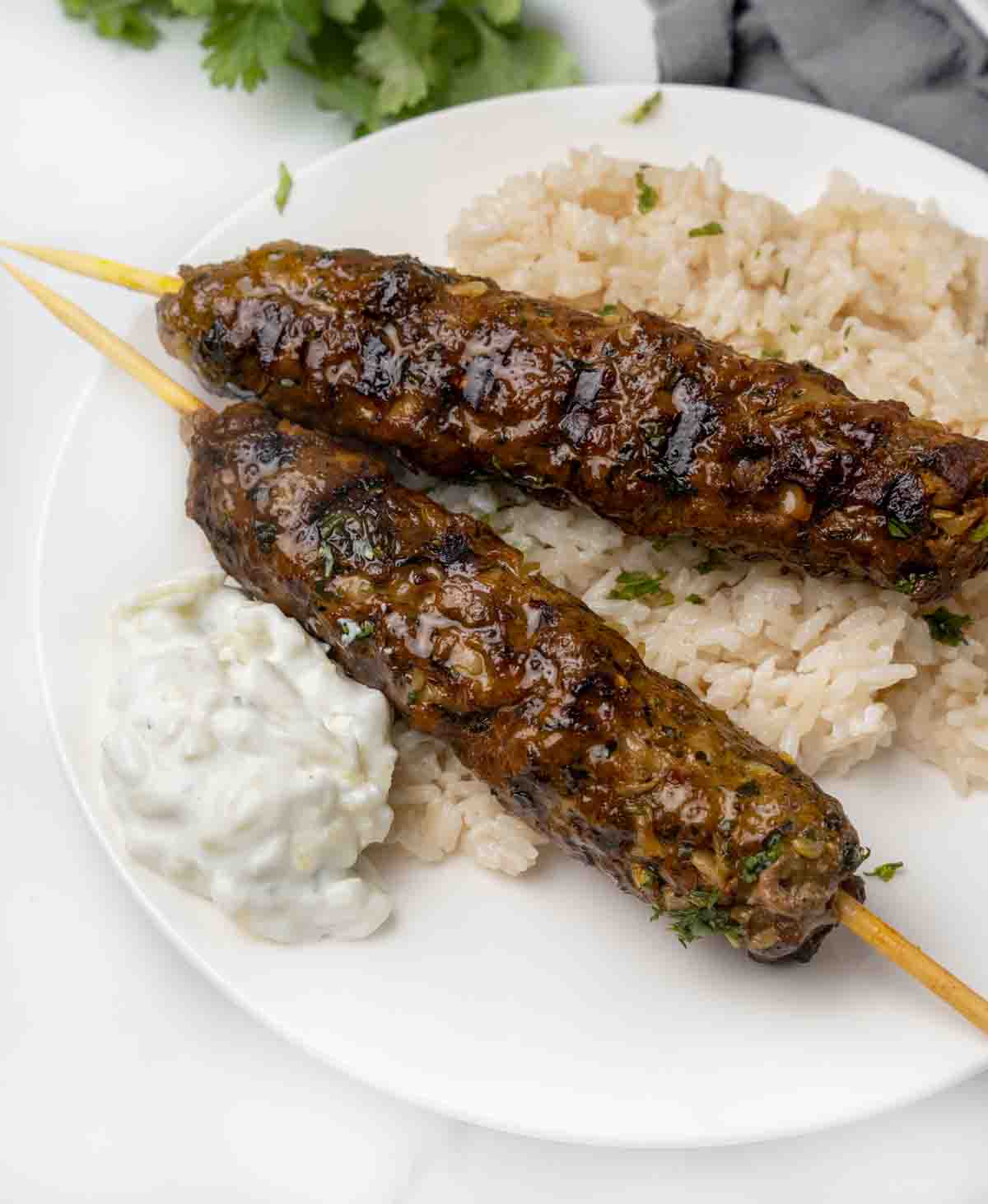 After one bite, I know you're going to love my Beef . Serve them over fragrant coconut rice with warm pita bread, tzatziki sauce, and baba ganoush for a meal you won't soon forget!
Wouldn't these beef kofta kebabs make a delicious weeknight dinner? You can have them on the dinner table in under an hour.
Recipe FAQ's
What is the difference between beef kofta kebabs and other kebabs?
Traditional kebabs are made with chunks of meat or seafood, while kofta kebabs are made with ground beef or ground lamb or a combination of the two mixed with seasonings and formed on a skewer.
What are Beef Kofta Kebabs?
Beef Kofta Kebabs is a dish made from ground beef mixed with various spices and herbs, shaped into small patties or cylinders, and then grilled or roasted on skewers. They are typically served with flatbread, rice, or salad.
They are popular in the Indian subcontinent through Central Asia, the Middle East, the Balkans, and Northern Africa.
Can I make Beef Kofta Kebabs without skewers?
Yes, you can. If you don't have skewers, you can still make Beef Kofta Kebabs by shaping the meat mixture into small patties or cylinders and then grilling them directly on a grill, grill pan, or in the oven.
More Ground Beef Recipes