It doesn't have to be cold outside to get me cooking up delicious hearty soups for my friends and family. And my Italian Sausage and White Bean Soup is a perfect light dinner or lunch any time of year.
With all the fresh vegetables in the market, summertime is my favorite time to make this delicious Italian sausage and white bean soup. It's the kind of soup that almost begs to have a piece of crusty bread dunked into it!
If you love hearty soups, make sure to try my Classic Minestrone.
Ingredients to make Italian Sausage and White Bean Soup
Let's start by gathering the ingredients we need to make my Italian Sausage and White Bean Soup. In Chef Speak this is called the "Mise en Place" which translates to "Everything in its Place".
Not only does setting your ingredients up ahead of time speed up the cooking process, but it also helps ensure you have everything you need to make the dish.
Do I have to use Chicken stock to make this soup?
No, you don't. If you want to keep it completely vegetarian use vegetable stock. You can also use beef stock if you prefer a heartier beef flavor.
How to make Sausage and White Bean Soup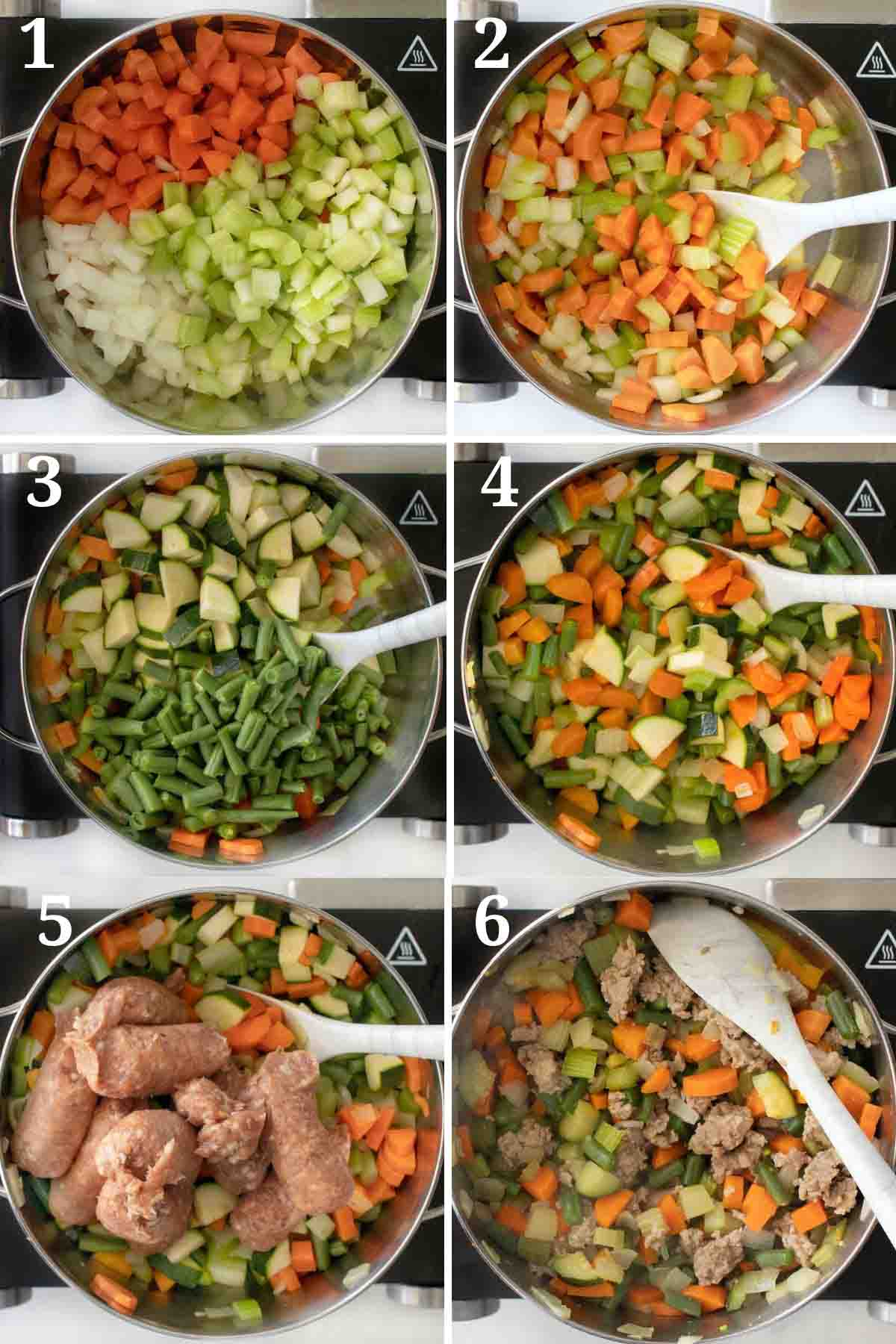 Add a tablespoon of olive oil to a large pot and when the oil is hot add the diced carrots, celery and onion.
Let the veggies cook for 5-7 minutes, stirring as needed.
Add the diced zucchini, and green beans to the pot.
Stir to mix the veggies in to the mixture and continue to cook for about 5 minutes.
Remove the sausage from the casing and add it to the stock pot.
Break apart the sausage meat and allow it to brown until cooked.
My soups almost always start with a mirepoix or as the Italians would call it a Soffritto, which is a diced combination of celery, onions and carrots.
Always starting your soup by allowing your vegetables to cook a bit before adding in any water, this process is called sweating down the vegetables.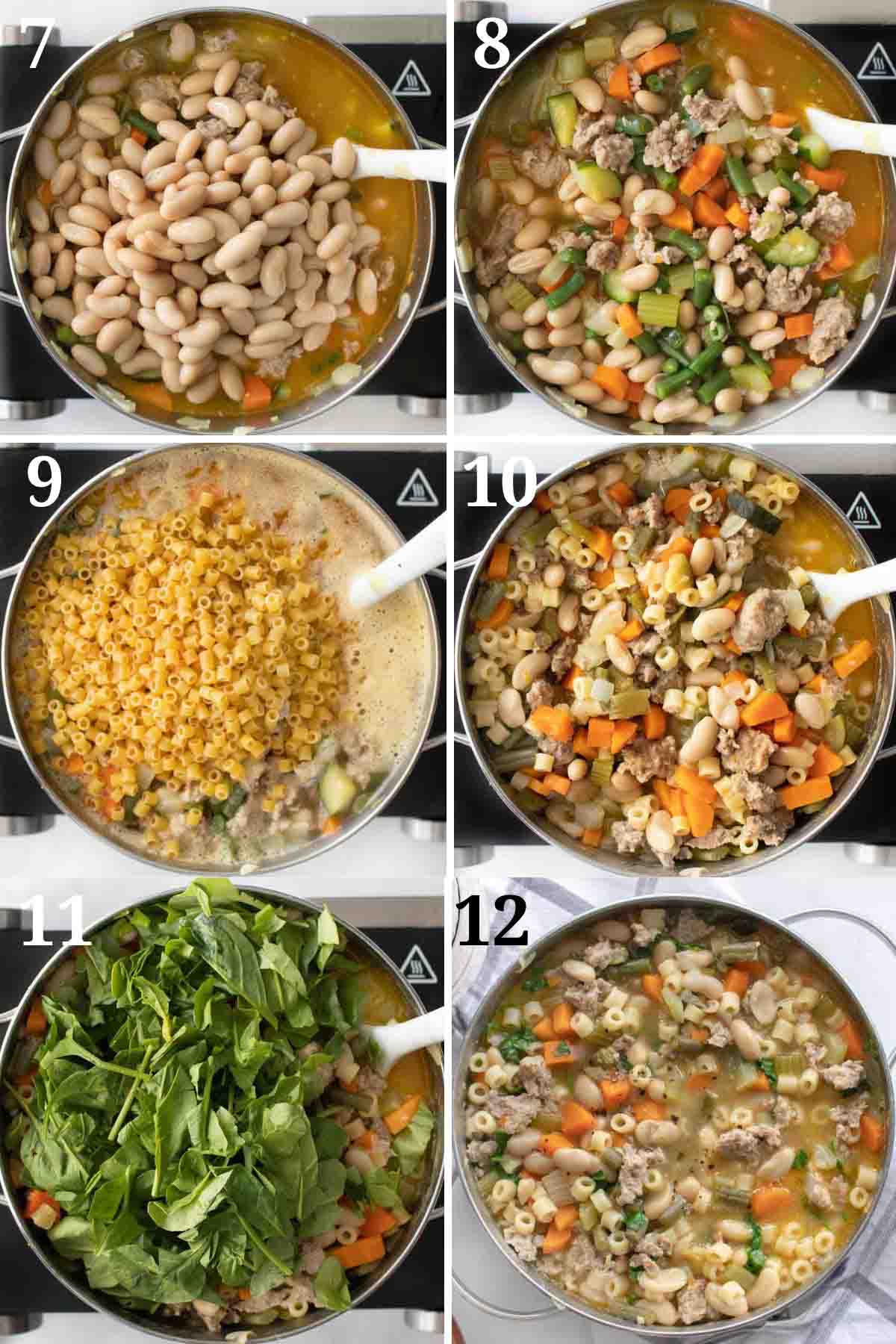 Add the chicken stock, and white beans to the pot.
Mix the beans and bring the soup to a boil, then turn down the heat and allow to simmer for about 30 minutes.
Add the pasta to the minestra .
Mix the pasta in and continue to simmer for another 10 minutes.
Add the spinach to the pot.
Cook long enough for the spinach to wilt and the Italian sausage and white bean soup is ready.
Serve the soup with grated pecorino romano or parmesan cheese, and a twist of freshly ground black pepper.
Do I have to use all of the ingredients to make this soup?
No, you don't. Whatever I happen to have on hand can find its way into my soup pot. While I start most of my soups from fresh ingredients these days, there was a time that the soup served another purpose, and that was an outlet for leftovers and scraps.
Those were the soups that we loved and some were hard to duplicate because of what was used. I do still make about 50 percent of my soups that way, utilizing leftovers, but some soups just need to be started from scratch.
Creating soups that your family and friends will enjoy eating isn't difficult. Use the ingredients that they like.
If you're not fond of white beans leave them out. If you don't want to use Italian sausage leave it out or replace it with chicken. It's really that easy.
Wouldn't your family love to sit down to a bowl of this delicious Italian sausage and white bean soup? I promise it will bring smiles to your table and requests for seconds!
More Recipes You'll Love!