Classic Minestrone Soup is not only delicious, it warms the soul. My version of this Italian classic is packed with fresh vegetables, cannellini beans, and ditalini pasta in a rich tomato broth.
Seasoned to perfection with a chef's secret ingredient will set this Minestrone Recipe apart from other minestrone soup recipes you may have tried.
There is a lot to be said for a good soup, and the best thing about Minestrone is how easily adaptable it is. Minestrone is a seasonal soup, and that means whatever vegetables are in season can be added to this hearty soup.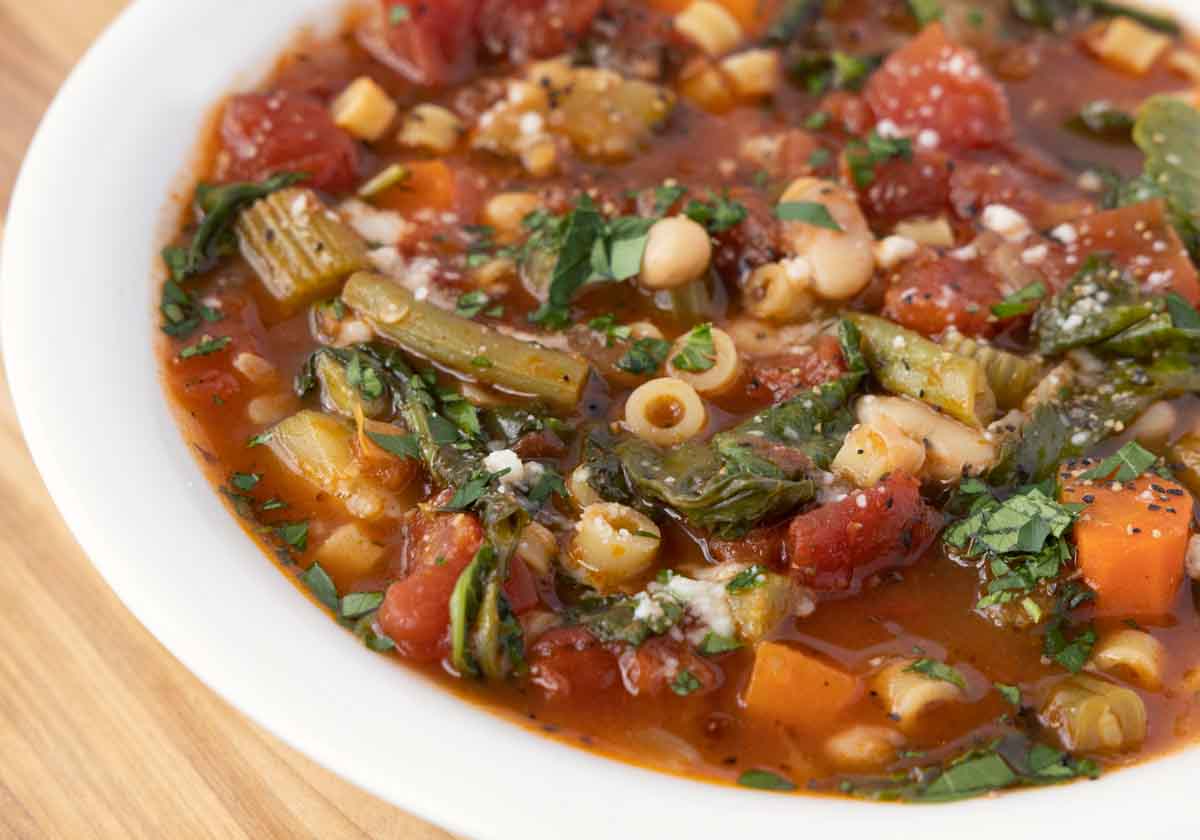 The vegetable broth is the starting point, but the added tomato paste, fresh thyme, bay leaves and dried oregano round out the flavor profile.
*If you really want to boost the flavor, switch out the vegetable broth for chicken broth it will add a world of flavor to the soup! This is the Chefs Secret Ingredient for non-vegetarians.
Try adding a teaspoon of Worcestershire sauce to perk up the flavors.
What ingredients do I need to make Minestrone?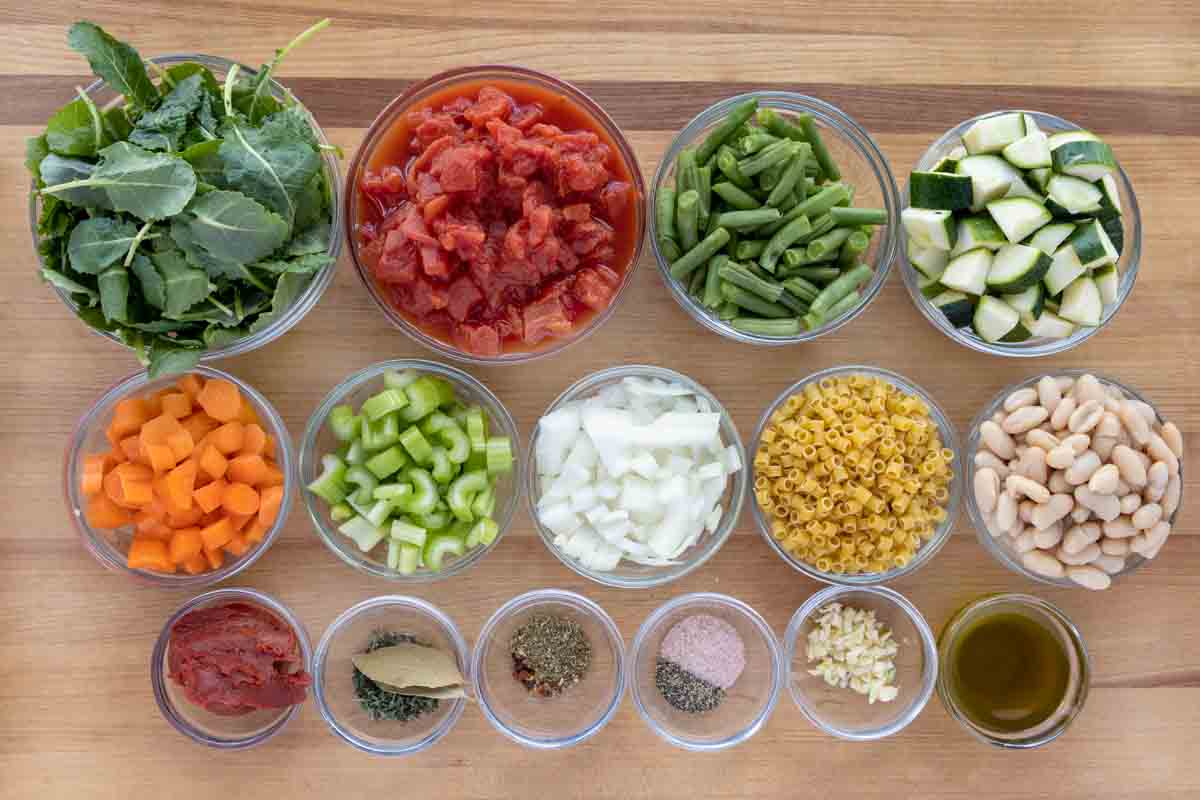 Let's start by gathering the ingredients we need to make Classic Minestrone Soup. In Chef Speak this is called the "Mise en Place" which translates to "Everything in its Place".
Not only does setting your ingredients up ahead of time speed up the cooking process, it also helps ensure you have everything you need to make the dish.
(chicken broth is not pictured)
Using vegetable broth and not adding grated cheese at the end, keeps this soup Vegan as well as Vegetarian.
What other ingredients can I use to make minestrone?
Since this is regarded as a seasonal soup, any fresh vegetables you enjoy eating that are available in your grocery store can find their way into the soup pot.
Instead of cannellini beans, you can use dark or light kidney beans, chic peas, edamame, navy beans, cranberry beans or any of your favorite beans. You can even prepare dry beans if you'd rather not use canned.
Pasta choices range from small shells, elbow macaroni, mini penne, meza rigatoni or any other small pasta shapes you enjoy eating.
If you're not a fan of kale, try swiss chard, spinach, broccoli rabe, escarole or whatever you have on hand.
*Minestrone is vegetable soup, but that doesn't mean you can't add meat to it. Italian sausage, chicken, or beef can be added to the soup. I would cook it before cooking the vegetables, remove it from the pot and continue with the recipe, adding the meat back in with the tomatoes and broth.
Some recipes call for a parmesan rind to be added to the soup as it's cooking. This is a classical preparation, but not something people normally have on hand, so don't worry about it.
How to make minestrone soup
Add 2 tablespoons of olive oil in a large Dutch oven or stockpot over medium-high heat. When the oil is hot, add the carrots, onions and celery to the pan. Cook the veggies for 4-5 minutes over medium-high heat.
Add the green beans, zucchini, and garlic to the pan and continue to cook the vegetables for another 2-3 minutes. Then add the tomato paste, oregano, thyme, sea salt, black pepper and crushed red pepper and continue cooking for another 1-2 minutes, mixing well.
Add the broth, diced tomatoes (and juice), and bay leaves to the pot and mix well.
Raise to high heat and bring the mixture to a boil. When the mixture has reached a boil, reduce the heat to a simmer and continue cooking for 40 -60 minutes.
Add the pasta, beans, and kale to the pot and continue simmering uncovered for 20-30 minutes or until the pasta is cooked al dente and the greens are tender.
Turn off the heat and remove the pot from the burner. Remove the bay leaves.
Serve the minestrone and garnish with grated Romano or Parmesan cheese, chopped Italian parsley and black pepper.
Can you imagine sitting down to a bowl of this hearty soup with a loaf of crusty bread? I promise you won't believe how delicious this homemade soup is and your family is going to love it!
This is one of the easier soups to make. It does have more ingredients, but that's because it's loaded with deliciousness and well worth the effort!
Recipe FAQ's:
What is the difference between minestrone and vegetable soup?
Minestrone Soup is basically a heartier version of vegetable soup. Most vegetable soups just contain vegetables, whereas a minestrone is supplemented with beans and pasta.
Does minestrone include meat?
Classic minestrone does not contain meat or fish. The ingredients that make it different are beans and pasta. Of course, you can add meat or seafood if you like; it just won't be classic minestrone.
What makes minestrone, minestrone?
The word minestrone translates into a thick vegetable soup. There is no set recipe for minestrone. It's usually made out of whatever vegetables are seasonal or on hand. It can be vegetarian, Vegan, contain meat, or made with a bone broth, such as chicken stock or beef stock.
More Soup Recipes You'll Love!