Cheesecake is one of those desserts that can turn a bad day into a good day. And when you start creating deliciousness like my Chocolate Cheesecake Bars with a Pecan Shortbread Crust it becomes a very good day!
Updated from the original post April 14, 2013
Over the years I've made countless styles and variations of cheesecakes, because quite frankly, I enjoy eating.
Adding chocolate to a cheesecake recipe can be tricky. Too much and you lose that rich tangy cheesecake flavor. Too little and you can't even taste the chocolate. Well my friends my Chocolate Cheesecake Bars have just the right balance of chocolate.
And the added ganache and shortbread crust elevate this snack like cheesecake to a restaurant-style masterpiece.
What Ingredients do I need to make Chocolate Cheesecake Bars?
Let's start by gathering the ingredients we need to make my Chocolate Cheesecake Bars with a Pecan Shortbread Crust and Chocolate Ganache. In Chef Speak this is called the "Mise en Place" which translates to "Everything in its Place".
Not only does setting your ingredients up ahead of time speed the up cooking process, but it also helps ensure you have everything you need to make the dish.
How Do I make Chocolate Cheesecake Bars?
The first step is making the Pecan Shortbread Crust for the Cheesecake Bars.
Add the flour, brown sugar, chopped pecans, and melted butter to a bowl.
Mix until well blended.
Press the dough into an ungreased 9″x 9″x 2″-inch pan.
Bake shortbread crust for 12 to 15 minutes at 350 degrees F. or until lightly browned.
Allow crust to cool on a wire rack for 10 minutes or more before filling with cheesecake batter
The next step is melting the chocolate you're going to add to the cheesecake batter.
Using a stainless steel bowl over a pot of simmering water, melt 6 ounces of semi-sweet chocolate and allow to cool (you will reuse this bowl for the ganache)
add the cream cheese and mascarpone cheese to the bowl of a stand mixer and whip until smooth and creamy 3-5 minutes.
Add the sugar and whip until blended
Add the eggs one at a time, mixing in between each addition, to make sure each egg is fully incorporated.
Add the vanilla extract and cooled melted chocolate, blending until all of the chocolate is completely mixed into the cheese mixture.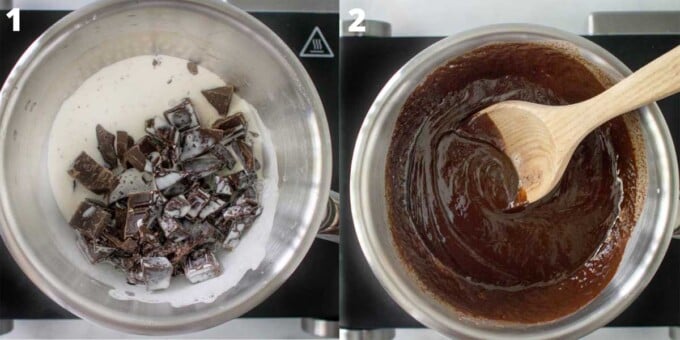 Place the chocolate and cream in a stainless steel bowl over a pot of simmering water and melt the chocolate while mixing in the cream. Continue stirring until is smooth and chocolate has been completely melted.
Pour batter into prepared crust
Place the pan into a pre-heated oven on the center rack and bake for 20-25 minutes or until cheesecake is cooked and not loose in the center.
Allow the cheesecake to cool on a wire rack for 20 minutes.
After cooling add the chocolate ganache topping to the cheesecake
Allow cheesecake to cool for at least 4 hours before serving. Overnight is best.
If you are adding pecans as a topping sprinkle the pecans on top of the ganache before chilling.
Cut the cheesecake into squares, serve and watch the smiles appear on the faces of your friends and family.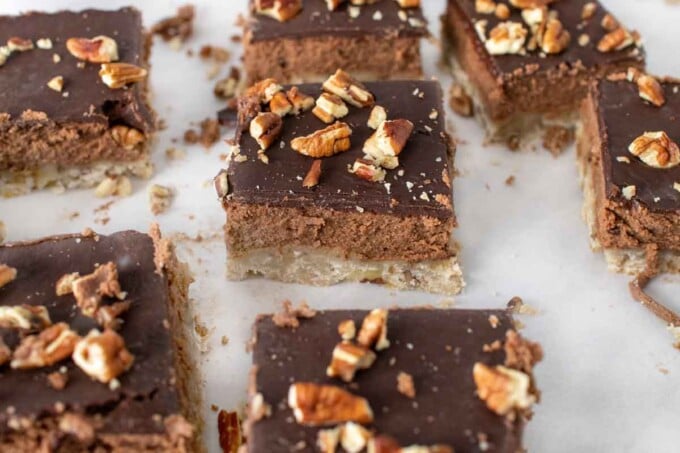 More Cheesecake Recipes You'll Love!