This post includes affiliate links. As an Amazon Associate I earn from qualifying purchases.
Enjoy the holiday's with my Torta di Ricotta!
Over the last year or so I have shared recipes and my memories of Mama Jeanette. I think one of the few gifts of old age is to remember your younger days with great clarity, sometimes seeming more recent than current events, and lately more and more of my time with Mama Jeanette has been resurfacing.
Maybe it's time to start writing it all down before I lose those precious memories again.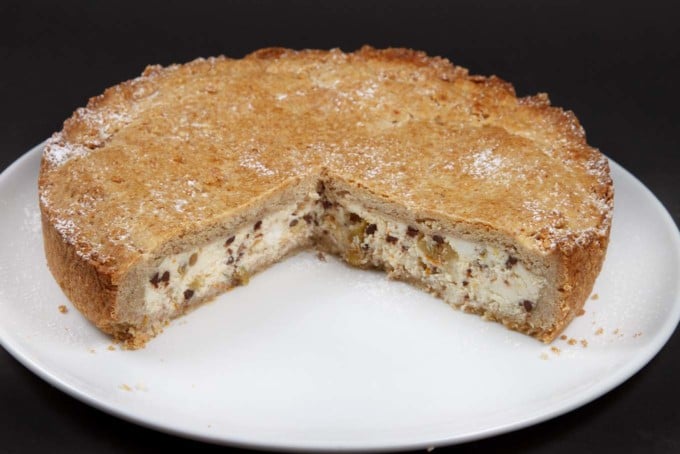 I had watched Mama Jeanette make a variety of fresh cheeses during my time with her, but of course, I didn't really pay attention at the time, I was more interested in the end result that was being created with those delicious cheeses.
My first experience with a ricotta cheesecake was a bit of a disappointment for me, it wasn't what I used to, the flavors and textures were completely different, and on top of that, it wasn't very sweet.
What I would come to realize later, was the complexity of this simple dessert and the fact that sugar didn't mask the real flavors of this glorious cake, is what made this cheesecake a staple in the Italian household.
I tried to hide my disappointment that night, but as usual Mama Jeanette could read me like a book,   she said "sonny boy, sometimes you have to look past your expectations, to see clearly. Don't let your mind dictate would should be, instead let yourself imagine what could be"   That lesson has served me well over the years, even though human nature would tell you otherwise.
From that point on,  I noticed that there always seemed to be a bowl of fresh ricotta in the fridge and no matter what time of day, it became a welcome addition to many of my meals, as I came to appreciate the flavor and texture of ricotta.
I would devour my portion with fresh fruit, or simply drizzled with honey, and it was when Mama Jeanette noticed that I had learned to enjoy ricotta cheese for what it was, that she made this Torta di Ricotta that I'm going to share with you today.
As always there was another lesson baked inside this glorious dessert, for if this had been the first Ricotta Cheesecake I had tasted, I would never have been satisfied with the simpler versions, nor would I have learned to love that delicious cheese as it was meant to be eaten, right from the bowl.
Mama Jeanette had waited to make this incredible dessert, until she knew that I would truly understand and appreciate the complexity of flavors that were combined to make this Torta di Ricotta, like a fine wine with subtle undertones and nuances….sigh     This truly was a dessert to celebrate with, and that day we're celebrating life.
I would have never remembered the exact amounts or all of the ingredients to this wonderful cheesecake, but thankfully I had sent this recipe to a friend for safekeeping, along with a few others that time would have erased from my memory.
Come to think of it, it had been Mama Jeanette's idea for me to mail the recipes to a friend, she knew all along that it would a difficult journey for me. This recipe and others would have been lost for sure, and now I entrust this recipe to you, my friends, use it in good health.
If you'd like to make your own ricotta, it's not difficult and you can find the recipe here –> Homemade Ricotta Cheese
If you enjoyed this recipe you may also like these Italian favorites.