My easy recipe for Chocolate Chip Cheesecake Bars is made with simple pantry ingredients. It's so creamy and delicious with bits of chocolate throughout, it's guaranteed to satisfy any sweet tooth.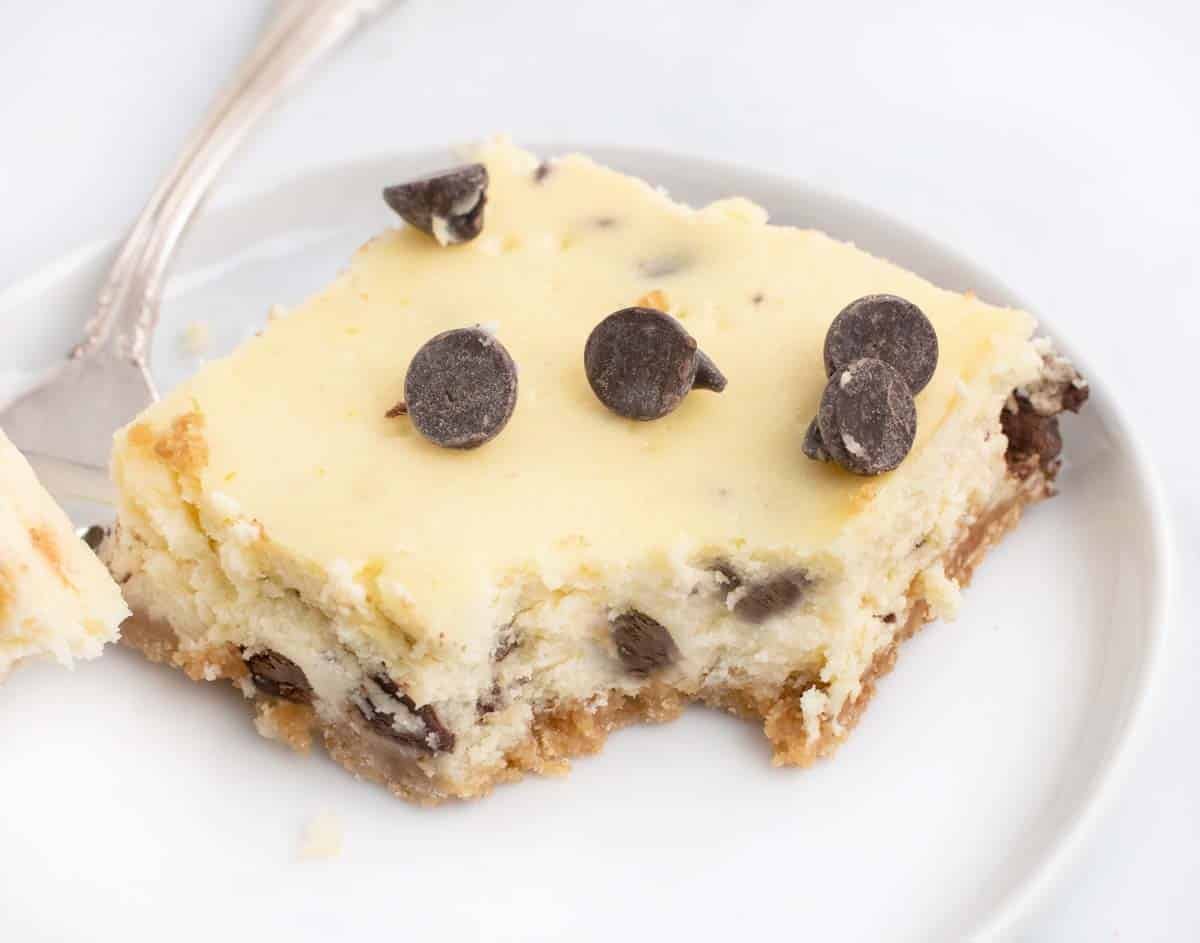 I used mascarpone and cream cheese to make my chocolate chip cheesecake bars, so they're extra creamy. If you'd rather use all cream cheese that works too.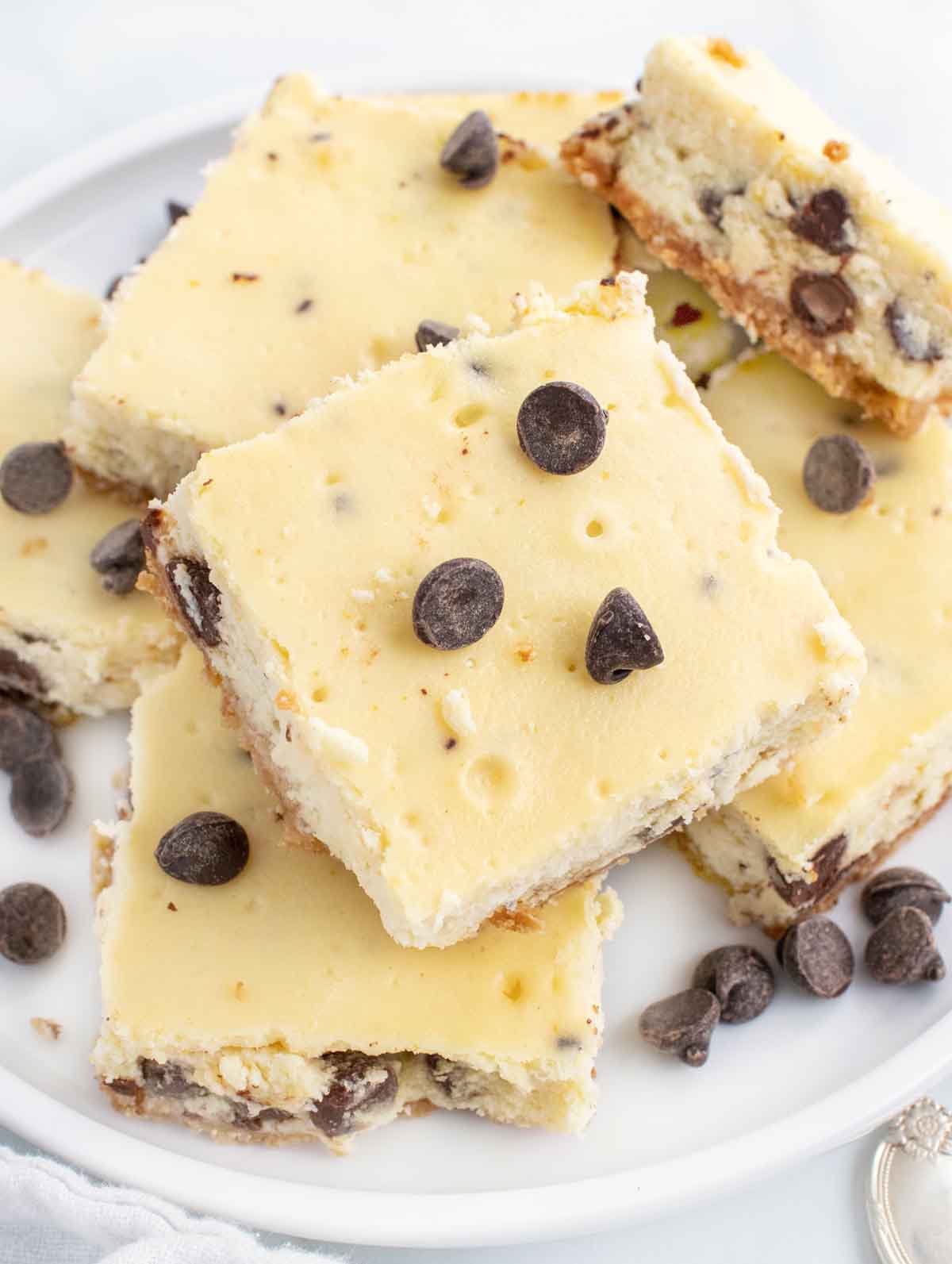 This is one of my favorite desserts, but then again anything cheesecake will definitely make me smile! My Chocolate Cheesecake Bars is another of my favorite cheesecake recipes!
What Ingredients do I need to make Chocolate Chip Cheesecake Bars?
Let's start by gathering the ingredients we need to make Chocolate Chip Cheesecake Bars. In Chef Speak this is called the "Mise en Place" which translates to "Everything in its Place".
Not only does setting your ingredients up ahead of time speed up the cooking process, it also helps ensure you have everything you need to make the dish.
How do I make Chocolate Chip Cheesecake Bars?
Place the sandies in a food processor.
Pulse the cookies to a fine crumb.
Add the melted butter to the cookie crumbs.
Mix well.
Line the bottom of the pan with parchment paper, then press the crumb mixture into the bottom of the 9 x 9-inch pan
Bake crust for 10-12 minutes at 325 degrees. Then allow to cool on a wire rack.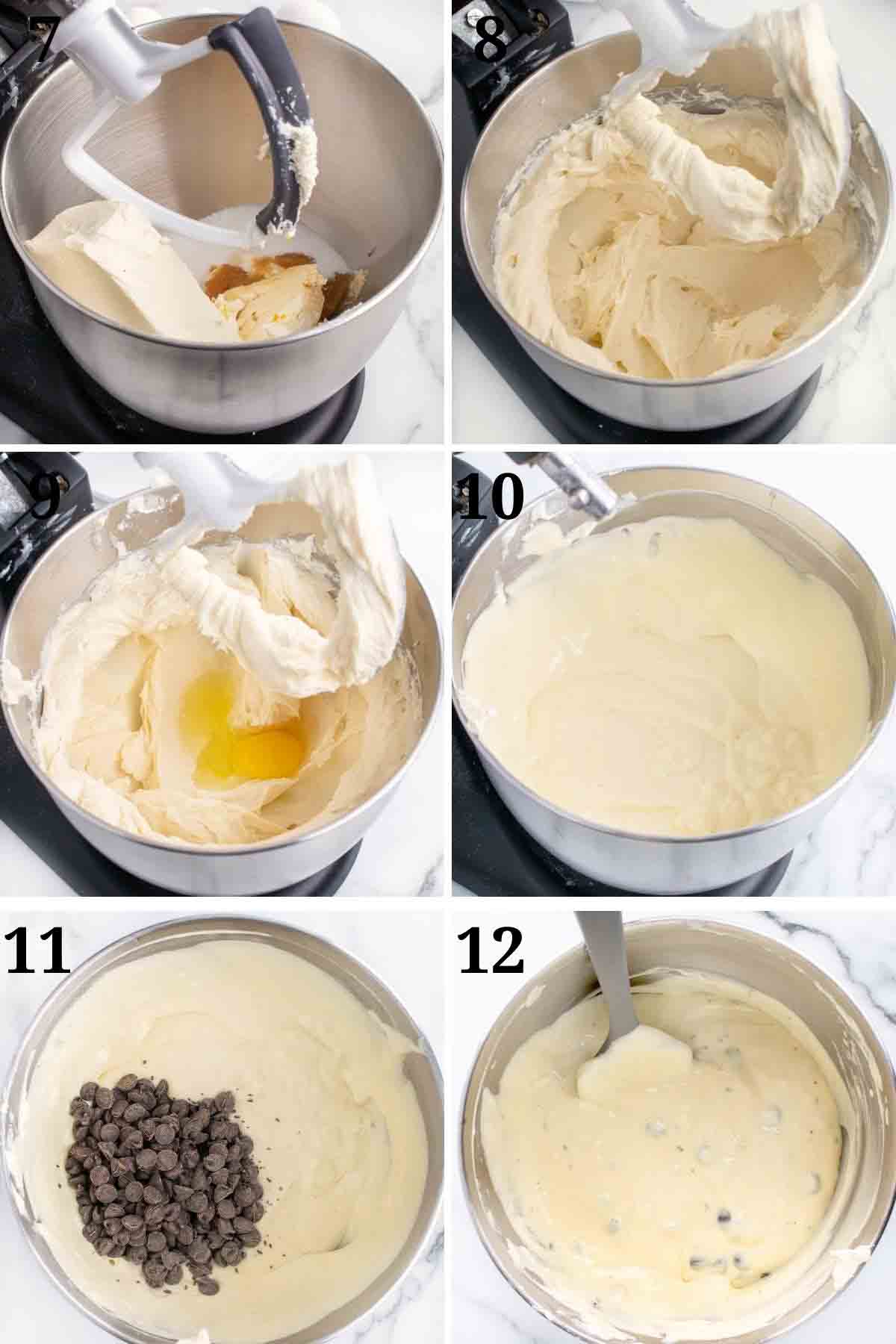 Add the cream cheese, mascarpone, sugar, orange zest and vanilla extract to the bowl of a stand mixer at medium speed.
Beat the cream cheese mixture until smooth.
Add eggs one at a time.
Beat on low speed until just combined.
Add the chocolate chips to the cheesecake mixture.
Fold the chocolate chips into the creamy cheesecake filling.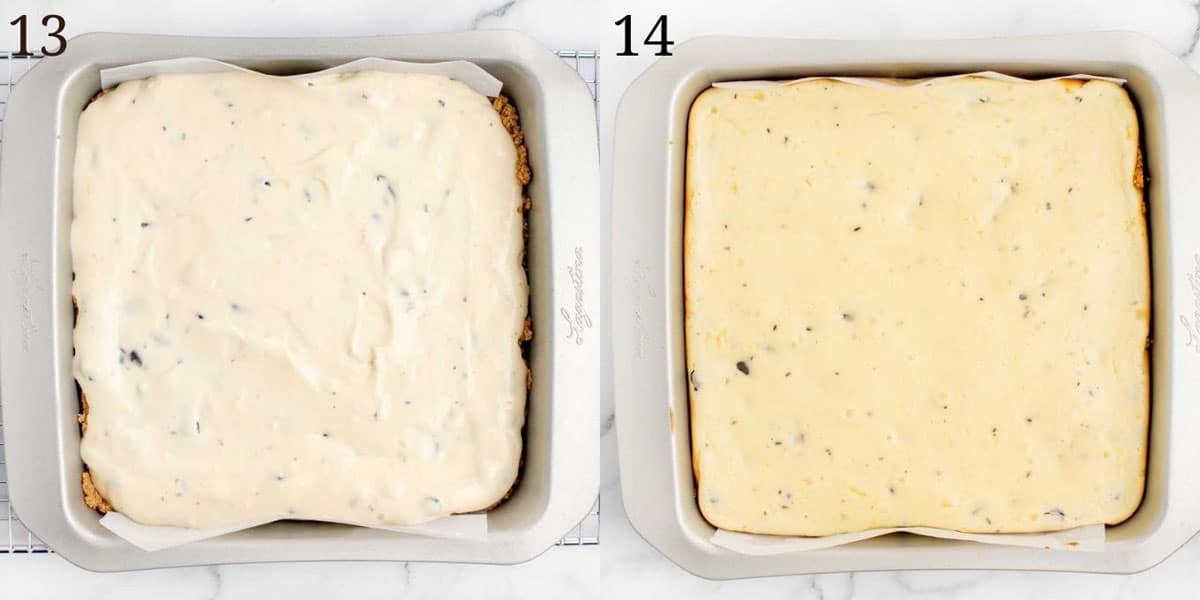 Pour the cream cheese filling over the cookie crust and smooth it with an offset spatula
Bake at 325° for 35-40 minutes or until the center is just set and the top begins to brown.
Remove the pan from the oven, and let it cool on a wire rack for 10 minutes.
After the cheesecake bars have cooled, run a knife around the edge of the pan to loosen the bars. Let the cheesecake bars continue to cool for 1 hour, then refrigerate the bars for at least 6 hours or overnight before serving.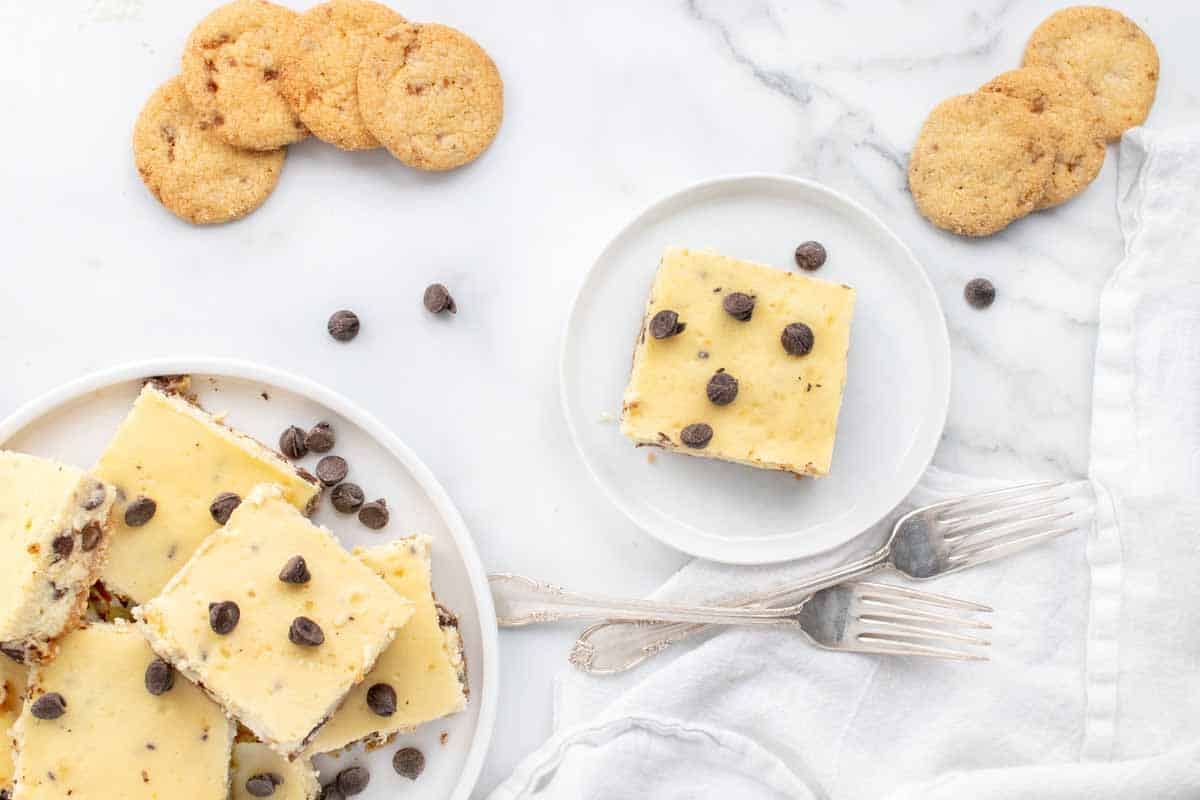 Cheesecake has got to be one of the most forgiving desserts you can make. You can add just about any flavor you like, use all kinds of toppings, change the crust, use different shaped pans, but no matter what you do to it, Cheesecake still comes out oh so creamy and delicious!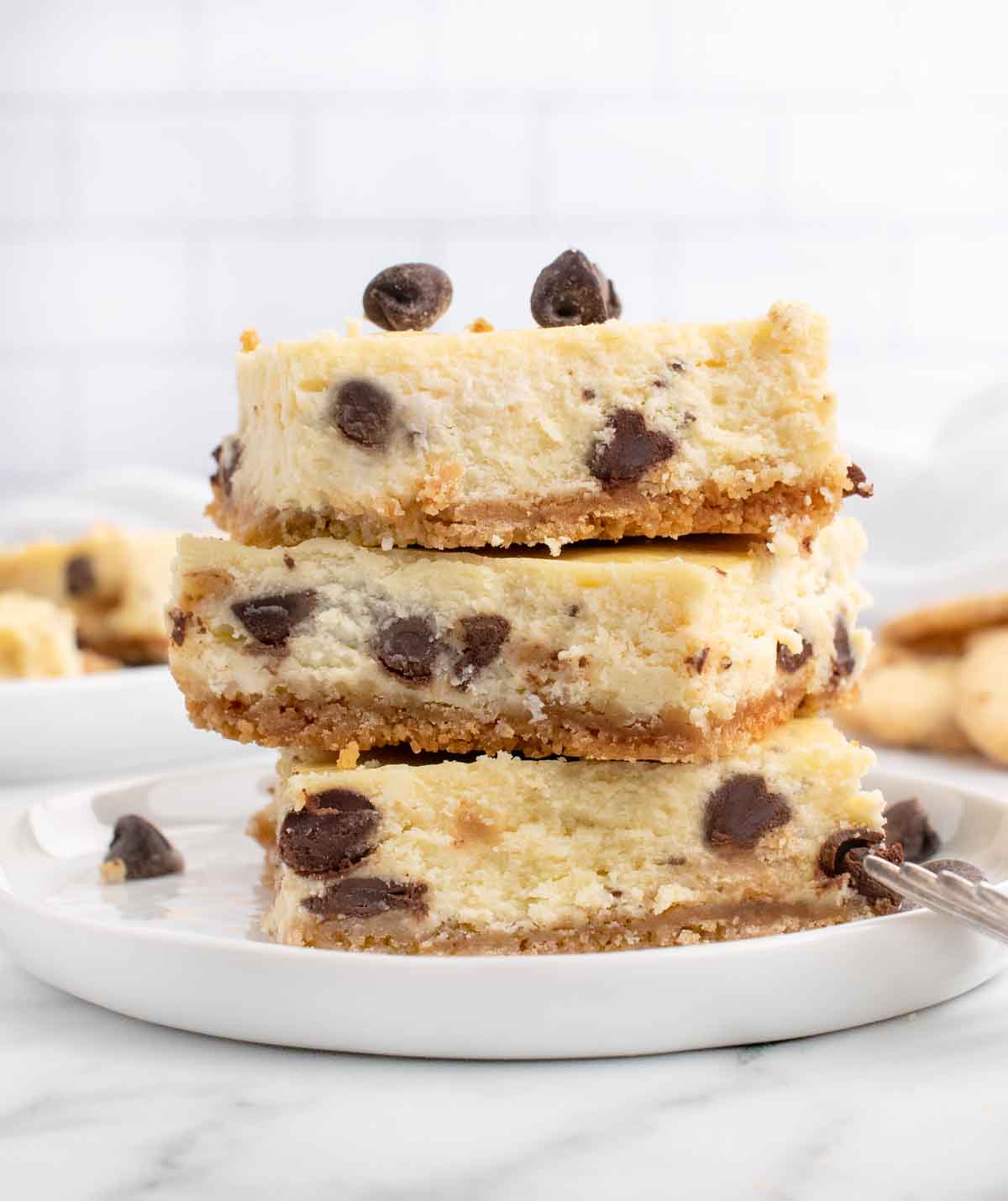 I don't know who invented cream cheese but I hope there was a medal awarded for this stellar creation. I know you'll agree that this is the best chocolate chip cheesecake bars recipe after one bite!
Recipe FAQ's
Can you freeze cheesecake bars?
You sure can. Properly wrapped and stored in air-tight containers cheesecake bars can stay frozen for up to 3 months.
Do cheesecake bars need to be refrigerated?
Yes, they do! After cooling it's important to chill the cheesecake bars for at least 6 hours so they properly set up. Store the cheesecake bars in the refrigerator when they are not being served.
Can I use graham cracker crumbs to make the crust for the cheesecake bars?
Yes, you can. You can use any wafer-style cookie that you enjoy eating to make the crust.
More Cheesecake Recipes You'll Love!