This post includes affiliate links. As an Amazon Associate I earn from qualifying purchases.
Cheesecake is just one of those desserts you can't go wrong with. And when you start creating deliciousness like my Chocolate Cheesecake Bars with a Pecan Shortbread Crust, you've taken Cheesecake to another level.
I've made all types of cheesecakes from standard New York Style with just cream cheese. My personal favorites were the extra creamy Mascarpone Strawberry Cheesecake and my Ricotta Cheesecake. I get hungry just thinking about them!
Over the years I've made many other variations of the different styles of cheesecakes I enjoy eating. But for some reason I stayed away from adding chocolate to my recipes my Chocolate Cheesecake Bars are definitely a keeper.
I decided to take this cheesecake in a different direction, not only with the shape of my cheesecake, but with the flavors by adding two layers of chocolate. I adapted a shortbread crust recipe by Paula Deen from her Savannah bars for my masterpiece .
I created my chocolate cheesecake bars by using my standard mascarpone cheesecake recipe and folding in melted semi sweet chocolate. Then for good measure I topped it off with a rich chocolate ganache, garnishing the finished cheesecake with chopped pecans. If this oh so delicious cheesecake doesn't make the chocolate lovers in your life ecstatic, check their pulse.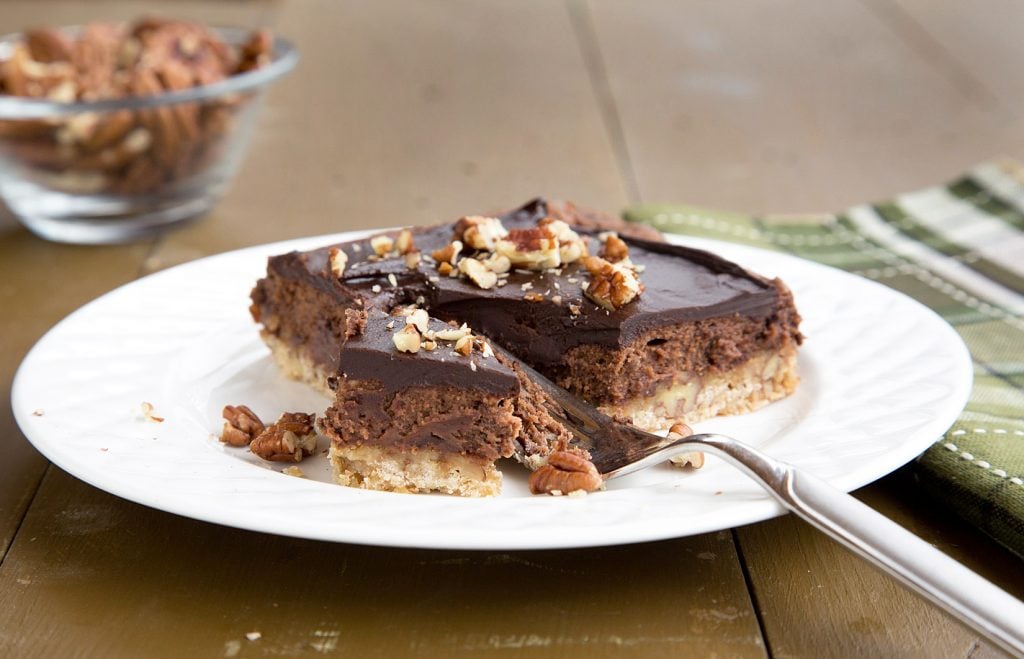 If you love cheesecake as much as I do, you might also like these delicious recipes: