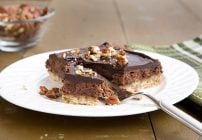 Total Time:
1
hour
15
minutes
Cheesecake is just one of those desserts you can't go wrong with.  And when you start creating deliciousness like my Chocolate Cheesecake Bars with a Pecan Shortbread Crust, you've taken Cheesecake to another level.
I've made all types of cheesecakes from standard New York Style with just cream cheese.  My personal favorites were the extra creamy Mascarpone Strawberry Cheesecake and my Ricotta Cheesecake.   I get hungry just thinking about them!
Over the years I've made many other variations of the different styles of cheesecakes I enjoy eating.  But for some reason I stayed away from adding chocolate to my recipes my Chocolate Cheesecake Bars are definitely a keeper.
I decided to take this cheesecake in a different direction, not only with the shape of my cheesecake, but with the flavors by adding two layers of chocolate.  I adapted a shortbread crust recipe by Paula Deen from her Savannah bars for my masterpiece .
I created my chocolate cheesecake bars by using my standard mascarpone cheesecake recipe and folding in melted semi sweet chocolate.  Then for good measure I topped it off with a rich chocolate ganache, garnishing the finished cheesecake with chopped pecans.    If this oh so delicious cheesecake doesn't make the chocolate lovers in your life ecstatic, check their pulse.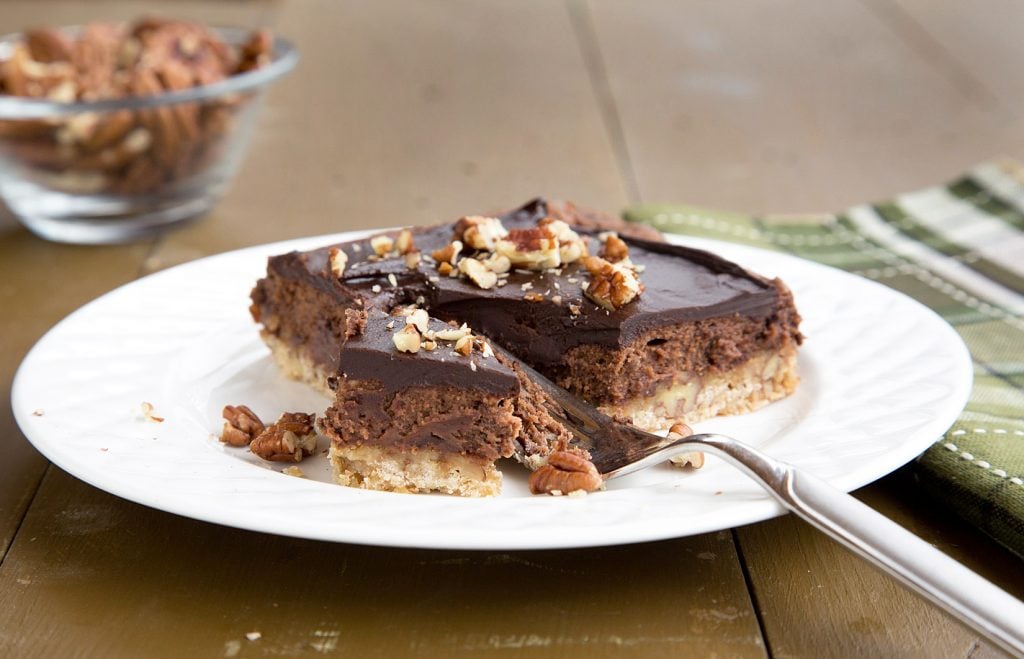 Chocolate Cheesecake Bars with a Pecan Shortbread Crust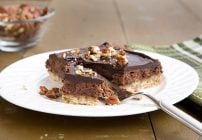 Ingredients
Pecan Shortbread Crust
1

cup

all-purpose flour

1/4

cup

packed light brown sugar

1

cup

roughly chopped pecans

1

stick unsalted butter -melted
Cheesecake Filling
8

ounces

cream cheese -softened

8

ounces

mascarpone cheese

or substitute cream cheese

1

cup

granulated sugar

3

large eggs

1

teaspoon

vanilla extract

6

ounces

semi-sweet chocolate cut in small pieces
Chocolate Ganache
6

ounces

semi-sweet chocolate cut into small pieces

4

ounces

heavy cream
Garnish
2

ounces

of chopped pecans

optional
Instructions
Preheat oven to 350 degrees F
Pecan Shortbread Crust
Mix together the flour, brown sugar, chopped pecans, and melted butter in bowl, until well blended.

Press the dough into an ungreased 9"x 9"x 2"-inch pan.

Bake shortbread crust for 12 to 15 minutes or until lightly browned.

Allow crust to cool on a wire rack for 10 minutes or more before filling
Cheesecake Filling
Using a stainless steel bowl over a pot of simmering water, melt 6 ounces of semi- sweet chocolate and allow to cool (you will reuse this bowl for the ganache)

In the bowl of your stand mixer add the cream cheese and mascarpone cheese and whip until smooth and creamy 5-7 minutes.

Add the sugar and whip until blended

Add the eggs one at a time, mixing in between each addition, to make sure each egg is fully incorporated.

Add the vanilla extract and cooled melted chocolate, blending until all of the chocolate is completely mixed into the cheese mixture.

Pour batter into prepared crust

Place pan into preheated oven on center rack and bake for 20-25 minutes or until cheesecake is cooked and not loose in the center.

Allow to cool on wire rack for 20 minutes
Chocolate Ganache
Place chocolate and cream in a stainless steel bowl over a pot of simmering water and melt chocolate and mix in cream until smooth and chocolate has been completely melted.

Pour Ganache over the top of cooked cheesecake, spreading evenly with an offset spatula.

Allow cheesecake to cool for at least 4 hours, but overnight is best.

If you are adding pecans as a topping sprinkle the pecans on top of the ganache before chilling.

Cut cheesecake into squares and serve!
This was certified delicious by my neighbor who graciously accepted half of this creation to keep me from eating it!   Just remember you've been warned to find someone to share this with before you make it, because once you taste this Chocolate Cheesecake you may decide to keep it for yourself!