Chicken Tortellini soup not only feeds the body, but it also soothes the soul. Made with tender fresh chicken, garden fresh vegetables, and cheese tortellini, this soup is a simple healthy meal that you're family will love and you'll love serving to them.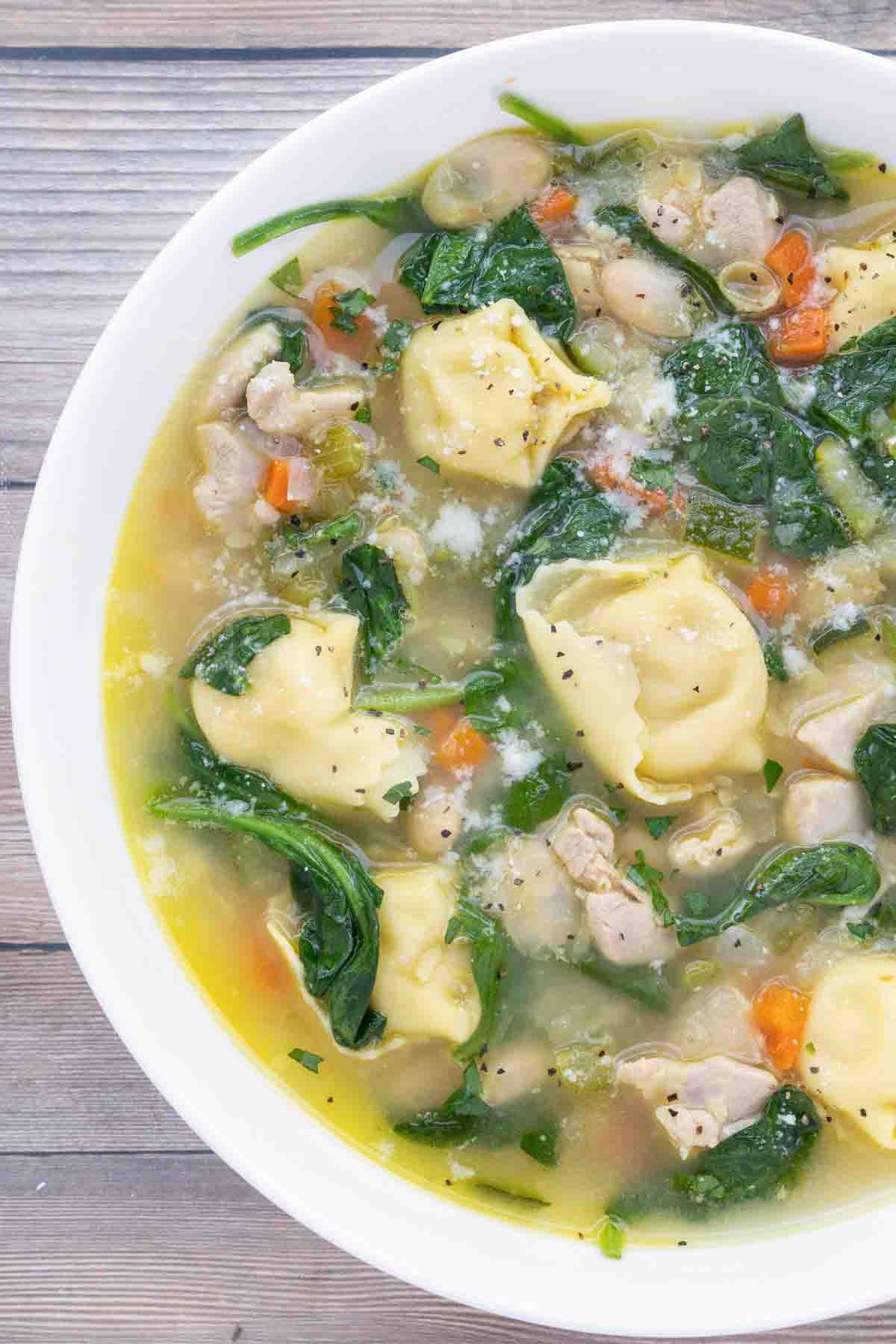 This comforting soup has everyday ingredients and doesn't require a culinary degree to make. Chicken tortellini soup has always been one of my go-to soups when I need a quick and delicious dinner or I'm entertaining friends and family.
It's easy to make and adaptable to what you have on hand.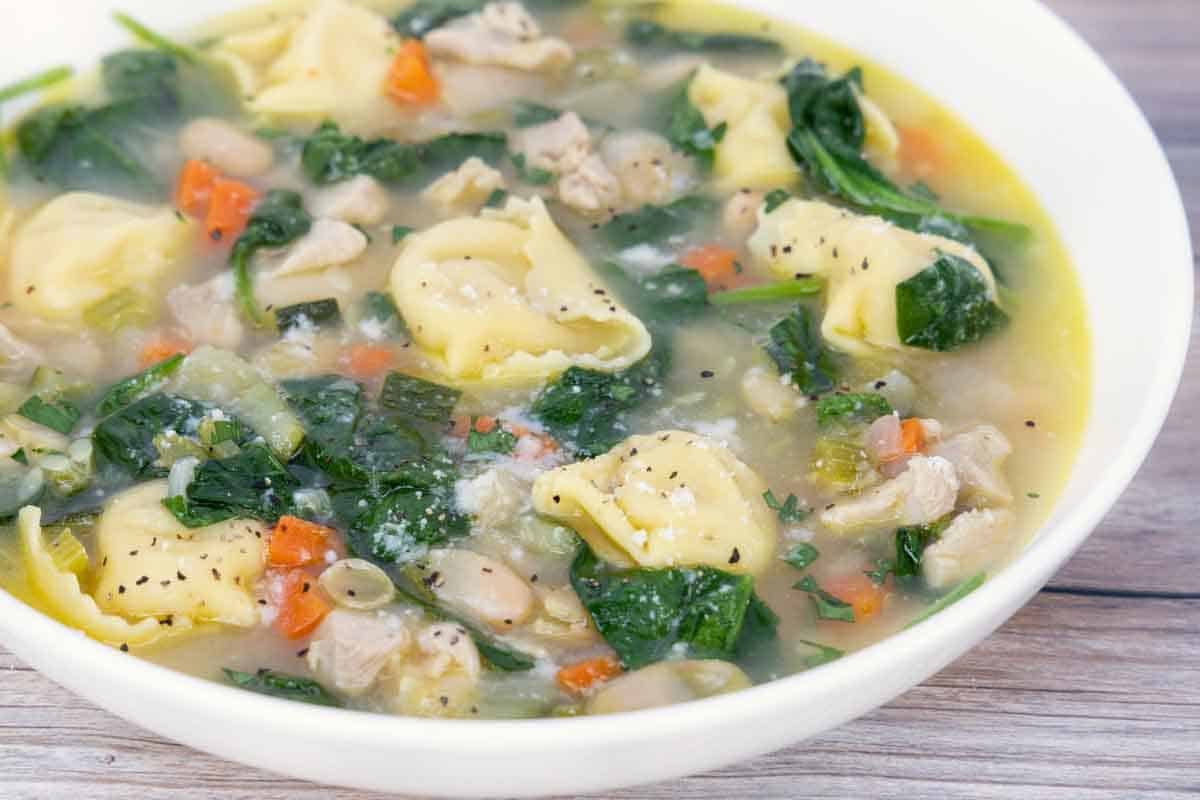 This is a great soup for lunch or dinner. Don't wait for soup season to make this delicious soup. Chicken tortellini soup makes a great addition to your dinner table any time of the year.
If you like chicken soup, my Italian Wedding Soup is another favorite of mine.
Ingredients to make Chicken Tortellini Soup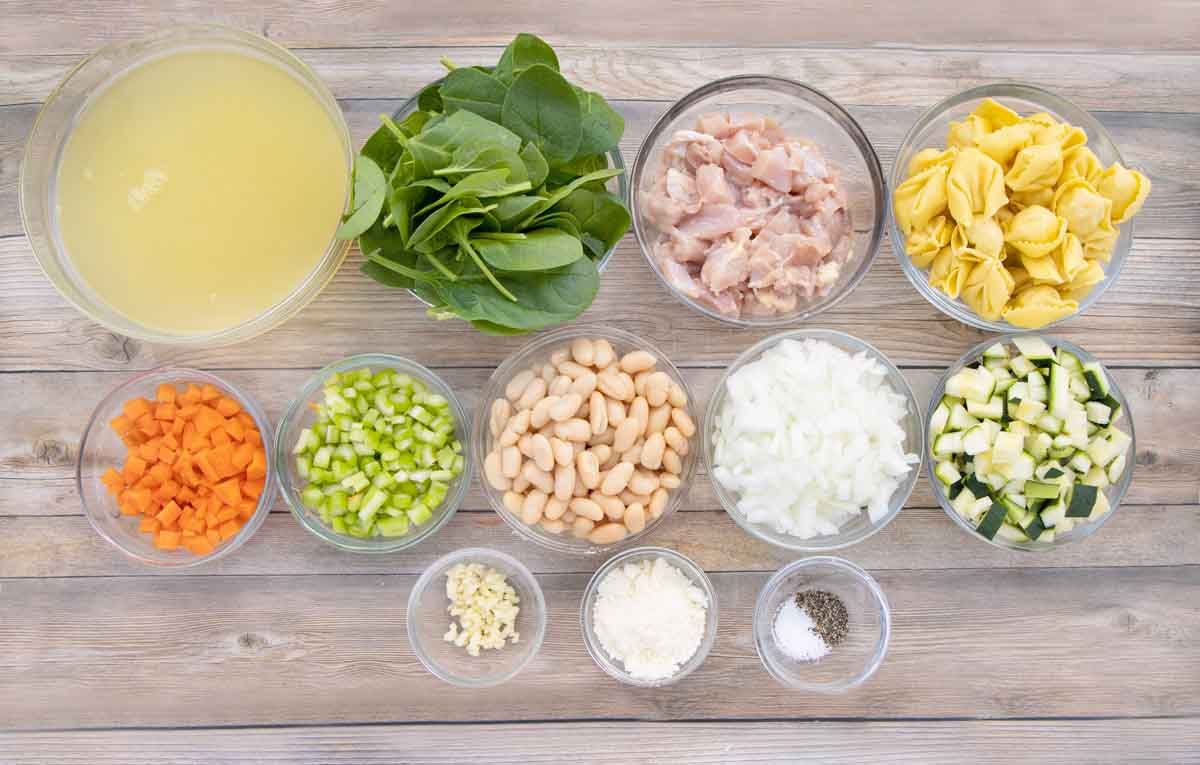 Let's start by gathering the ingredients we need to make Chicken Tortellini Soup. In Chef Speak, this is called the "Mise en Place," which translates to "Everything in its Place."
Not only does setting up your ingredients ahead of time speed up the cooking process, it also helps ensure you have everything you need to make the dish.
Simple Ingredients
chicken thighs
chicken broth
carrots
celery
onion
zucchini
baby spinach
garlic
cheese tortellini
cannelini beans
black pepper
salt
Do I have to add cannelini beans to the soup?
No, you don't. I like cannelini beans and they add another flavor to the soup, but they can easily be left out of the recipe. You can also puree the beans, if you want add the nutritious beans to the soup, but have bean haters in your household. I've done that on many occassions and no one has a clue there are beans in the soup.
You can also substitute your favorite greens to the soup, instead of baby spinach as well as add any additional vegetables you enjoy in soups.
What kind of tortellini should I use?
You can find fresh tortellini in the refrigerated section of your grocery store and they come in different varieties. I like to add sausage tortellini when I can find it. You can also find frozen tortellini in the freezer section of your store.
If you're not a fan of tortellini, you can replace them with egg noodles, rice or your favorite grain.
How to make Chicken Tortellini Soup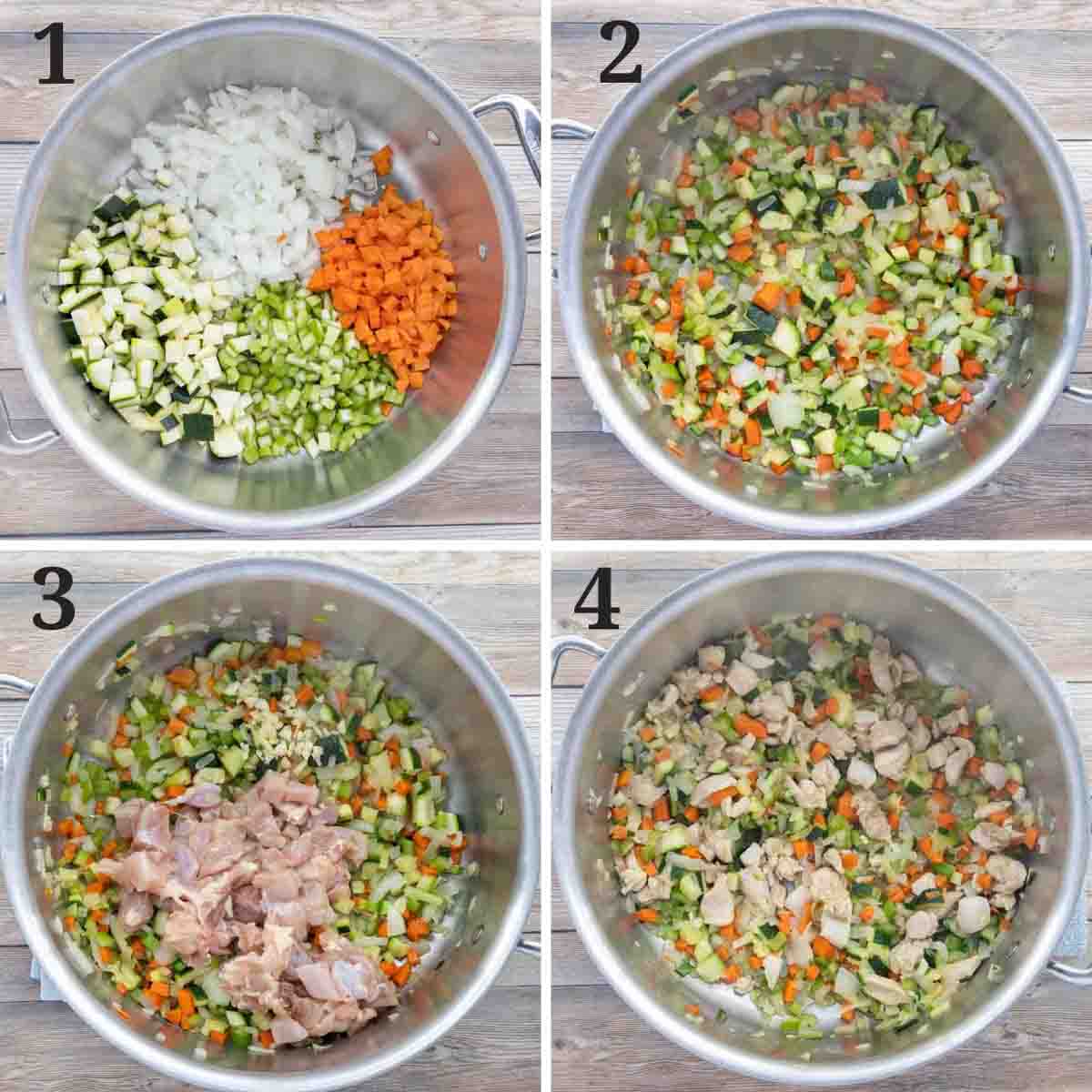 Add one tablespoon of olive oil to a large pot over medium-high heat. When the pan is hot add the carrots, celery, onion, and zucchini to the pot.
Stir the vegetable mixture and cook for 4-5 minutes.
Add the raw chicken and chopped garlic to the pot.
Continue cooking until the chicken has been seared (2-3 minutes).
*If you have leftover rotisserie chicken, you can use that instead of the chicken thighs. You can also stew a whole chicken and pull the meat off the carcass to make shredded chicken. And the broth from stewing the chicken can be added to the soup in place of chicken broth.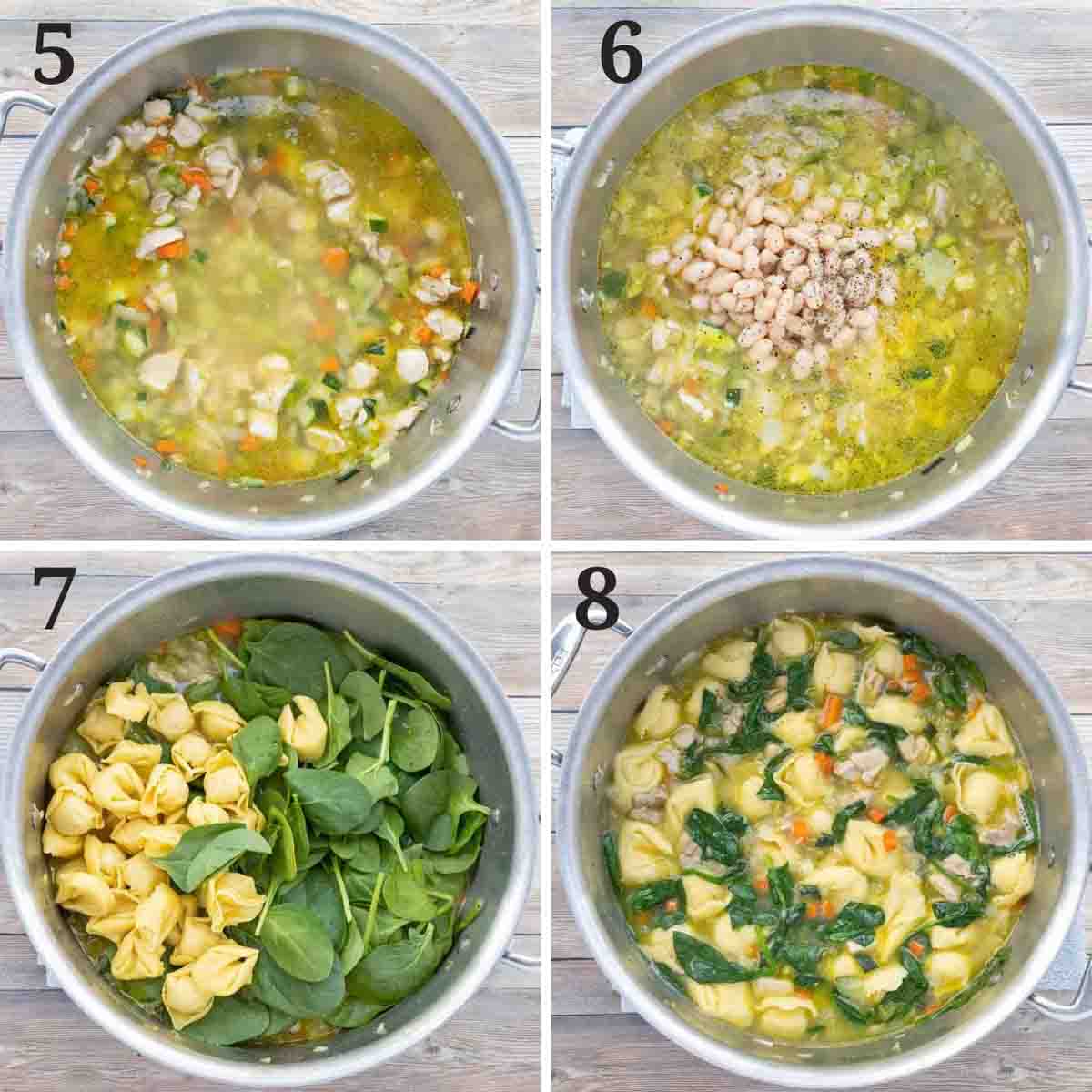 Add the chicken broth to the soup pot and bring the mixture to a boil. Turn down the heat to low and simmer for 10 minutes.
Add the cannellini beans and black pepper to the soup and continue to simmer for 20 – 30 minutes.
Add the spinach, and tortellini to the soup pot.
Continue to simmer the soup for 10 minutes or until the tortellini has fully cooked.
Re-season with salt and black pepper as needed. If you'd like to add a little heat to the soup, add a sprinkle of red pepper flakes.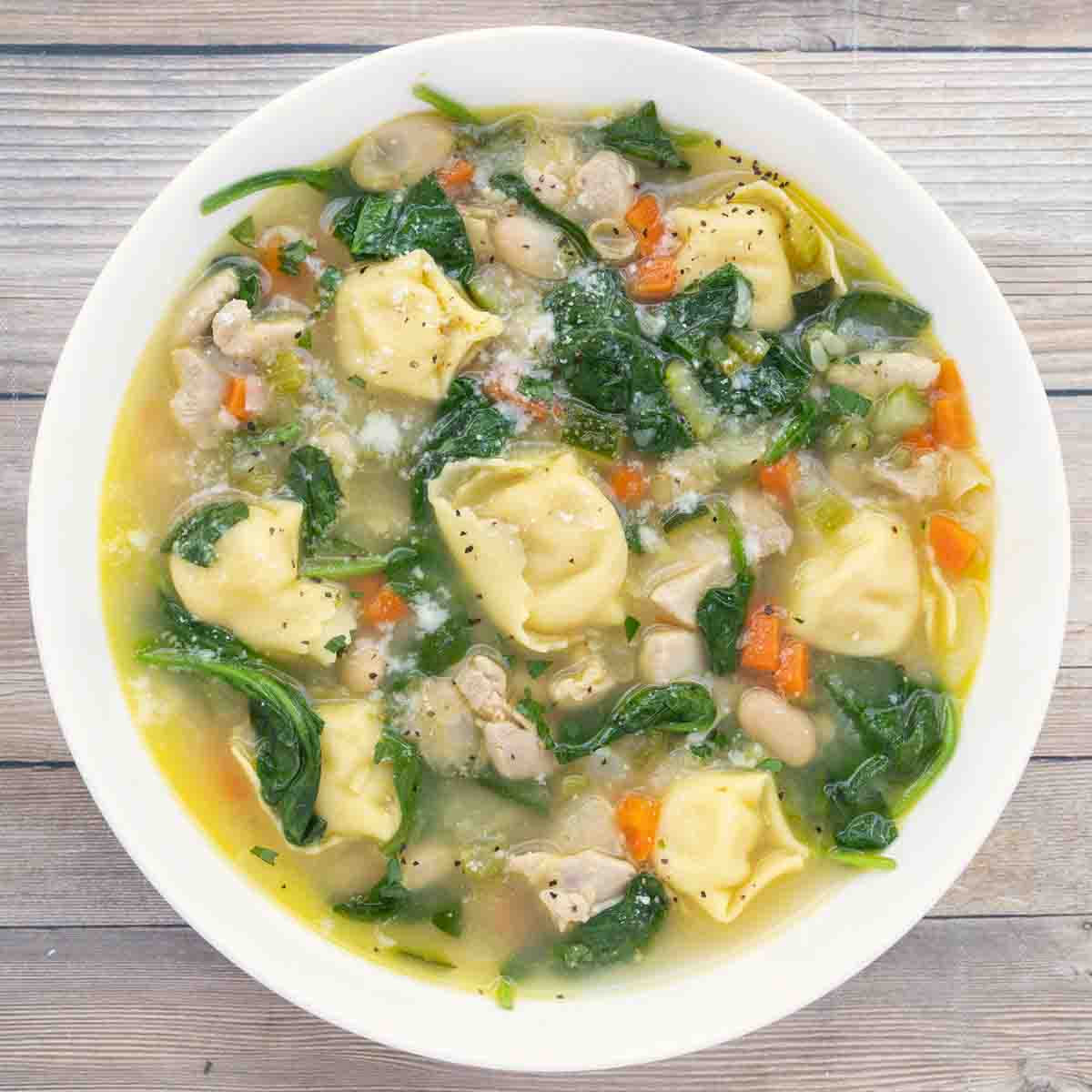 Just imagine sitting down to a bowl of this delicious chicken soup. Loaded with fresh vegetables, tender chicken and cheesy tortellini my easy chicken tortellini soup is going to become a family favorite just like it is my house.
To make a creamy version of this soup, add a cup of heavy cream when you add the broth to the soup.
Recipe FAQ's
Can I use chicken breasts to make chicken tortellini soup?
I prefer using chicken thighs because they tend to stay more tender, but if you're looking cut down on fat you can definitely use boneless skinless chicken breasts to make this soup.
It's also a great way to use up leftover rotisserie chicken
What goes with chicken tortellini soup?
Crusty Italian bread or garlic bread would go perfectly with this hearty soup. Add a ceasar salad or tossed green salad and you have a delicious light dinner.
Can I freeze chicken tortellini soup?
Yes, you can. You can freeze leftover soup in an airtight container for up to 3 months in your freezer. If you're making the soup to freeze for another time, don't add the tortellini. Wait until you serve the soup and add the tortellini when you reheat the soup.
More Soup Recipes You'll Love!