When I stop at my favorite coffee shop you can be sure I'll be picking up Blueberry Muffins to go with my coffee. There's just something about those Coffee Shop Muffins that keep me coming back for more.
Warm out of the oven, not too sweet, full of juicy blueberries…sigh.
What do I need to make Coffee Shop Style Blueberry Muffins?
Let's start by gathering the ingredients we need to make Coffee Shop Style Blueberry Muffins. In Chef Speak this is called the Mise en Place which translates into Everything in its Place.
Not only does setting your ingredients up ahead of time speed the cooking process, but it also helps ensure you have everything you need to make the dish.
What can I use instead of Blueberries?
This basic muffin recipe is all you need to start creating Coffee Shop Style Muffins for your friends and family.
Here are some of my favorites:
Peach or Nectarine
Pineapple
Chocolate Chip (your choice from dark to white chocolate or a combination)
Candied Pecans (sugar-coated in a saute pan with butter)
Banana Walnut (mash the bananas)
Apple Streusel (saute apples in brown sugar, butter & cinnamon first)
The first step is to mix together all your dry ingredients in one bowl and all your wet ingredients in another bowl.
Next mix the dry ingredients into the wet ingredients. Don't overmix. Just fold the ingredients together enough to incorporate all the flour.
**The batter will be thick. If it appears too thick you can always add a little heavy cream or milk (¼ cup) to thin it out.
Then carefully fold in the blueberries. You don't want to mash them or have them bleed color into the mix (it's not the end of the world if this happens).
Scoop the blueberry muffin batter into prepared muffin pans. If you want smaller muffins use a 12 muffin tin.
If you don't have muffin papers, coat the cups with butter and sugar (or use pan spray)
Can I make the batter for the Blueberry Muffins ahead of time?
Yes you can. In fact I always make mine the night before. In the morning I preheat the oven, scoop out the portions and bake them before anyone has gotten up. Easy-Peasy!
I would wait until the morning to add the batter to your muffin tin, especially if you're using cupcake liners. Otherwise the muffins will stick to the paper.
Can I add a topping to the blueberry muffins before baking?
Yes you can. Here are some of my favorites.
Raw Sugar (large granules)
Oats (uncooked oatmeal or breakfast grains)
Chopped Nuts
Granola
Streusel
How do I make Streusel topping?
½ cup all-purpose flour
¼ cup brown sugar
¼ cup old fashioned rolled oats (not instant)
⅛ tsp salt
4 tablespoons firm room temperature butter
Just mix them all together and you've got a streusel topping.
Bake the muffins in a preheated 375 degree F. oven for 30 -35 minutes. (make sure to test the center for doneness with a wooden skewer or knife)
**If the muffins start to get dark, cover them with foil to finish baking.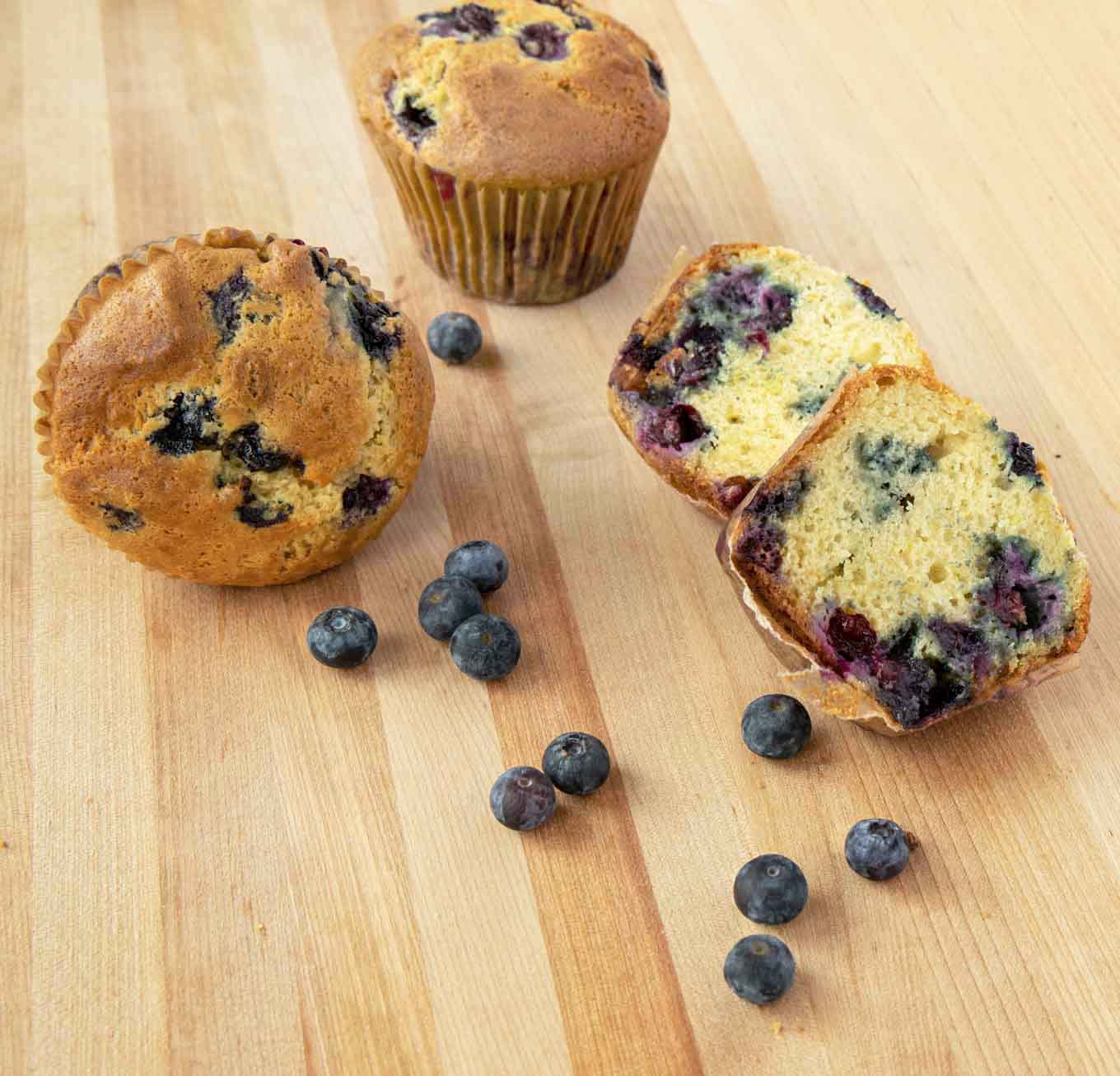 More Muffin Recipes You'll Love!