My Greek Yogurt Blueberry Muffin recipe takes minutes to make and yields a moist and delicious muffin with a tender crumb that's full of blueberry flavor. I promise after one bite you'll agree these are the best blueberry muffins you ever made!
Warm out of the oven, not too sweet, my Greek yogurt blueberry muffins are bursting with juicy blueberries. This is a breakfast treat you can feel good about serving your family.
If you love homemade muffin recipes make sure to try my Banana Chocolate Chip Muffins.
Ingredients to make Greek Yogurt Blueberry Muffins
Let's start by gathering the ingredients we need to make Greek Yogurt Blueberry Muffins. In Chef Speak this is called the Mise en Place which translates into Everything in its Place.
Not only does setting your ingredients up ahead of time speed the cooking process, but it also helps ensure you have everything you need to make the dish.
Made with simple ingredients
Fresh Blueberries – if you use frozen blueberries don't let them thaw too long, or they will release all their juices.
Plain Full Fat Greek yogurt – or Vanilla Greek Yogurt (lowfat or non-fat yogurt can be substituted). Sour cream can be used instead of Greek Yogurt.
All-purpose flour
Granulated sugar
Large eggs
Corn oil – or your favorite cooking oil. I have made these with coconut oil and they turned out great.
Lemon zest
Fresh lemon juice
Vanilla extrac
Baking powder
Baking soda
Table salt
What can I use instead of Blueberries?
This basic muffin recipe is all you need to start creating Greek yogurt Muffins for your friends and family.
Here are some of my favorites:
Fresh fruit – blackberries, raspberries, peaches, nectarines, pineapple, and mango make great muffins.
Chocolate Chips (your choice from dark to white chocolate or a combination)
Candied Pecans (sugar-coated in a saute pan with butter)
Banana Walnut (mash the bananas)
Apple Streusel (saute apples in brown sugar, butter & cinnamon first)
How to make Greek Yogurt Blueberry Muffins
Add the all-purpose flour, granulated sugar, table salt, baking soda and baking powder to a medium bowl and whisk to combine the dry ingredients.
Lightly beat the eggs and add them to a large bowl with the Greek yogurt, vegetable oil, lemon zest, vanilla extract, and lemon juice. Mix the wet ingredients until well blended.
I use corn oil for baking but you can use olive oil or your favorite oil to make my delicious yogurt muffins. Plain Greek Yogurt or Vanilla Greek Yogurt will work best with this recipe.
Depending upon your experience using different flours, white whole wheat flour, almond flour,and other specialty flours can be used.
Add wet mixture to dry mixture and mix just enough to blend.
**The muffin batter will be thick. If it appears too thick you can always add a little heavy cream or milk (¼ cup) to thin it out.
Then carefully fold in the fresh blueberries with a rubber spatula.
You don't want to mash them or have them bleed color into the mix (it's not the end of the world if this happens).
Use a cookie scoop to the divide batter for the blueberry yogurt muffins into a prepared muffin tin. I like making jumbo muffins, but If you want smaller muffins use a 12 muffin tin, or a 24 count pan to make mini muffins.
Place the muffin pan on the center rack of the 375 degrees F. preheated oven and bake for 30 -35 minutes until golden brown or until a toothpick inserted in the center of a muffin comes out clean. Bake time can vary, it all depends on your oven calibration.
If you don't have muffin liners, coat the cups with butter and sugar (or use cooking spray).
**If the muffins start to get dark, cover them with foil to finish baking.
Let the lemony blueberry muffins cool on a wire cooling rack for 10 minutes before serving.
Can I make the batter for the Blueberry Muffins ahead of time?
Yes you can. In fact I always make mine the night before. In the morning I preheat the oven, scoop out the portions and bake them before anyone has gotten up. Easy-Peasy!
I would wait until the morning to add the batter to your muffin cups, especially if you're using paper liners. Otherwise the muffins will stick to the paper.
Can I add a topping to the blueberry muffins before baking?
Yes you can. Here are some of my suggestions to add to the top of the muffins before baking.
Raw Sugar (large granules)
Oats (uncooked oatmeal or breakfast whole grains)
Chopped Nuts
Granola
Streusel
Add your favorite to the top of each muffin, or mix up the toppings making everyone their favorite muffin.
How do I make Streusel topping?
½ cup all-purpose flour
¼ cup brown sugar
¼ cup old fashioned rolled oats (not instant)
⅛ teaspoon salt
4 tablespoons firm room temperature butter
Just mix them all together and you've got a streusel topping.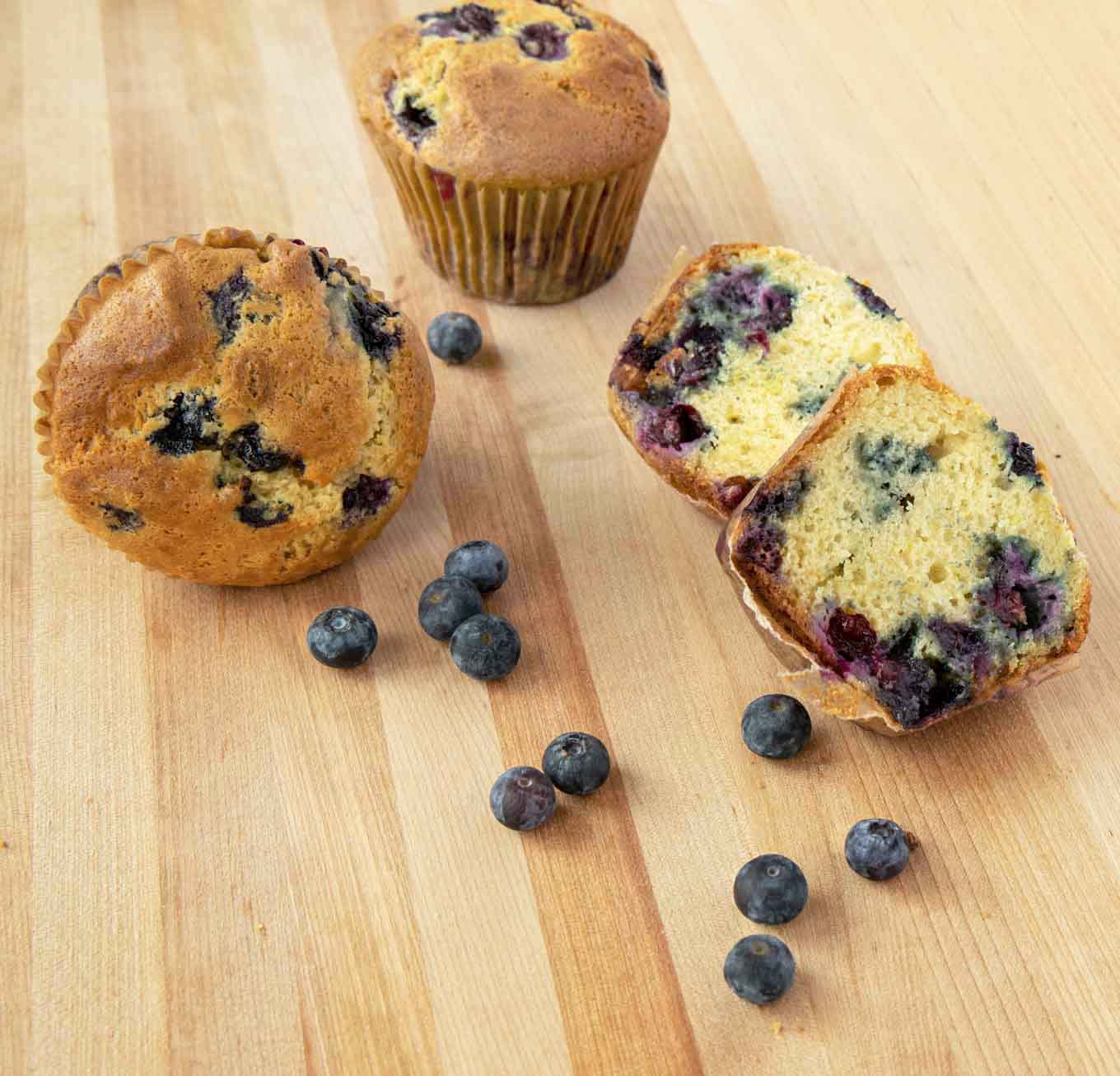 I love using Greek yogurt in my baking recipes, and my healthy blueberry muffin recipe is just another of my baking successes using Greek yogurt.
Store any leftover muffins in an airtight container at room temperature for 2-3 days or refrigerated for 4-5 days. These muffins freeze well. Thaw overnight in the fridge for the best results. I like to make double batch of muffins when I make them and freeze half for another time.
Split the muffins , butter and toast them for an extra special treat!
More Muffin Recipes You'll Love!