Enjoy my Tangerine Pork Chops for dinner tonight-
I know it's not easy coming up with creative new dishes for your families dinner table, and that's why I keep cooking up deliciousness! Pork is still one of the most economical cuts of meat out there, and a little marinating goes a long way to help the flavor and add a little flare to a weeknight meal.
This post has been sponsored by Noble Juice and although this is a sponsored post all of the opinions are genuine and 100% my own.
I've enjoyed a delicious partnership with my friends at Noble Juice in nearby Winter Haven. Creating fun new recipes using their naturally pure juices has been a lot of fun and certainly elevated the flavor profiles of the dishes I've created using their juices.
Let's gather our ingredients for this tasty pork dish together. Feel free to use pork tenderloin or bone in pork chops.
Marinating the pork chops in a zip lock back makes life easy. I'm also going to be adding shitake mushrooms to my sauce as serving the pork with steamed broccoli and jasmine rice.
I can see this marinade working really well with chicken. And if you're not big on pan frying and would rather grill the meats that would work too. Remember that nothing is etched in stone and if you don't like mushrooms or broccoli, come up with your own favorite variation on this recipe.
For an authentic Asian meal, Jasmine rice will complete the experience and really lends itself to absorbing the sauces you'll create in Asian cooking.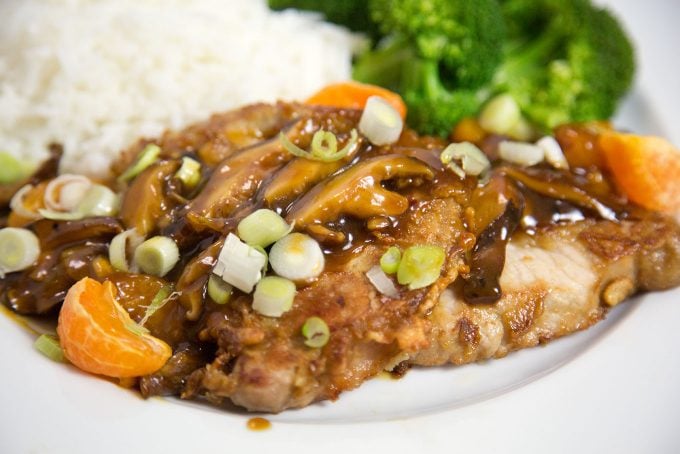 If you enjoyed this post you may also like these recipes:
You may also like my Chinese Sticky Wings.