Weeknight meals don't have to be boring. My Mango Bourbon Salmon is the perfect way to add deliciousness to your home menu and the best part is, you'll have very little cleanup afterward!
Can you believe there was a time that I didn't eat salmon? I served it in my restaurants and came up with a lot of delicious ways to serve salmon and disguise it so I might enjoy eating it. Over the years I created some pretty ah-mazing dishes with salmon but nothing that ever caught my fancy.
And then I tried Wild Caught Pacific Salmon and I was hooked (pardon the pun). I use Alaskan and Pacific salmon almost all the time now, but occasionally when I see fresh Atlantic salmon on sale I pick up a small side to cut into filets. For this dish, I picked up some beautiful fresh farmed Atlantic salmon and it was freaking ah-mazing!!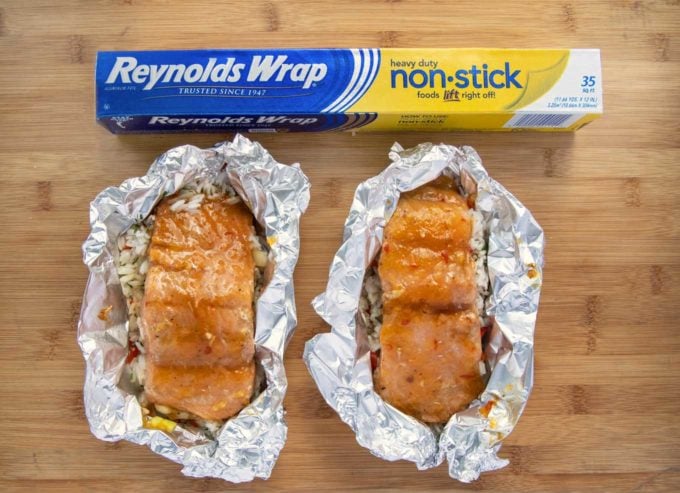 I love it when I surprise myself with the dishes I create and let me tell you my Mango Bourbon Salmon definitely tickled my taste buds! It's going to be a regular on my home menu. And the best part was having very little clean-up after dinner. That's a bonus in my book!
What do I need to make Mango Bourbon Salmon?
Let's start by gathering the ingredients we need to make Mango Bourbon Salmon. In Chef Speak this is called the "Mise en Place" which translates to "Everything in its Place".
Not only does setting your ingredients up ahead of time speed up the cooking process, it also helps ensure you have everything you need to make the dish.
How do I marinate Salmon?
Marinating salmon or any fish isn't difficult. The only thing you need to remember is seafood is delicate and takes little time to marinate. Ingredients in a marinade are fairly interchangeable as long as you include an acid like lime juice and/or soy sauce. If you're not a fan of either here are some suggestions.
Try lemon, orange, or pineapple juice if you're not fond of lime.
If you don't like soy sauce try balsamic vinegar.
The same holds true for the aromatics. I used ginger and garlic in my marinade, but you can leave either or both out.
Add any additional spice you might like. If you want to add a little heat add sriracha to the marinade, just be careful not to overdo it.
If you don't want to use sugar you can add sweetness with honey or maple syrup.
Do you see where I'm going with this? Cook what you like to eat, recipes are guidelines.
Place all the ingredients for the marinade in a mixing bowl and mix well. *Make sure the sugar is dissolved.
Then it's just a matter of placing the salmon in a slider storage bag (or baking dish) and adding the marinade. If you use a bag, make sure to move the salmon around a little in the marinade before storing it in the fridge.
**Place a plate under the bag just in case the bag leaks.
How long should I marinate the salmon?
Seafood picks up marinade flavors a lot faster than chicken or beef. If you're pressed for time, 25 minutes is long enough to get the flavors into the salmon. I marinated my salmon for 90 minutes. I don't advise marinating any seafood longer than 90 minutes unless you're making ceviche.
The lime and soy sauce will actually start to cook the fish and also make it mushy if you leave it in the marinade too long.
How do I make a Mango Bourbon Glaze?
Add the ingredients into the bowl of a food processor (or blender) and puree till smooth. If you're not fond of mangoes, you can use peaches or pineapple to make the glaze.
After pureeing the mixture, place it in a small saucepan and bring to a light boil. Then remove the pan from the heat and divide the sauce into two portions. One half to glaze the salmon with and one half to serve with the salmon. It doesn't really matter if it's a little chunky, it will still be delicious.
**If the Glaze gets too thick, you can add a little water to the mixture. Also, a little time in the microwave will loosen the glaze up.
Chef Dennis Tip:
To save time, prepare the marinade and Mango Bourbon Glaze ahead of time. It can be prepared the day before you use it
While the salmon is marinating you can cook the rice. You can also cook the rice ahead of time.
I used Jasmine rice for this dish, but you can use any type of rice you like. The Jasmine rice was a perfect complement to the salmon with its light fluffy grains and fragrant aroma. But if you're not a fan of rice, switch it out for par-cooked roasted potatoes or a grain of your choice. I had originally thought about using lentils for this dish.
The green onions and red pepper are mostly there for color but they do impart a little flavor to the rice.
Start by cutting off four 16 inch pieces of non-stick foil. Make sure to always put the shiny side down, the dull side with the watermark should always be facing the food to benefit from the non-stick properties. This will make plating your food from the packet easy-peasy!
Add one cup of the Jasmine rice in the center of the foil, running perpendicular to the long sides of the foil.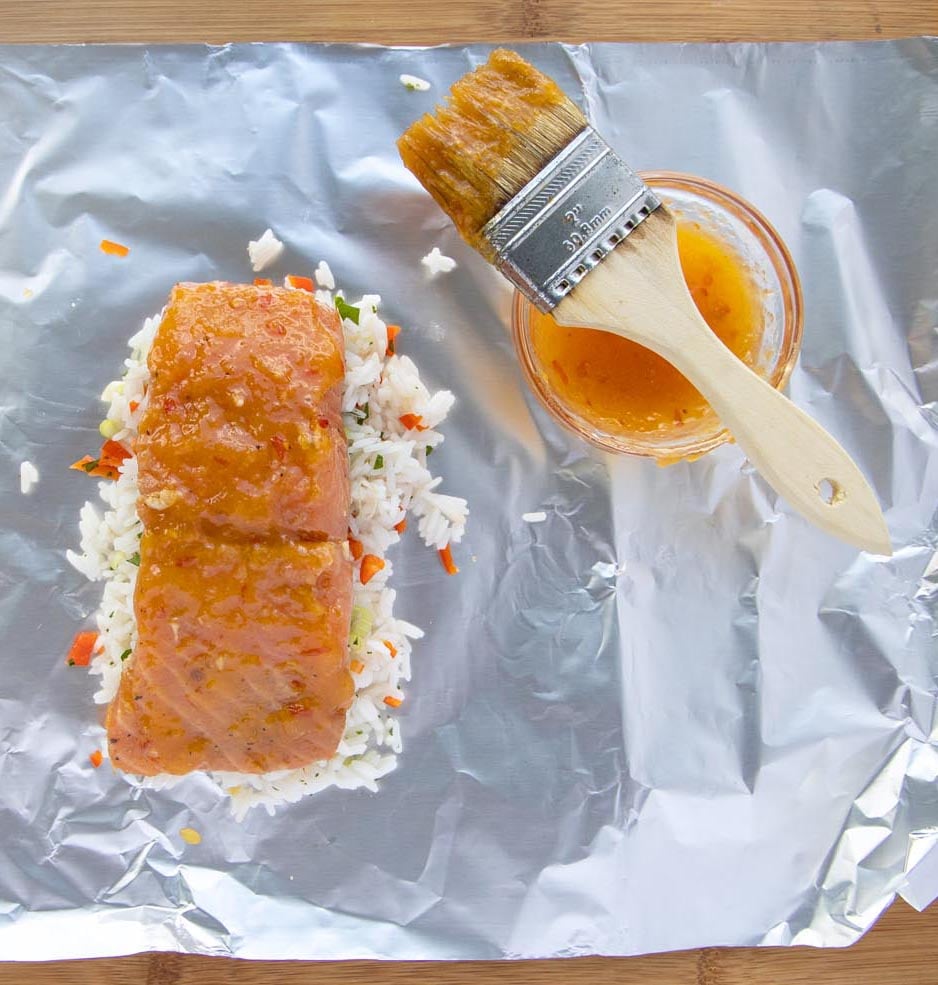 The next step is placing the salmon filet on top of the rice and brushing it with the Mango Bourbon Glaze.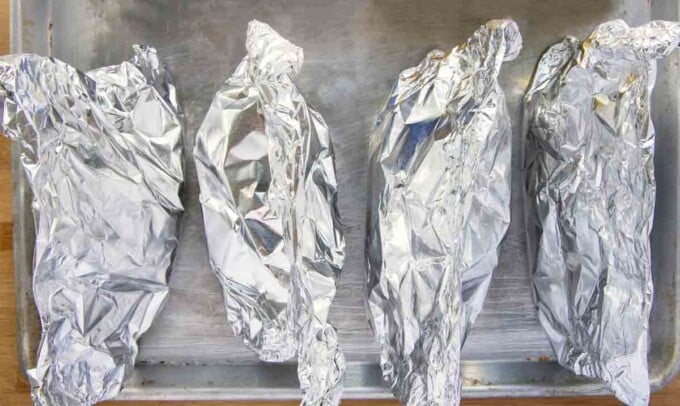 When making foil-wrapped packets to cook in the oven or on the grill follow these instructions. Place the packets on a sheet pan or baking pan when placing them into the oven. They can go right on the grill if you're grilling this dish.
Tear off a 16" sheet of f

oil

Center the food on the foil sheet
Bring up the long sides of the foil, so the ends meet over the food
Double fold the ends, leaving room for heat to circulate inside
Double fold the two short ends to seal the packet
OPTIONAL: To avoid juices puddling around the food, use a grilling fork to punch 2-3 drainage holes throughout the bottom/sides of the packet
You only need to punch holes in the foil if there is going to be a lot of liquid runoff. Using rice or another starch under the protein helps alleviate that issue. The starch will soak up the extra juices and become even more flavorful.
When the salmon is finished cooking you can cut the tops off the packets and slide each portion onto a plate. The non-stick foil really makes plating the salmon really easy and cleaning up even easier.
The foil will be hot, so use kitchen gloves or towels when touching them. Don't spoil dinner by getting burned!
What you end up with is an amazing salmon dish bursting with flavor and very little cleanup after dinner. Wouldn't this be perfect for your next get-together or date night?
Can I use other types of fish in this recipe?
As I've mentioned with other substitutions I suggested, use the recipe as a guideline and cook what you like to eat. That doesn't mean you shouldn't try something new, but if you don't enjoy what you're eating, you're not going to enjoy cooking!
If you're not on Team Salmon, any thicker filet or steak type fish will work, such as:
Tuna
Swordfish
Grouper
Red Snapper
Can I grill the foil packets instead of using the oven?
You sure can. The beauty of foil-wrapped packets of deliciousness is having the versatility of cooking them in the oven, your home grill or over a campfire.
If you love salmon you may also like these recipes: