Tangerine Beef is a great way to spice up your week night dinners and can be made at home faster than going out for take-out!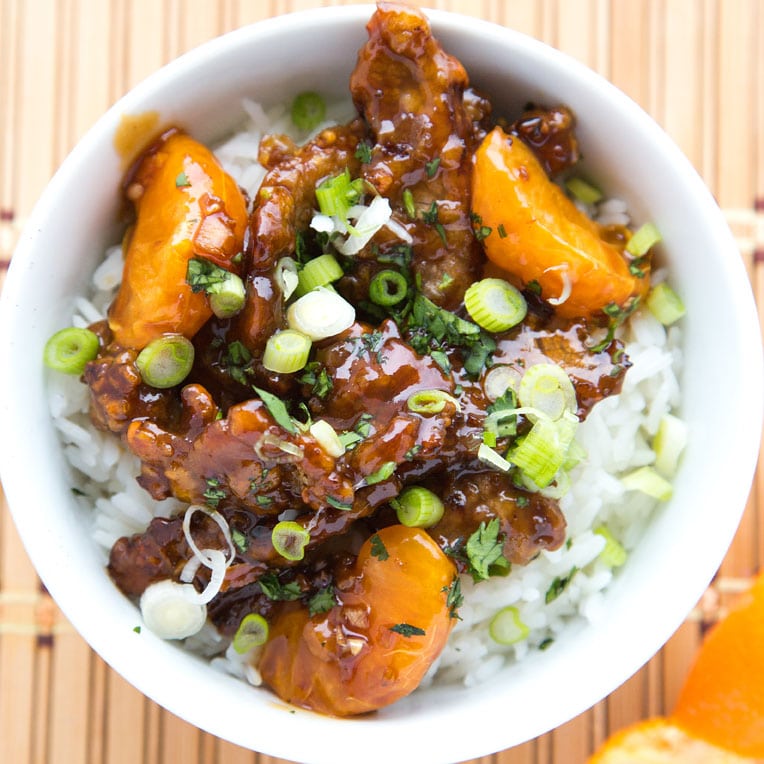 This post is brought to you  by Noble Juice but all the opinions and deliciousness are 100% mine.
Asian style cooking comes down to understanding a few basic techniques and having the right ingredients on hand.  It's not difficult and although a wok will help make your culinary adventure for fun, it isn't necessary.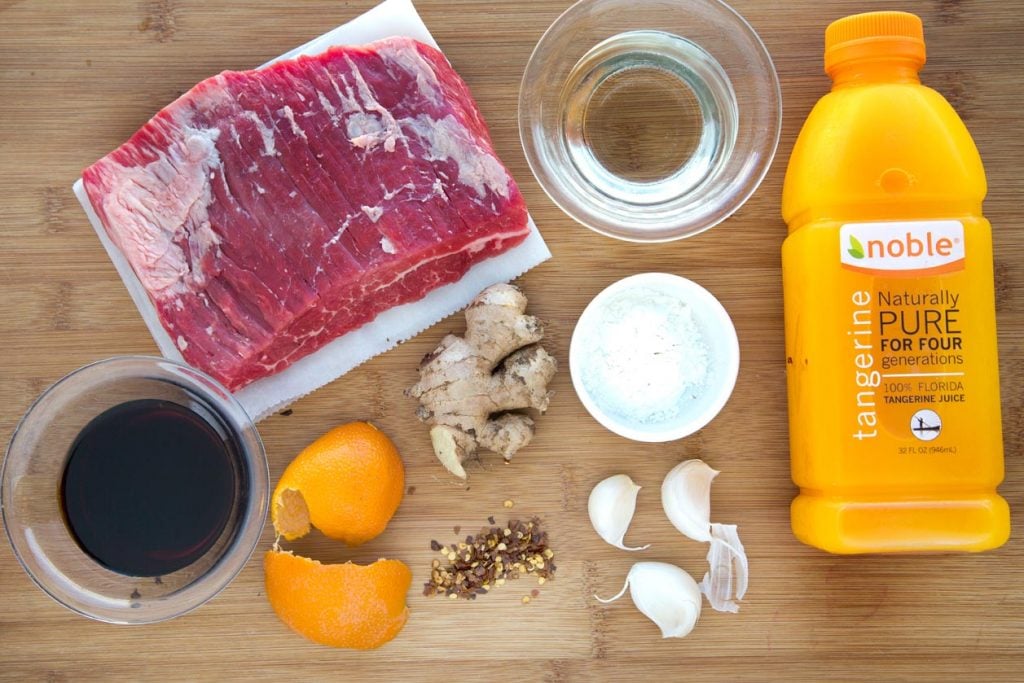 Let's gather our ingredients (aka mise en place) to make our Tangerine Beef.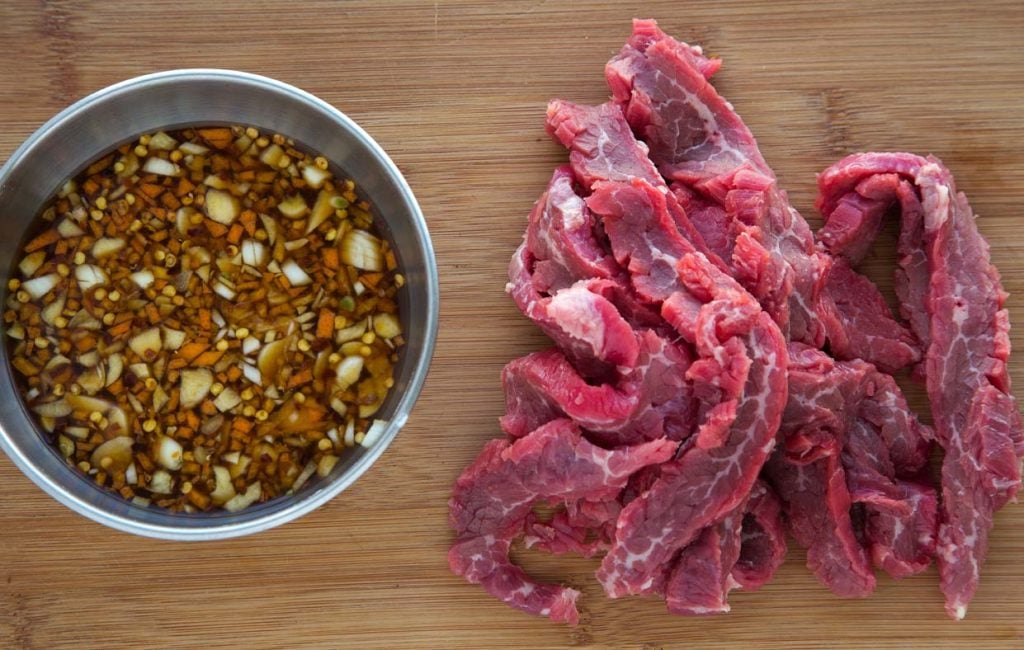 The marinade is really easy to make and the only thing you need to remember about cutting the flank steak (as with any beef) is to go against the grain.  Once the marinade is ready and the beef sliced, place it into a zip-lock bag.  Mix it thoroughly in the bag, then remove the air, seal the bag and place it in the refrigerator for at least 2 hours up to 6 hours.   *Remember to place the bag zipper up and on a plate in case it leaks.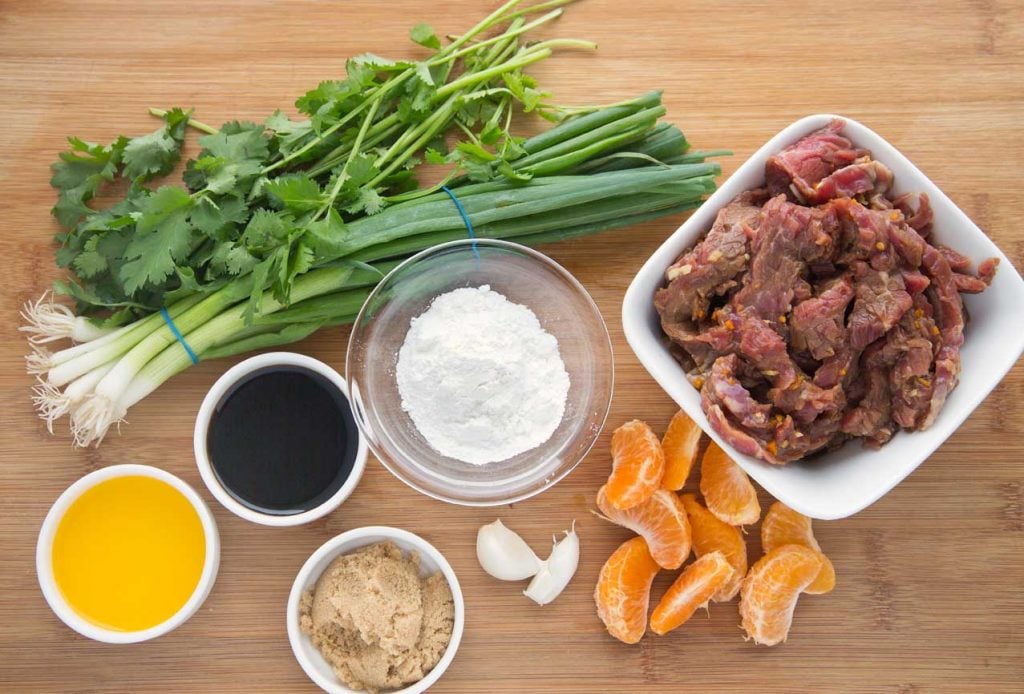 After the beef has marinated we can gather the rest of our ingredients for this delicious dish!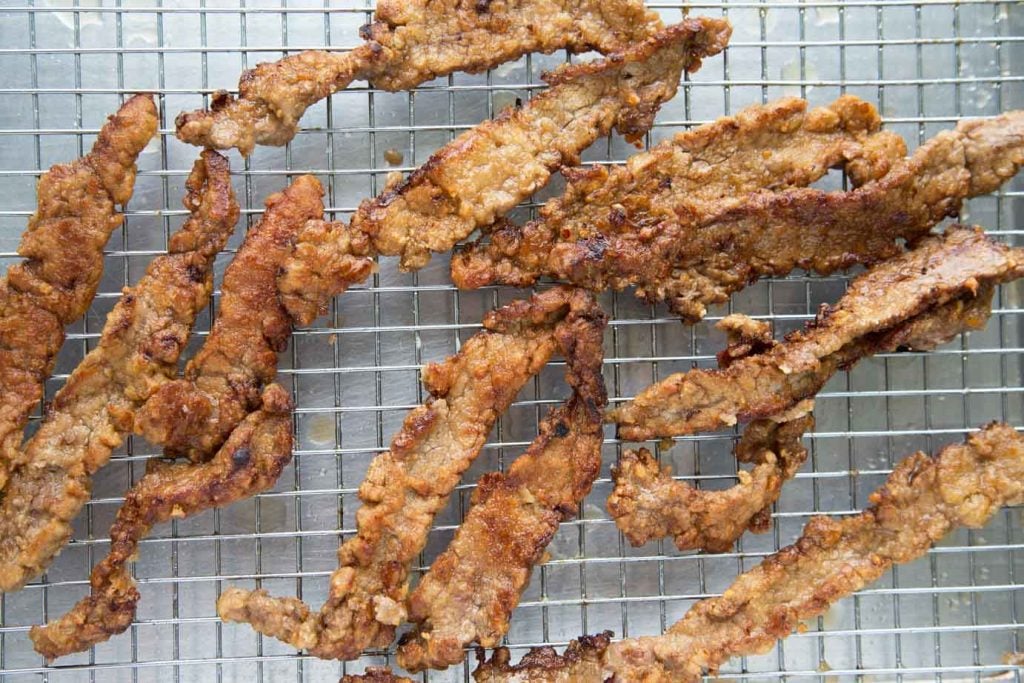 Dredging the beef in corn starch, gives it a crunch appearance.   While the beef is draining, start your sauce.
Living in the Orlando area I could go out to eat every day of my life and never try all of the restaurants in the area.  And while that might fun to do, it can also be very expensive.  The other problem with eating out is losing control over ingredients that are used in your meal.   Cooking at home can be fun, save you money and gives you control over the ingredients you use.
One ingredient that I love to use in recipes is Noble Tangerine Juice.  Naturally Pure for four generations, grown, manufactured and bottled in Florida.   I like to call it my liquid sunshine!
My Tangerine Beef was a great way to incorporate the taste Florida into the Asian Style dish.   Of course if you're grocery store doesn't carry Noble Tangerine Juice, you'll have to squeeze your own.  Serve this delicious beef with jasmine rice or your favorite Asian Noodle and be prepared for rave reviews!
Tangerine Beef
Ingredients
1

pound

flank steak

1/2

cup

corn starch (for dredging beef

before frying)

1/3

cup

vegetable oil for frying beef
Marinade
1/4

cup

low sodium soy sauce

1/4

cup

rice wine

1/4

cup

tangerine juice

2

tablespoons

tangerine zest

grated

1

tablespoon

sesame oil

1

tablespoon

cornstarch

2

cloves

garlic

finely diced

1

teaspoon

crushed red pepper
Tangerine Beef
1

clove

garlic

chopped

1

teaspoon

chopped ginger

3

tablespoons

tangerine juice

3

tablespoons

light soy sauce

1

tablespoon

hot water

1 1/2

tablespoons

dark brown sugar

1

teaspoon

cornstarch

mixed with 1 tablespoon tangerine juice

2

scallions

sliced for garnish

tangerine segments for garnish

finely chopped cilantro for garnish
Instructions
Trim any excess fat or membrane from beef

Thinly slice meat across the grain into 1/4-inch-thick slices.

Place beef in a large resealable plastic bag set in a shallow dish.
Marinade
Combine soy sauce, rice wine, tangerine juice, 1/2 of the tangerine zest, sesame oil, cornstarch, garlic and crushed red pepper in a small bowl and whisk to mix.

Pour marinade over beef in bag; seal bag. Marinate in the refrigerator for 2 hours (or longer)
Beef
Remove beef from marinade, discarding the marinade.

Dredge the pieces of meat individually in of cornstarch until lightly coated,

Heat oil in a clean wok or saute pan over high heat.

Just before the oil starts to smoke, spread the flank steak pieces evenly in the wok, and let sear for 1 minute.

Flip the steak over and let the other side sear for another 30 seconds, then transfer to a sheet pan, tilting it slightly to let the oil drain. The beef should have a crusty coating.

Drain most of the oil from the pan. leaving about 1 tablespoon in the pan.

Heat over medium-high.

Add ginger and garlic to pan stir frying for about 15 seconds.

Add the soy sauce, tangerine juice, water and brown sugar. Bring the sauce to a simmer, stirring occasionally.

Let the sauce simmer for 1 minute, then slowly stir in the cornstarch slurry mixture–until the sauce coats the back of a spoon. Add the beef and tangerine segments

Toss everything for another 30 seconds until all of the beef is well-coated.

There should be almost no liquid, as the sauce should be clinging to the beef.

If the sauce is too thick, add a little bit of hot water to thin it out.

Serve over Jasmine Rice or your favorite Asian Noodles

Garnish with scallions and cilantro.
Recipe Notes
**There should be almost no liquid, as the sauce should be clinging to the beef. If you have too much sauce, increase the heat slightly and continue cooking until thickened. If the sauce is too thick, add a little bit of hot water to thin it out.
Nutrition Facts
Tangerine Beef
Amount Per Serving
Calories 0
* Percent Daily Values are based on a 2000 calorie diet.
This is a sponsored post written by me on behalf of Seminole Pride Noble Juices. All opinions are 100% mine. 
Follow Noble Juice on Facebook and Instagram for information about the products, sales and coupons!