Everyone is loving their Air Fryers and my Honey Barbecue Air Fryer Chicken Wings are a delicious and easy treat to prepare for game day get-togethers or just to spoil yourself with crispy chicken wings slathered in barbecue sauce!
*Don't have an air fryer? Don't worry you can do these wings in your oven or on the grill.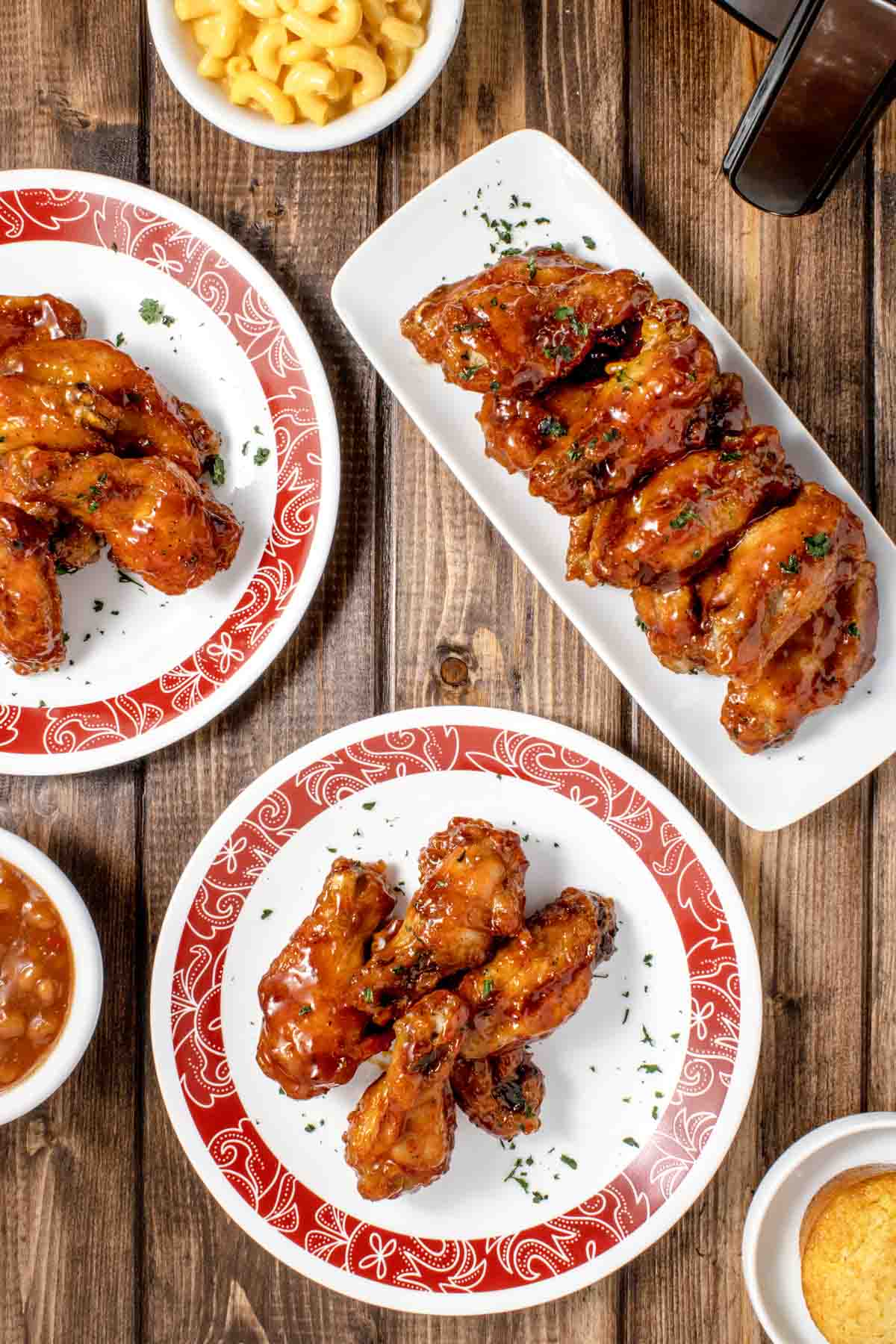 I love crispy wings and when you toss them in a tangy-sweet barbecue sauce that makes me love them even more! Using your air fryer makes cooking wings easy and also cuts the calories while delivering deliciousness to your table.
What ingredients do I need to make Honey BBQ Air Fryer Chicken Wings?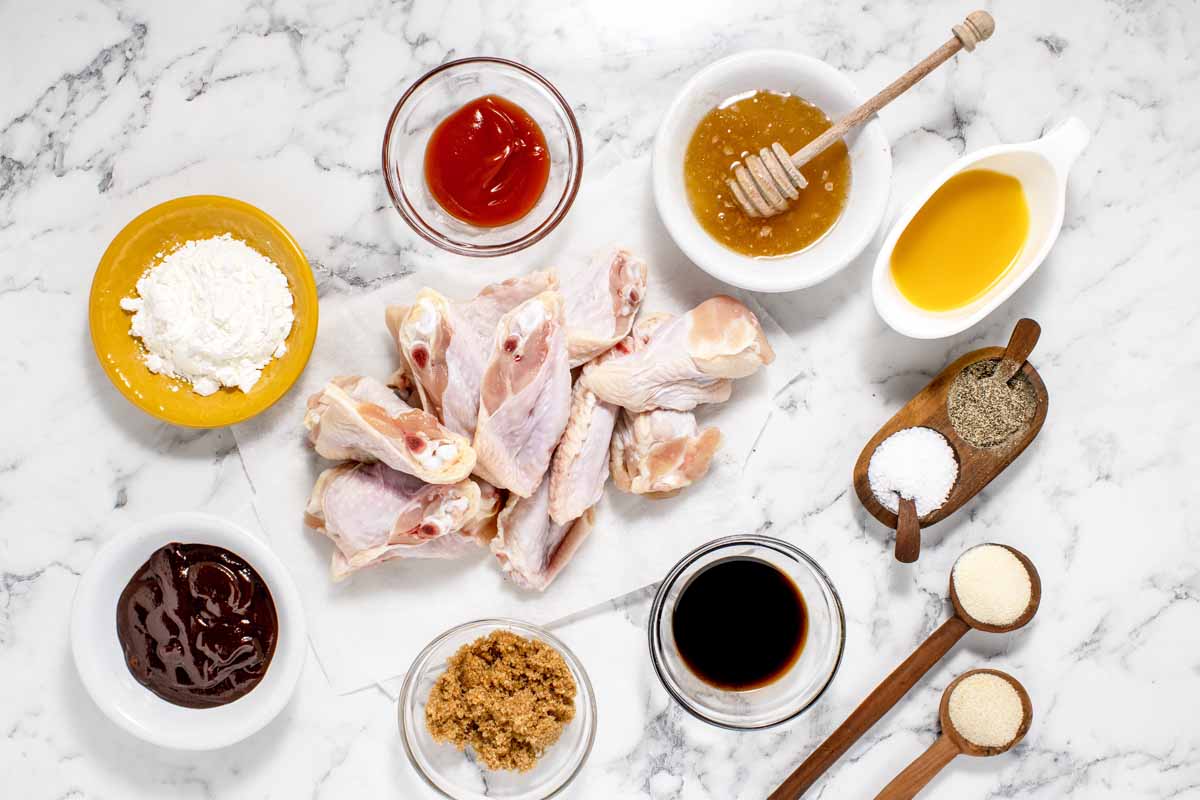 Let's start by gathering the ingredients we need to make Honey BBQ Wings. In Chef Speak this is called the "Mise en Place" which translates to "Everything in its Place".
Not only does setting your ingredients up ahead of time speed up the cooking process, it also helps ensure you have everything you need to make the dish.
Can I use my favorite Barbecue Sauce instead of making one?
Absolutely! Using your favorite BBQ Sauce is okay with me, I just wanted to give you the option of creating your own (using a little of your favorite BBQ Sauce to make it).
How do I cut chicken wings?
Let's talk about safety first.
Always use a cutting board to cut meats, seafood or vegetables. That being said, always make sure your cutting board has been properly cleaned and sanitized between uses. Use your favorite household cleaner and always wash the board twice.
*You can also place the once cleaned cutting board into your dishwasher for a really good cleaning. This is super important when cutting any meat or seafood.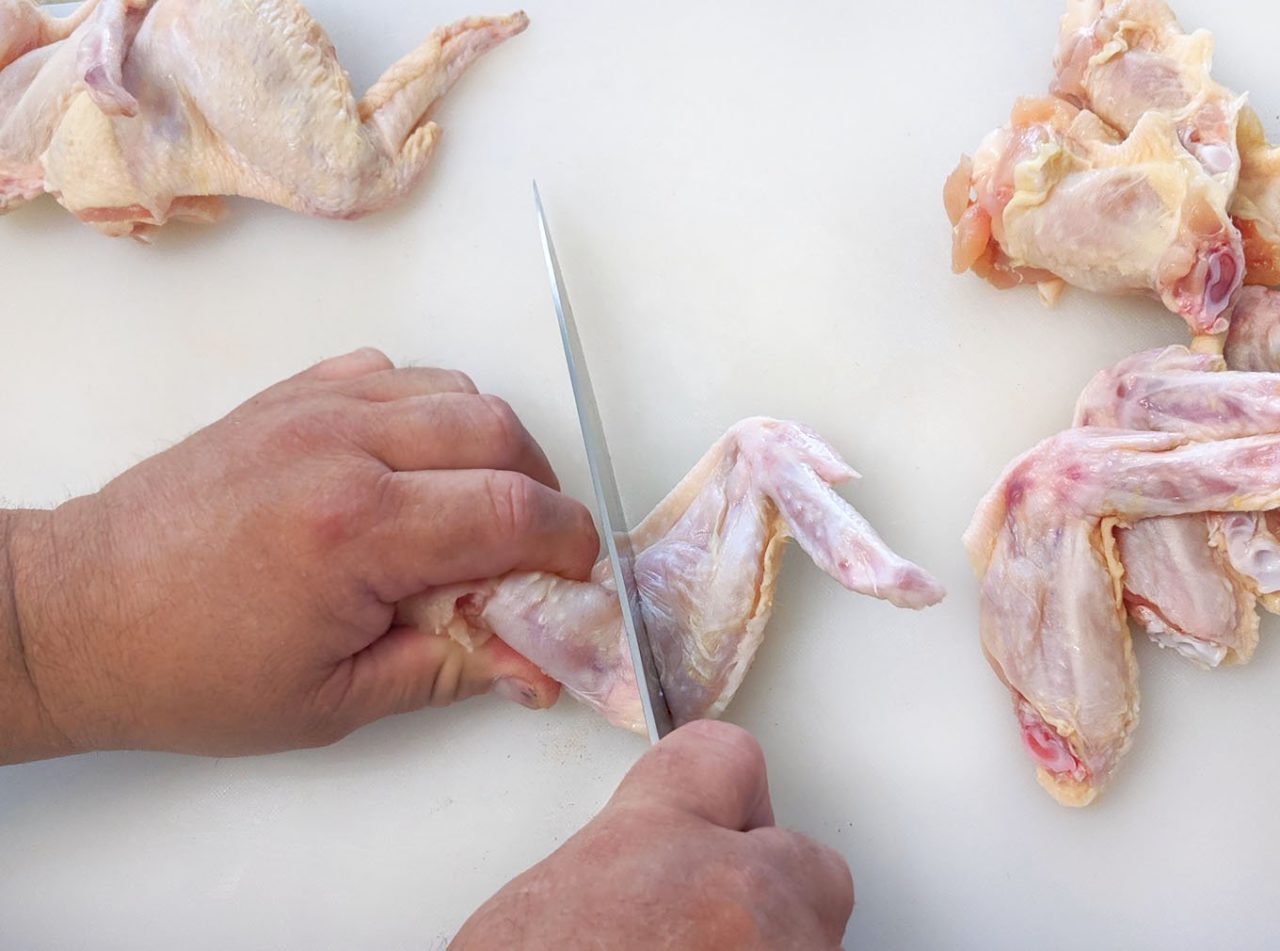 Cutting chicken wings is really simple. All you need to do is locate the joint and cut through it.
Hold one end firmly and securely while cutting through the joint carefully. I leave the wing tips on for some of the wing dishes I create, but feel free to chop off the wing tip if you prefer. (If you do remove the wingtip, save them in a ziplock bag in the freezer for the next time you make chicken soup)
Chef Dennis Tip: If you keep the knife down low (directly on the joint) you'll have less chance of cutting yourself
How do I make honey bbq sauce?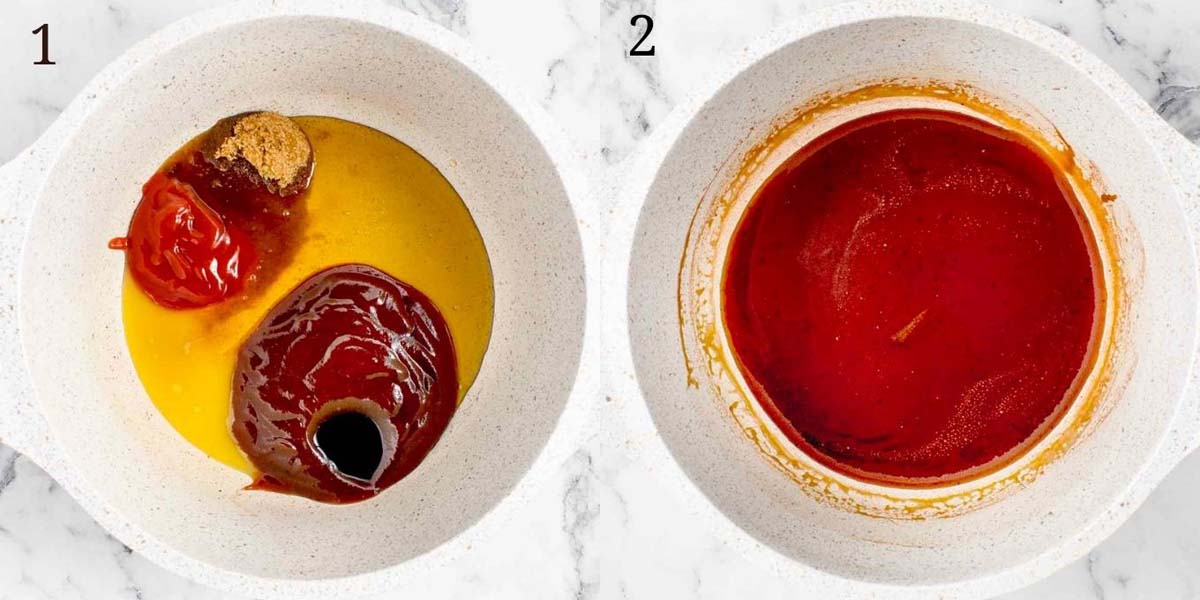 Mix togehter the ingredients for the honey bbq sauce in a medium sized saucepan.
Bring the sauce to a gentle boil, turn down the heat and allow to simmer for 3-4 minutes
Set aside until needed
How do I make air fryer wings?
Start by preheating your air fryer to 400 degrees F. Then pat dry the chicken wings with a paper towel.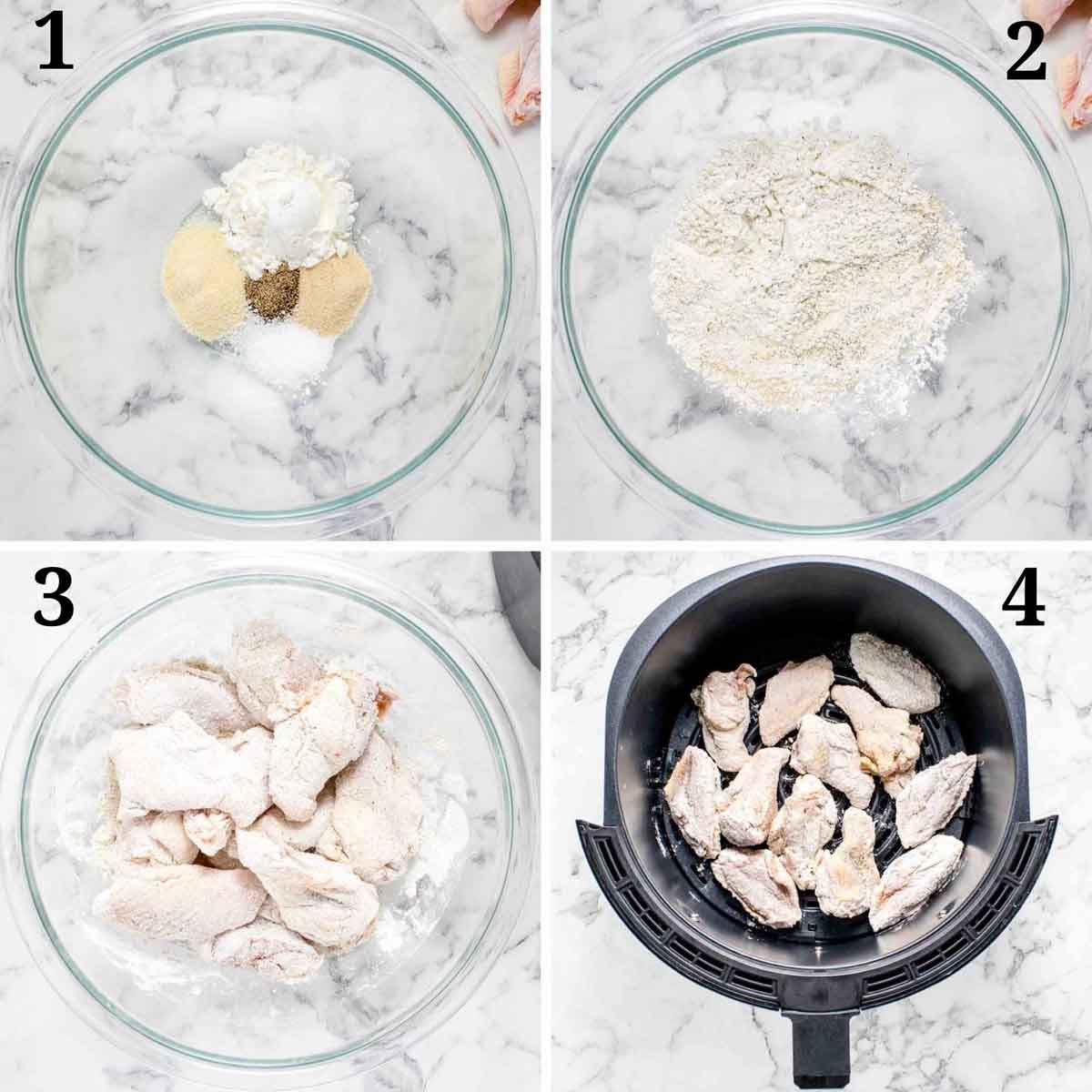 Stir together the cornstarch, garlic powder, onion powder, salt, and pepper in a large, shallow bowl.
Toss the chicken into the seasoning mixture and coat them thoroughly. Rub seasonings into the chicken wings to make sure it sticks to the wings.
After the wings are well covered in seasonings, lightly coat the wings with cooking spray.
Place wings in the air fryer and cook for 9 minutes on each side.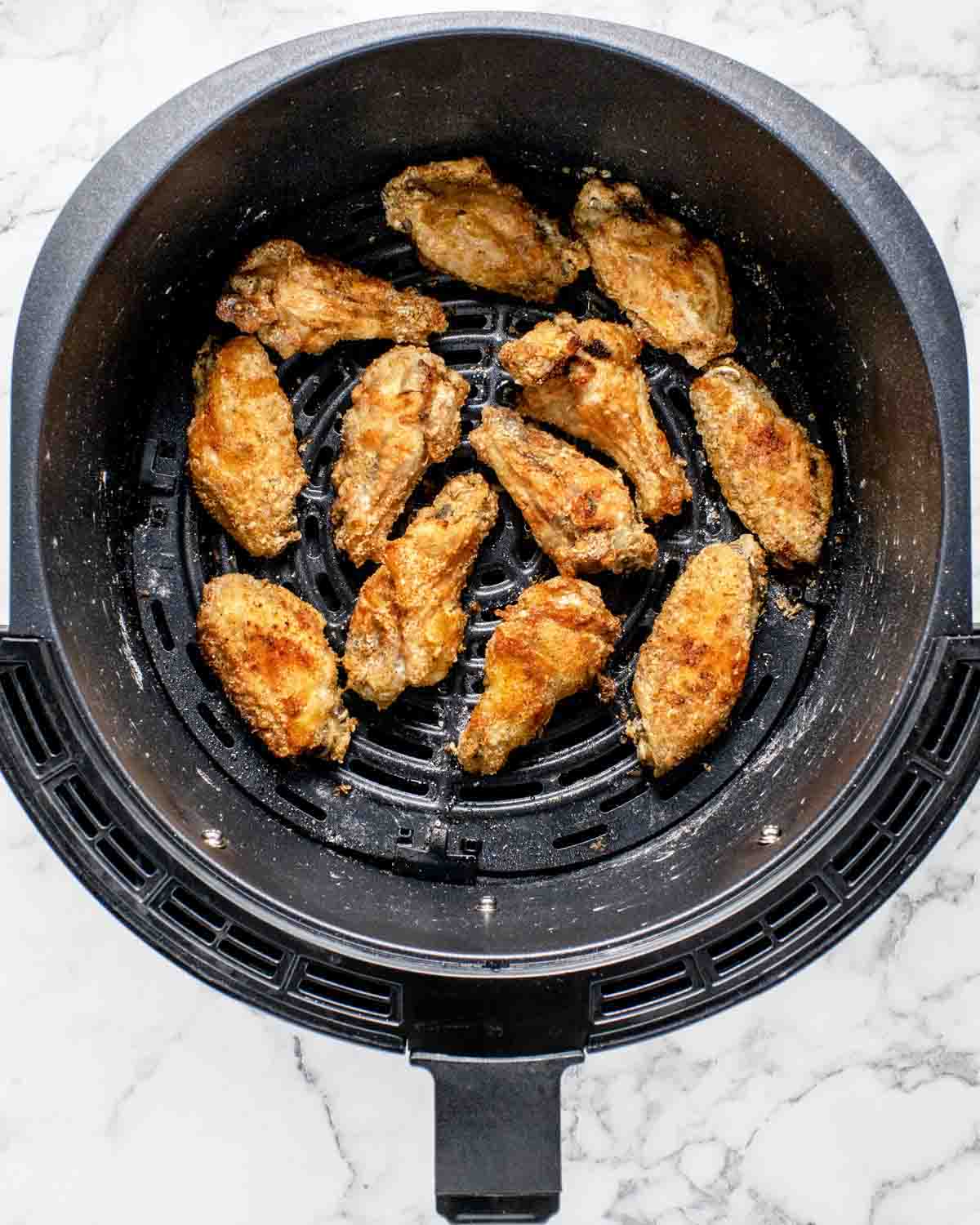 When finished cooking the wings should be crispy and golden brown.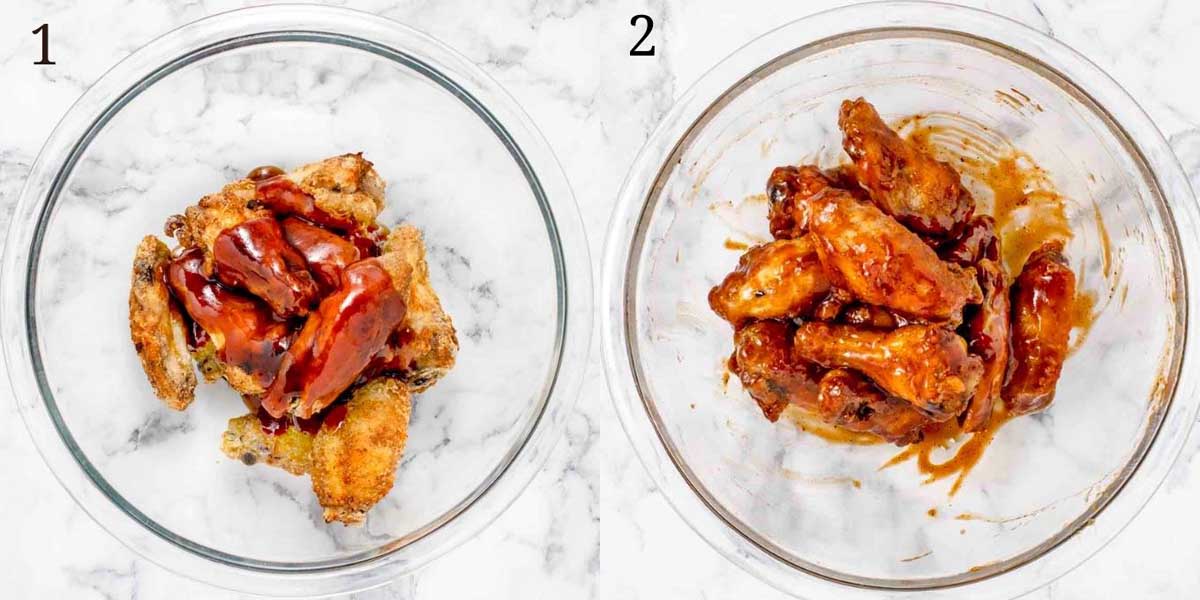 Add the honey BBQ sauce to the cooked wings
Toss the wings so the sauce completely coats the wings.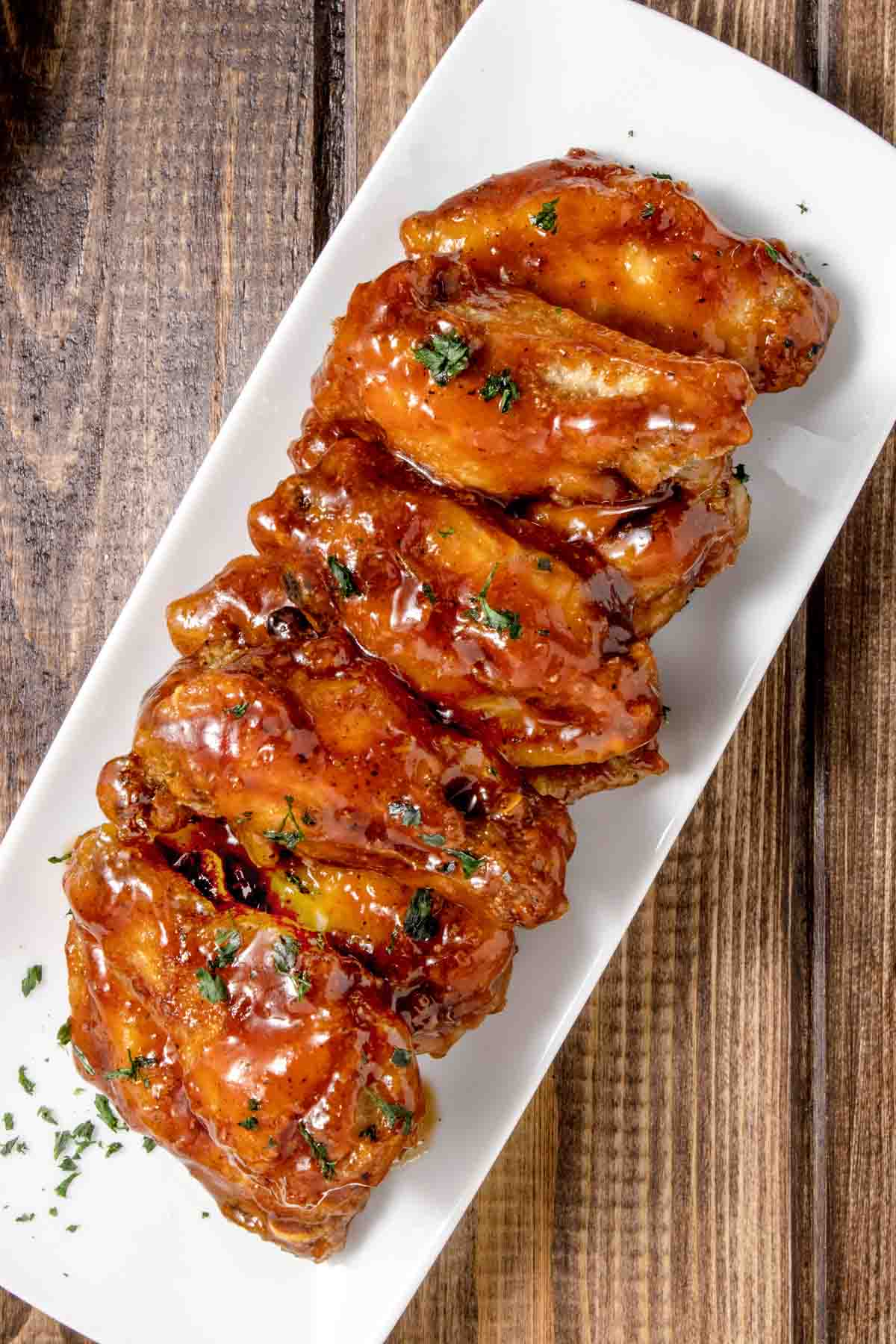 After tossing the wings in the barbecue sauce place them on a serving tray and garnish with fresh chopped parsley.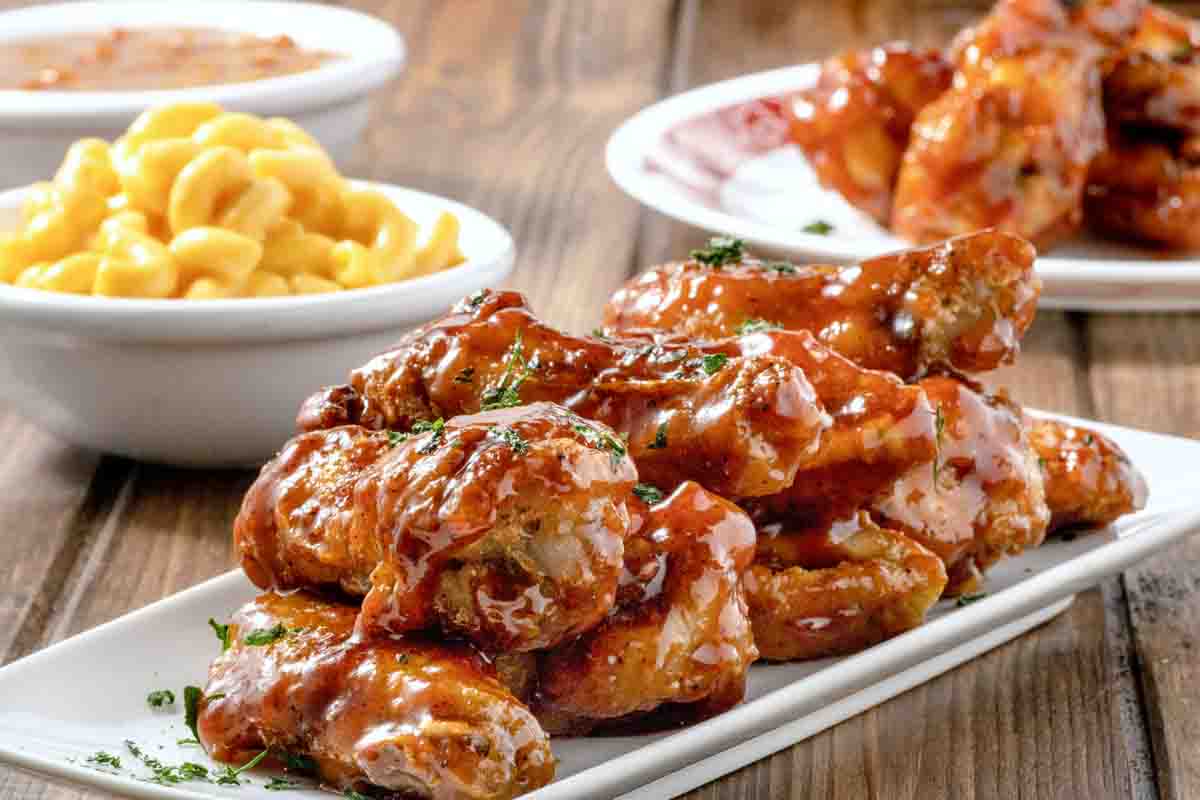 All that's left to do is sit down and enjoy your honey bbq chicken wings!
If you're looking for more delicious air-fryer recipes here is one for Air Fryer Pork Chops from one of my favorite bloggers!
Recipe FAQ's:
Can I cook frozen chicken wings in the air fryer?
Yes, you can. Place frozen wings in the air fryer basket. Set temperature to 400°F and air fry for 10 mins. Remove the wings from the air fryer carefully using kitchen tongs and place the wings in a large bowl. Drain any liquid from the air fryer basket.
Season the wings with your choice of seasonings (no flour). Toss the wings to coat with seasonings, then place wings back in the air fryer.
Cook for 7-8 minutes on each side until crispy and golden brown. Toss in barbecue or your choice of sauce and enjoy.
How do you put chicken wings in an air fryer?
Place the wings in the fryer basket so they are not touching (if necessary you can line up the drumettes standing upright along the sides of the basket).
Why do I spray the wings with cooking spray?
The cornstarch on the chicken wings can end up being a little grainy if you don't soak it with some cooking spray. To get a nice, crispy finish on the chicken, coat it well with the spray. That way you'll get that delicious bite everyone wants in a fried chicken wing.
More Chicken Wing Recipes You'll Love!