Slow Cooker Buffalo Chicken Dip is a delicious dip recipe that's perfect for game day, family get-togethers, or just about any party you might be hosting. Made with simple ingredients, it's the perfect party food.
Don't wait for your Super Bowl party to make my easy buffalo chicken dip. After one bite, you'll know why this creamy dip is one of my favorite buffalo chicken recipes.
I promise my crockpot buffalo chicken dip recipe will be one of your go-to appetizers for all get-togethers.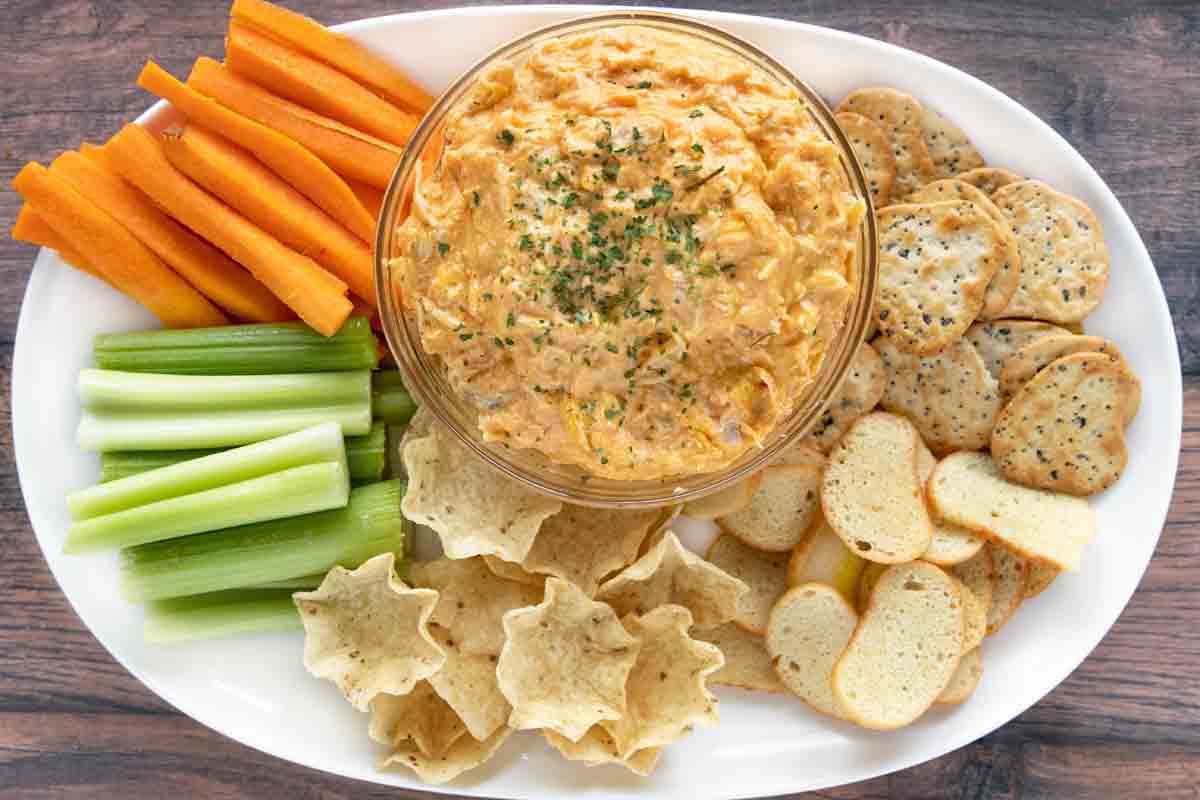 You're going to love the creamy buffalo flavor of this cheesy dip. It's perfect for dipping celery sticks, carrot sticks, tortilla chips, crackers or your favorite dippers.
If you love Buffalo chicken, make sure to try our World Famous Buffalo Chicken Wings and Buffalo Chicken Grilled Cheese.
Ingredients to make Slow Cooker Buffalo Chicken Dip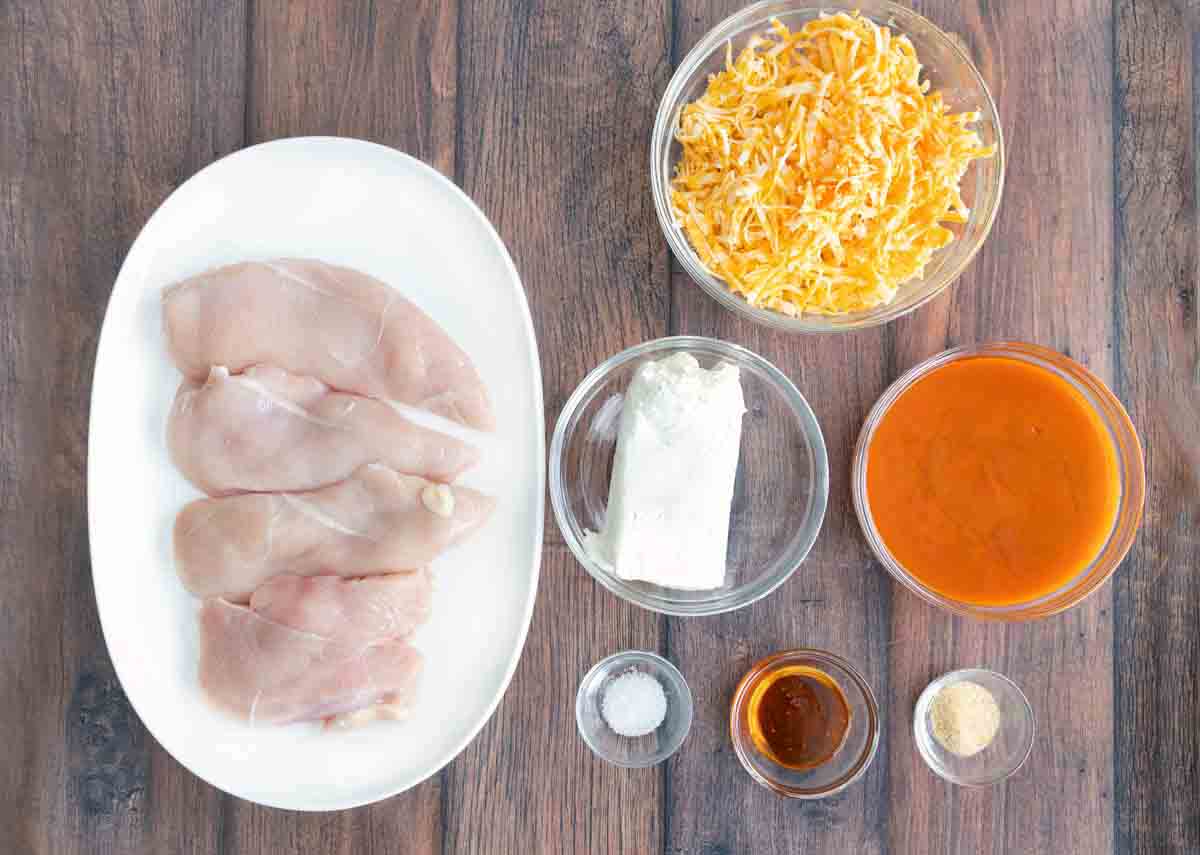 Let's start by gathering the ingredients we need to make my Slow Cooker Buffalo Chicken Dip. In Chef Speak, this is called the "Mise en Place," which translates to "Everything in its Place."
Not only does setting up your ingredients ahead of time speed up the cooking process, it also helps ensure you have everything you need to make the dish.
What type of cheese can I use?
For my recipe I used Colby Jack which is a combination of Monetery Jack and Colby cheese. Colby is similar in color to cheddar cheese, but it's softer, milder, and moister than cheddar, actually being closer in flavor to Monterey Jack.
But you can easily use your favorite cheddars, Swiss cheese and Gruyere to make my buffalo dip recipe. You can also create a blend of cheeses, using your favorites or what you have on hand to make this recipe, even including a little mozzarella cheese or bleu cheese crumbles into the mixture.
When possible I prefer shredding my own cheese instead of using pre-shredded cheese. Bags of shredded cheese contain preservatives like potato starch to keep the shreds from clumping together in the bag. But that also means they don't melt together as well as home shredded cheese when cooking.
How to make Slow Cooker Buffalo Chicken Dip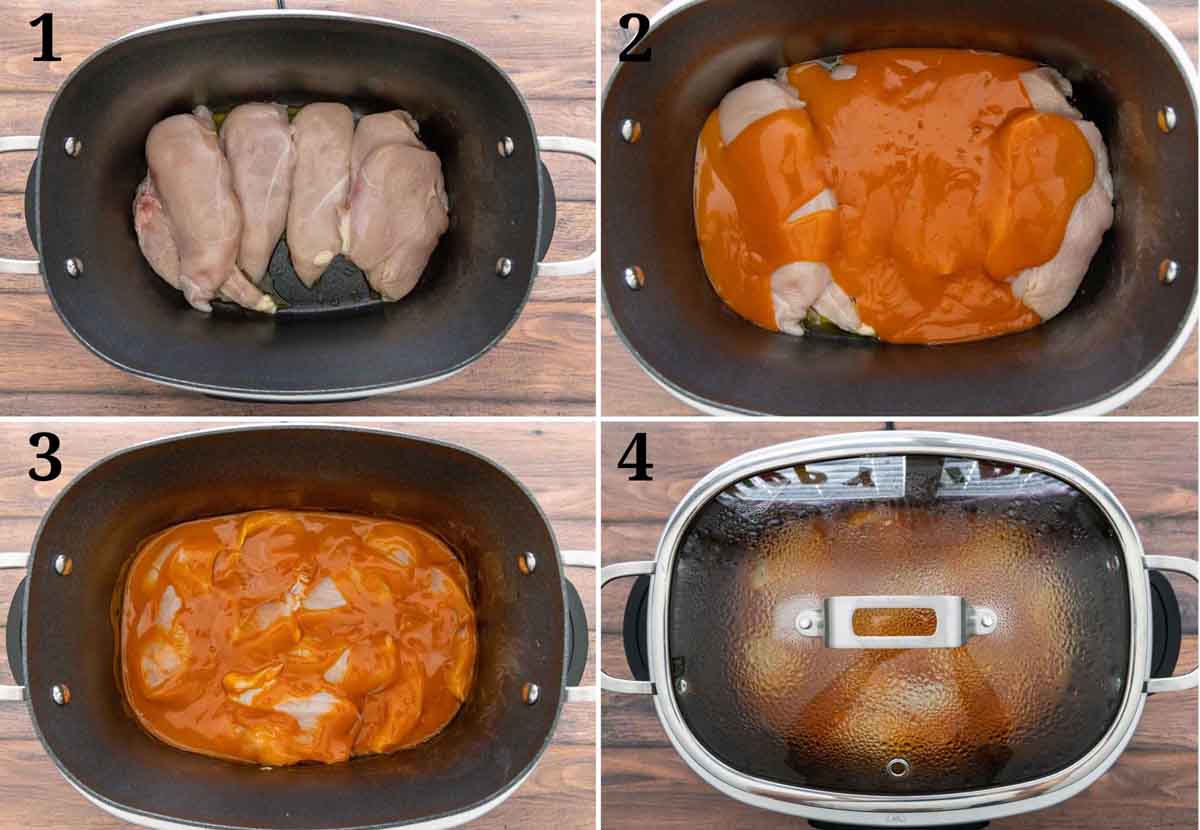 Place the chicken in a slow cooker on the low heat setting.
Pour the buffalo sauce over the top of the chicken and place the lid on the slow cooker.
Mix to coat the chicken with the hot sauce.
Cover the slow cooker with a lid and cook on the low heat setting for three hours or until an instant-read thermometer inserted in the thickest part of the breast has reached an internal temperature of 165 degrees.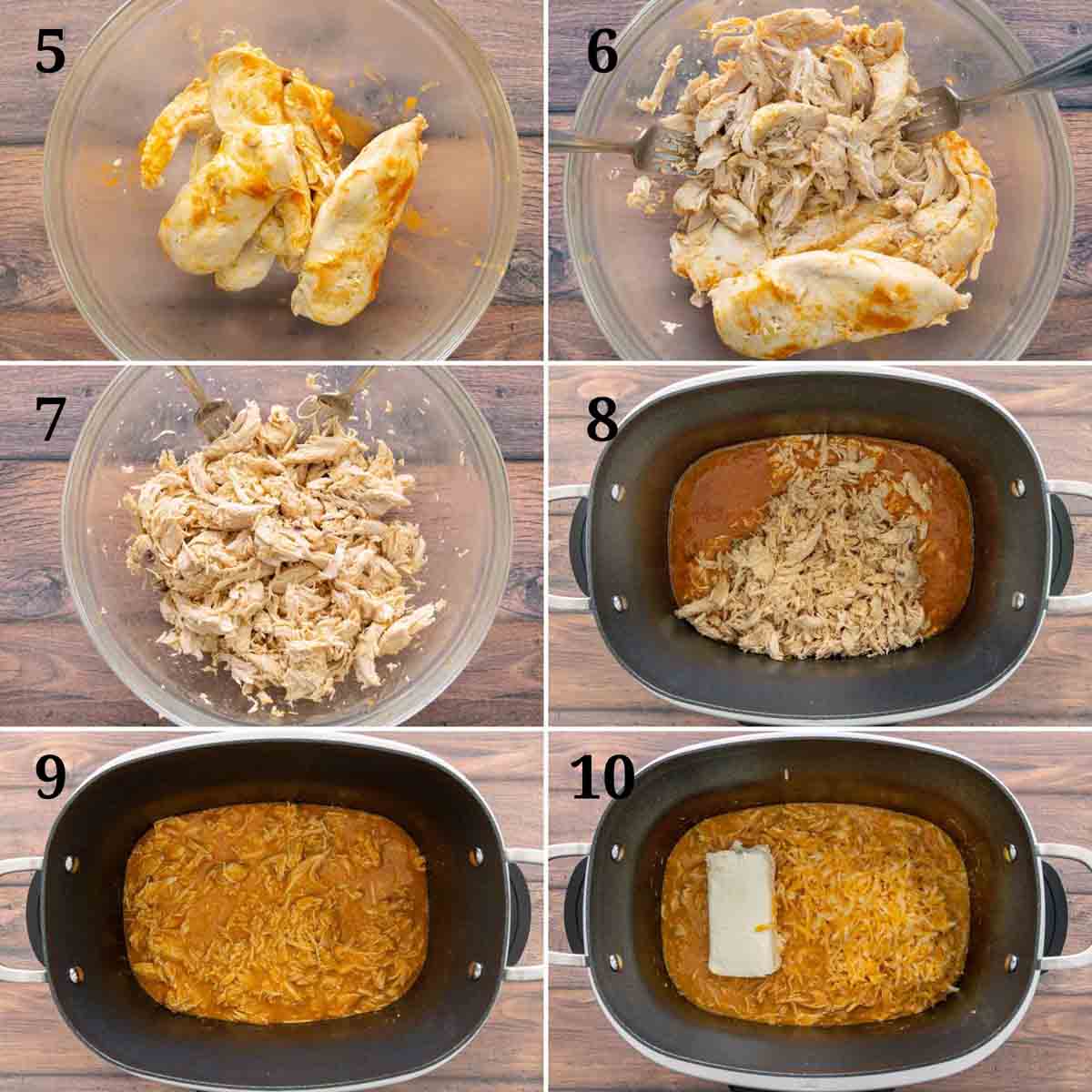 When the chicken is fully cooked, remove it from the slow cooker and place it in a large bowl or plate to slightly cool.
Use forks to pull the chicken.
Continue until all the chicken has been pulled.
Add the shredded chicken back into the slow cooker along with the honey, salt, and garlic powder.
Stir to combine.
Add the softened cream cheese and shredded Colby Jack cheese to the slow cooker.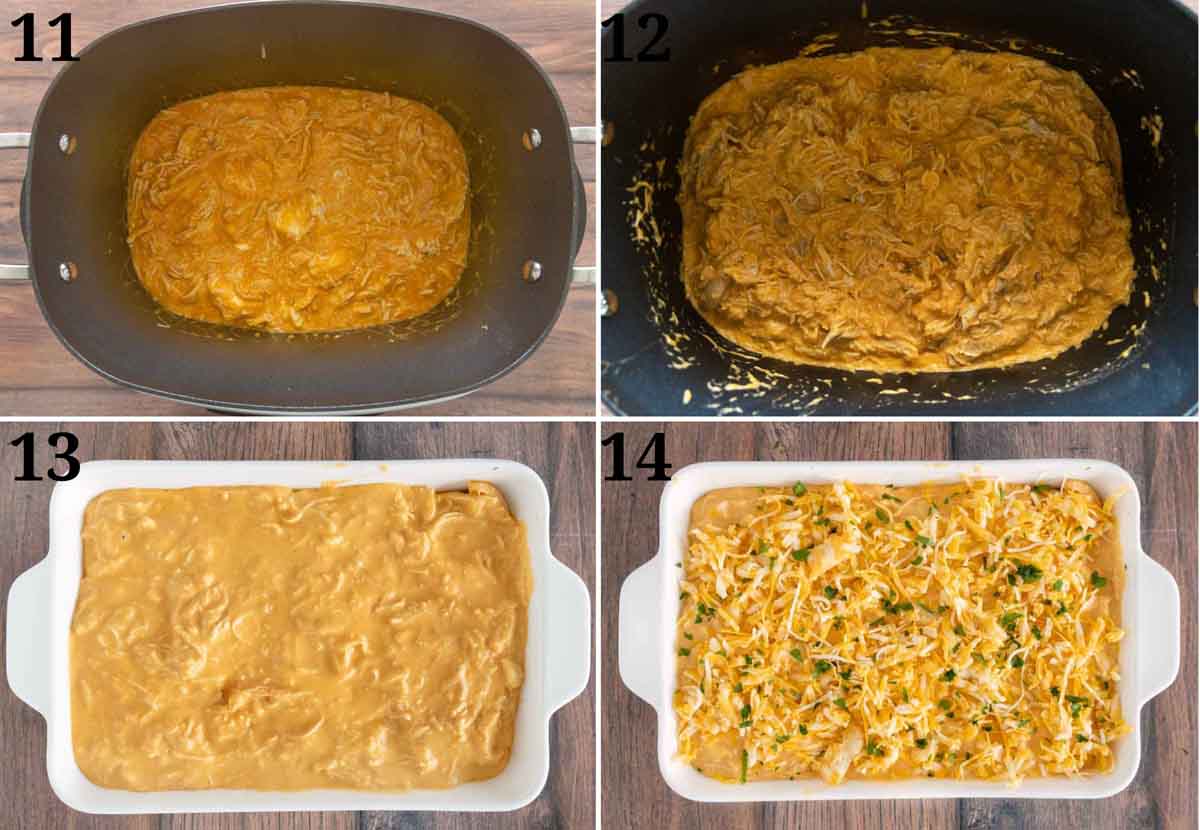 Stir until all the ingredients are fully combined.
Place the lid back on the slow cooker and continue cooking at low temperature for another hour. Stir as needed.
Pour the hot dip into a large casserole dish (or 2-3 smaller casserole dishes).
Top the casserole with shredded Colby Jack cheese and a sprinkle of chopped Italian parsley.
*This step is optional. The dip is ready and can be served without adding additional cheese.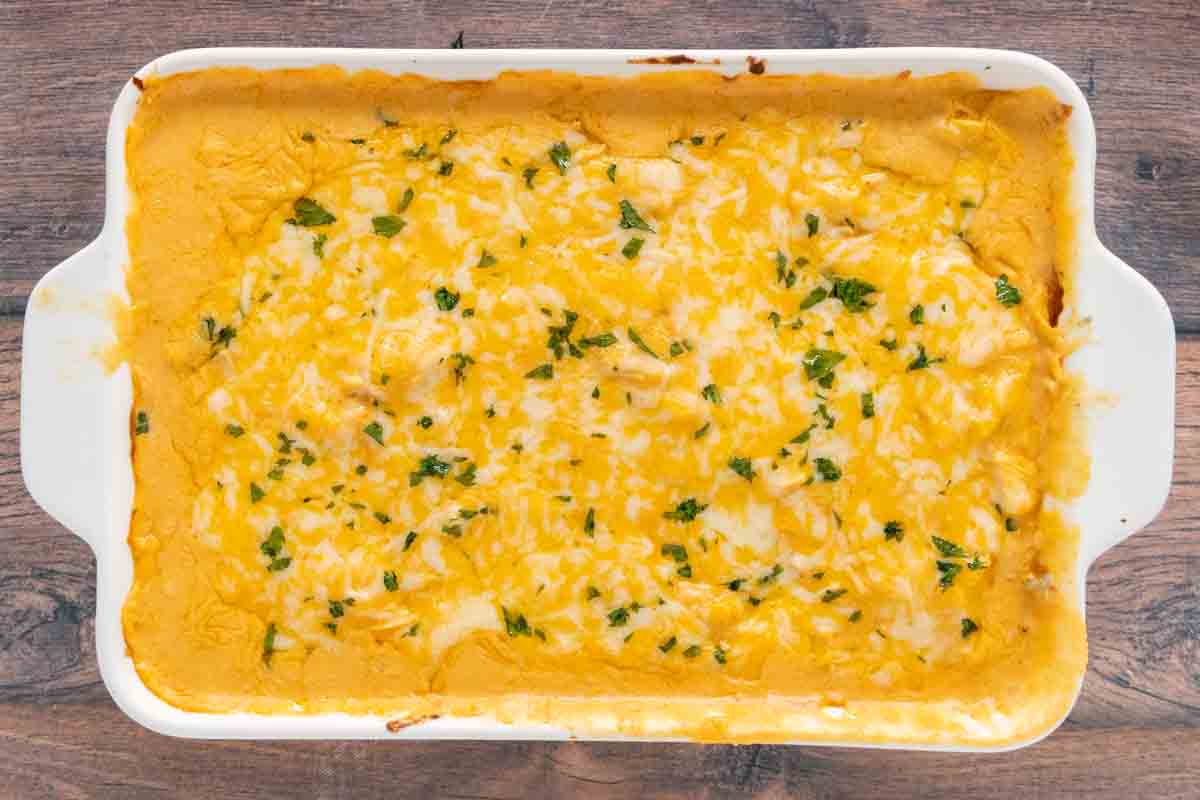 Place the casserole on the center rack of a 350-degree preheated oven for 15 minutes or until the cheese has fully melted.
*Check the temperature with an instant-read thermometer to make sure it has reached at least 165 degrees F.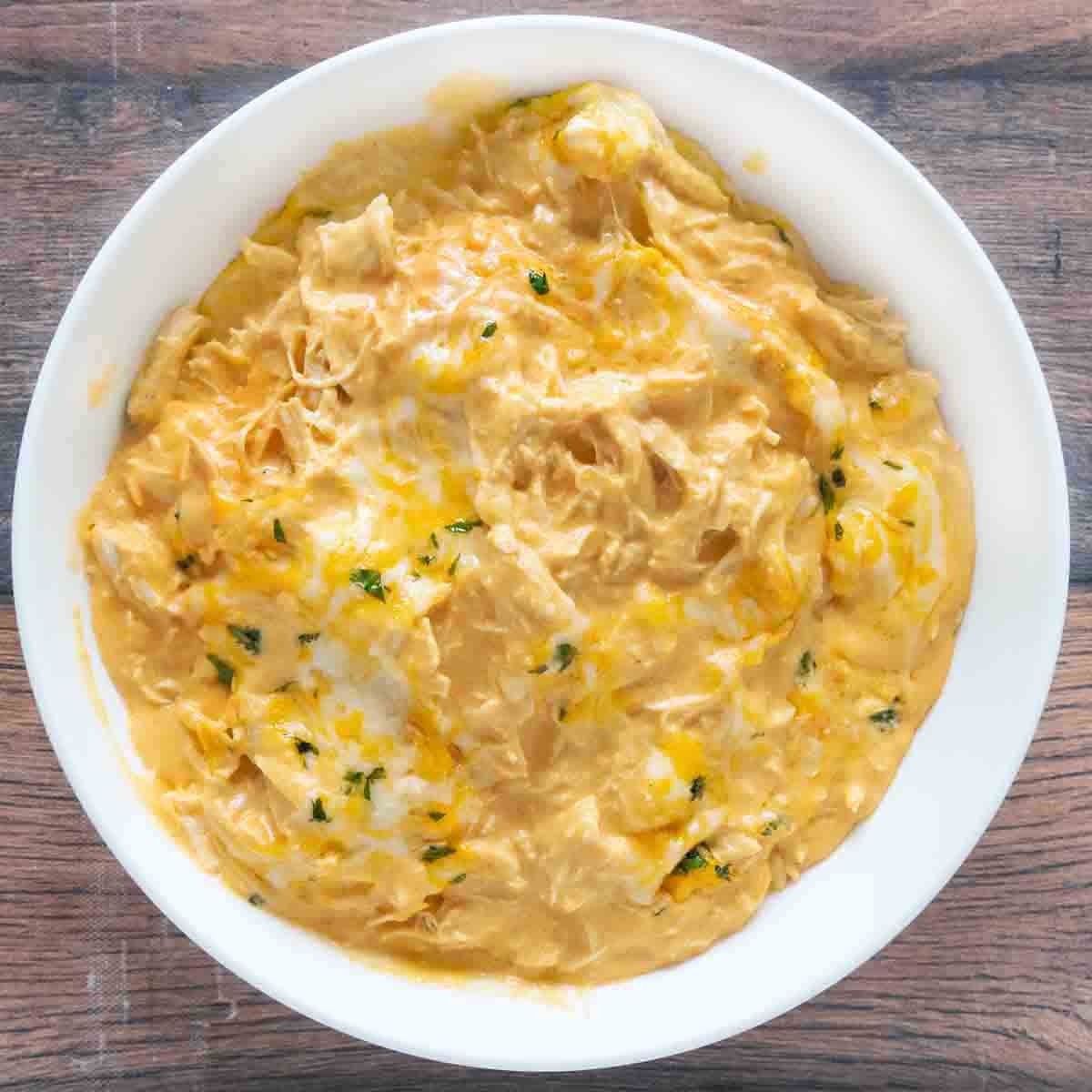 Wouldn't my creamy buffalo chicken dip be perfect for your next party? It's got all the flavor of buffalo wings without the fuss of the bones. I might be biased, but I think this is the best buffalo chicken dip I've ever tasted!
Store any leftover dip in an airtight container for 3 -4 days. To reheat, cover the casserole dish with foil, then place it in a preheated 350-degree oven and bake for 15-20 minutes or until an instant-read thermometer reaches at least 165 degrees F.
Chef's Choice
Chef's Choice
Recipe FAQs
Why is my Buffalo chicken dip runny?
If your dip is runny, it's usually because you didn't use enough chicken or used too much hot sauce. Also, using low-fat cream cheese will make the dip runny.
Why did my buffalo chicken dip separate?
Cooking the dip at high temperatures can cause the sauce to separate, which is why I recommend cooking it on a low setting. While the high setting will cook the dip faster, it can make the oils from the cheese and hot sauce separate, resulting in a greasy dip.
What types of cheese can I use in the dip?
I like using Colby Jack, but you can use your favorite cheddar cheese, Swiss cheese, Gruyere, or a combination of your favorite cheeses.
You can also add blue cheese to the dip or sprinkle bleu cheese crumbles on top of the dip when served.
More Dip Recipes You'll Love!