For a truly decadent dessert try my Chocolate Mousse. This is the real deal, a classic chocolate mousse recipe that will rival the best restaurants in France.
This post includes affiliate links. As an Amazon Associate I earn from qualifying purchases.
I can tell you to the day, the first time I tasted chocolate mousse, now I'm talking about real chocolate mousse, not the instant or quick versions that use gelatin to bind them, they may make fine cake fillings, but once you've had the real thing, there is no substitute.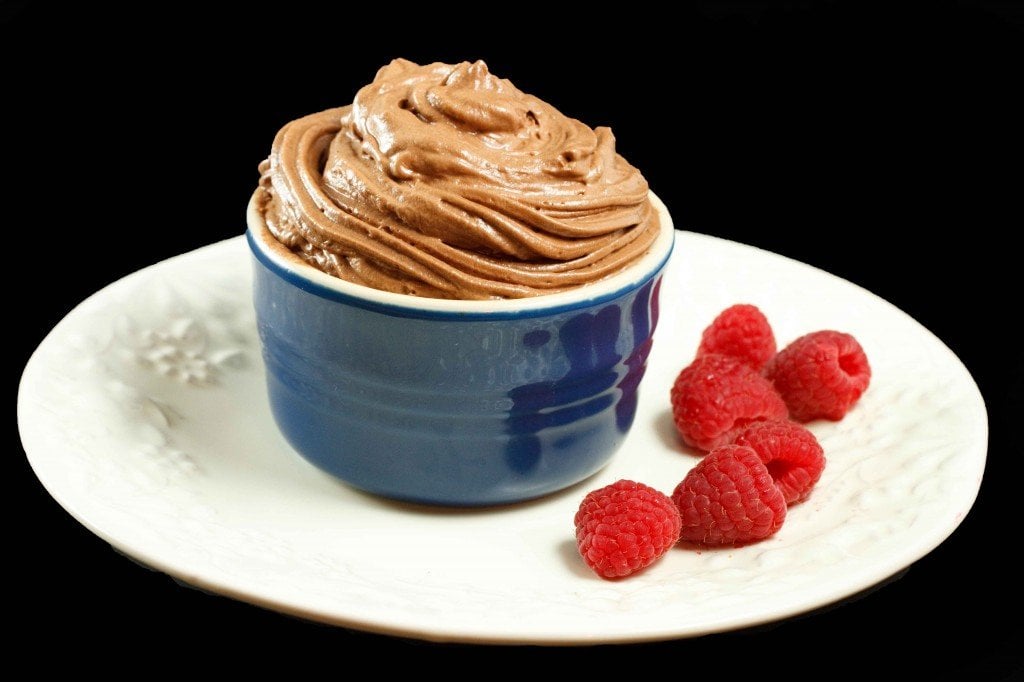 I had been working for a few days repairing a leaking roof over Mama Jeanette's long-closed restaurant before I started, she had told me "Sonny boy, ain't no use fixin that roof, no one ever gonna sit in that dining room again". It had been an elegant room, one that was now dust covered and disheveled with the occasional bucket placed around the room to catch the rain water. It was only a matter of time before it had been ruined completely and it I just couldn't bear to let that happen, and although she complained about me wasting my time, I couldn't help but notice the occasional smile on Mama Jeanette's face as she watched me work. It felt good to work, to be outside, and to feel useful again, it had been too long since anything I had done mattered, even if it only mattered to me.
There weren't very many culinary lessons that week, I worked through lunches and the only time we had to talk was over dinner, always the teacher Mama Jeanette would go into great detail on how she prepared each dish, and then I would repeat it back to her, over and over again until she was sure I remembered. I was almost done with the roof and must have looked exceptionally tired that night, as we went through our ritual…… She stopped and looked me, and pointed to her head and said "sonny boy you can remember everything that Mama taught you here, and it will always be there"…..and then she pointed to her heart and told me, "but for it to mean anything, it has to come from here…….You gotta cook with your heart sonny boy, or it don't mean nothing at all"
The next day I finished the roof, and as I climbed down, Mama Jeanette met me at the ladder and told me to get cleaned up for dinner. When I got to my room I found a suit, freshly pressed shirt and tie waiting for me, I didn't need any more instructions, it was plain to see I was dressing for dinner. As I made my way into the kitchen Mama Jeanette was waiting for me. but what I hadn't expected was to see her in a chef's coat and black pants, and as she led me into the dining room I got an even bigger surprise. The room was immaculate, every table set, glasses sparkling, candles lit and music was playing……I was in awe.
That night's lesson would be in tableside cooking, and it was an amazing evening and even more amazing meal. The night was no different from any other night, as we dissected each dish and I repeated the process until Mama Jeanette was satisfied I remembered every detail, and then we'd move on to the next course. This went on until I thought I could eat no more, and finally, she announced that dinner was done and it was time for dessert. I had expected a spectacular flaming dessert, but instead, Mama Jeanette went back into the kitchen and brought two crystal goblets filled with chocolate and topped with whipped cream and garnished with raspberries. As she set the dessert down in front of me, she said "Sonny Boy, if they don't have Chocolate Mousse in heaven I'm not going" and friends let me tell you, I thought right then and there that I must be heaven, because I had never tasted anything so good in my life.
I kept Mama's recipe locked away in my head and in my heart for years, it was really quite simple, and once you've made a sabayon, the rest is easy, and it becomes second nature to you. It's been years since I even thought of that night or that chocolate mousse, and I was afraid I had missed parts of the recipe, so I turned to my friend Nick Malgieri for help, (he may not know he's my friend but whenever I need a hand with anything having to do with desserts, I look to him first). It's funny but once I saw it print, it came back to me just like a light switch had been thrown…….thanks Nick, I know I can always count on you, and thanks Mama Jeanette, because of you everything I cook means something.
If you love chocolate mousse you might also like my Chocolate Mousse Cake Recipe.
If you've tried my Chocolate Mousse recipe or any other recipe on askchefdennis.com please don't forget to rate the recipe and let me know where you found it in the comments below, I love hearing from you! You can also FOLLOW ME on Instagram @chefdenniseats and @chefdennistravels, Twitter and Facebook
Print Recipe
Chocolate Mousse
For a truly decadent dessert try my Chocolate Mousse. This is the real deal, a classic chocolate mousse recipe that will rival the best restaurants in France.
Ingredients
13

oz

bittersweet or semisweet chocolate

finely cut

6

tbsp

butter softened

3 oz

1/2

cup

sugar

6

egg yolks

1/4

cup

strong black coffee or espresso

1/4

cup

Kahlua

3

cups

heavy cream*
Instructions
Chocolate
Place the chocolate in a stainless steel bowl, over a pot of simmering water, stir with a rubber spatula as the chocolate melts, if the pan starts to get too hot, remove it from the heat.

Continue to stir the chocolate until it has melted completely, then remove from the heat.

Cut the butter into 8 pieces and mix it into the melted chocolate until it has been completely absorbed by the chocolate.

Set the chocolate aside to cool to room temperature
Sabayon
add the egg yolks to the bowl of your mixer and begin to whip them until doubled in size, then begin to slowly pour the sugar in a steady stream into the yolks. Continue to whip for another minute.

add the liquid to the egg yolk mixture and place your mixing bowl over a pot of simmering water and whisk the yolk mixture until it becomes very thick.

When the egg yolks have thickened, continue to whip in your stand mixer until the mixture has cooled.
Combining
when the sabayon has cooled, fold it into the chocolate mixture until well blended.

Whip the cream in your stand mixer until it holds its shape, then fold it into the chocolate mixture.

Cover with plastic wrap and refrigerate until set.
Notes
* for an even more intense chocolate flavor, reduce the heavy cream by half, to 1 1/2 cups.
Nutrition
Calories:
614
kcal
|
Carbohydrates:
34
g
|
Protein:
5
g
|
Fat:
50
g
|
Saturated Fat:
29
g
|
Cholesterol:
235
mg
|
Sodium:
97
mg
|
Potassium:
274
mg
|
Fiber:
2
g
|
Sugar:
26
g
|
Vitamin A:
1435
IU
|
Vitamin C:
0.4
mg
|
Calcium:
85
mg
|
Iron:
2.6
mg