Crème Brûlée is on the top of almost everyone's dessert list when they go out to dinner. It's this magical, delicious dessert that everyone thinks is too hard to make at home. And that my friends is not true.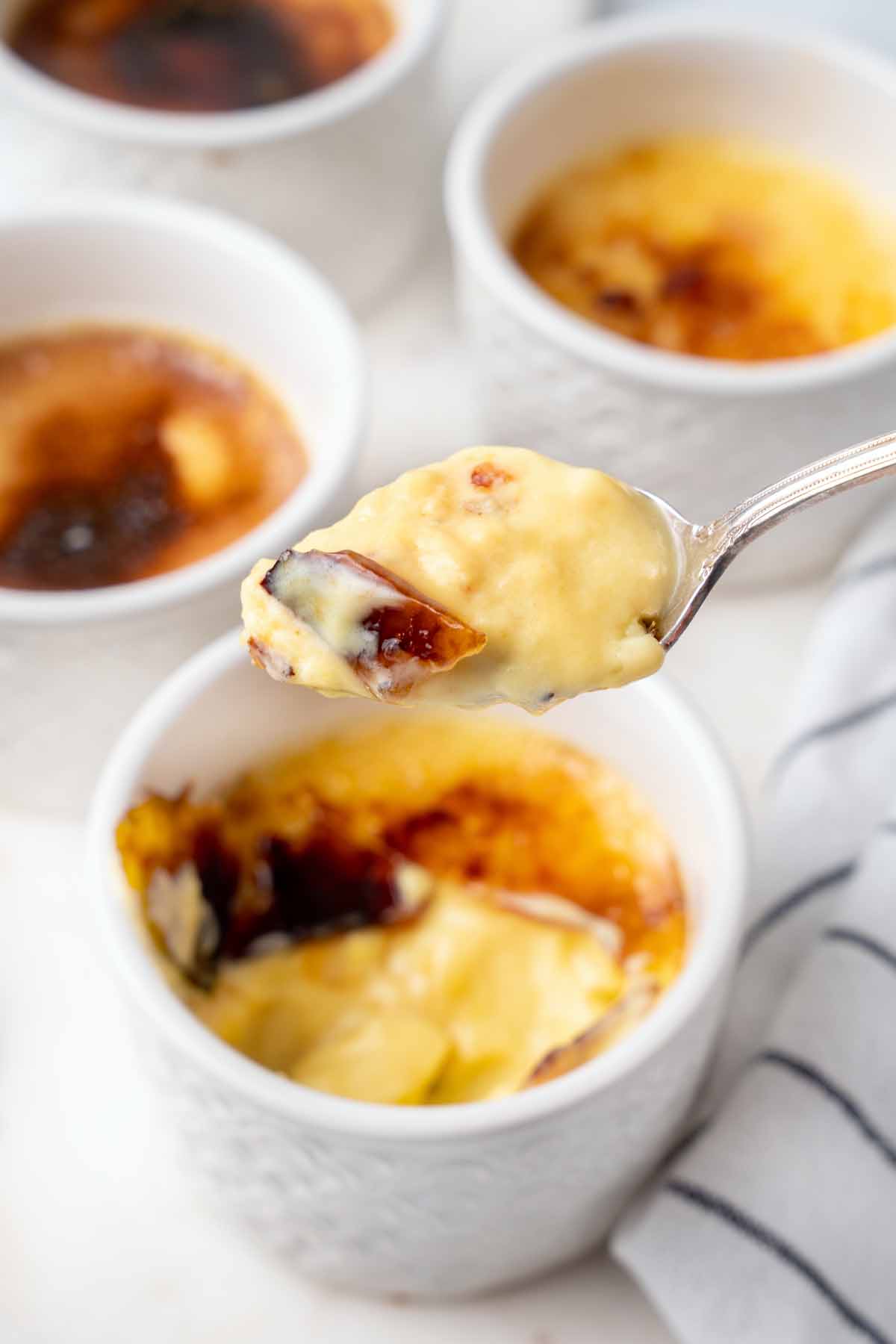 Well my friends, I'm here to dispel that myth and show you just how easy it is to make this OMG delicious Restaurant Style Dessert in your own home. You could be enjoying this creamy dessert for dinner tonight with just a few simple ingredients. Heavy cream, sugar, egg yolks and vanilla is all you need to make my creme brulee recipe.
If you love custard desserts, my Authentic Spanish Flan is amazing!
What Ingredients do I need to make Creme Brulee?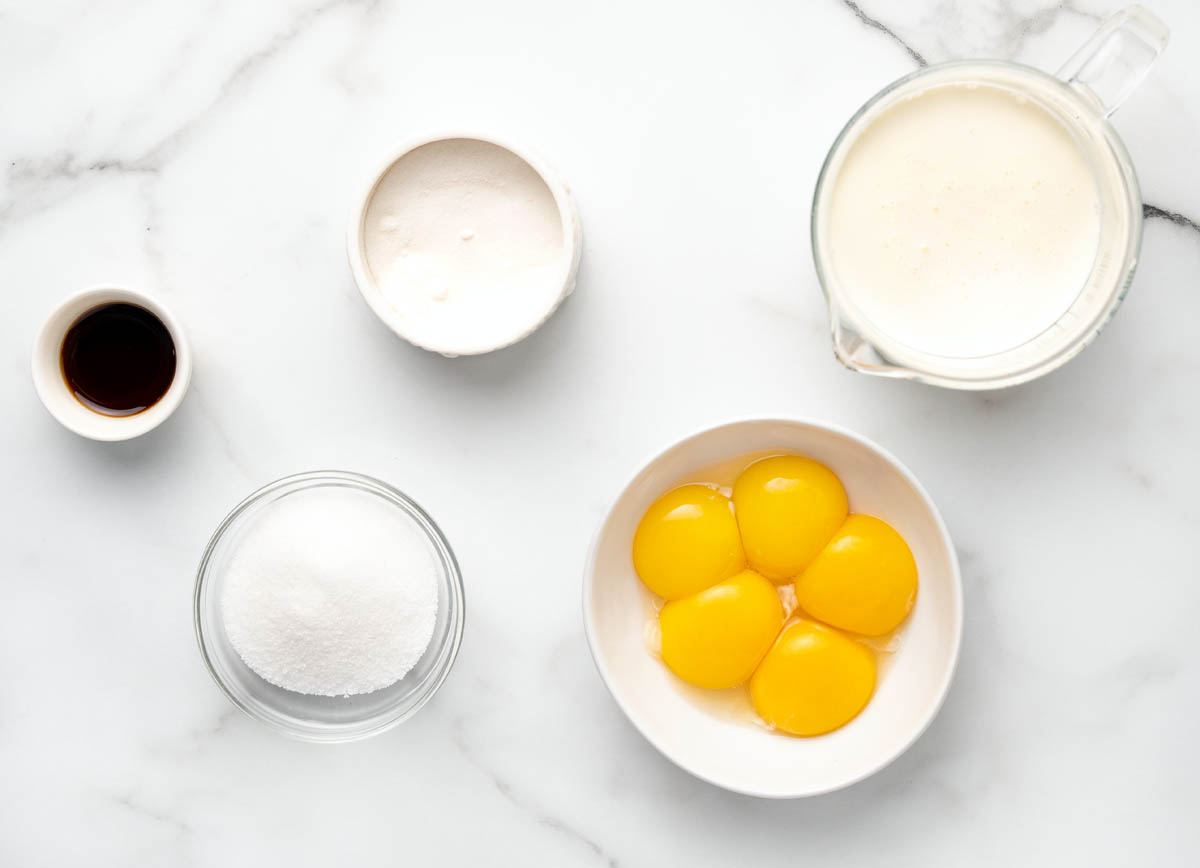 Let's start by gathering the ingredients we need to make Creme Brulee. In Chef Speak this is called the "Mise en Place" which translates to "Everything in its Place".
Not only does setting your ingredients up ahead of time speed up the cooking process, it also helps ensure you have everything you need to make the dish.
How do I make Creme Brulee?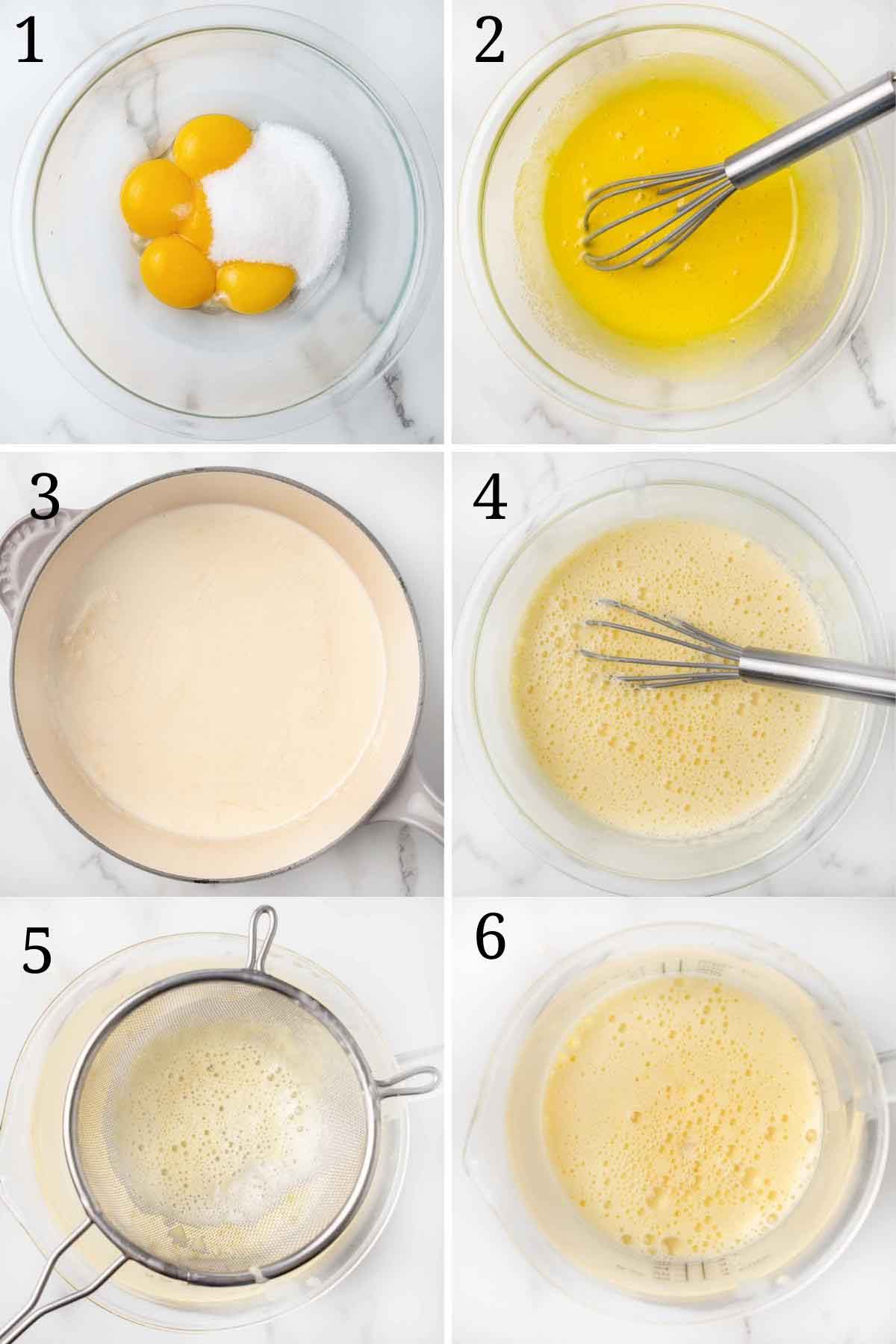 Add the eggs and sugar into a mixing bowl.
Whisk the egg yolks and sugar until thick and pale, about 2-3 minutes (You can do this with a wire whisk or hand mixer on a low setting).
In a medium saucepan, over medium-high heat, bring the cream to the scalding point (the cream should just begin to bubble around the edges. You don't want burnt cream). Remove the pan from the heat and allow it to cool slightly.
Gradually pour the scalded cream into the egg mixture, making sure you keep whisking constantly so the eggs don't curdle.
Stir in the vanilla extract.
Strain the custard mixture into a large measuring cup.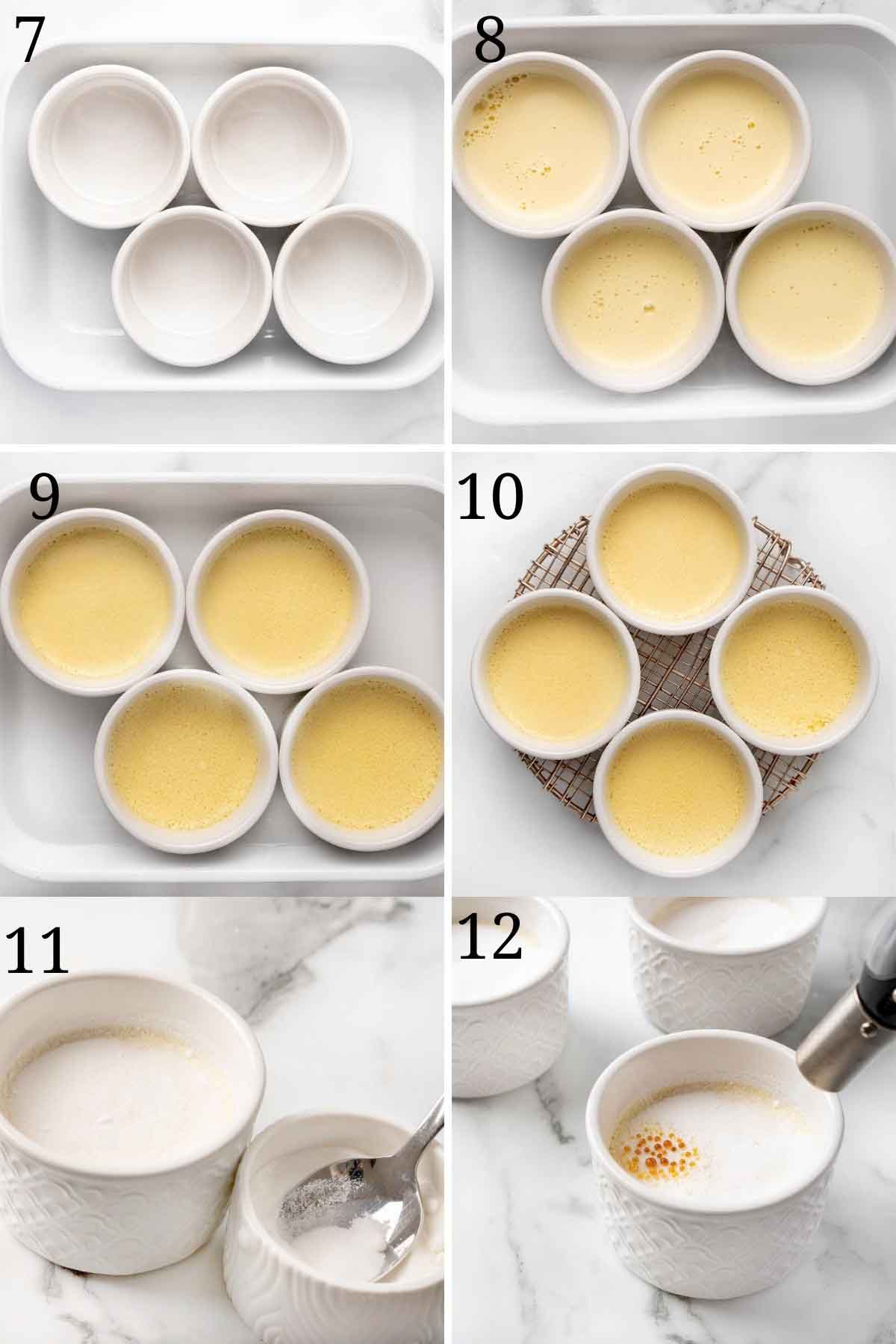 Place four, one cup ramekins in a roasting pan and pour the custard mixture into the ramekins.
Prepare a water bath for the creme brûlée by carefully pouring enough hot or boiling water into the roasting pan, to halfway up the sides of the ramekins.
Bake for about 30 – 40 minutes (baking time can vary depending on size of ramekins and temperature of water) or just until the custards are set (a slight jiggle is okay).
Immediately remove the custards from the water bath and cool to room temperature on a wire rack for about 15 minutes. When cooled, refrigerate the creme brulee uncovered for at least 2 hours or until cold and firm (after they are chilled they can be covered and stored in the refrigerator for about three days).
Remove the custards from the refrigerator and sprinkle an even layer (about 1 tablespoon) of granulated sugar over the top of the custard.
Using a handheld kitchen torch, caramelize the sugar until it is golden brown and bubbly. Place the torch about 2 inches, at an angle, over the custard and move the torch around until the sugar melts and caramelizes into a thin layer.
Allow the sugar to cool so it firms up and serve.
This is my favorite kitchen torch and creme brulee set.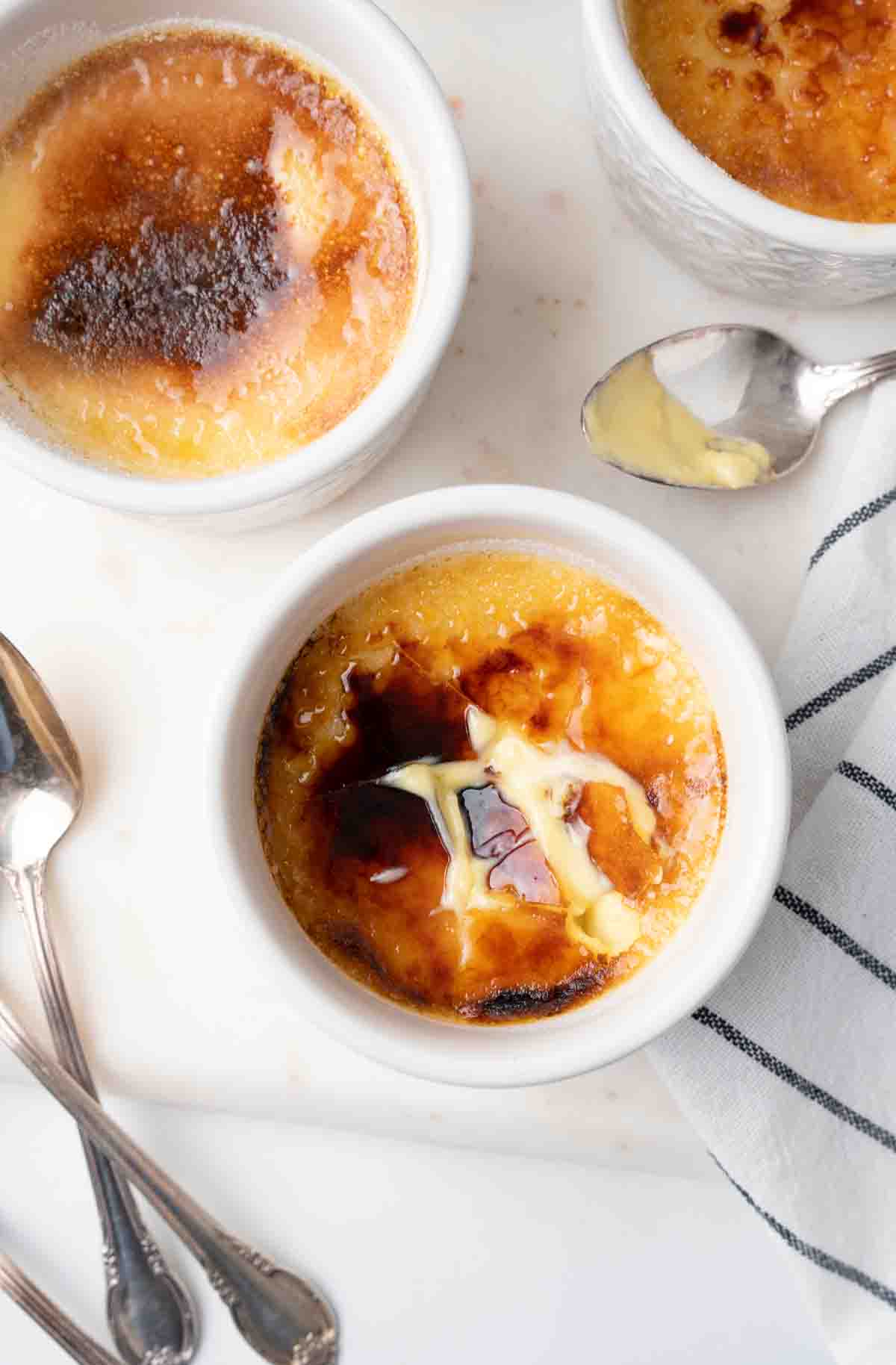 I love cracking the caramelized sugar crust on the creme brulee, it's all part of the experience.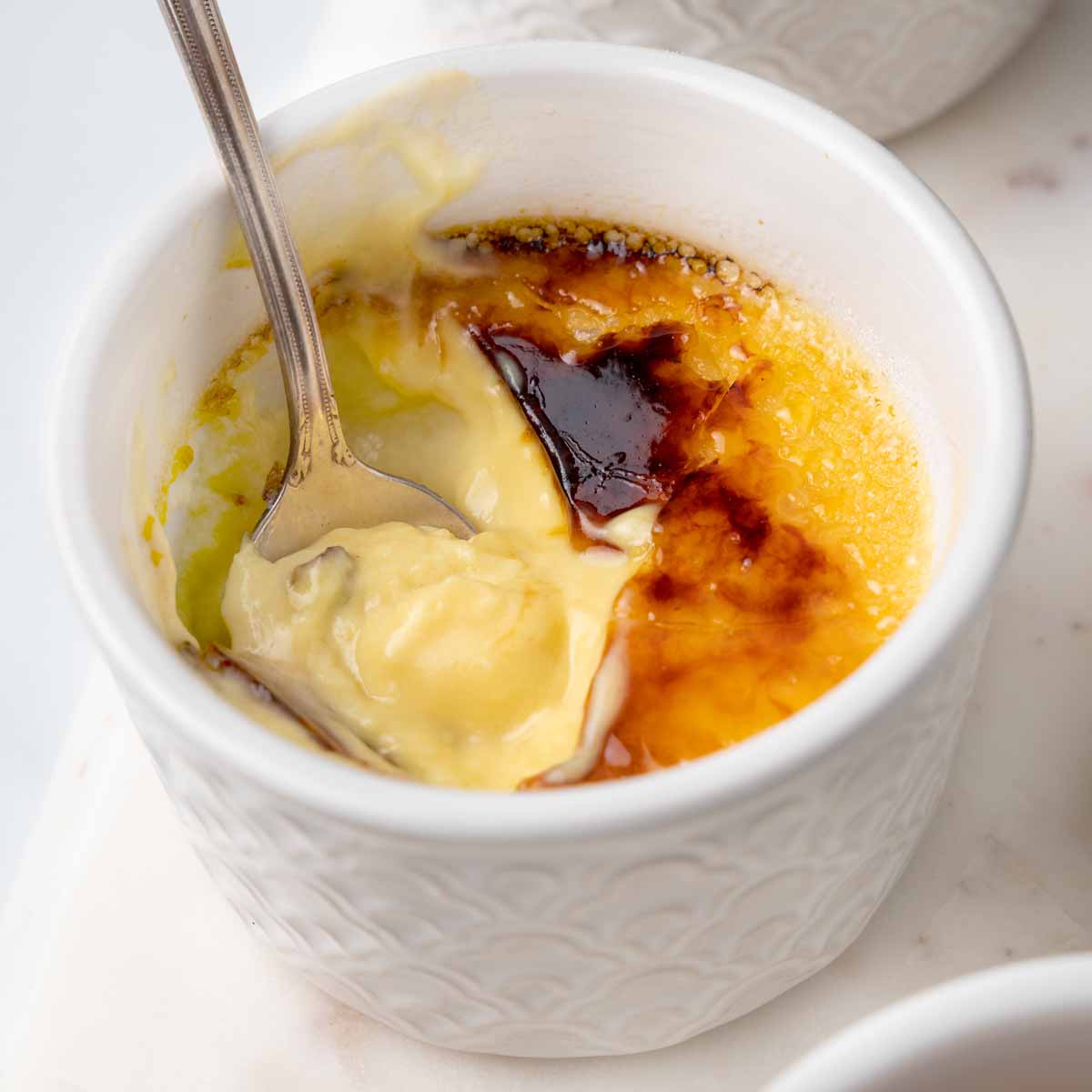 Then it's time to enjoy this delicious, oh so creamy and decadent dessert. And you don't have to tell your friends and family how easy it was to make, that will be our little secret.
Recipe FAQ's:
What is Cream Brulee mostly made of?
Creme Brulee is made of a few simple ingredients, heavy cream, egg yolks, sugar and vanilla. It's a creamy, pudding-like, baked custard with a top of melted sugar that cracks when you tap it with a spoon.
Does Creme Brulee need to be made in ramekins?
Yes, it does. Creme brulee should be made in either a wide shallow dish, or 6 ounce ramekins. Anything larger will require too long to bake and affect the consistency of the custard. The ramekins should be made of porcelain.
Do I need to cook the creme brulee in a water bath?
Yes, you do. Baking the custards in a water bath keeps the air in the oven moist, and prevents the crème brûlées from cracking. The water should come about halfway up the ramekins.
More Recipes You'll Love!