Every now and then the mood for chocolate hits me and it just so happened that I had a Chocolate Mousse class on Google+ Saturday that left me with a batch of chocolate mousse, and nothing to do with it…..sigh, don't you hate when that happens?   Well I didn't have to think too long to decide that a chocolate mousse cake was in order, the only problem would be finding a home for most of it quickly so I didn't gorge myself on cake!   I'm like a puppy where cake is concerned and will eat it until I explode, so I wanted to make sure to remove the temptation.
What I did end up with was an incredible chocolate cake (using my olive oil chocolate cake recipe) with ribbons of rich indulgent chocolate mousse in between the layers, can you say decadent?   But I didn't stop there, rather than just use the mousse for the frosting I decided to blend some mascarpone cheese into it!  What I got was a light creamy version of the mousse, that didn't overpower the cake.
I used a cake ring for the first time, and since the ring wasn't quite tall enough, I stopped at 3 layers, (I originally had planned on 4 layers) but I don't think the cake suffered for lack of the additional layer.  If you do make the cake and decide to go for the gusto, you'll have plenty of mousse to do it with so don't worry.
My Chocolate Mouse cake did not disappoint, it was rich and chocolaty without being overpowering, I enjoyed mine with a tall glass of ice cold milk, but it would also go great with a good cup of coffee.   If you're planning a party and looking for that special dessert to wow the crowd,  I can recommend this cake, your guests will be in chocolate heaven, all begging for the recipe!   It would also make the perfect birthday cake for that chocolate lover in your life, but you don't really need an excuse to make this delicious decadent cake………. after all its Chocolate!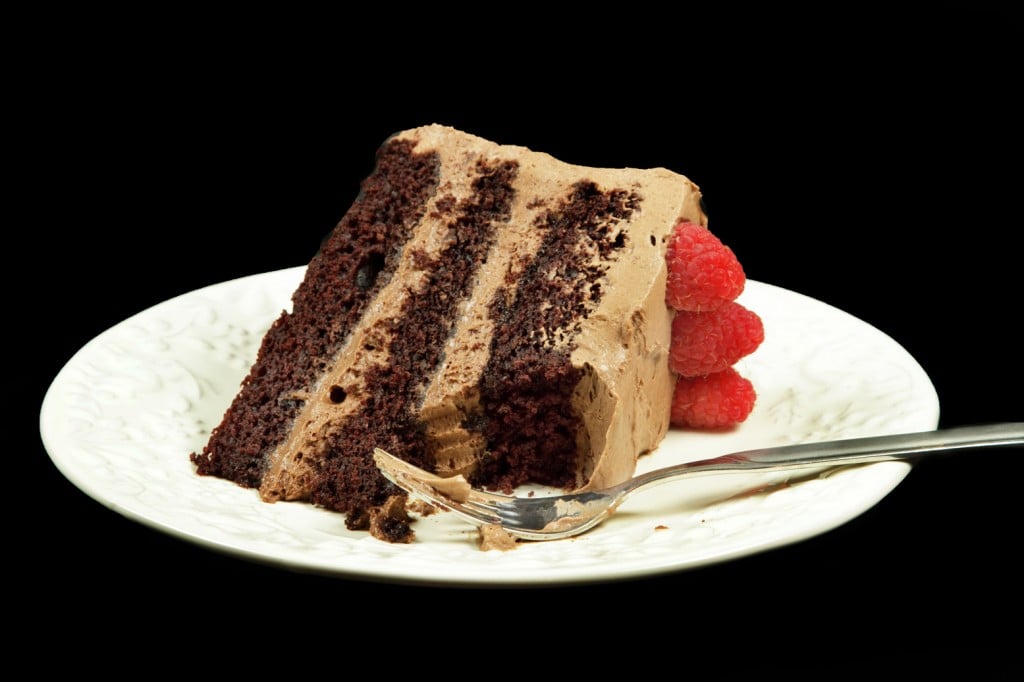 Ingredients
Chocolate Olive Oil Cake
3

cups

all purpose flour

360 gm

2

cups

sugar

400 gm

6

tablespoons

cocoa

2

teaspoons

baking soda

teaspoon

½ salt

3/4

cup

extra virgin olive oil

180 ml

2

tablespoons

white vinegar

1

tablespoon

vanilla extract

2

cups

cold water

475 ml
Chocolate Mousse
13

oz

bittersweet or semisweet chocolate

finely cut, 368 gm

6

tbsp

. butter softened

3 oz

1 /2

cup

sugar

113 gm

6

egg yolks

1/4

cup

strong black coffee or espresso

60 ml

1/4

cup

Kahlua

60 ml

3

cups

heavy cream

700 ml
Mascarpone Chocolate Mousse Frosting
8

ounces

mascarpone

230 gm

1/2

of chocolate mousse
Instructions
Chocolate Olive Oil Cake
Preheat the oven to 350ºF.

Mix the flour, sugar, cocoa, baking soda and salt together in a large bowl. With your mixer on low speed beat in the oil, vinegar, vanilla, and water until smooth. Pour the mixture into the two 9″ prepared pans, coated with butter and dusted in flour or sugar.

Bake for 30 minutes or until a cake skewer inserted in the center of the cake comes out clean. Do not over bake the cake. It should be firm to the touch, and a cake skewer inserted in the middle of the cake should come out clean.

Put the cake pans on cooling racks and cool for 15 to 20 minutes before removing the cakes from the pans to cool completely
Chocolate Mousse
Place the chocolate in a stainless steel bowl, over a pot of simmering water, stir with a rubber spatula as the chocolate melts, if the pan starts to get too hot, remove it from the heat.

Continue to stir the chocolate until it has melted completely, then remove from the heat.

Cut the butter into 8 pieces and mix it into the melted chocolate until it has been completely absorbed by the chocolate.

Set the chocolate aside to cool to room temperature

Sabayon

add the egg yolks to the bowl of your mixer and begin to whip them until doubled in size, then begin to slowly pour the sugar in a steady stream into the yolks. Continue to whip for another minute.

add the liquid to the egg yolk mixture and place your mixing bowl over a pot of simmering water and whisk the yolk mixture until it becomes very thick.

When the egg yolks have thickened, continue to whip in your stand mixer until the mixture has cooled.

Combining

when the sabayon has cooled, fold it into the chocolate mixture until well blended.

Whip the cream in your stand mixer until it holds its shape, then fold it into the chocolate mixture.

Cover with plastic wrap and refrigerate until set.
Mascarpone Chocolate Mousse Frosting
with your stand mixer whip remaining chocolate mousse with mascarpone until creamy.
Assembly
divide chocolate mousse into two portions, use one half to make mascarpone frosting and set aside.

slice each layer in the middle making two identical layers.

start with one layer, then add half of the chocolate mousse (not the frosting) to the layer spreading evenly, then repeat process using all but one half of one layer. (you'll have to just eat that part of the cake)

When the layers have been set, start frosting the cake using the mascarpone chocolate mousse frosting, spreading evenly.

top with raspberries and refrigerate for 1 hour to allow to set up.

slice cake, serve and enjoy!
Thanks for stopping by today, but I'm afraid that's all for today.   The old chef is a little beat up after feeding 90 people two days in a row by himself, and it's not so much all the prep, cooking and serving, its the clean up that kills me……sigh
The good news is that today was my last lunch of the year, and I'm taking a few days off to recuperate before heading in to break down the kitchen for the season.  Well actually just one day off, then Thursday I'm taking 20 of my girls to  the CIA in Hyde Park for lunch at the Escoffier Restaurant and a tour of the Culinary School.  It's a 3 1/2 hour bus ride each way, but I'm sure it will be a great experience for all of my girls to see a real culinary school.  Who knows, maybe one of them will be the next top chef one day!
Cheers!