If you've never had really good bread pudding, you don't know what you've been missing. The sad truth is, most recipes you'll find are barely passable and most restaurant bread puddings are better suited as door stops then the rich creamy dessert it should be.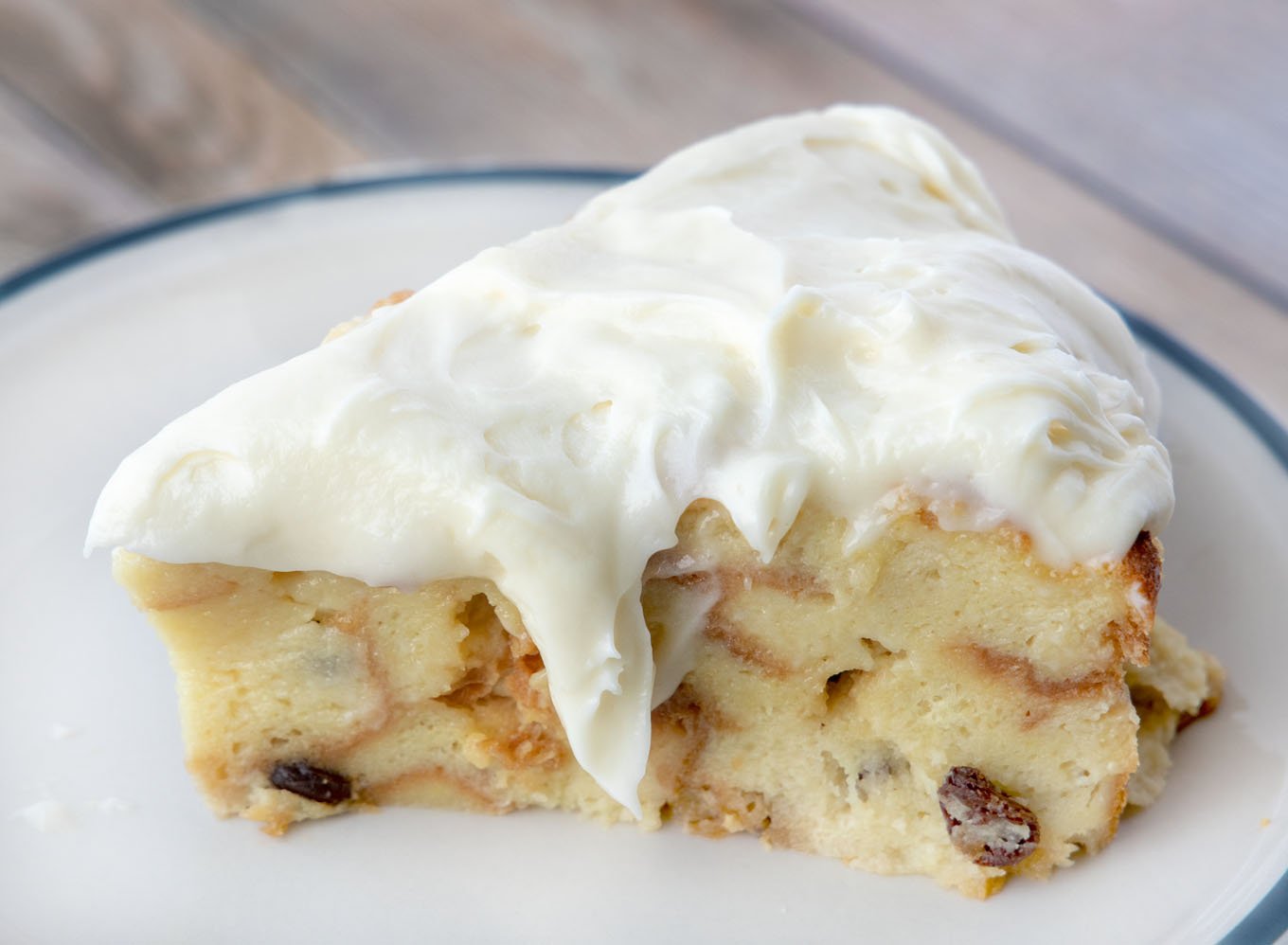 What do I need to make the Best Bread Pudding?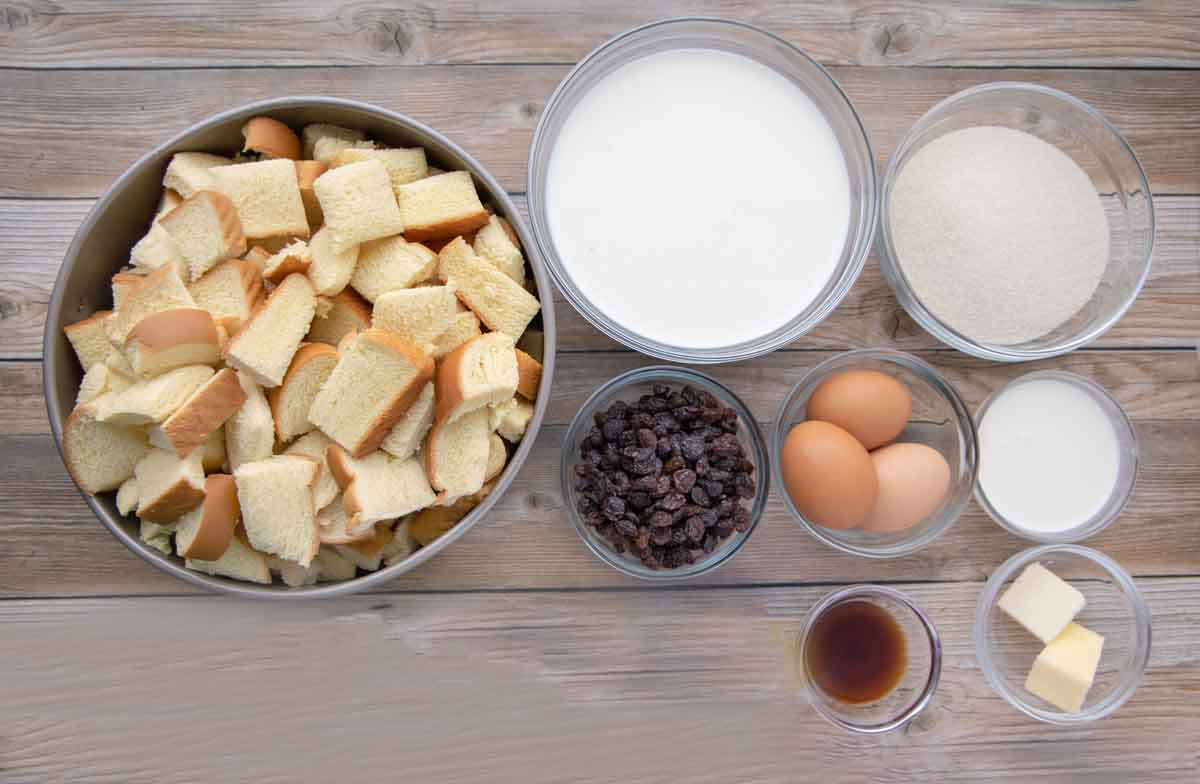 Let's start by gathering the ingredients we need to make the best bread pudding. In Chef Speak this is called the Mise en Place which translates into Everything in its Place.
Not only does setting your ingredients up ahead of time speeds up the cooking process, but it also helps ensure you have everything you need to make the dish.
How do I make the Best Bread Pudding?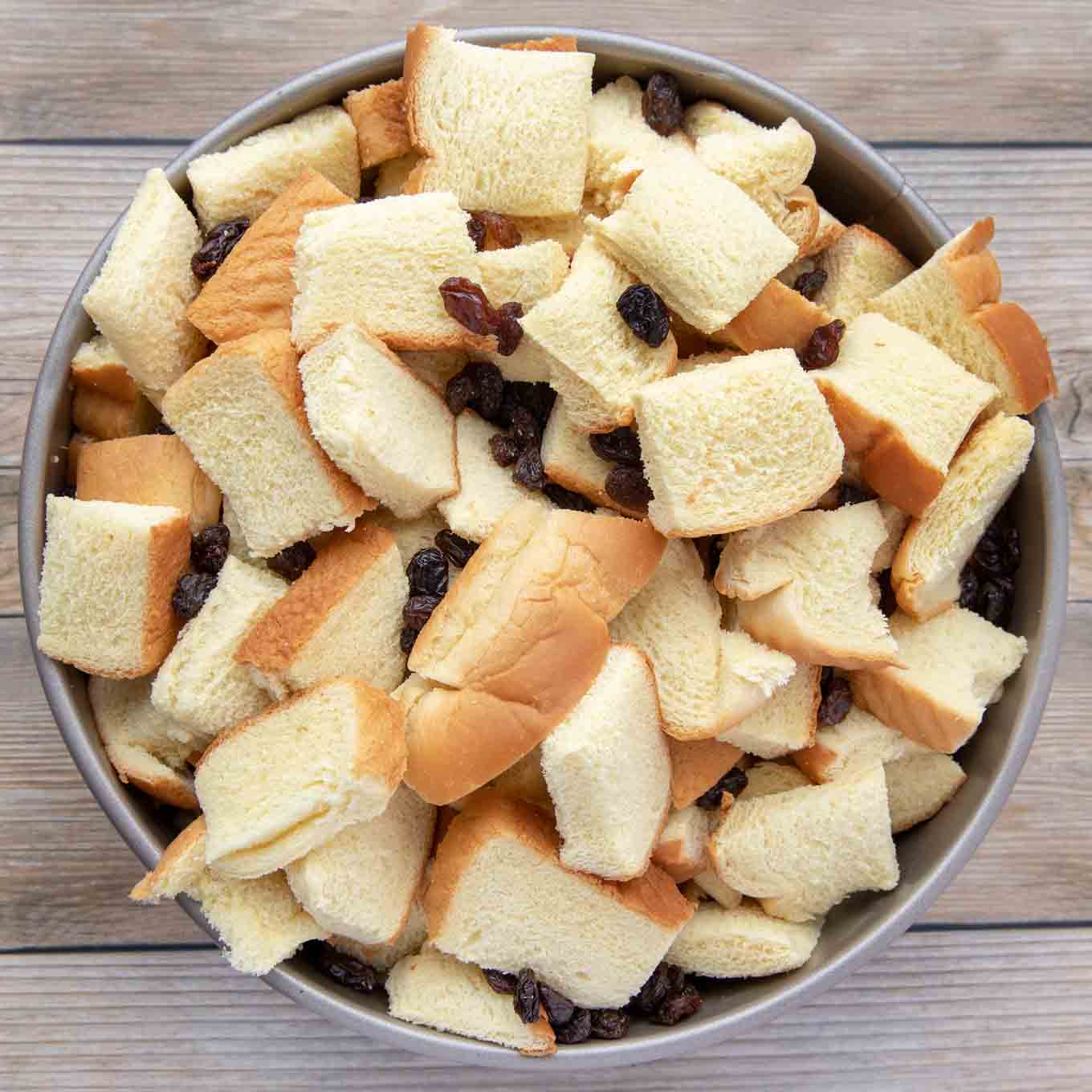 The first step is prepping, cutting the bread into bread cubes. I always use potato bread as I find it has a better natural flavor and makes great bread pudding. This is also when I add the raisins, so I don't forget.
That being said, bread pudding is usually made with leftover stale bread and can be made with any type of leftover bread, french bread, brioche, or rolls.
I tend to stay away from rye bread or anything bread with a deep flavor.
I made my bread pudding in a springform pan to see how it would hold up. Normally I use a 9 x 9 glass baking dish. It came out well in the springform pan but I prefer the glass baking dish.
Do I have to use raisins in my bread pudding?
No, you don't. I like the occasional bite of raisin in my version of this classic dessert but that doesn't mean you have to. Feel free to leave out the raisins or replace them with some of my other favorite add-ins.
chocolate chips
craisins
blueberries
sugared cranberries
How do I make custard ?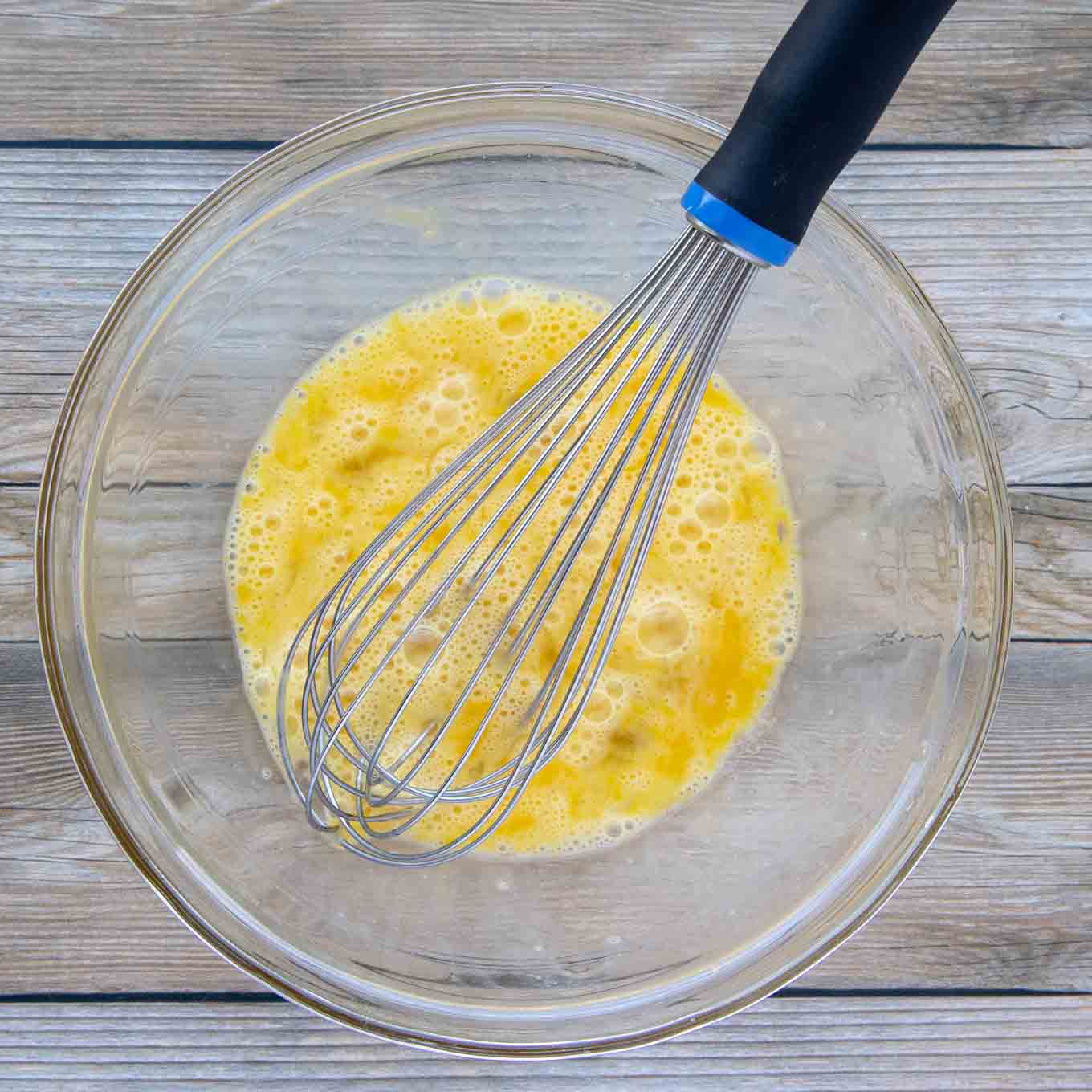 Start by whisking the eggs.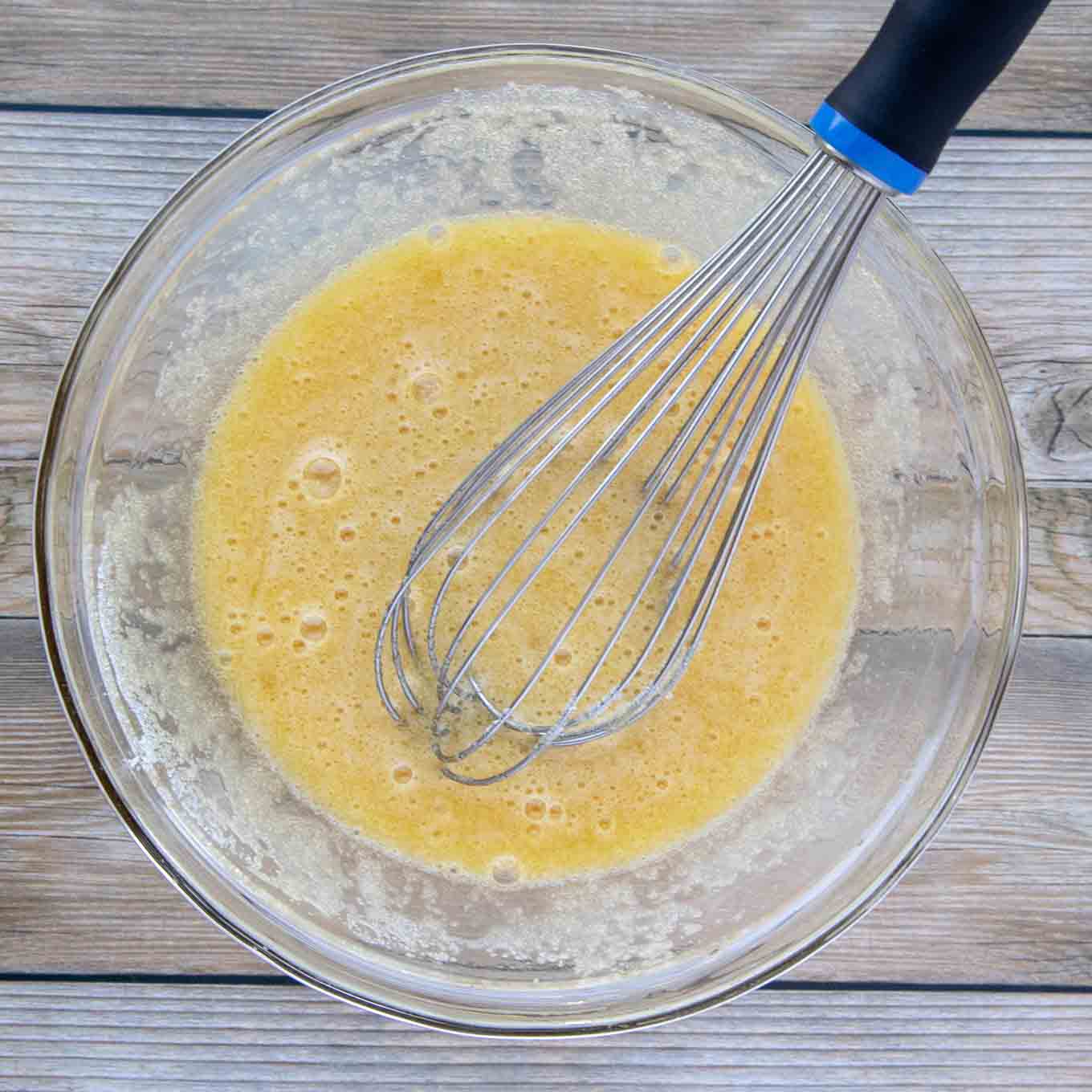 Next, add in the sugar and whisk it in well. I use white sugar but you can also use brown sugar in the egg mixture.
*The sugar may take a little work to get it completely blended in.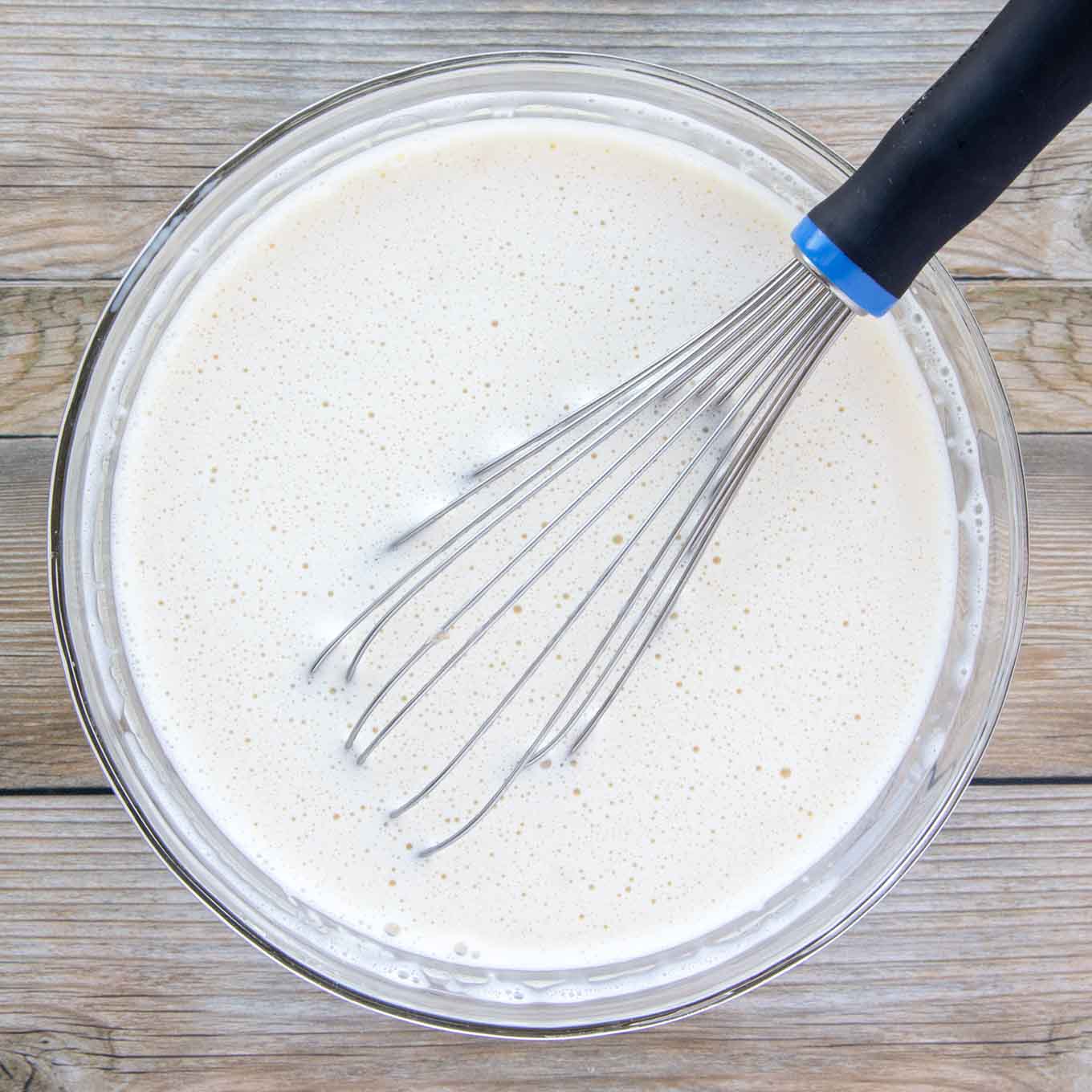 The last step is adding in the milk and vanilla, whisking to blend everything together.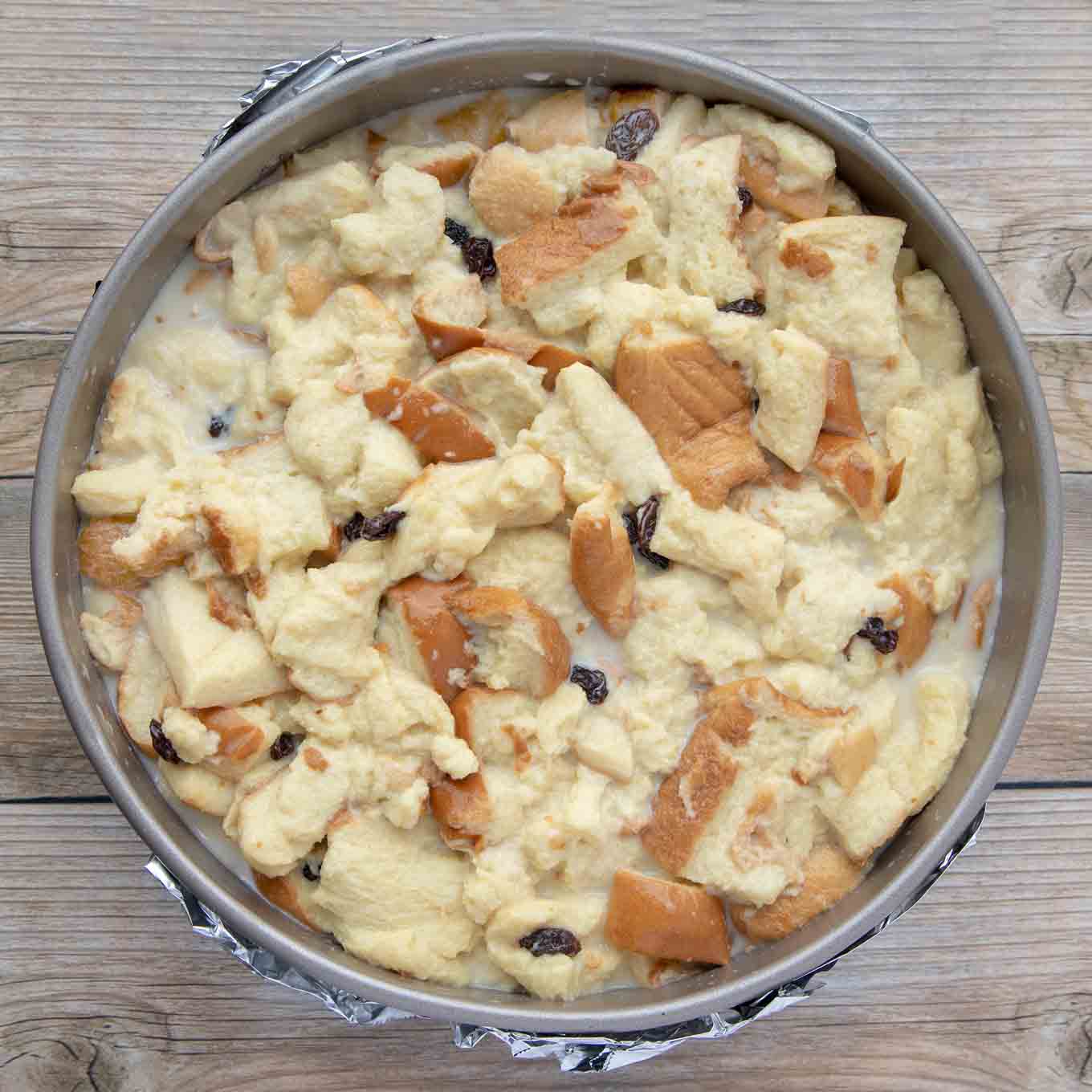 When the custard is ready, pour it over the bread cubes, making sure that all the bread is soaked. This batch could have taken more custard. Don't be afraid to cover the bread.
Since I used a springform pan I wrapped foil around the bottom of the pan so the custard wouldn't leak.
*Make sure all the bread gets soaked by the custard.
Chef Dennis Tip:
If you need more custard to come to the top of the bread, make additional. Use the formula 1 egg, 1 cup milk, one third cup sugar for any additional custard.
**This is where most bread pudding recipes fail. You need to completely cover the bread with the custard mixture. Otherwise, you'll end up with a brick instead of delicious moist bread pudding.
Secret Ingredients for the Best Bread Pudding.
Before I cover the bread pudding to let it rest before baking, I add heavy cream and drizzle melted butter over the top of the mixture.
You don't have to use these ingredients to make this dessert, but if you want to make a dessert that people will rave about, these two ingredients will make Legendary Bread Pudding.
Cover with Non-Stick Foil and allow the bread pudding to rest for at least 15-30 minutes before baking.
*You can even make it the night before you bake it.
After the resting time, place the covered dish in a preheated 350-degree oven and bake for one hour.
At the one-hour mark, carefully remove the foil and continue to bake for 15 minutes longer until the top gets golden brown. I love how I don't have to worry about the foil sticking to the pudding!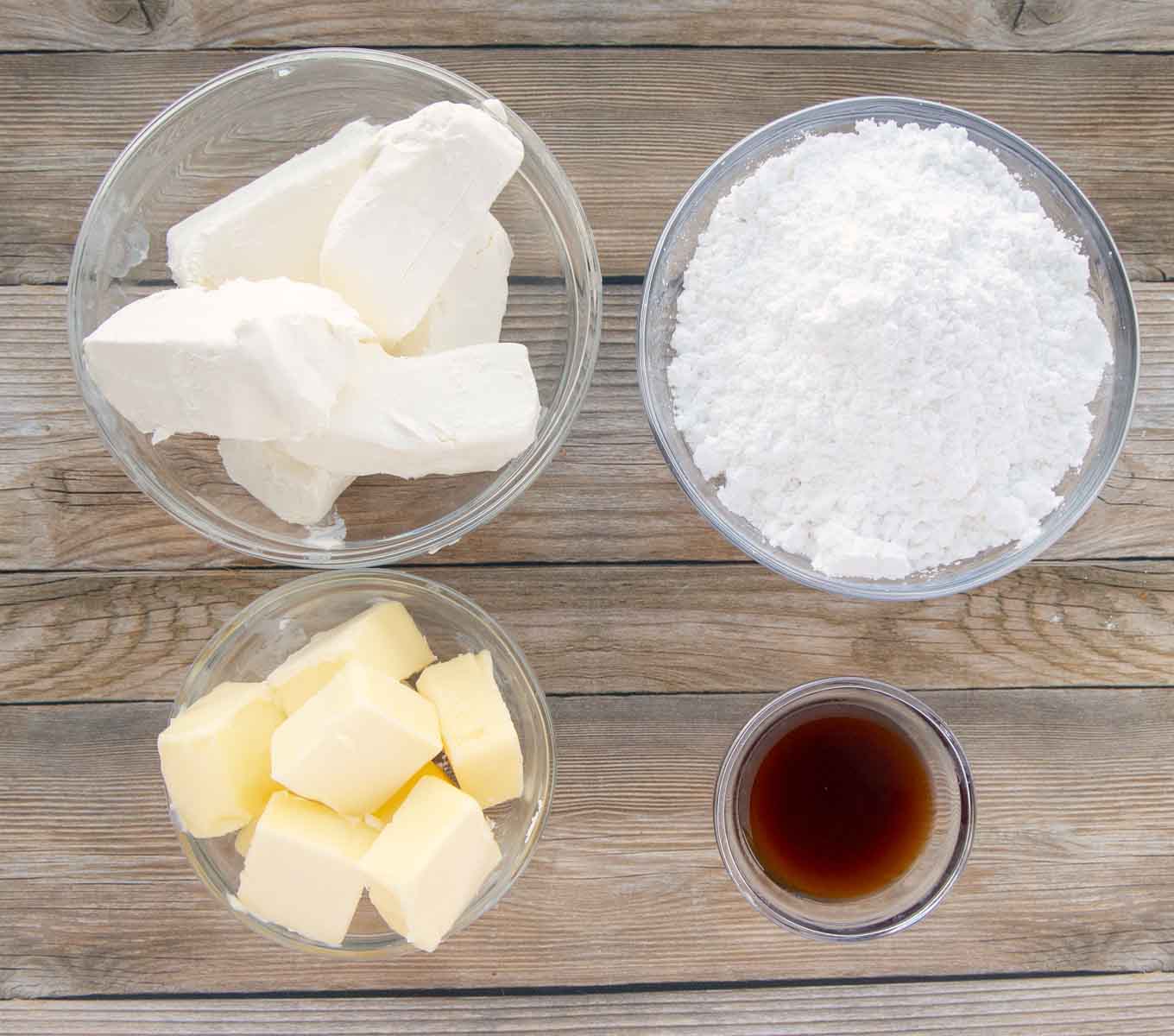 While the bread pudding is baking, make the cream cheese frosting that will top this comforting dessert. It's just like the cream cheese frosting I use on my Carrot Cake and Hummingbird Cake.
When the bread pudding is fully baked (its okay for it to be a little jiggly) carefully remove it from the oven and allow to cool just a little before frosting.
You want the bread pudding to be warm when you serve it to get the full effect of the melting oozing cream cheese frosting.
Slather the cream cheese frosting on top of the bread pudding….sigh. It's a wonderful thing!
It's funny how many have turned noses up when I told them I was serving bread pudding, only to come back for seconds proclaiming this isn't what they expected!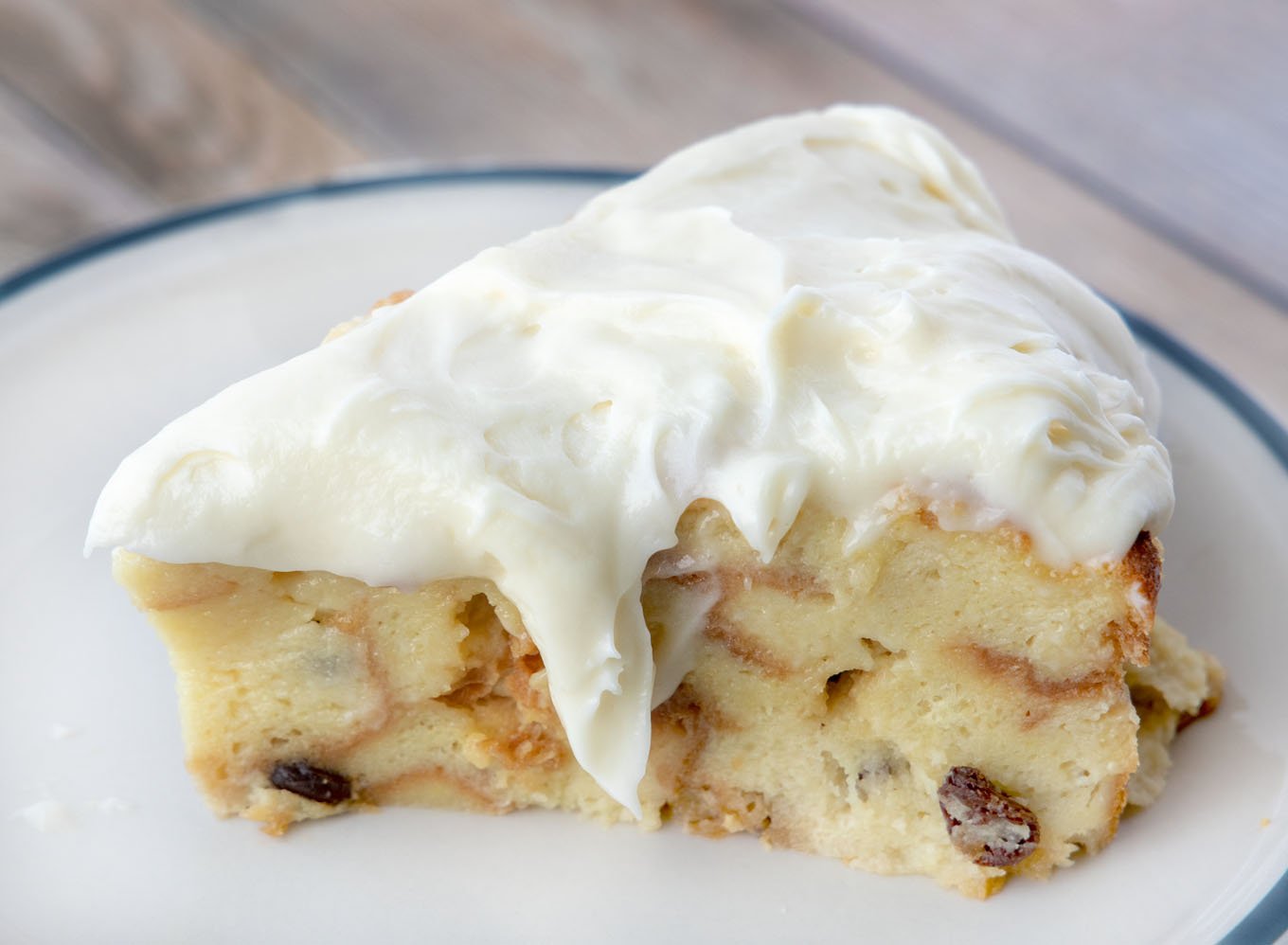 Your friends and family are going to love this bread pudding. You can slice it or cut it into squares.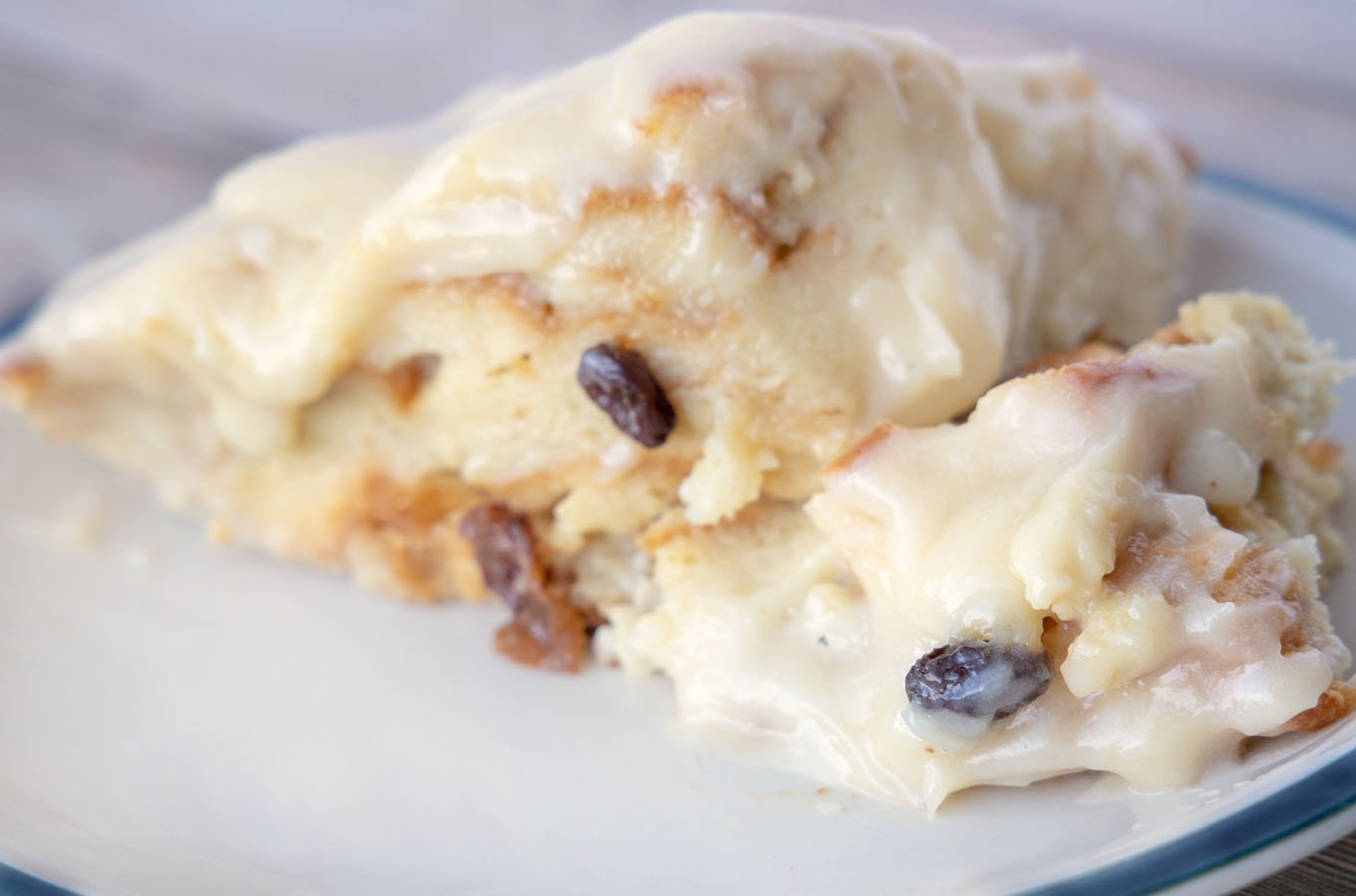 Or scoop it out of the pan. I think that's why I prefer the 9 x 9 glass baking dish to make this dessert. I like letting everyone scoop out their own portion!
More Dessert Recipes You'll Love!