A Delicious and beautiful entremet! The taste and texture is amazing - rich and creamy, cakey, crunchy, light and fluffy all in one bite. The combination of blackberry, raspberry, chocolate and hazelnut, is divine.
Total Time:
1
hour
20
minutes
This post includes affiliate links. As an Amazon Associate I earn from qualifying purchases.
What is an Entremet? It's a multi-layered mousse-based cake with various complementary flavors and varying textural contrasts.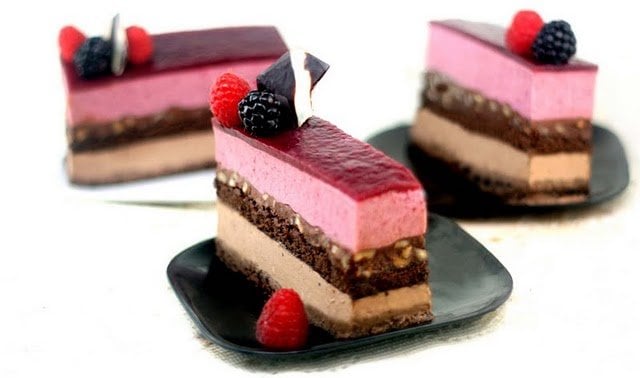 Guest Post by Lisa at Parsley Sage Sweet
For those of you who aren't familiar with entremets, the actual definition is the sweet course served after the cheese course. However, they're mostly recognized as beautiful cakes layered with contrasting flavors and textures. I've pretty much been obsessed with entremets since I was 13 and saw a World Pastry Challenge on some local cable access station. Stunning, edible cakes of art, in all shapes and sizes, which when sliced open, reveal perfect layers of all kinds of goodies, from caramel to crunchy, to creamy, to 'moussey', to 'cakey' to crispy ..ad infinitum.
I couldn't wait to get started, and by Saturday night, I was already sketching out the details.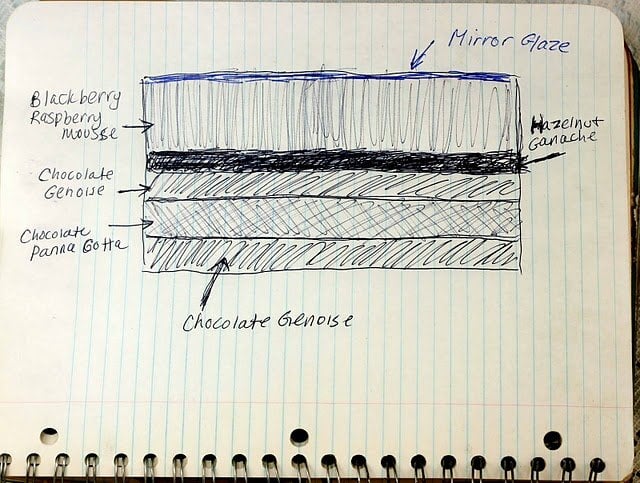 Many scoff at the notion that entremets can actually be easy. Yes, there's a lot of steps, but when taken one by one, you'd be amazed at how effortlessly it comes together. The main caveat is probably the setting time between some layers, and this is why I'm going to recommend using the freezer when building an entremet. Quicker setting, faster layering.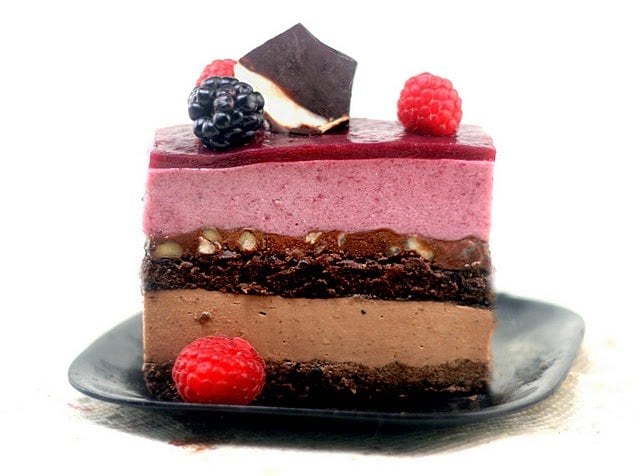 When I poured on the mirror, it was THE BEST mirror topping I'd ever produced. I could see my reflection clearly. It set almost immediately since the cake was frozen, a gorgeous sheet of shimmering ruby. I was thrilled to pieces, so thrilled, that I had to put it back in the freezer just to 'make sure' it was perfectly set and ready to slice. Cut to one-half hour later…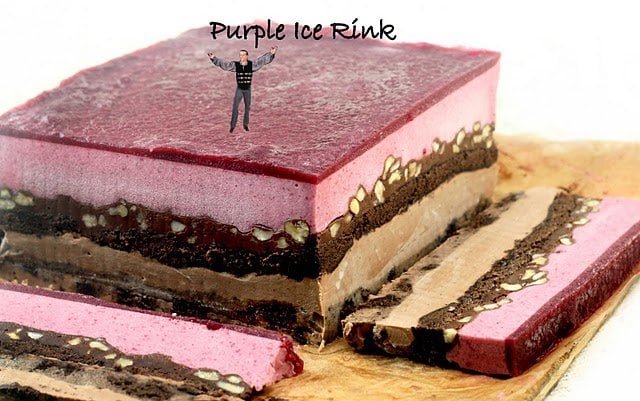 My super, duper shiny berry puree mirror is now a purple ice skating rink.
I think I see Brian Boitano landing triple salchows. I need to take photos right now – like only 20 more minutes of that perfect artificial light time, and a frozen sheet of purple ice will not do… I grabbed my blowtorch, and like a mad scientist started 'melting' the ice rink (Brian screams in agony). The mirror started to bubble slightly, even though I was using a light touch, so I stopped and decided to give it 15 more minutes of natural thaw in this humidity. Too late, I ruined it, it's permanently scarred with bubbles and weird dents, and, my photo taking time was gone. Live and learn.
I hope you all try this. The taste and texture is amazing – rich and creamy, cakey, crunchy, light and fluffy all in one bite. The combination of blackberry, raspberry, chocolate and hazelnut, is divine.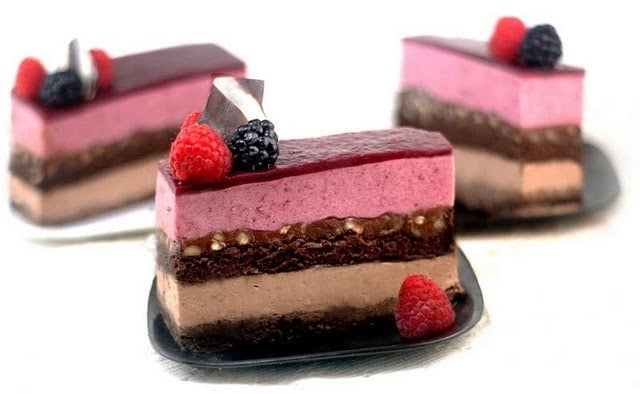 If you enjoy delicious desserts you may also like these recipes: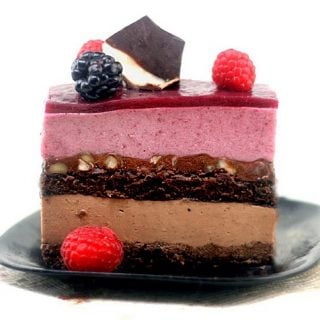 Print Recipe
Chocolate Panna Cotta - Berry Mousse Cakes with Hazelnut Ganache
A Delicious and beautiful entremet! The taste and texture is amazing - rich and creamy, cakey, crunchy, light and fluffy all in one bite. The combination of blackberry, raspberry, chocolate and hazelnut, is divine.
Ingredients
Chocolate Genoise
3

large eggs

3

large egg yolks

1

teaspoon

vanilla extract

pinch

salt

3/4

cup

sugar

1/2

cup

cake flour

1/4

cup

dark cocoa
Simple Syrup
1/2

cup

water

1/4

cup

sugar

1 -2

tablespoons

Chambord or Framboise*

* If you'd prefer to refrain from the alcohol replace with a berry juice of some sort.
Chocolate Panna Cotta Layer (adapted from Williams-Sonoma)
3/4

cup

heavy cream

1

teaspoon

powdered gelatin

1

tablespoon

water

2

tablespoons

mascarpone cheese or additional heavy cream

1

tablespoons

sugar

Pinch

salt

2

ounces

bittersweet or semisweet chocolate

finely chopped
Toasted Hazelnut Ganache Layer
3/4

cup

hazelnuts

(about 3 ounces) skinned and toasted

1/2

cup

heavy cream

1

tablespoon

unsalted butter

1

tablespoon

granulated sugar

4

ounces

semisweet or bittersweet chocolate

chopped
Double Berry Mousse Layer
2 

teaspoons

unflavored gelatin

4 

tablespoons

cold water

2 

tablespoons

lemon juice

1

cup

fresh blackberries

1

cup

fresh raspberries

1/2

cup

granulated sugar

divided

1

egg white

3/4

cup

heavy cream
Instructions
FOR THE CHOCOLATE GENOISE LAYERS:
Preheat the oven to 400F and set a rack in the middle. Lightly spray a 12x17 baking sheet with parchment paper (I spray it with a little cooking oil to stick). Butter or slightly spray the parchment liner.

Whisk the eggs, egg yolks, vanilla, salt and sugar together in a large bowl over a pan of simmering water. Whisk gently until the mixture is just lukewarm, about 100F on a candy thermometer (or test with your finger - it should be warm to the touch). Transfer the mixture to the bowl of a stand mixer fitter with the whisk attachment (or hand held beaters) and whip on medium-high speed until the egg mixture is cooled and tripled in volume. The mixture will be thick and will form a slowly dissolving ribbon falling back onto the bowl when the whisk is lifted.

Over a medium bowl or a piece of parchment paper, sift together the flour and cocoa. Add one-third of the flour mixture to the beaten egg mixture. Use a rubber spatula to fold in the flour mixture, making sure to scrape all the way to the bottom of the bowl to prevent the flour mixture from making lumps. Repeat with another third of the flour mixture and finally with the remainder. Pour the batter into the prepared pan and smooth the top with an offset spatula.

Bake the Genoise for about 10 to 12 minutes. Make sure the cake does not over bake and become too dry or it will not roll properly. Let cool on a rack. Remove the cake from the baking sheet and invert it on a larger piece of parchment paper. Peel of the parchment paper that was lining the baking sheet. Set the cake aside.
FOR THE SIMPLE SYRUP:
In a small saucepan set over medium high heat, bring all the ingredients to a simmer until the sugar dissolves, stirring occasionally. Let cool to room temperature.
FOR THE TOASTED HAZELNUT GANACHE LAYER:
1.Place toasted hazelnuts in plastic bag and crush with rolling pin.

Combine cream, butter and sugar in small saucepan and bring to gentle boil over medium heat, stirring occasionally. Remove pan from heat and add chopped chocolate, swirling pan to cover chocolate with hot cream. Let stand for 3 minutes to melt chocolate. Gently whisk chocolate mixture until blended. Mix in crushed hazelnuts. Cool slightly before assembling.
FOR THE CHOCOLATE PANNA COTTA LAYER:
Pour 2 tablespoons of the cream into a small heatproof bowl, sprinkle the gelatin over it and let stand until softened, about 10 minutes. Place the bowl in a larger bowl of hot water and stir until the gelatin has dissolved, or. nuke in the microwave for 3 -5 seconds.

Meanwhile, in a saucepan over medium heat, bring the remaining cream, the mascarpone, sugar and salt just to a boil. Remove the pan from the heat, add the chocolate and whisk until smooth.

Add the melted gelatin mixture to the chocolate mixture and stir until well blended. Pour through a fine strainer into a 4-cup glass measuring cup or a bowl.

Cover the panna cotta with plastic wrap and refrigerate until slightly thickened, but not set, about 1 hour or a little less. I let mine set too long, resulting in an uneven layer of panna cotta.

important - Make sure the first layer of genoise is frozen solid and the panna cotta is well- thickened before pouring and spreading it on, or the genoise will absorb half the panna cotta.  Put it right back into the freezer once it's spread evenly.
FOR THE DOUBLE BERRY MOUSSE LAYYER:
First make a Swiss meringue with the egg white and 2 tablespoons of the sugar

Set a saucepan with 1 inch of water on low heat. Place eggs white and sugar in mixer bowl and set the bowl over the saucepan as to create a double boiler. Heat the white, while whisking, until the sugar is dissolved and it feels hot to the touch, about 140F.

Transfer the mixture to the bowl of an electric mixer fitted with a whisk attachment. Beat on, medium-high speed until the egg white is stiff, but smooth and glossy, about 8 minutes. Set aside.

In a small bowl, sprinkle the gelatin over 1 tablespoon of the water and 1 tablespoon of the lemon juice and let stand until softened, about 5 minutes. In a blender, puree the blackberries  and raspberries with the remaining 3 tablespoons of water and 1 tablespoon lemon juice.

Strain the blackberry-raspberry puree into a small saucepan; there should be about 1 1/2 cups.  Add the remaining sugar and bring to a boil. Simmer the blackberry-raspberry mixture over moderate heat, stirring occasionally, until it is slightly reduced, about 5 minutes. Stir in the softened gelatin until dissolved. Let the mixture cool.   Remove 3/4 cup of the puree to a new bowl and stir in 1/4 cup water, for the berry mirror.

Beat the heavy cream until you have soft peaks. Fold the Swiss meringue into the cooled berry puree, then fold in the softy whipped cream.
ASSEMBLE:
1, Line an 8 inch square pan (preferably 2 to 3 inches deep) with parchment or plastic wrap, making sure paper or wrap extends about 3-inches up the sides over the pan.

Cut out two 8-inch squares of Genoise. Place one square of Genoise on the bottom the lined pan. Brush with simple syrup and freeze for about a half hour.

Remove cake from freezer, and panna cotta from the refrigerator, and pour the panna cotta on top of the frozen Genoise, smoothing it. Top with second square of genoise, and press down evenly. Brush second genoise with simple syrup, and pour the hazelnut ganache on top. Freeze for about 45 minutes to an hour.

Make the berry mousse while ganache is setting. Remove cake from the freezer and pour berry mousse on top of ganache and freeze for another hour, until frozen set.

Stir reserved berry puree or warm gently to loosen it. Remove cake from freezer and pour over the top of the mousse, Chill in the refrigerator until set. I prefer to freeze, then cut, to get nice slices, then bring to room temperature for serving, but since freezing kind of ruins the mirror, chilling in the fridge for the last set is fine. The cake will still be somewhat frozen when cutting, so you'll get nice slices.

Lift cake from pan using plastic wrap or parchment overhang. Peel down paper or wrap then square off neatly by trimming raggedy edges. Slice cake into 1/2 -inch to 1-inch wide rectangles, depending on how many servings you need, or how thin or thick you'd like them. Top each slice with a little cocoa, berries, and maybe some chocolate curls, disks or spirals.
Nutrition
Calories:
459
kcal
|
Carbohydrates:
44
g
|
Protein:
7
g
|
Fat:
29
g
|
Saturated Fat:
14
g
|
Cholesterol:
149
mg
|
Sodium:
43
mg
|
Potassium:
252
mg
|
Fiber:
3
g
|
Sugar:
33
g
|
Vitamin A:
800
IU
|
Vitamin C:
6.8
mg
|
Calcium:
67
mg
|
Iron:
2
mg