You're going to love the juicy meat and smoky flavor of my smoked chicken wings. Tender chicken with a hint of cherry wood in every bite will make these crispy smoked chicken wings a hit at your next barbecue.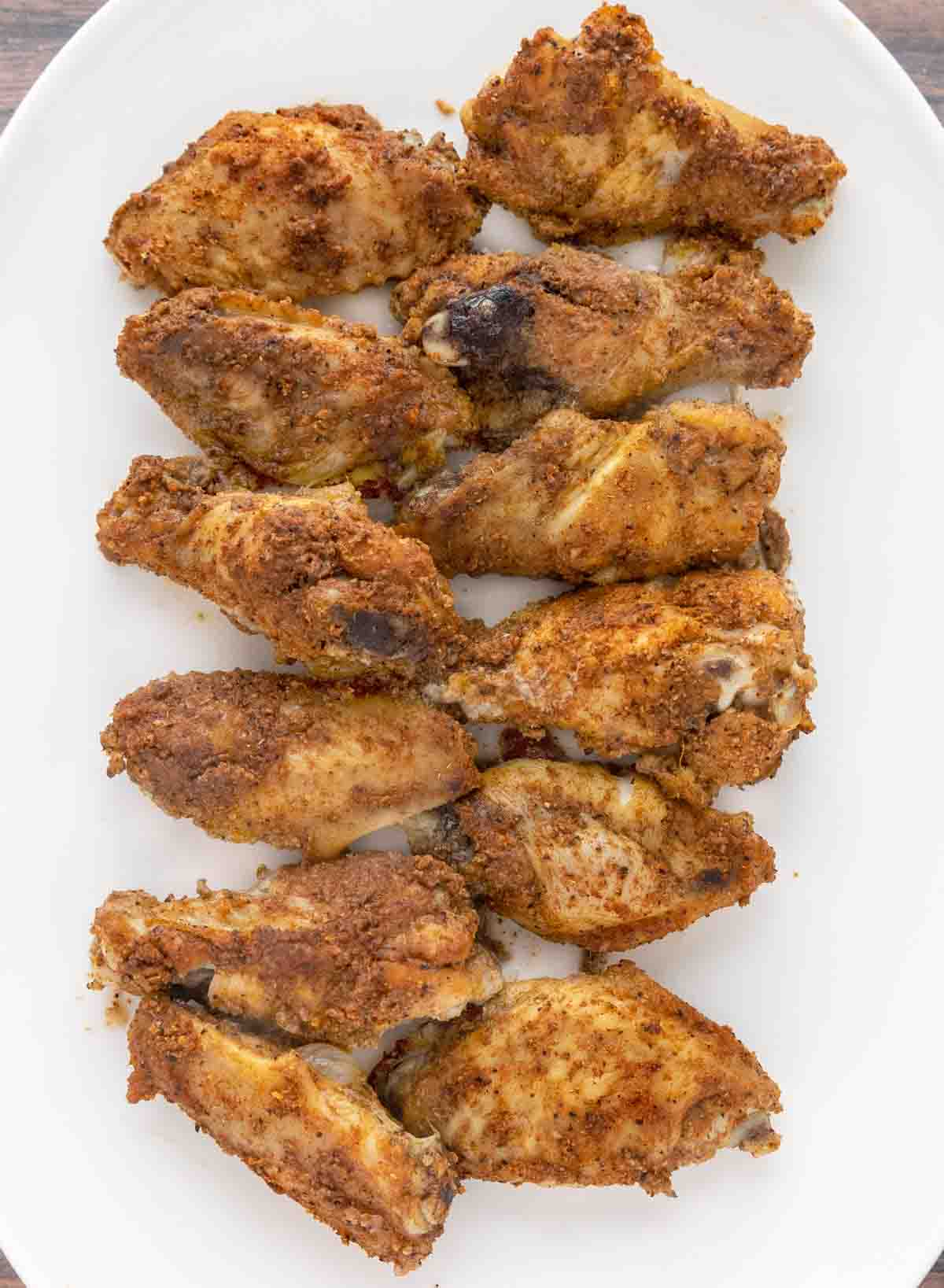 My smoked chicken wing recipe couldn't be easier to make. Just add the seasonings, let the chicken wings marinate for a few minutes as it come to room temperature, then load the wings in the smoker — in just a short time, you'll be enjoying delicious smoked wings.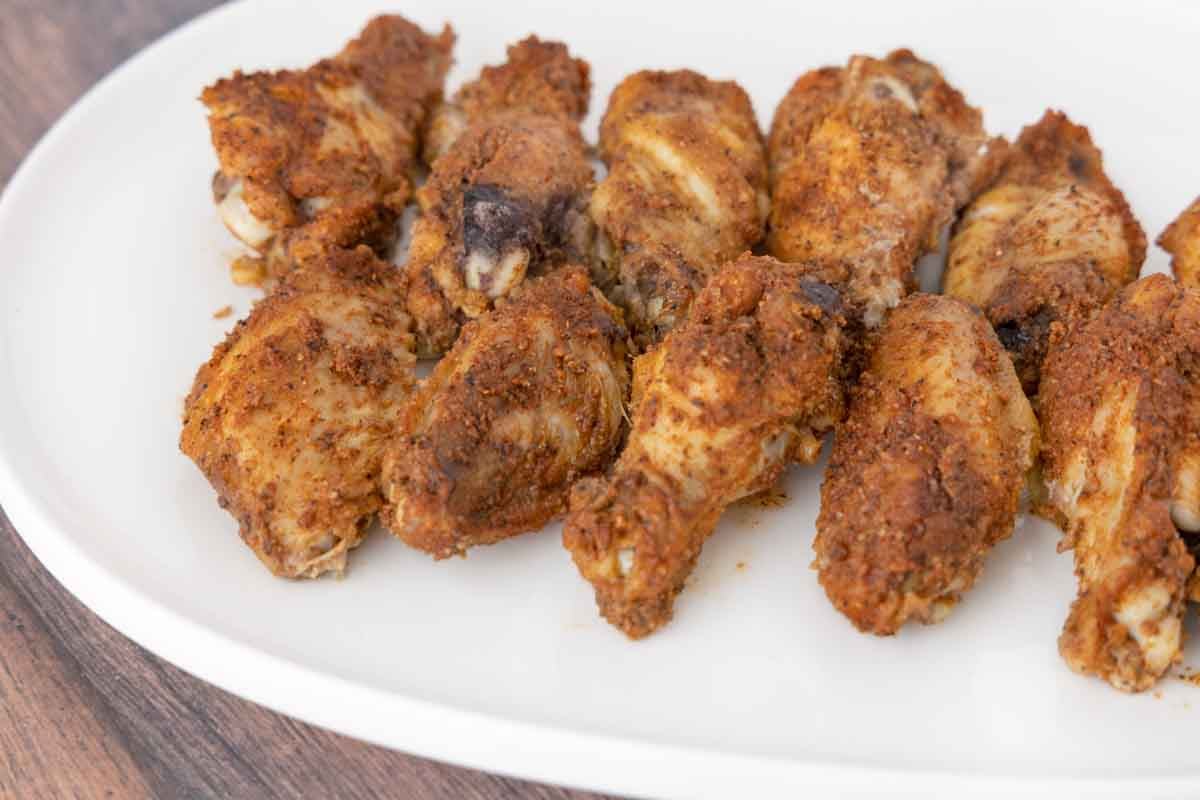 I don't know about you, but I love chicken wings! And these smoked chicken wings might just be my new favorite.
Ingredients to make Smoked Chicken Wings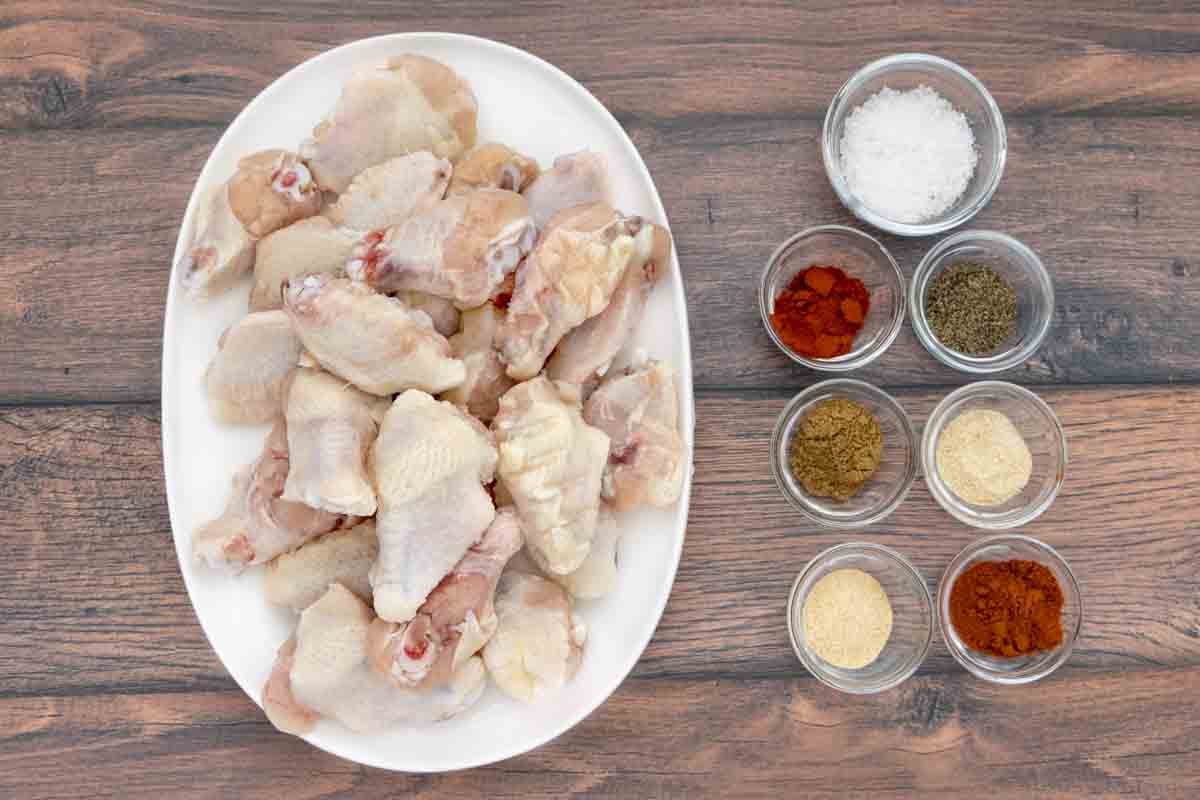 Let's start by gathering the ingredients we need to make Wings. In Chef Speak, this is called the "Mise en Place," which translates to "Everything in its Place."
Not only does setting up your ingredients ahead of time speed up the cooking process, it also helps ensure you have everything you need to make the dish.
Made with simple ingredients
chicken wings
kosher salt
smoked paprika
cumin
garlic powder
onion powder
black pepper
cayenne pepper (optional)
Can I use other spices in my dry rub?
Yes, you can. The key to making delicious smoked chicken that you and your family will love is to use seasonings that you enjoy eating. Changing up the spices in this simple dry rub is easy and definitely something you can do each time you prepare smoked chicken.
Other seasonings you could add to your spice rub are cumin, chili powder, dry oregano, ground ginger, turmeric, and coriander.
You can also use your favorite seasoning blend. You can use Cajun seasoning, jerk seasoning, barbecue seasoning, lemon pepper, and Old Bay seasoning instead of making your own dry rub.
If you're looking for a rub with some sweetness, you can also add brown sugar to the seasonings. For added heat, Cayenne pepper adds heat to smoked chicken wings. However, it should be used sparingly. Even a small amount is enough to enhance the flavor.
What type of chicken wing should I use?
I like buying chicken wings that are already cut into drumettes and wingettes. This way, I don't have to deal with the wing flaps. But if you prefer using whole wings, they'll work with this recipe.
Or cut the drumette off and leave the flap on the wingette. It's all about personal preference.
If you like smoked chicken wings, you might also enjoy my Smoked Chicken Thighs or Smoked Chicken Leg Quarters.
How to make smoked chicken wings
Add your favorite wood chips or wood chunks to the smoker and preheat the smoker temperature to 250 degrees F. I used cherry wood to smoke the wings.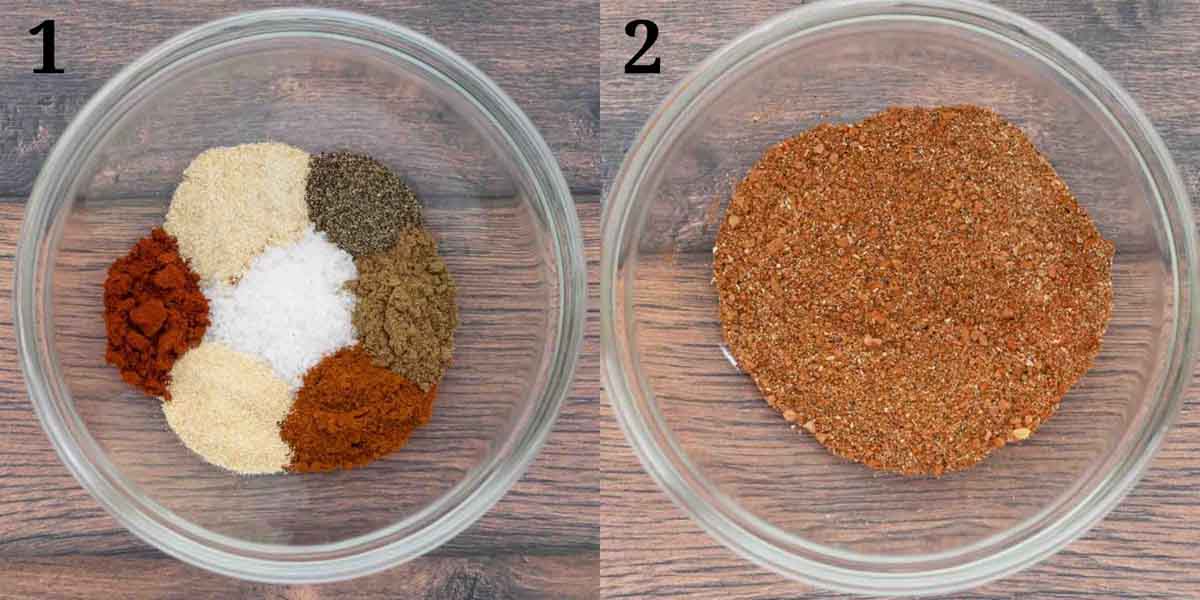 Add the seasonings to a small bowl
Mix seasonings thoroughly to combine the spice rub fully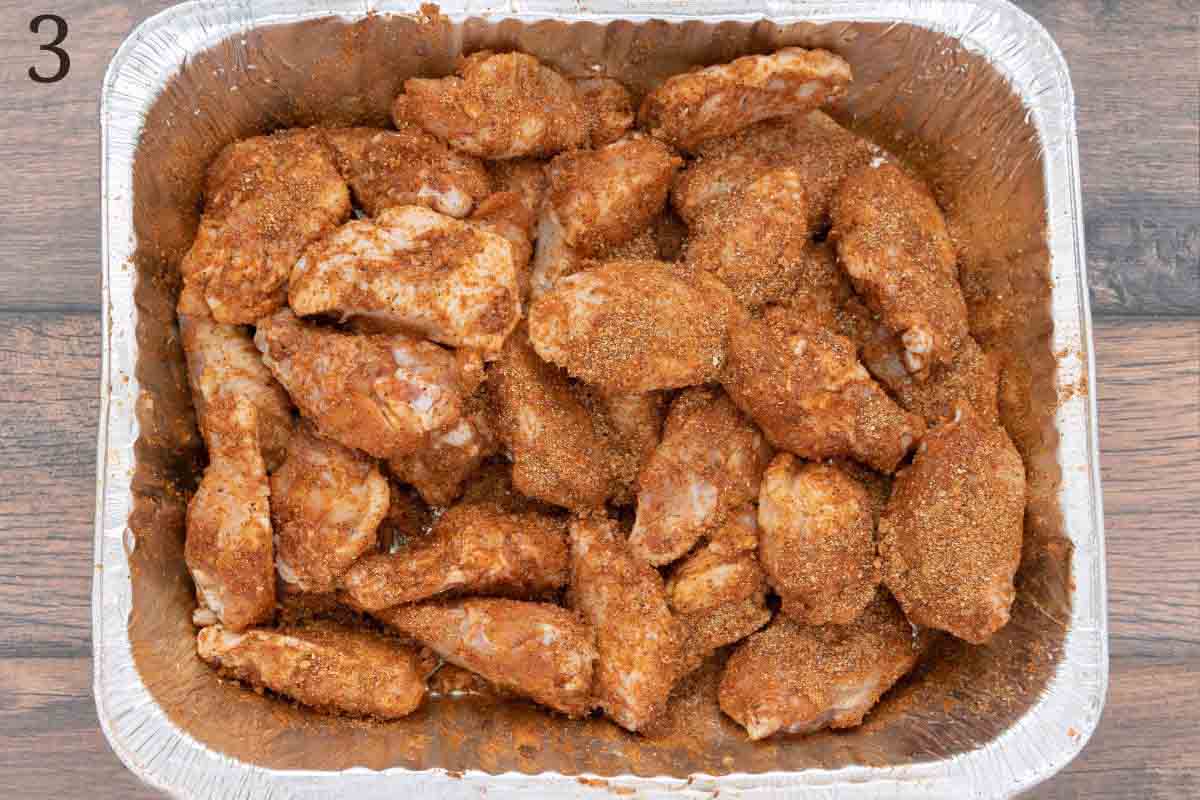 Pat dry the skin of the chicken wings using a paper towel.
Generously apply the chicken rub to the chicken, making sure to season all sides of the wing for a balanced taste.
To enhance the flavor, let the seasoned chicken sit for 30 minutes. This allows the dry brine to penetrate the chicken and infuse it with flavor. This also gives the chicken time to come to room temperature prior to putting it in the smoker. You can skip this step if you're in a hurry, but it helps the seasoning soak into the skin and meat.
Cooking with a smoker is all about low heat — slow smoking is the key to perfect smoked chicken wings so avoid using a higher temperature. High heat is not your friend when it comes to good barbecue.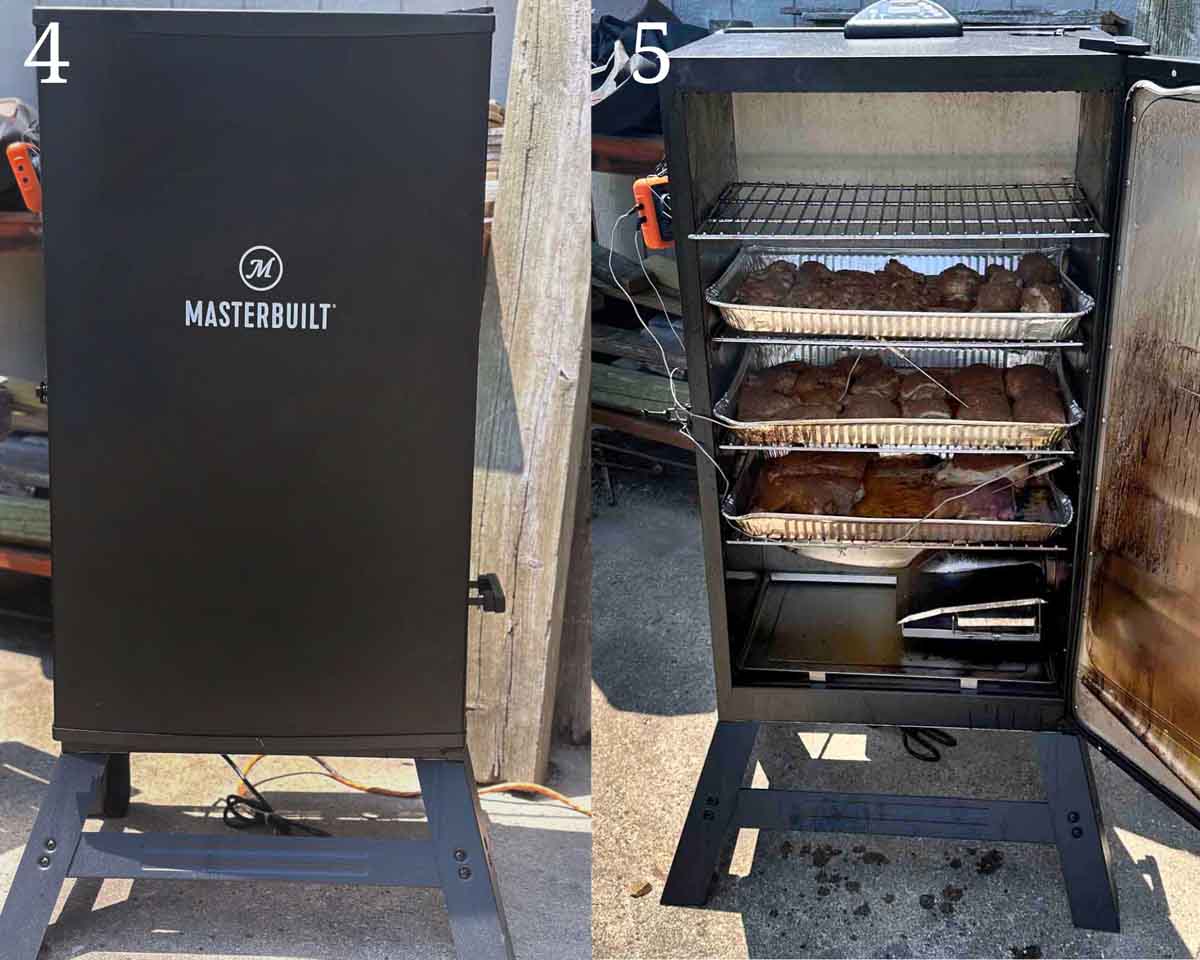 Place wings in a shallow foil pan and place the pan on a smoker rack in the preheated smoker. Cook the chicken wings for 60 – 75 minutes or until you reach an internal temperature of at least 165 degrees.
For crispy skin, put the chicken on the wire rack in the electric smoker. Put a drip pan below to catch drippings and fat.
Check the internal temperature of the chicken wing with an instant-read thermometer. It should be at least 165 degrees Fahrenheit.
I used an electric smoker for my chicken wings, but you can use a pellet smoker or charcoal smoker for this recipe.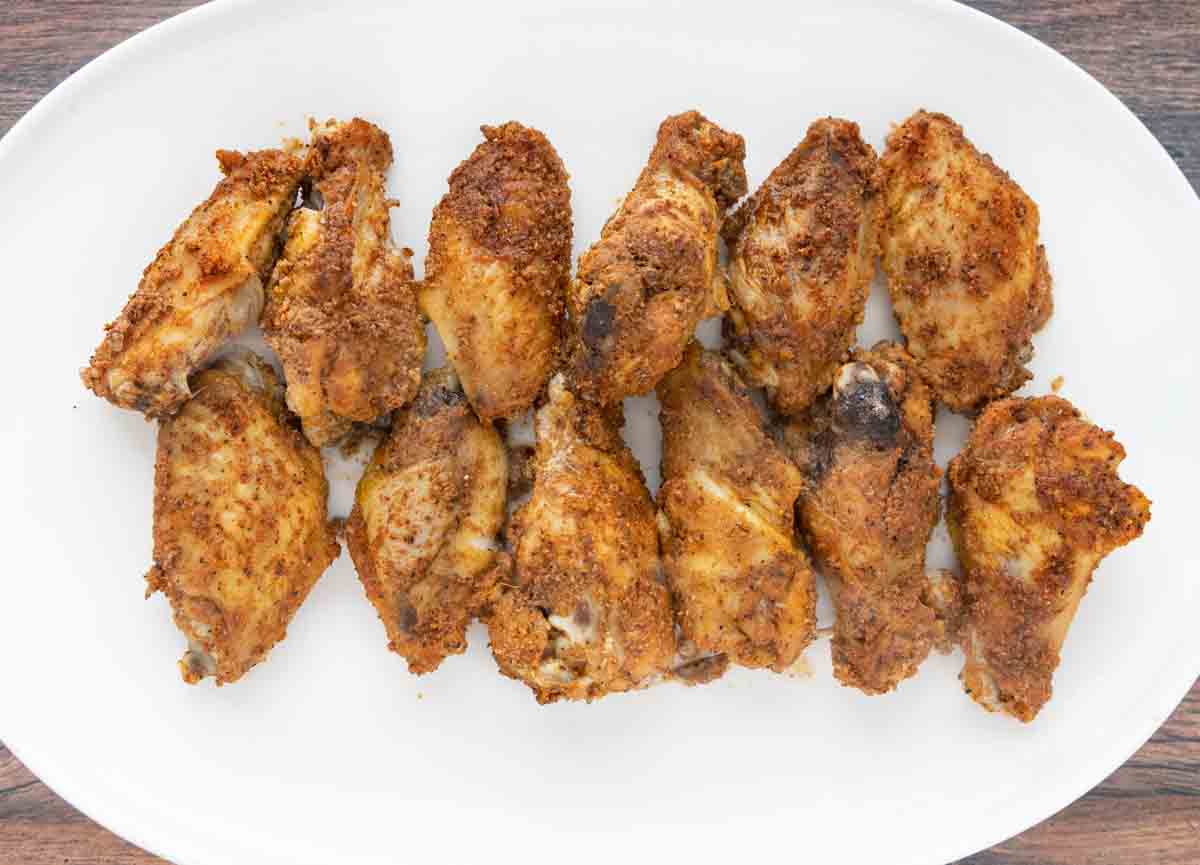 After one bite, I know you'll agree this is these are the best smoked chicken wings you've ever tasted!
If you love buffalo chicken wings, coat these wings in my homemade buffalo sauce and serve them with blue cheese dressing and celery sticks (or carrot sticks) for the ultimate buffalo wings. You can also make hot wings by transferring the wings to a large bowl and tossing them with hot sauce.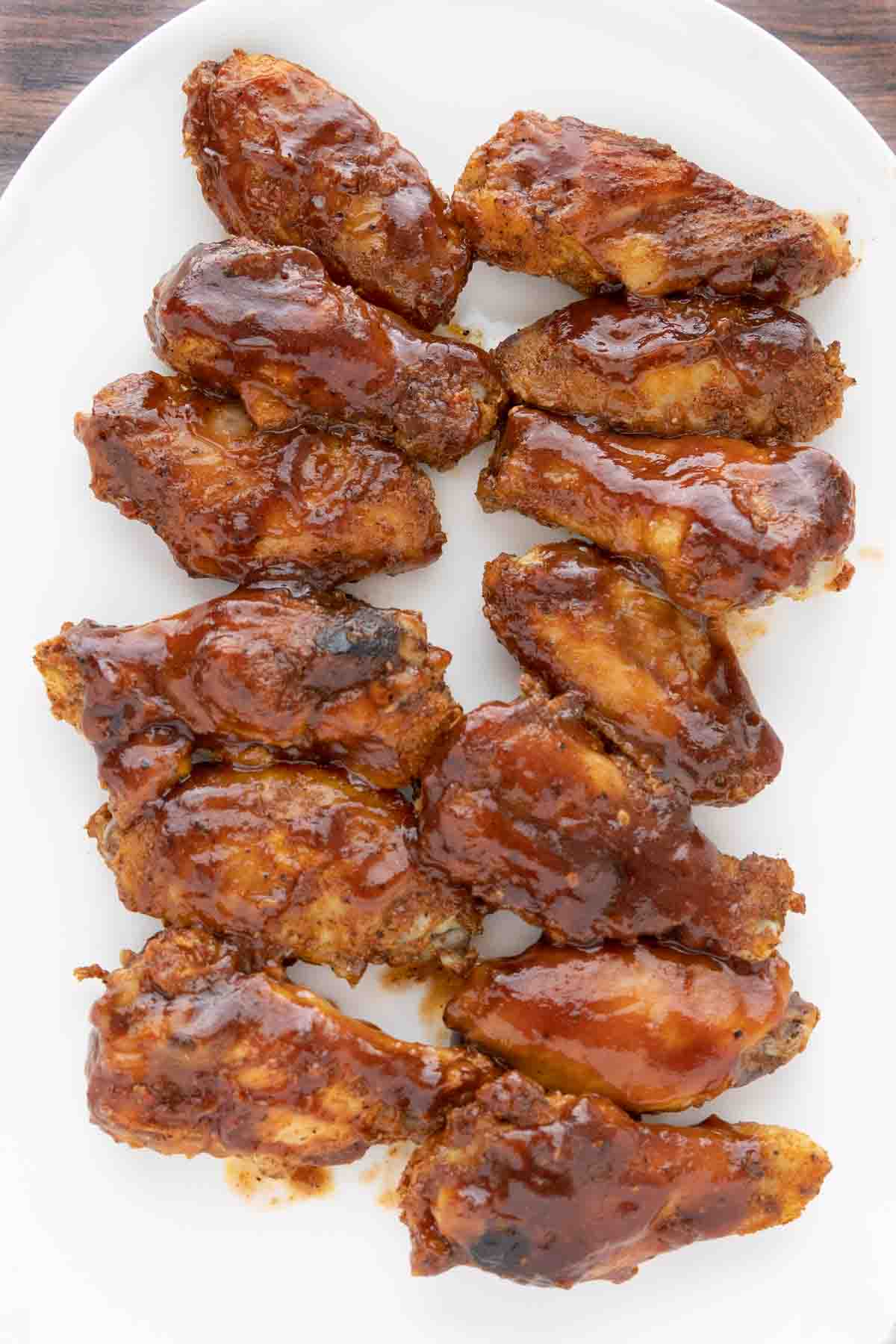 The smoking process adds a lot of great flavor to the meat, but you can't beat a good barbecue sauce. Using your favorite sauce and adding a few ingredients allows you to create your own signature bbq sauce, elevating the smoked chicken wings to a whole new level of barbecue deliciousness.
Use a basting brush to coat the smoked wings with the bbq sauce and serve the bbq chicken wings with your favorite side dishes.
Save any leftover chicken in an airtight container in the refrigerator for 2-3 days. It can also be frozen for up to 3 months.
Chef's Choice
Masterbuilt 30-inch Digital Electric Smoker
An electric smoker takes all the work out of smoking your favorite meats and seafood. This is the smoker I use for all my recipes.
Buy On Amazon
This post includes affiliate links. As an Amazon Associate, I earn from qualifying purchases.
09/29/2023 04:03 pm GMT
Chef's Choice
ThermoPro Twin Wireless Meat Thermometer
I love the ThermoPro wireless meat thermometers. The easy to use app makes it easy to track the temperatures of the meats and seafood your cooking.
Buy On Amazon
This post includes affiliate links. As an Amazon Associate, I earn from qualifying purchases.
09/29/2023 04:18 pm GMT
Top Choice
Western BBQ Smoking Wood Chips Variety Pack
You get a great variety of wood chips with this starter pack. You get one bag of apple, cheery, mesquite, and hickory wood chips in each variety pack.
Buy On Amazon
This post includes affiliate links. As an Amazon Associate, I earn from qualifying purchases.
09/29/2023 04:13 pm GMT
Chef's Choice
Heat Resistant Oven Gloves & Grilling Gloves
These gloves take all the worry out of handling hot foods. These are perfect for grilling, smoking or removing pans from the oven.
Buy On Amazon
This post includes affiliate links. As an Amazon Associate, I earn from qualifying purchases.
09/29/2023 04:28 pm GMT
Recipe FAQ's
How long does it take to smoke chicken wings?
Cooking wings at 250 degrees will take approximately 60 minutes to reach the safe temperature of 165 °F. Just to note that the size of wings can vary, and larger wings can take longer to get to 165 °F. while smaller wings won't take quite as long to cook.
Should I smoke wings at 225 or 250?
Lower temperatures are generally the best way to make sure you have tender, juicy meat. Either temperature will work for chicken wings as both are low temperatures.
More Recipes You'll Love!