The Best Marinated Pork Chops are easy to make and the pork chop marinade is made from pantry staples. Olive oil, Dijon mustard, soy sauce, brown sugar, garlic, onion, lemon zest, Italian parsley, salt, and black pepper are all you need to create the perfect marinade for pork, chicken or beef.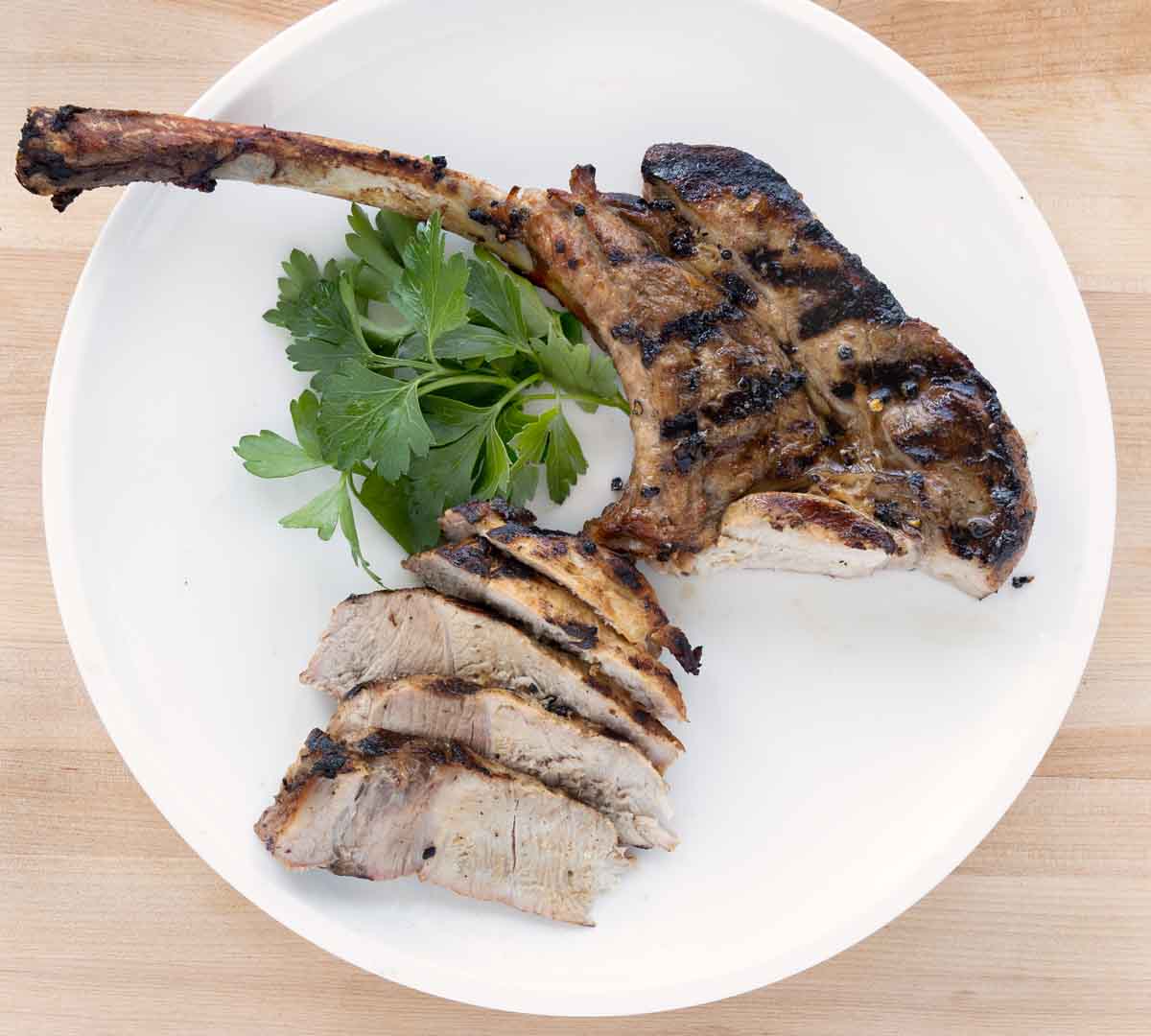 It's easy to make perfect pork chops with my easy marinade recipe. Marinated pork chops can be cooked on the grill, air fryer, oven-baked, or pan-fried for restaurant-quality results every time.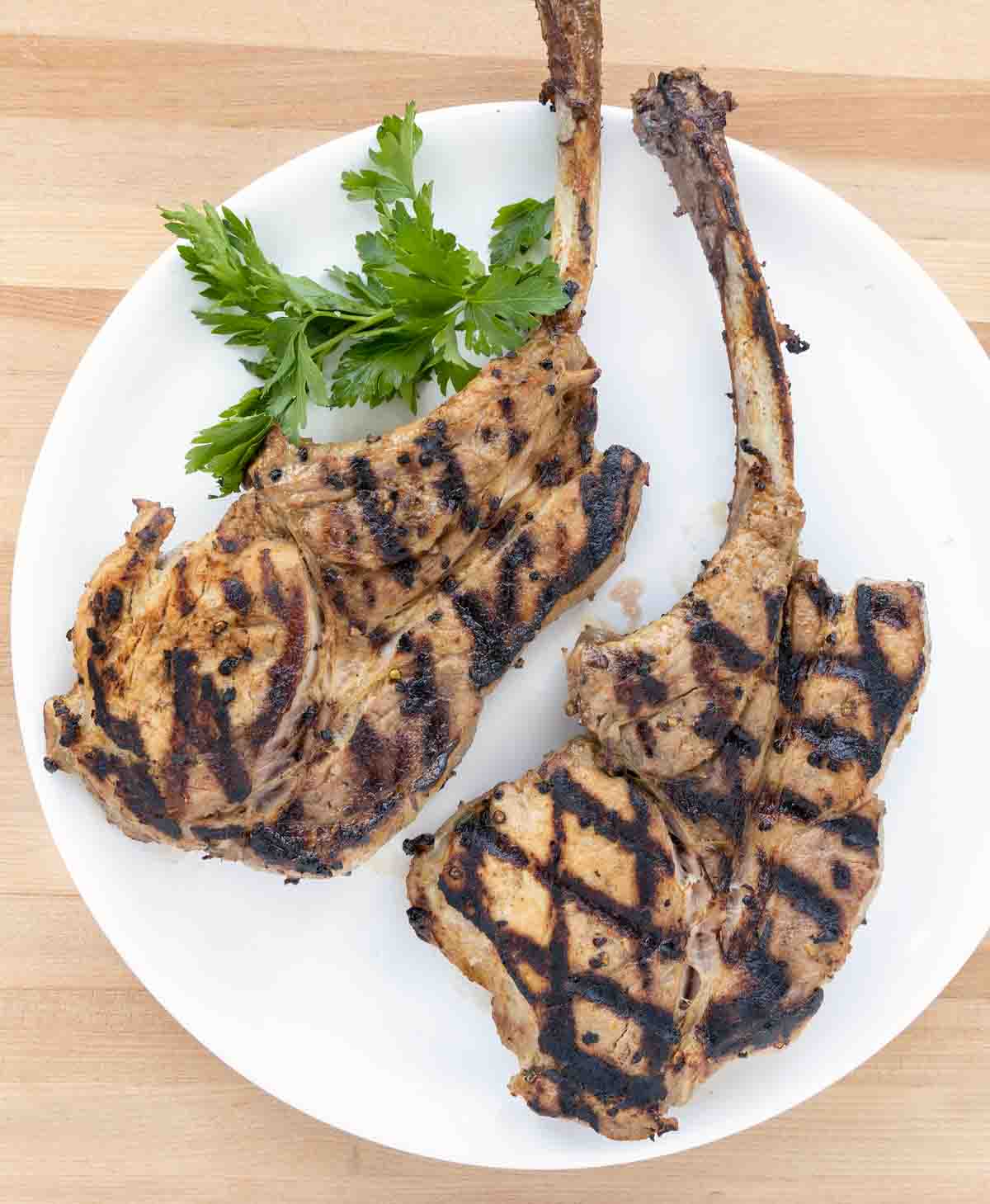 I happened to have Tomahawk Pork Chops on hand, but you can make this recipe regular bone-in or boneless pork chops. I do prefer a thicker cut chop and definitely use a meat thermometer so you don't overcook them.
If you love pork my Grilled Baby Back Ribs and Grilled Stuffed Pork Chops are two of my favorite pork recipes!
This is my new favorite meat thermometer.
What ingredients do I need to make Marinated Pork Chops?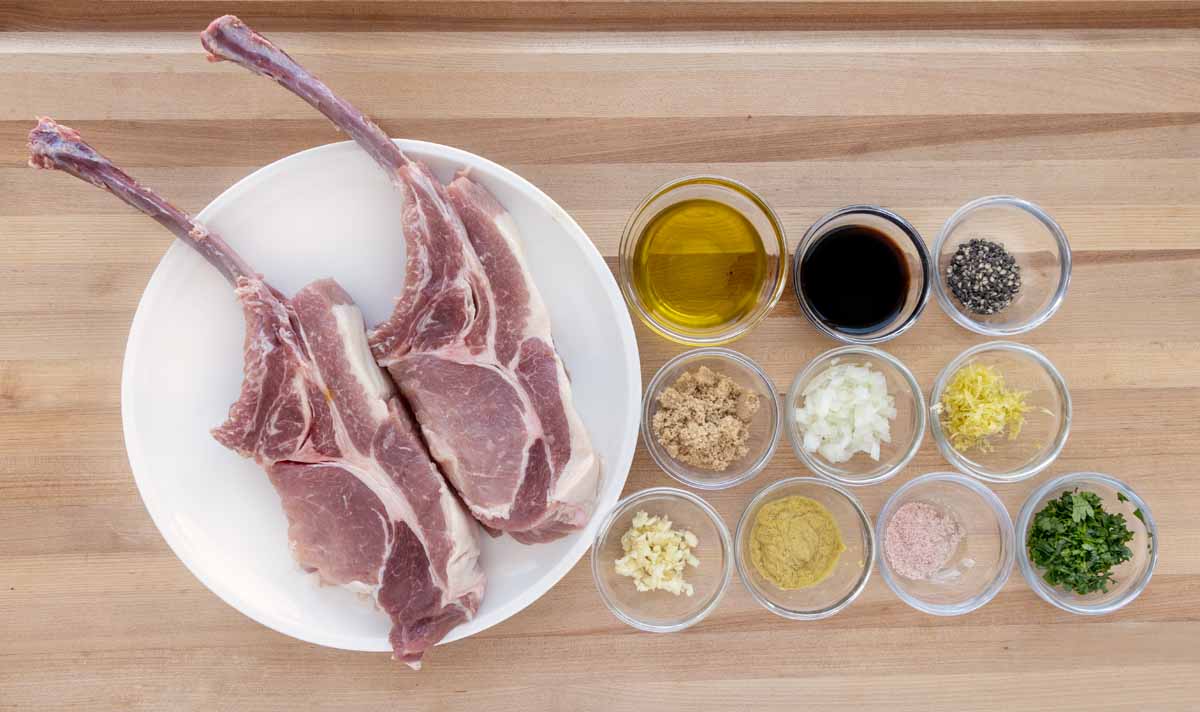 Let's start by gathering the ingredients we need to make Marinated Pork Chops. In Chef Speak this is called the "Mise en Place" which translates to "Everything in its Place".
Not only does setting your ingredients up ahead of time speed up the cooking process, it also helps ensure you have everything you need to make the dish.
How do I make a marinade for pork chops?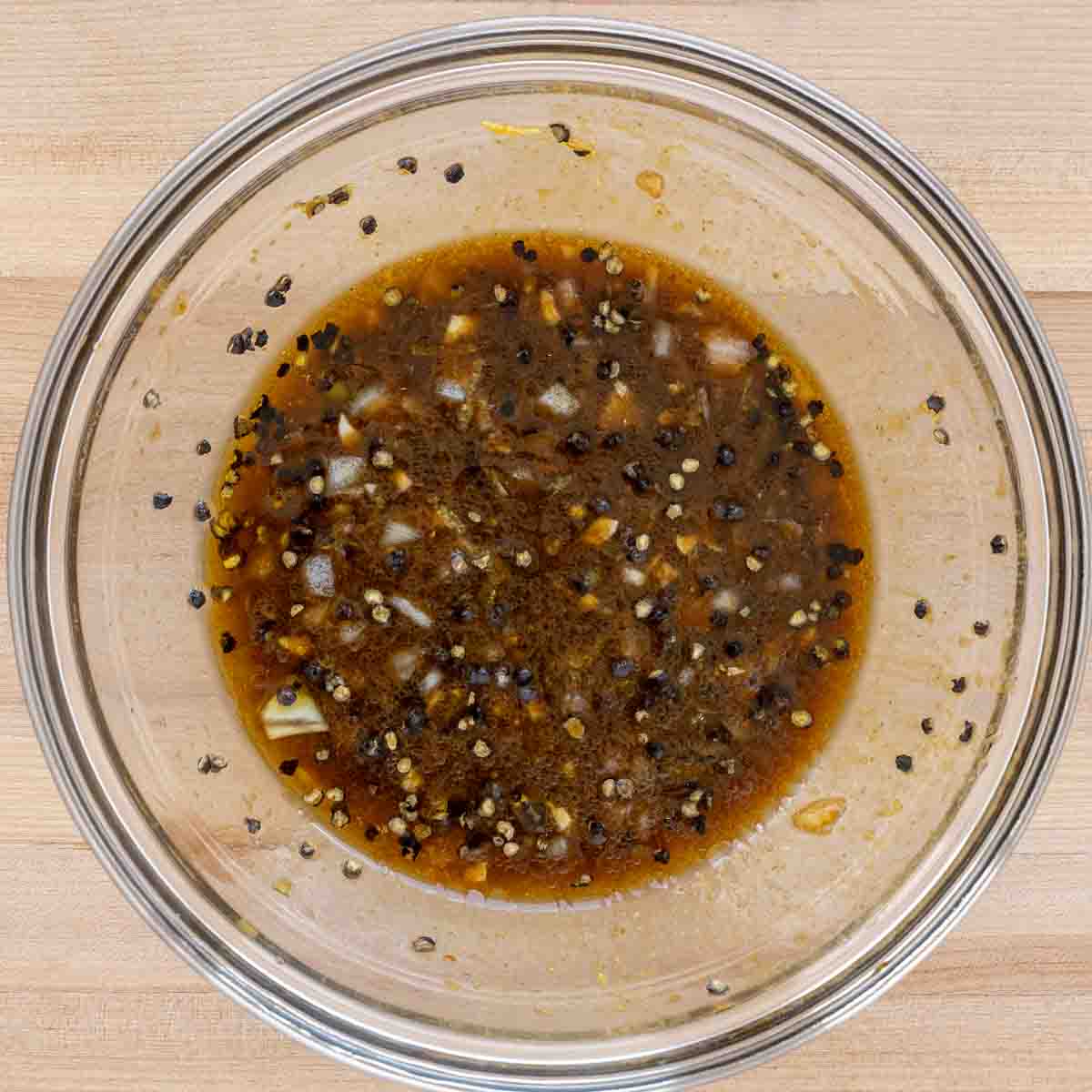 In a small or medium mixing bowl whisk together the olive oil, soy sauce, Dijon mustard, brown sugar, lemon zest, salt, pepper, onion and garlic.
This is the best pork chop marinade I've used and also makes a good marinade for chicken.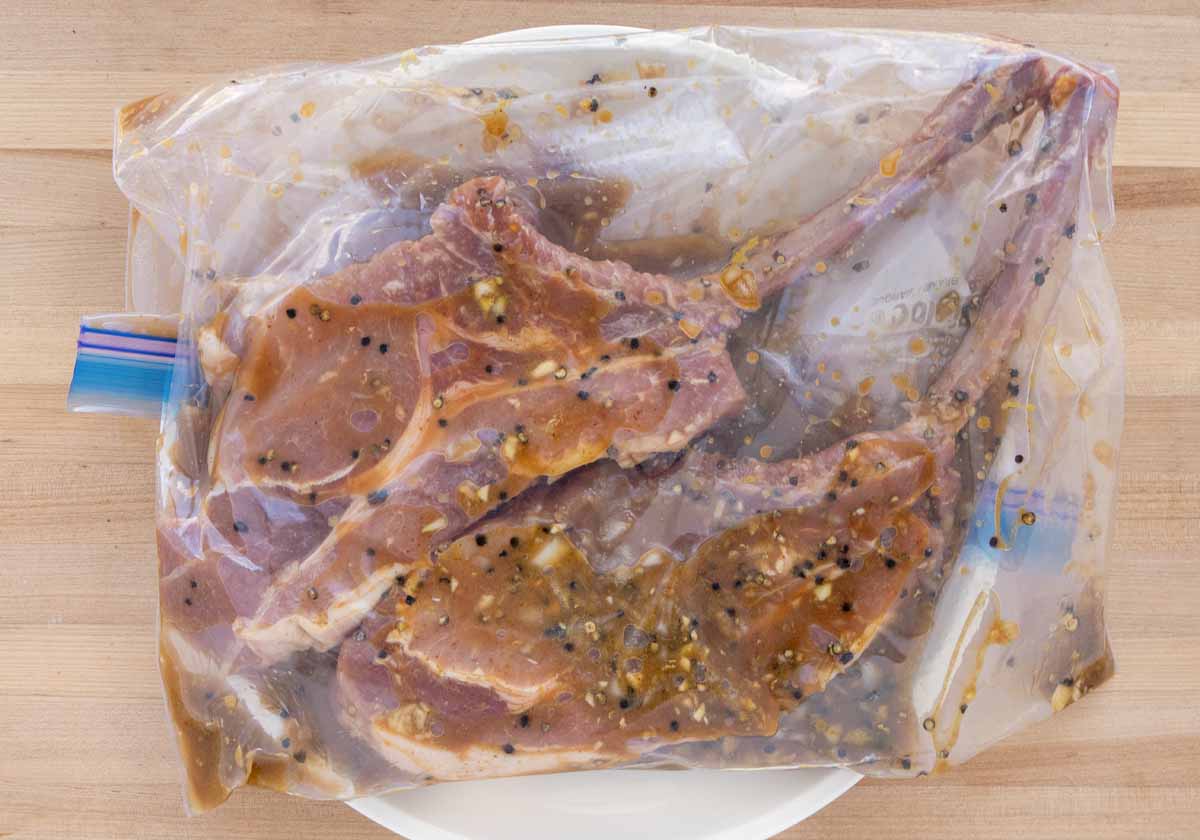 Place the pork chops in a ziplock bag (or baking dish) and pour the marinade over the pork chops, making sure to coat the chops. Let the pork chops marinate for at least 1 hour up to 12 hours.
When you're ready to cook the pork chops, let them sit at room temperature in the marinade for 30 minutes before cooking.
How to grill marinated pork chops.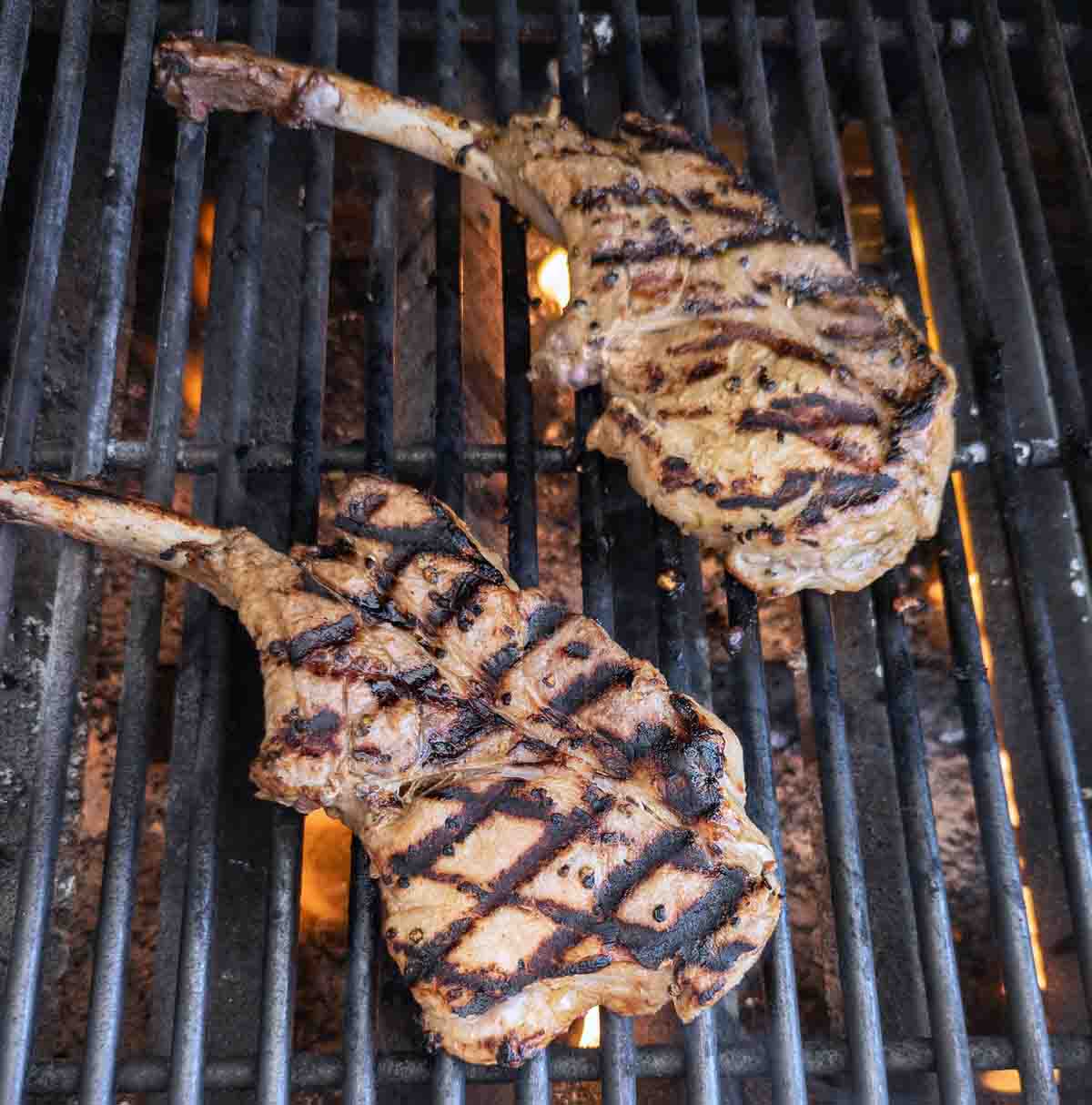 Preheat an outdoor grill to 350 degrees. You can use a grill pan instead of a gas grill.
Place the pork chops on the hot grill.
Cook the chops for 6-8 minutes per side or until a thermometer inserted into the thickest part of the chop registers an internal temperature of 140 degrees F.
*Rotating the chops halfway through the cooking process on each side will give you crosshatch marks.
*If you prefer a more well-done pork chop, let the temperature reach an internal temperature of 150 degrees F. Meat temperatures will continue to rise 7-10 degrees after removing from the heat.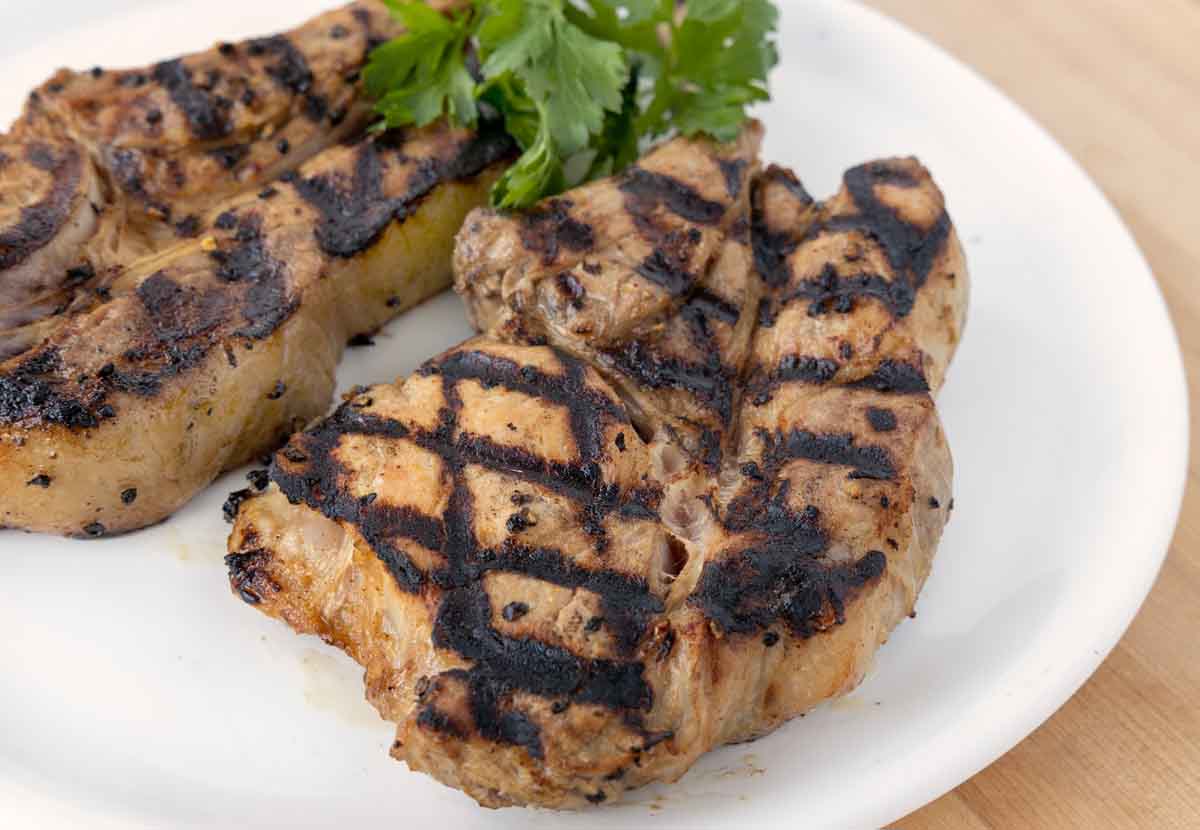 Let the pork chops rest for 5 minutes before slicing to allow the juices to flow back into the chop.
Serve with mashed potatoes and your favorite green vegetable and enjoy!
Recipe FAQ's:
Can I marinate boneless pork chops?
you can marinate bone-in or boneless pork chops. I like bone-in chops as the bone does add flavor to the meat, but either option works well. This marinade will also work well on pork tenderloins.
How long can pork be marinated?
I would not advise marinating pork any longer than 24 hours. The shortest time would be 1 hour, and the optimal time marinating is around 8 hours.
Marinating meat longer than 24 hours will begin to break down the fibers of the meat and result in a mushy texture.
Can I cook marinated pork chops in the oven?
Marinated pork chops can be grilled, oven roasted, cooked in an air fryer, or pan fried. All cooking methods will work with these delicious marinated pork chops. Just make sure not to overcook them.
More Grill Recipes You'll Love!