It's super easy to make your own Asian Style dishes in your own home and these Dan Dan Noodles with Shrimp were a breeze to make and amazingly delicious!
If you haven't heard of Dan Dan Noodles before you're not alone. Dan Dan noodles are a spicy, salty powerfully tasting dish from the Szchaun Provence that's starting to show up more on menu's around the country as part of the New Noodle Craze. So if you love ramen, lo mein, chow fun or any of those delicious noodle dishes you get at your local Asian restaurant then you're going to love Dan Dan Noodles!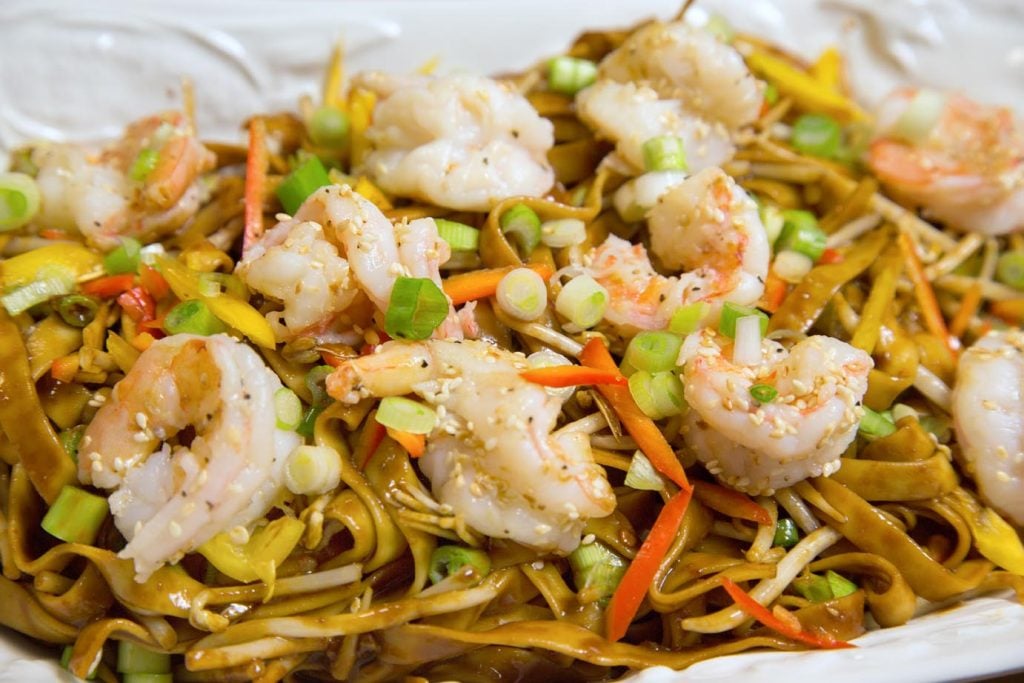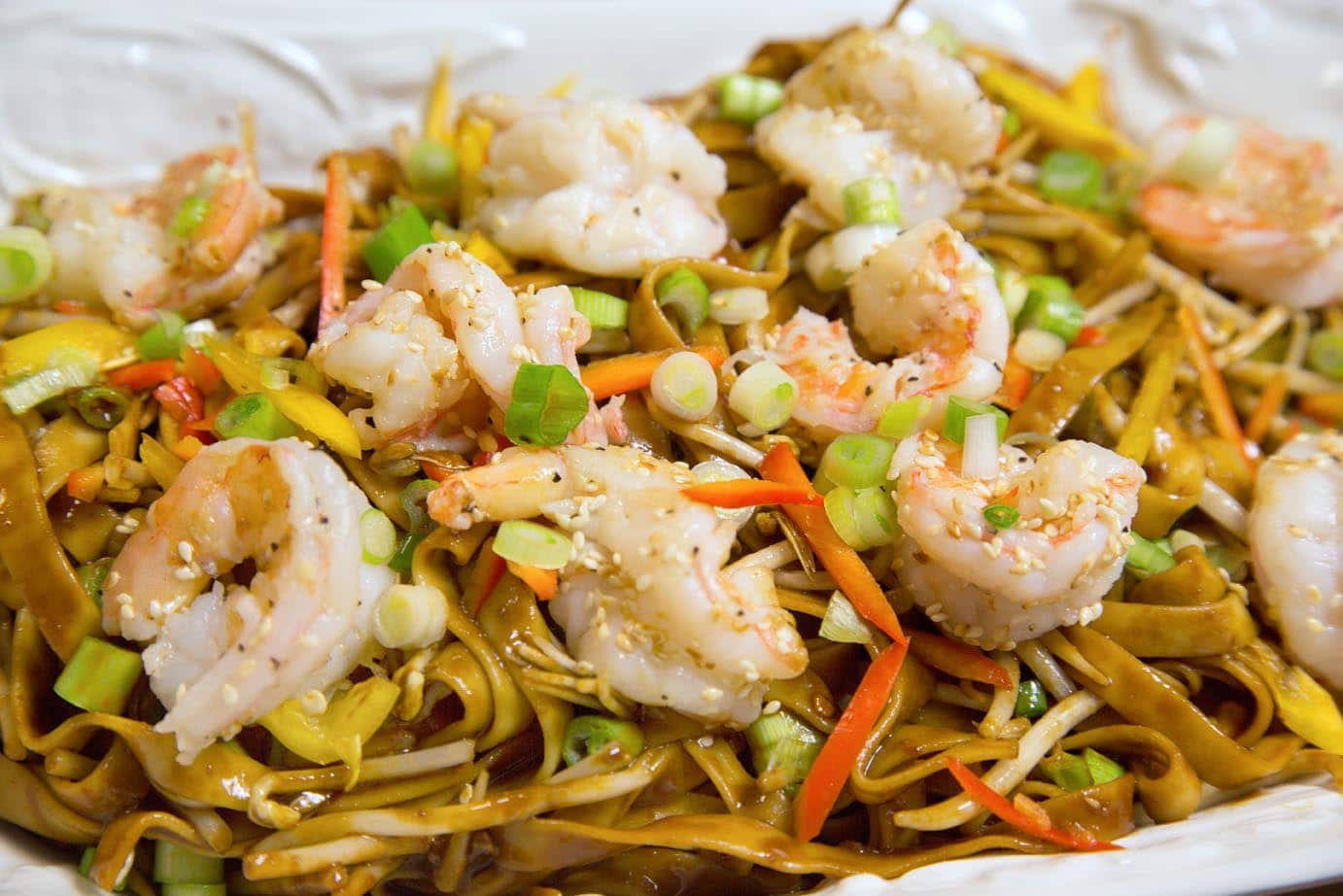 First we need a little history on dan dan noodles.
The name refers to a type of carrying pole (dan dan) that was used by walking street vendors who sold the dish to passers-by. The pole was carried over the shoulder, with two baskets containing noodles and sauce attached at either end. The noodles cost almost nothing, and gradually local people came to call them dan dan noodles. Literally, the name translates as "noodles carried on a pole", but may be better translated as "peddler's noodles". – source wikipedia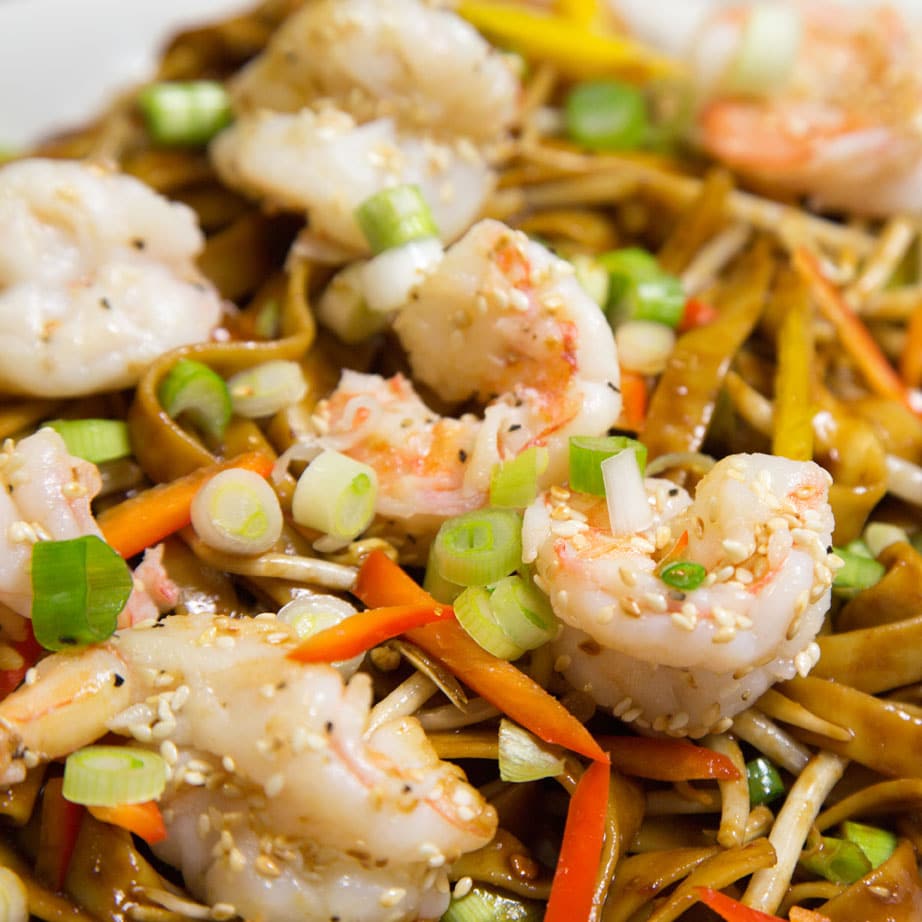 Let's talk about some of the supplies you'll need to make authentic Szechuan Dan Dan Noodle dishes. For the most authentic taste look for your supplies in an Asian market or a supermarket with a large selection of ingredients used in Chinese cooking.
What do I need to make Asian Inspired dishes at home?
Any type of flat wheat noodle can be used for this recipe; for the most authentic taste and texture, look for a Chinese brand of noodles.
Dark soy sauce (also referred to as black soy sauce) is thicker than regular soy sauce with a touch of sweetness.
Chinese sesame paste is similar to tahini with a more prominent roasted-sesame flavor.
Chinese black vinegar (aka Chingkiang vinegar) has a rich, smoky flavor.
Toasted Sesame Oil
Hot Chili Oil
Garlic-Chili Sauce or Sweet Chili Sauce depending upon heat preference
Chinese Rice Wine
Hoisin Sauce
Low sodium Sesame Sauce
sesame seeds (white and black)
These items will kick start your Chinese cooking and also add a flavorful boost to many of your regular recipes. Look for ways to incorporate some of these ingredients into your favorite dishes, creating new fusion dishes for your friends and family to enjoy!
If you enjoyed this recipe you may also like these: