Restaurant-Style dishes like my stuffed pork chops are easy to make and delicious way to make any night a special night. Cooking isn't difficult its all about the techniques and the ingredients.
This post includes affiliate links. As an Amazon Associate I earn from qualifying purchases.
Creating restaurant-style dishes like my Stuffed Pork Chops isn't difficult, it's just about planning and the ingredients. So plan to make your family happy with my easy-to-make recipe!
This post was sponsored by Mirum. The thoughts and opinions expressed are my own.
Have you ever wished you could create delicious dishes restaurant-style dishes in your own home? With the holiday season in full swing, it means sitting down to dinner with your family and friends and my restaurant-style dishes are a delicious way to show them you care.
The truth is, that most restaurant-style dishes are not difficult to make. It's just a matter of having the right ingredients and knowing how to put them together. It's also important to remember that recipes are simply guidelines. It's okay to think outside the box and craft recipes that are more aligned to your taste preferences. In other words, don't be afraid to make changes with the ingredients.
For years I had to avoid certain foods from the dishes I created at home for our dinners. It wasn't because I didn't enjoy them, it was because I was suffering from chronic heartburn, with no relief in sight. But thanks to Omeprazole Orally Disintegrating Tablets I don't have to miss out on the foods I love anymore. My heartburn is a thing of the past and I don't miss it!
During the holiday season, it's easy to go overboard, and 85% of Americans admit to overeating during the holidays. Nearly two-thirds of Americans also say they've felt physically uncomfortable after eating a holiday meal, according to the 2018 "Beating the Holiday Burn" Survey, conducted by SWNS/Perrigo Company plc.
Made for frequent heartburn sufferers who experience symptoms 2 or more days per week, Omeprazole Orally Disintegrating Tablets take the guesswork out of relieving your heartburn with its long-lasting protection! Bonus, you don't even need a glass of water, as the strawberry-flavored tablet dissolves right on your tongue.
Just don't chew it or dissolve it in liquid—put it on your tongue and let it do all the work. The MELTechTM format means it dissolves in your mouth without water, so you can conveniently take it even if you're on the go.
Take one dose daily for 14 days according to package directions. Don't take Omeprazole Orally Disintegrating Tablets for more than 14 days unless directed by your doctor. Omeprazole ODT may take 1-4 days for full effect and is not intended for immediate relief.
Let's start by gathering our ingredients for my Stuffed Pork Chop. In Chef Speak we call that the Mise en Place or everything in its place. Starting your cooking adventures this way helps speed up the cooking process as well as ensures you have everything on hand to make the dish.
What Can I Stuff Pork Chops With?
You can make stuffing pretty much any way you like. Use gluten-free bread, cornbread or no bread.
Add a different type of cheese or leave out the cheese altogether.
If you don't like peppers or onions, it's your dinner, leave them out.
Use mushrooms, broccoli rabe, your favorite bitter green, or any combination of vegetables that you like.
Try a simple meat stuffing with some aromatics, onion, garlic, herbs, citrus zest.
The whole idea is to craft a dinner that you will enjoy. Recipes should be guidelines.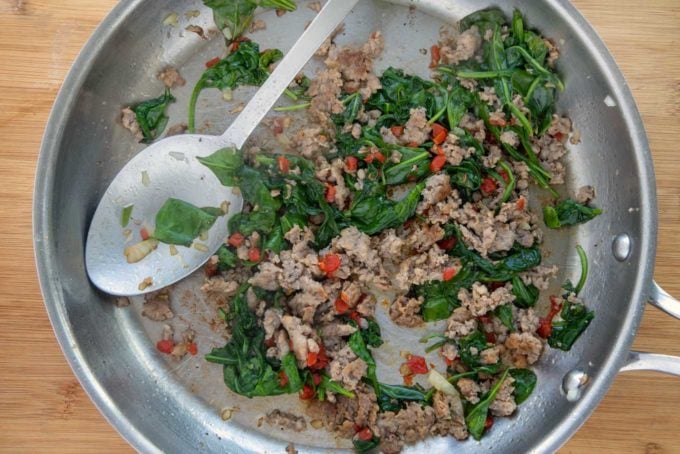 The first step in my recipe is sauteing the onions, peppers, sausage meat and spinach. Start with the onions and sausage, then add the rest after they've partially cooked.
Now it's just a matter of adding everything to the bread cubes that will make the base of our stuffing. I love potato bread and find the extra flavor enhances my stuffings.
I also love blue cheese, but you have a lot of choices for the stuffing. Goat cheese, swiss, or any of your favorites that will blend into the stuffing. I also like roasted red peppers. Honestly, they're in the stuffing for the color, but they do add another flavor to the mixture.
The first step in preparing the pork chops is to trim away any fat that is on the outside of the chop where you will split the meat.
Then its a careful slice through the meat without cutting completely through the chop. Season both the outside and inside with sea salt and black pepper.
Can I stuff boneless pork chops?
Yes, you can, I simply prefer bone-in chops. They make a nicer presentation and the bone adds some flavor to the meat.
I decided to take my stuffed pork chops on a different journey which included a little time on the grill to add some beautiful grill marks to the chops.
**Grill the presentation side only so you don't overcook the chops.
Do I Have to Grill Stuffed Pork Chops?
No, you don't. I wanted to enhance my presentation of the dish so I chose to let them spend a little time on the grill.
That being said they can be sauteed or cooked in the oven (which is where I finished my chops after stuffing).
You can also bread these chops and saute them. I used to do that type of chop in my restaurant on occasion, it made a very nice presentation and a change of pace.
After adding your stuffing to the chops, close them back up and place them in a 350-degree oven for 20 minutes.
**Or until an instant-read thermometer reads 165 degrees in the stuffing.
While the stuffed pork chops are in the oven, start your marsala sauce.
Can I make the Pork Chops ahead of time?
Stuffed Pork Chops are one of my favorite party dishes. They can be assembled hours before you need them and finished when your guests arrive for dinner. Assemble the chops, grill them or not. Then place them on a pan, covered in the refrigerator until needed.
*Bring the chops to room temperature before cooking them if you choose this method.
If you love a good pork recipe make sure to check out these recipes.
Print Recipe
Stuffed Pork Chops
Restaurant-Style dishes like my stuffed pork chops are easy to make and delicious way to make any night a special night. Cooking isn't difficult its all about the techniques and the ingredients.
Ingredients
12

oz

pork chops

2 rib chops - trimmed and split

sea salt and black pepper

to taste

4

oz

sausage meat

1

tbsp

roasted red peppers

diced

1

tbsp

onions

diced

2

cups

baby spinach

washed

1

tbsp

olive oil

brush chops before grilling

2

cups

potato bread

cut into cubes

1/2

cup

chicken stock

add more if stuffing is dry

2

tbsp

blue cheese crumbles

(optional)
Marsala Mushroom Sauce
6

oz

mushrooms

sliced

1

tbsp

olive oil

1/2

cup

marsala wine

1/2

cup

chicken stock

1

tbsp

butter

slightly soft

1

tbsp

flour
Instructions
Prep pork chop by trimming the fat from around the outside edge.

Carefully slice through the middle of the pork chop cutting it in half to form a flap. Do Not Cut all the way through!

Season chops inside and out with sea salt and black pepper to taste. Set aside until stuffing is complete.
Stuffing Mix
Saute onions and sausage meat until sausage is almost fully cooked.

Add spinach and roasted red peppers. Continue cooking until spinach is cooked then remove from heat.

In a mixing bowl place the cubed bread and add the sausage meat mixture. Mix together.

Add enough chicken stock to make the stuffing moist without being soggy.

Add crumbled blue cheese and gently mix together. The stuffing is now done.
Assembly and Cooking
Take half of the stuffing mixture (or as much as you want) and place it in the middle of each pork chop. Then fold the flap back over.

Refrigerate stuffed chops for 15-20 minutes to allow the stuffing to firm up.

Brush the outside of the chops with olive oil and place on a preheated grill. Cook chops on one side only. Turn chops to make # grill marks on one side.

*You can skip the grill and cook the chops completely in the oven.

Place the grill-marked chops into a preheated 350-degree oven for 20 minutes or until the stuffing has reached an internal temp of 165 degrees.
Marsala Mushroom Sauce
Saute mushrooms in a little olive oil until they are cooked.

Add Marsala wine and simmer for 1-2 minutes.

Add chicken stock, reduce heat and all to simmer and the sauce to reduce by half.

Roll the butter in flour to make a Beurre manie, then add to the simmering stock to help thicken the sauce.


When the sauce has thickened sufficiently add another splash of Marsala wine to boost the flavor. Remove from heat and serve over the finished stuffed pork chops.
Nutrition
Calories:
926
kcal
|
Carbohydrates:
39
g
|
Protein:
59
g
|
Fat:
52
g
|
Saturated Fat:
16
g
|
Cholesterol:
179
mg
|
Sodium:
1050
mg
|
Potassium:
1706
mg
|
Fiber:
4
g
|
Sugar:
14
g
|
Vitamin A:
3159
IU
|
Vitamin C:
14
mg
|
Calcium:
161
mg
|
Iron:
4
mg