Creating restaurant-style dishes like my Stuffed Pork Chops isn't difficult, it's just about planning and the ingredients. So plan to make your family happy with my easy-to-make recipe!
Have you ever wished you could create delicious dishes restaurant-style dishes in your own home? With the holiday season in full swing, it means sitting down to dinner with your family and friends and my restaurant-style dishes are a delicious way to show them you care.
The truth is, that most restaurant-style dishes are not difficult to make. It's just a matter of having the right ingredients and knowing how to put them together. It's also important to remember that recipes are simply guidelines. It's okay to think outside the box and craft recipes that are more aligned with your taste preferences. In other words, don't be afraid to make changes to the ingredients.
Let's start by gathering our ingredients for my Stuffed Pork Chop. In Chef Speak we call that the Mise en Place or everything in its place. Starting your cooking adventures this way helps speed up the cooking process as well as ensures you have everything on hand to make the dish.
What Can I Stuff Pork Chops With?
You can make stuffing pretty much any way you like. Use gluten-free bread, cornbread or no bread.
Add a different type of cheese or leave out the cheese altogether.
If you don't like peppers or onions, it's your dinner, leave them out.
Use mushrooms, broccoli rabe, your favorite bitter green, or any combination of vegetables that you like.
Try a simple meat stuffing with some aromatics, onion, garlic, herbs, citrus zest.
The whole idea is to craft a dinner that you will enjoy. Recipes should be guidelines.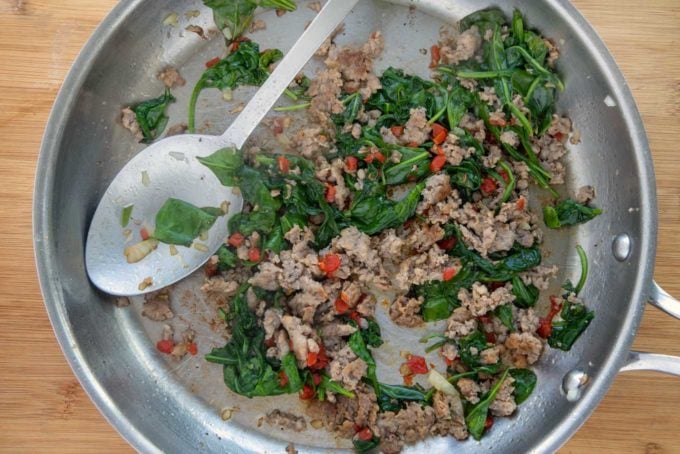 The first step in my recipe is sauteing the onions, peppers, sausage meat and spinach. Start with the onions and sausage, then add the rest after they've partially cooked.
Now it's just a matter of adding everything to the bread cubes that will make the base of our stuffing. I love potato bread and find the extra flavor enhances my stuffings.
I also love blue cheese, but you have a lot of choices for the stuffing. Goat cheese, swiss, or any of your favorites that will blend into the stuffing. I also like roasted red peppers. Honestly, they're in the stuffing for the color, but they do add another flavor to the mixture.
The first step in preparing the pork chops is to trim away any fat that is on the outside of the chop where you will split the meat.
Then it's a careful slice through the meat without cutting completely through the chop. Season both the outside and inside with sea salt and black pepper.
Can I stuff boneless pork chops?
Yes, you can, I simply prefer bone-in chops. They make a nicer presentation and the bone adds some flavor to the meat.
I decided to take my stuffed pork chops on a different journey which included a little time on the grill to add some beautiful grill marks to the chops.
**Grill the presentation side only so you don't overcook the chops.
Do I Have to Grill Stuffed Pork Chops?
No, you don't. I wanted to enhance my presentation of the dish so I chose to let them spend a little time on the grill.
That being said they can be sauteed or cooked in the oven (which is where I finished my chops after stuffing).
You can also bread these chops and saute them. I used to do that type of chop in my restaurant on occasion, it made a very nice presentation and a change of pace.
After adding your stuffing to the chops, close them back up and place them in a 350-degree oven for 20 minutes.
**Or until an instant-read thermometer reads 165 degrees in the stuffing.
I absolutely love my Meater Plus | Smart Meat Thermometer It takes all the guesswork out of cooking meats in the oven, on the grill, or in a smoker.
While the stuffed pork chops are in the oven, start your marsala sauce.
Can I make the Pork Chops ahead of time?
Stuffed Pork Chops are one of my favorite party dishes. They can be assembled hours before you need them and finished when your guests arrive for dinner. Assemble the chops, grill them or not. Then place them on a pan, covered in the refrigerator until needed.
*Bring the chops to room temperature before cooking them if you choose this method.
More Recipes You'll Love!