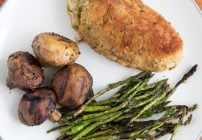 Tender and delicious these Pork cutlets stuffed with arugula pesto, sauteed super greens, roasted red peppers, and gorgonzola crumbles will amaze!
This post includes affiliate links. As an Amazon Associate I earn from qualifying purchases.
I have to thank Lisa for getting me to come up with this dish. While out shopping for ingredients for my show Around the Kitchen Table, she saw a stuffed pork loin prepped in containers to be cooked at home. It was made to look very inviting, stuffed pinwheel style with fresh spinach and mozzarella cheese with a light coating of breadcrumbs…….picture perfect.
As she stared at the container I could imagine how delicious she thought this would be and I knew she wanted it for dinner. As I told her how it would cook up, and what a disappointment it would be, you would have thought I had told her there was no Santa Claus….sigh
So I asked her again if she'd like that for dinner to which she replied enthusiastically Yes! What could I do, I had to make it for her and I had to make sure it wouldn't disappoint.
Needless to say she wasn't disappointed, proclaiming it was one of the tastiest meals she's had in a while! I have to say impressing Lisa is high on my list of things that make me happy, and when she thoroughly enjoys a meal like she did tonight, any extra work I may have done was all worth it.
But I will tell you, this dish was not very hard to make at all, and I even took step by step pictures to show you!
The first thing you do is set up your breading station.
Next you need to pound out the boneless pork chops so they're thin and large enough to stuff and roll. In Florida they sell a cut of meat called Pork Sirloin chops, and they are boneless and extremely tender, I used these.
After pounding out, I added a layer of the Arugula Pesto I had made last Monday for Around the Kitchen Table, it had pistachios and gorgonzola cheese in the pesto……it was an excellent choice!
Next I added Organic Girl Super Greens that I had sauteed with olive oil and garlic, some roasted red peppers and a healthy amount of gorgonzola crumbles. The super greens was a really delicious mixture of baby red chard, baby tat soi, baby spinach, baby green swiss chard, baby arugula. I've never seen this before but you can bet I'll be looking for it again!
I then rolled them up starting at the narrow end, creating a pinwheel effect. If you want to really see colors when you cut the pork add more roasted peppers. Lisa doesn't love roasted peppers so I cut back on what I normally would have used.
You can see a little bleed through where the mixture is coming through the meat. When you use the breading station it gives you a chance to seal them. Start with flour and shape the roll and firm it up, then the eggwash and then the breadcrumbs. The breadcrumb layer will help you to keep everything together. (if you chill them before cooking they will set up nicely and be easier to handle)
These can be made ahead up to a day, although you may need to re-coat them in bread crumbs if the breading is wet. To finish just saute them on both sides until golden brown then pop them into a preheated 350 degree oven for 25 minutes.
You can also saute them earlier in the day and finish them in the oven later that day. Just make sure to refrigerate them immediately after sauteing.
When sauteing, its important to always start with the seam side down to let the roll seal properly.
I was going to make a sauce to go with these beauties, but it wasn't necessary. The cheese had added a wonderful layer of moisture to the chop making it very palatable!
Print Recipe
Stuffed Sirloin of Pork
Tender and delicious these Pork cutlets stuffed with arugula pesto, sauteed super greens, roasted red peppers, and gorgonzola crumbles will amaze!
Ingredients
4

Boneless Pork Chops

10

oz

mixed organic supergreens or spinach

1/2

cup

roasted red peppers chopped

6

oz

Gorgonzola crumbles

6

tablespoons

Arugula Pesto

see post "how to make pesto three ways"

1/2

cup

olive oil for sauteing finished rolls some to saute greens

1

teaspoon

chopped garlic

1

cup

seasoned bread crumbs

2

eggs beaten

1/4

cup

milk

1

cup

flour seasoned with sea salt and black pepper
Instructions
preheat oven to 350 degrees

*See Recipe from Pesto three ways to make Arugula Pesto

Saute supergreens with chopped garlic and olive oil, until just wilted.

Set up breading station, flour with sea salt and black pepper, seasoned bread crumbs, and eggs beaten with milk.

Pound pork cutlets thin between two sheets of plastic wrap

Coat one side of each cutlet with 1 1/2 tablespoons of arugula pesto

Divide sauteed greens between four cutlets, spreading evenly

Add roasted red peppers and gorgonzola crumbles

Start rolling cutlets from the narrow side down, creating a pinwheel effect.

If you have time to chill the stuffed and rolled cutlets for about an hour they will be easier to work with when breading.

Start by rolling each stuffed pork in flour using this as an opportunity to seal the roll and forming it

Dip into egg wash and then into seasoned breadcrumbs. The breadcrumbs will give you another opportunity to form and seal the stuffed pork.

Heat a large saute pan, then add olive oil and saute the rolls on each side until golden brown, place on baking dish and bake for 25 minutes in preheated oven.

Serve immediately with sides of your choice.
Nutrition
Calories:
735
kcal
|
Carbohydrates:
52
g
|
Protein:
52
g
|
Fat:
35
g
|
Saturated Fat:
14
g
|
Cholesterol:
207
mg
|
Sodium:
1603
mg
|
Potassium:
1183
mg
|
Fiber:
4
g
|
Sugar:
4
g
|
Vitamin A:
7716
IU
|
Vitamin C:
29
mg
|
Calcium:
436
mg
|
Iron:
6
mg