Stuffed Flounder Florentine is a delicious restaurant-quality dish that is perfect for a date night dinner or fancy dinner party. Yet easy enough to make a family for a week-night dinner.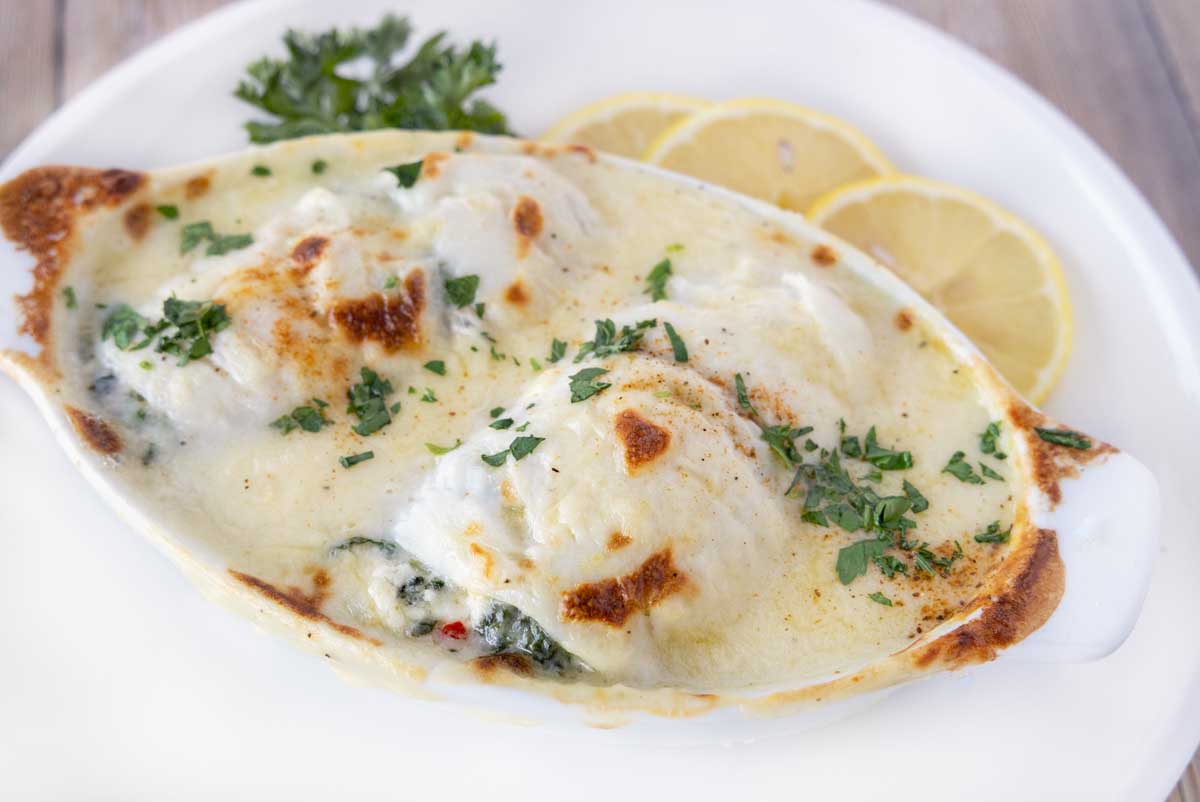 Mild flaky flounder stuffed with a mixture of spinach and cheese, baked to perfection in a mornay sauce is a classic stuffed flounder recipe that won't break the bank, but impress your guests with its simple elegance.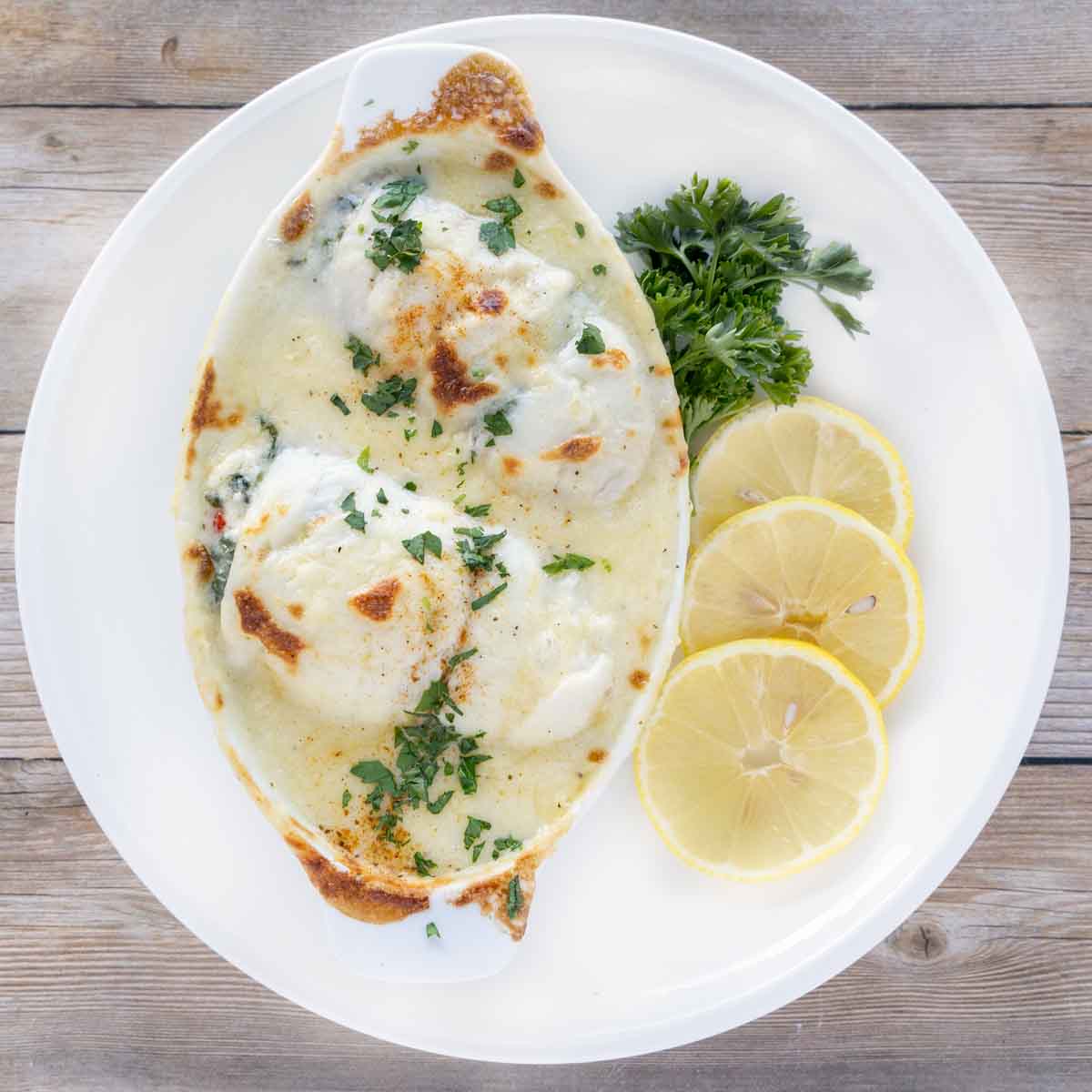 And the great part is, that it takes almost no time to prep! And did I mention it was OMG delicious?
If you love flounder, my Crabmeat Stuffed Flounder and Fried Flounder are two of my favorite recipes.
What ingredients do I need to make Stuffed Flounder Florentine?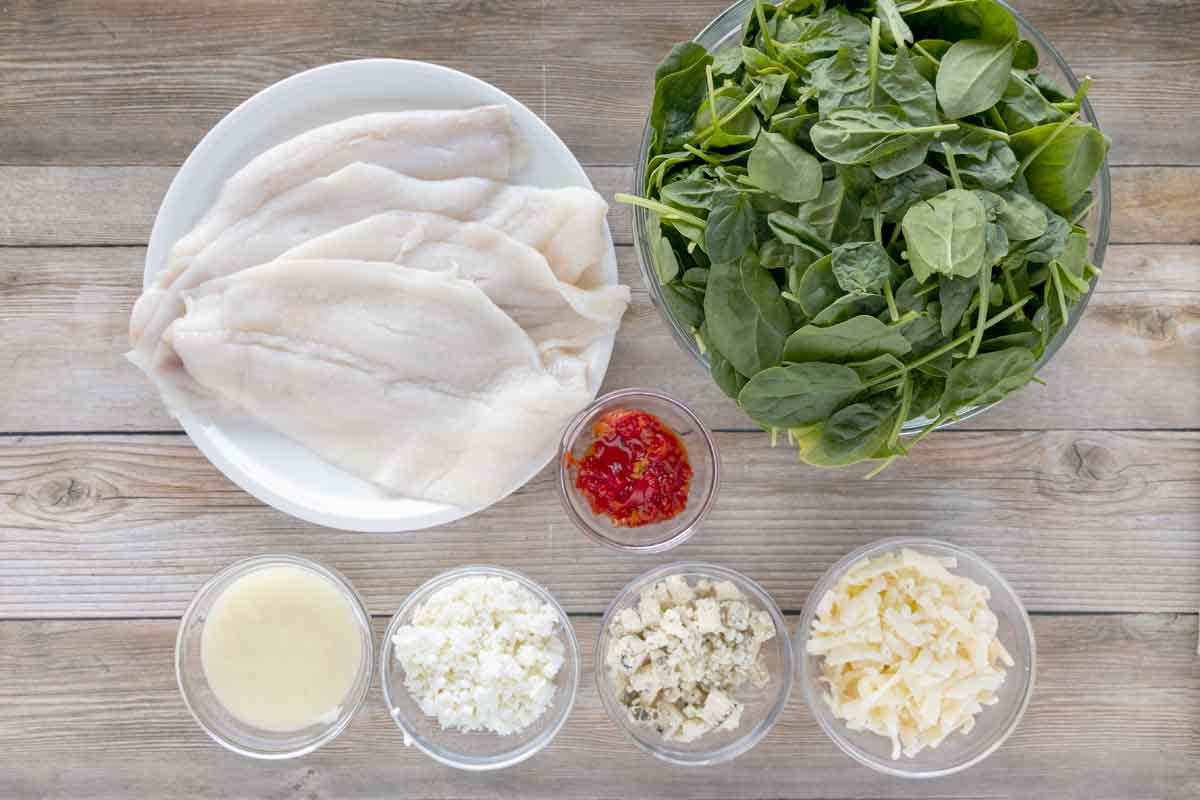 Let's start by gathering the ingredients we need to make Stuffed Flounder Florentine. In Chef Speak this is called the "Mise en Place" which translates to "Everything in its Place".
Not only does setting your ingredients up ahead of time speed up the cooking process, it also helps ensure you have everything you need to make the dish.
Can I make this dish with other fish?
Absolutely! You can use any mild white fish fillets that you like. Tilapia, sole, perch, walleye. and even catfish are good fish to stuff. The fillets just need to be thin enough to roll.
How do I make Stuffed Flounder Florentine?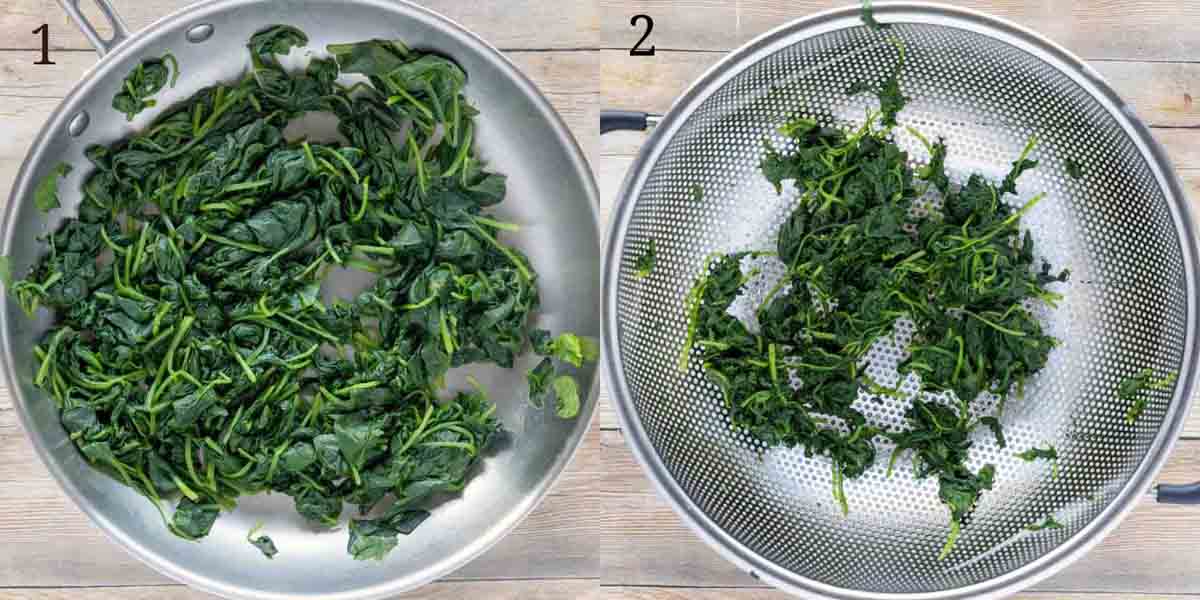 Saute the baby spinach in a little olive oil, let the spinach cook down completely (add a little water if necessary), this should only take a few minutes.
Place the spinach in a colander to drain. When its completely cooled, squeeze out any remaining water. It should be moist, just not wet.
How do I make Béchamel and Mornay Sauce?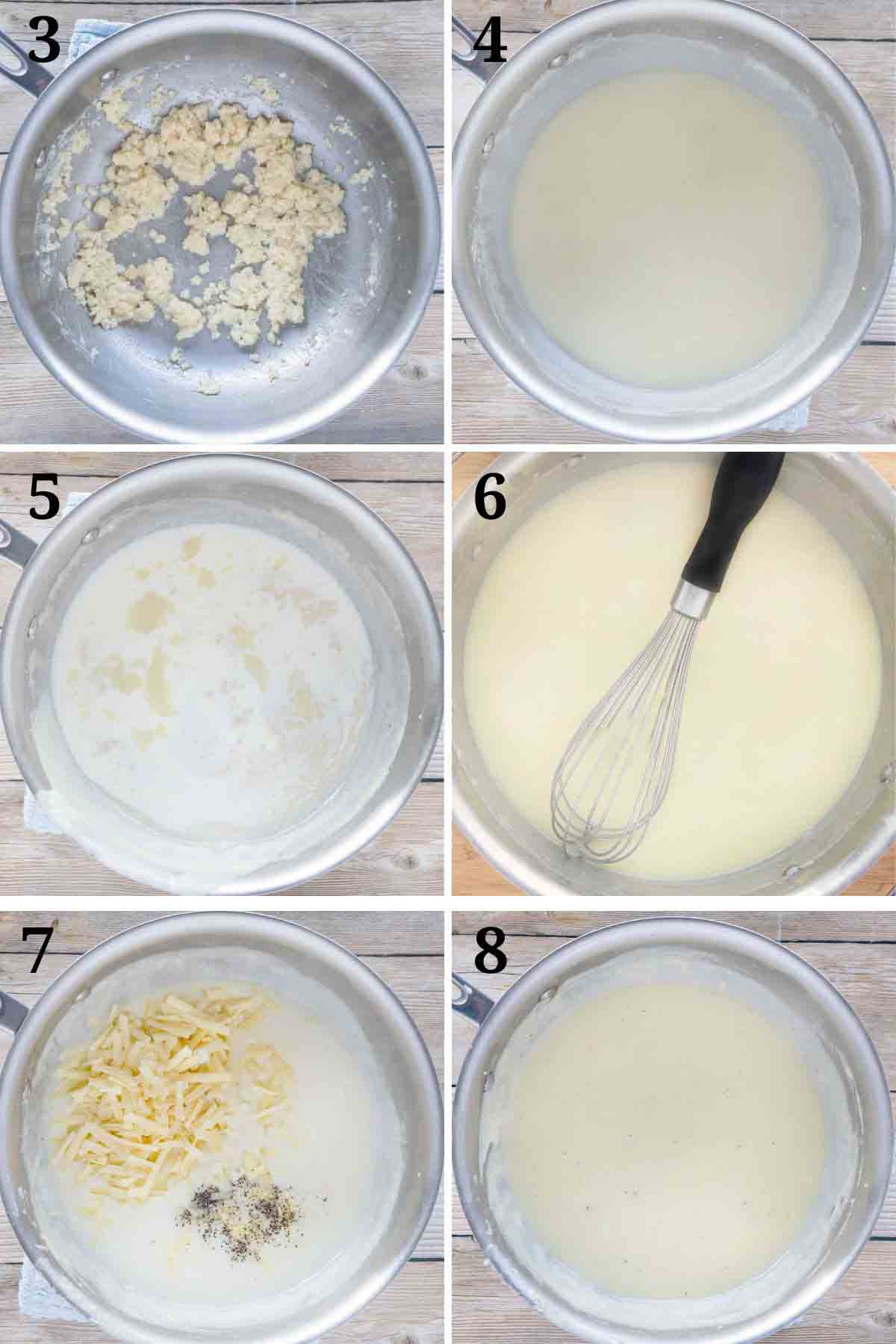 In a saucepan melt the butter, then add in the flour and mix well to make a roux. Allow roux to cook on low heat for about 5 minutes to cook the flour.
Add your heated stock to the roux to make a bechamel.
Remove ¼ cup of the bechamel to add to your spinach.
Add the milk, and allow to cook for a few minutes, If the sauce is too thick it can be thinned out with a little more milk or water. You have now made a Veloute'.
Add the shredded cheddar (or cheese of your choice) and season with salt and pepper to taste.
You now have made this into a Mornay sauce. Set aside and allow to cool.
How do I stuff flounder?
The first step is to mix the cheese, spinach, roasted red peppers, and bechamel sauce together to make the stuffing mix for the flounder.
Place the flounder fillets on a sheet pan or flat surface.
Divide the stuffing between the flounder fillets.
Roll the flounder fillets so that the flounder surrounds the stuffing.
Place the fillets in two individual baking dishes or one large enough to hold all four rolls without them moving around too much. Make sure the fillets are seam side down so the flounder does not open up while baking.
Add a little water to the pan and place in a 350-degree oven for 15 minutes
Remove from oven and drain off the water, add the mornay sauce to the casserole dish with the stuffed flounder rolls and return to the oven to bake for an additional 10 minutes ( I overfilled the dishes with mornay sauce and ended up taking some out. You should actually be able to see the flounder rolls).
Finish baking the Stuffed Flounder for 10 – 15 minutes or until golden brown and bubbly.
Serve with lemon wedges and your favorite side dishes. Since I already had spinach in the dish, I served my stuffed flounder florentine with seasoned rice and it was ah-mazingly delicious!!
Recipe FAQ's:
Can I make stuffed flounder ahead of time?
Yes, you can. This dish can be prepared up to a day ahead of time. Make sure to keep it well covered and refrigerated until it's time to bake the stuffed flounder. Then place the dishes in a preheated 350 degree F. oven for 35-40 minutes or until the top gets golden and bubbly.
What kind of cheese can I use in the spinach stuffing?
I like to use a blend of cheese in my mixture using mozzarella, goat cheese and gorgonzola. But you can use cheddar, swiss, gruyere, bleu cheese, fontina, or any cheese that you enjoy eating that melts well.
Can I freeze cooked stuffed flounder?
Yes, you can. Allow it to cool completely, then double wrap the container with plastic wrap to ensure freshness. When reheating allow the stuffed flounder to defrost in the refrigerator over night, then unwrap the plastic wrap and cover with foil. Bake at 350 degrees for 30-35 minutes or until an internal temperature of at least 165 degrees F has been reached.
More Recipes You'll Love!