Crispy golden brown fried flounder is a restaurant-quality dish that the whole family will love. Lightly breaded with seasoned panko bread crumbs and quick fried, the sweet, flaky filet of flounder will almost melt in your mouth.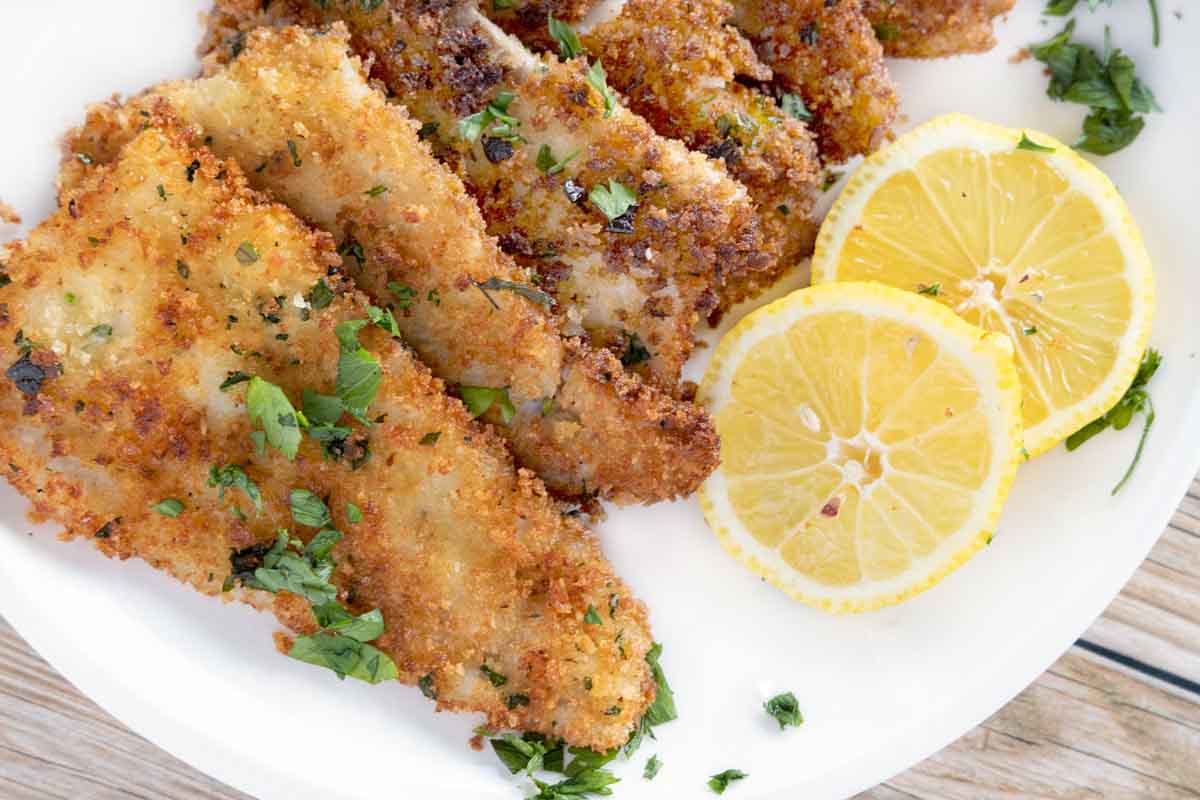 Serve it with lemon wedges and tartar sauce and you'll think your sitting at a fish house off the Jersey Shore. The secret is getting the oil hot enough to quickly fry the breaded flounder.
*The only time you get greasy fried foods is when the oil isn't hot enough.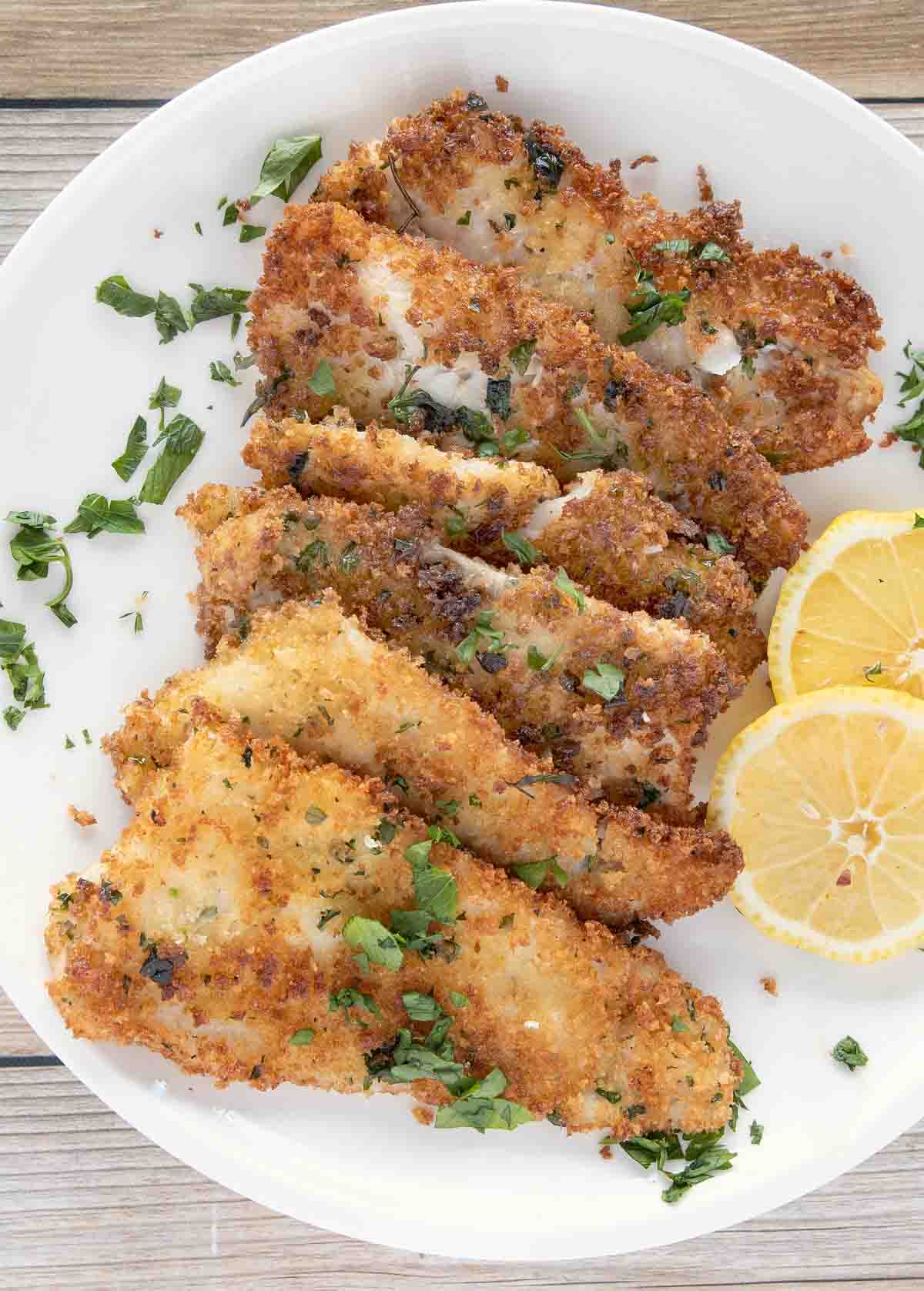 You have to be careful handling the flounder once it starts to cook, it's a delicate sweet fish that won't take rough handling.
This post includes affiliate links. As an Amazon Associate, I earn from qualifying purchases.
A Fine Mesh Skimmer is a great tool to have on hand if you're deep-frying foods. It works really well on recipes like my Fried Shrimp and Fried Lobster Tails.
This is the thermometer I use to test the oil to make sure it's hot enough.
What ingredients do I need to make Crispy Fried Flounder?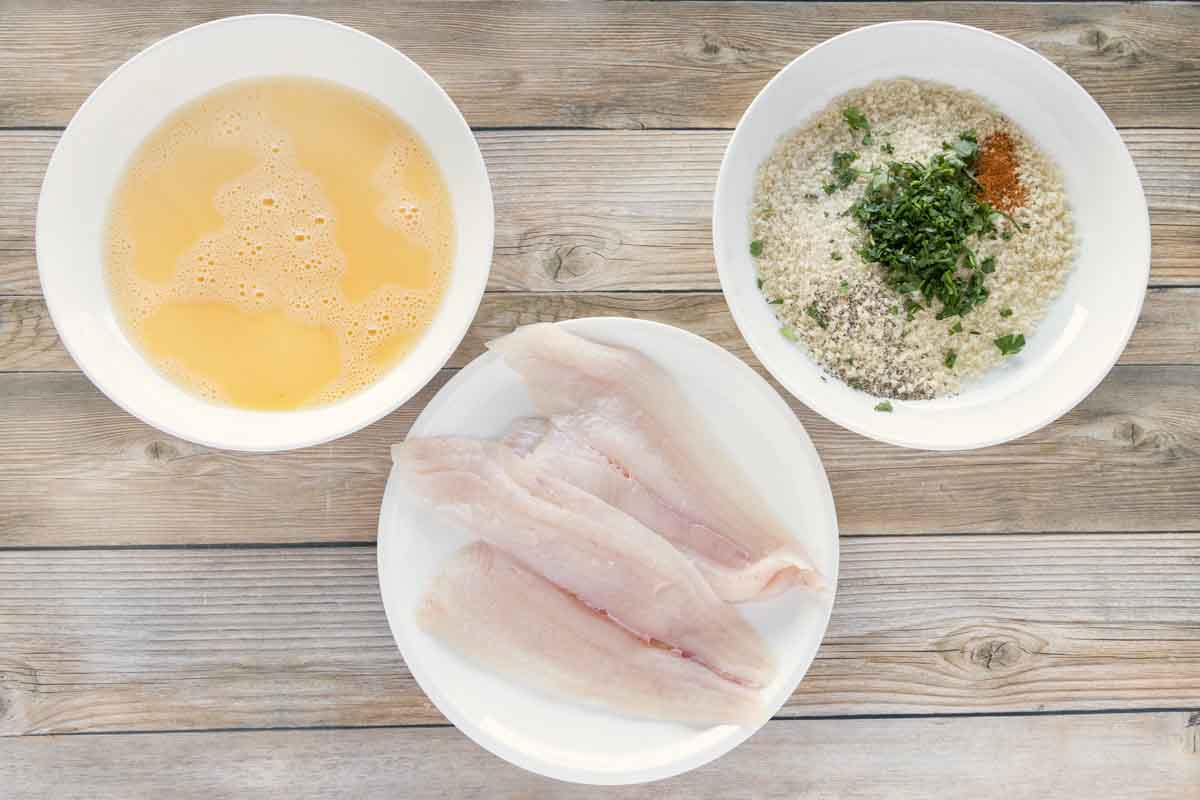 Let's start by gathering the ingredients we need to make fried flounder In Chef Speak this is called the "Mise en Place" which translates to "Everything in its Place".
Not only does setting your ingredients up ahead of time speed up the cooking process, it also helps ensure you have everything you need to make the dish.
What type of fish is flounder?
Flounder, also known as Fluke (winter flounder) is a sweet, mild-tasting fish with a delicate, flaky texture. It's a slightly fatty fish, but not fishy-tasting at all. Fresh flounder should have no distinct odor.
How do I make Fried Flounder?
The process is really simple for fried fish, shrimp, or scallops.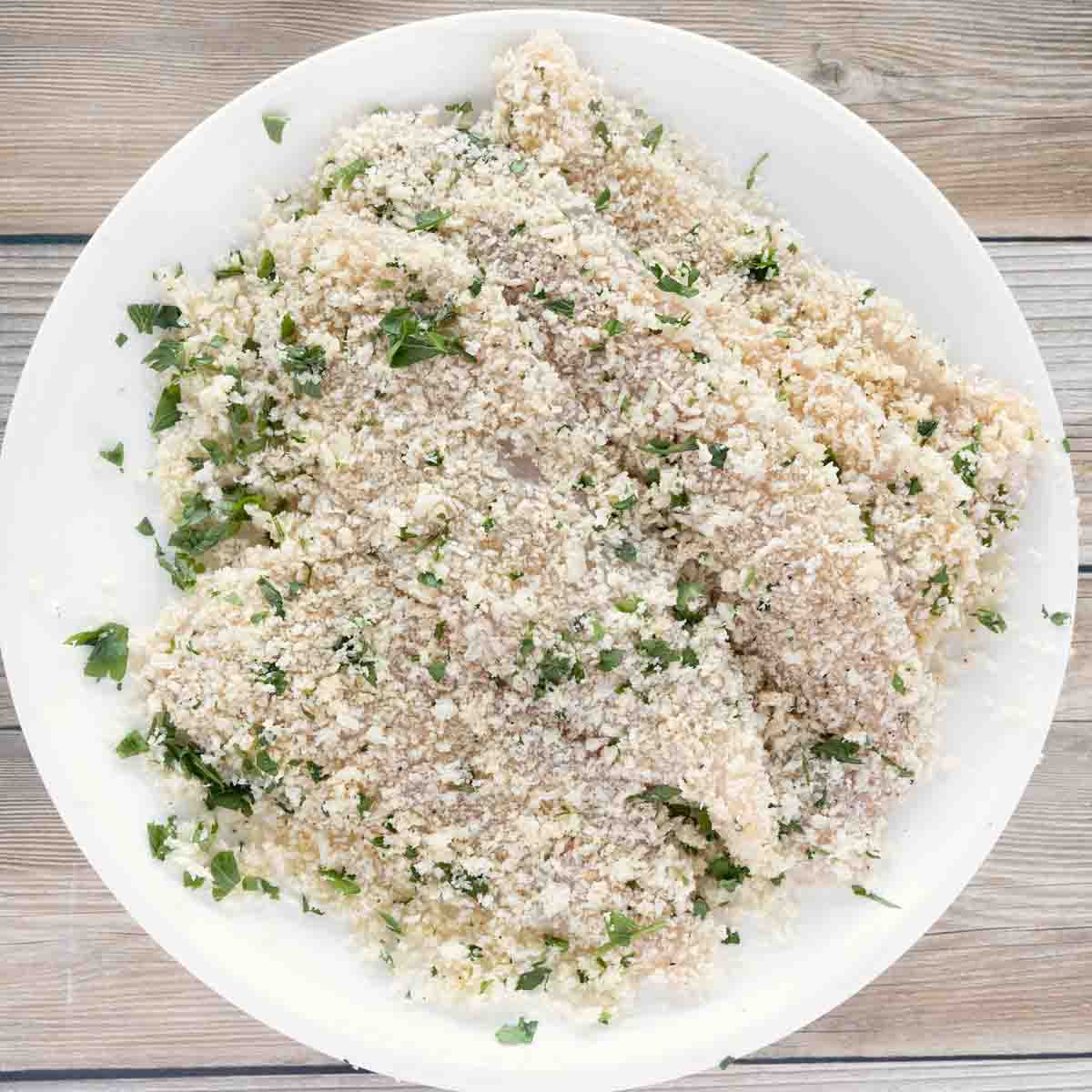 Dip the flounder fillets in egg wash (beaten eggs with water or milk) and then into the seasoned bread crumbs. I seasoned my bread crumbs with sea salt, black pepper, paprika (to help bring out the golden brown color), grated Romano (or parmesan cheese), and chopped parsley.
The most important lesson you need to learn when deep frying any food is that the temperature of the oil must be at least 325 degrees F. I prefer 350 degrees F because when you put food into the oil, the temperature drops. The extra 25 degrees helps compensate, ensuring your food gets crisp and not oily.
If you've ever had oily fried food, you can be sure that the oil wasn't hot enough, because properly fried foods will never be overly greasy. Crispy, crunchy, golden brown, and delicious. Those are the only terms you should ever use when describing fried food.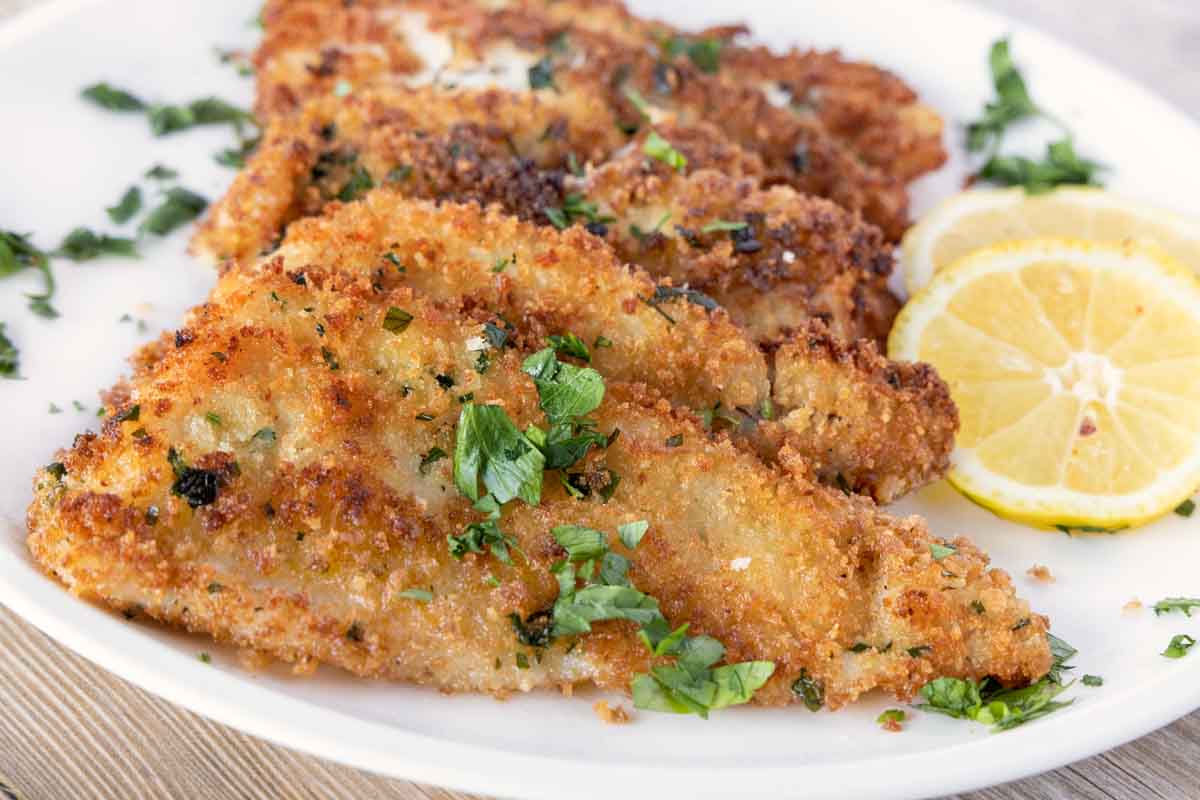 Then it's time to serve up the flounder with a side of tartar sauce and a wedge of lemon.
Being a Southerner I always enjoyed eating fried fish. And if you're looking for another delicious fried fish recipe my friends at Cook with Soul have the best Southern Fried Catfish Recipe you've ever tasted! Bonus it's gluten-free and dairy-free.
Easy homemade tartar sauce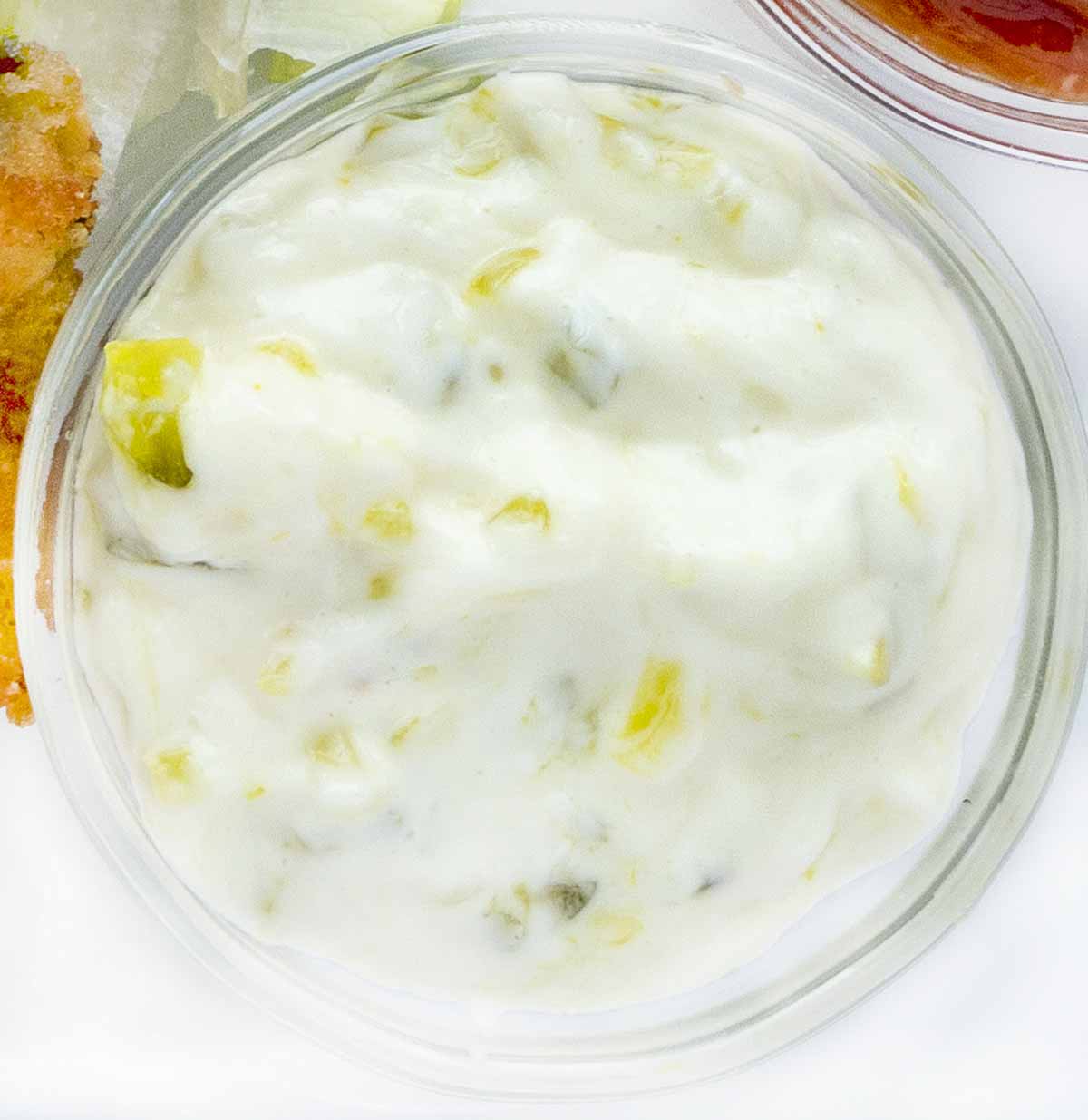 The recipe for homemade tartar sauce is very simple. Some recipes call for dill pickles or dill relish, but then you need to add sugar to compensate. Many recipes have a slew of ingredients but what they're making is actually a remoulade. Tartar sauce is a very simple creation and can be modified to suit your tastes.
¼ cup mayonnaise
1 tbsp sweet pickle relish
a squeeze of lemon juice
salt and pepper to taste
Recipe FAQ's
What is the best oil to fry fish?
Vegetable oil is the best oil to use for deep frying at home. Some recommend canola oil but I still have my doubts about the health risks involved with canola. Peanut oil has always been a favorite for frying but if you're cooking for anyone with a peanut allergy that can pose a problem. Avocado oil is also a good alternative.
Why is my fried fish greasy?
The reason that fried foods look greasy or oily is due to the fact that the oil was not hot enough to properly fry the food. Oil temperatures need to be a minimum of 325 degrees to fry food. The problem with starting at 325 degrees is as soon as you add food to the oil, the temperature drops. That's why I always suggest the fryer be at 350 degrees to start.
Can I make fried flounder in an air fryer?
You certainly can. Using an oil mister spray the breaded flounder with a generous amount of your favorite cooking oil for the air fryer.
Set the air fryer temperature to 400 degrees F, on the air fryer setting. Using your air fryer basket, cook the breaded flounder for 5 minutes, then carefully flip the flounder, respray with cooking oil and continue cooking for 3-5 minutes, or until golden brown.
More Seafood Recipes You'll Love!