Well it's definitely Monday, the hustle bustle of work is in the air and all is right with the world, but it still early……sigh
If you've been to my blog lately, I'm sure you're aware of my recent obsession with Strawberries.  A few weeks ago I made a Strawberry Ricotta Mousse, and after devouring the portions I had made for my post, I began wondering how this delightful dessert would be in Gelato form.
Let me tell you it didn't disappoint.  The Strawberry flavor was incredible and the ricotta added such a unique texture to the gelato I may have to try it with fresh peaches when they come into season!  For the health conscious out there (I think I need to be one of them) feel free to swap out the heavy cream for milk.   It will cut down the fat and should actually let the strawberry flavor be more prominent.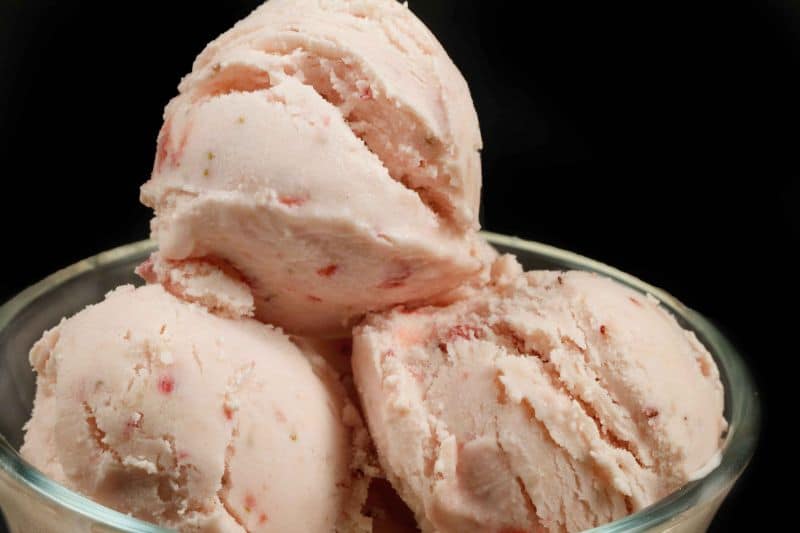 Ingredients
cup

¾ whole milk ricotta

cup

½ mascarpone

1

cup

heavy cream

cup

½ confectioners' sugar

1

tsp

. vanilla

2

cups

sliced strawberries

2

tbsp

sugar
Instructions
Remove the stems and leaves from the strawberries and rinse in cold water.

Place the strawberries and the sugar in a food processor and process until liquefied.

In large bowl whisk together the Ricotta, Mascarpone and Confectioners' sugar

Using an electric mixer whip heavy cream and vanilla until fully whipped

Mix Strawberries into the Ricotta mixture then gently fold whipped cream into it, cover and refrigerate for at least 1 hour

Pour the mixture into an ice cream maker and freeze following the manufacturer's instructions.
Recipe Notes
*Strawberries always seem to make gelato or ice cream much harder so make sure you give it time to soften up before serving, Ice cream should not be eaten completely frozen, it should have more of a soft serve texture for the flavors to truly be fully appreciated