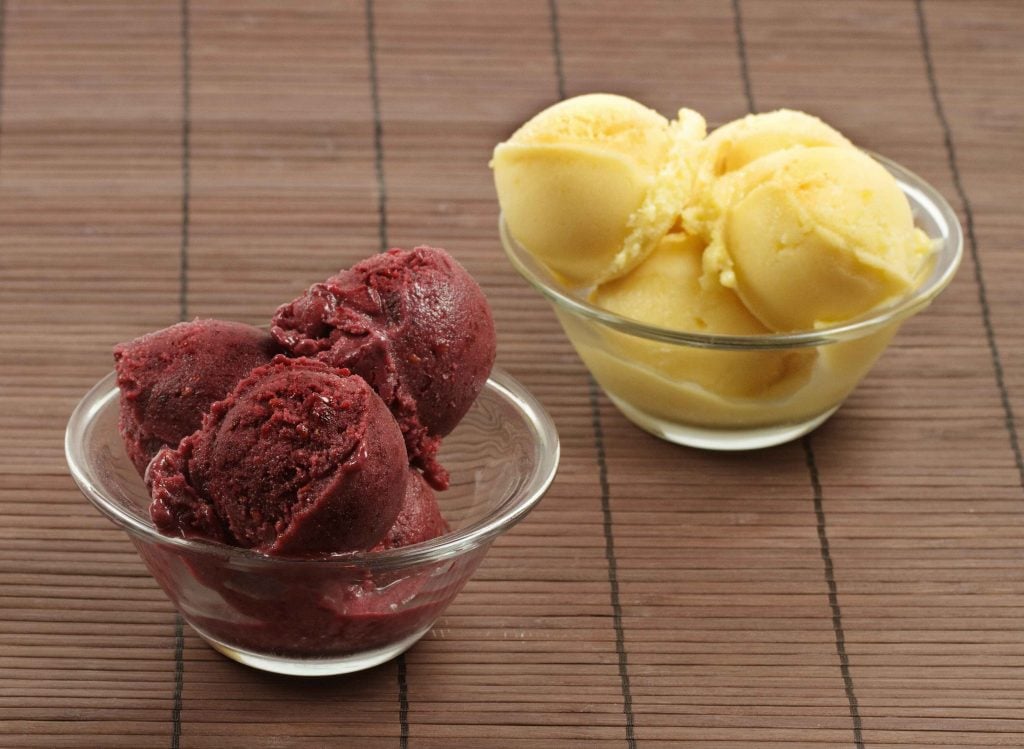 Temperatures this year have been all over the place, before spring break we were enjoying high 70's to low 80's, over spring break we were in the 60's and then for our first day back to school it hit 90 degrees!  When I got home yesterday the air conditioning went on, and I started making gelato, if it's going to feel like summer time I'm making some frozen treats!
Luckily I had some beautiful blackberries on hand, and a couple of mangoes that were on the verge of being overripe, just perfect for gelato.   They were too good, my favorite being the blackberry, seeds and all (although next time I think I will try to strain out the seeds).  It's amazing how much more flavor these gelato's have than standard ice creams, and I believe it has to do with the fact that you're not using very much cream or in the case of these two gelato's none at all.   While cream does do some wonderful things to ice cream, it does tend to tone down the flavors, the creamy sweetness of the ice cream being the star.   With gelato since your not adding in the cream, the flavors become the stars and are so much more prominent in the flavors, and while not as creamy as ice cream it still has a wonderful texture and mouth feel, and I have to tell you the flavors are incredible!   The other difference with Gelato vs Ice Cream is the amount of air whipped into the mix, gelato is denser and there for contains more flavor.   So my vote goes to Gelato!
I think one of the things I enjoyed most about eating Gelato's in Italy was how they would let you put up to five flavors in your selection, so you got to taste some really interesting flavors, with each Gelateria having their own signature flavors.  The sky's the limit where gelato is concerned, so be creative!
Ingredients
21/2

cups

fresh Blackberries* or

2 cups Mango

1

cup

granulated sugar

2

cup

Milk*

juice of half a lime
Instructions
Rinse the blackberries in cold water or (peel and cut up mango into pieces)

Place the fruit, lime juice and the sugar in a food processor and process until liquified.

Add 1 cup of the milk and run the food processor until the mixture is smooth.

Mix the remainder of Milk and fruit mixture in a bowl and mix thoroughly.

Pour the mixture into an ice cream maker and freeze following the manufacturer's instructions.
Recipe Notes
*Blackberries are not as dense as strawberries so I increased the fruit by 1/2 cup. *if you would like a creamier gelato replace 1/2 cup of milk with heavy cream
You are going to love these fresh fruit gelato's, now that it's getting warmer, they'll make the perfect dessert for any occasion!  While I have never tried it, I think a vegan version using rice milk would still be pretty darn good, or make them using just water for refreshing sorbet's!   For those of you that have asked I use a Delonghi GM6000 self refrigerating gelato maker, you can pick one up on Amazon for around $250.  The great thing about a self refrigerating unit is that there is no down time in between batches, you can make one right after the other.  I've had it for almost a year now and have had no problems with it at all, although it is too heavy to move around and has found a permanent location on my counter.
It looks like the rest of the week is getting cooler, which is a blessing considering how hot our kitchen gets, so it's a good thing I made these delicious gelato's while I had the chance!   That's it for today my friends, now please excuse me while I go find a spoon….the gelato is calling to me!