My Classic Crab Rolls are loaded with fresh jumbo lump crabmeat gently tossed with a seasoned mayonnaise-based dressing. I love New England Lobster rolls and when someone told me I could get a crabmeat version of that New England Classic, I knew it was going to be love at first bite.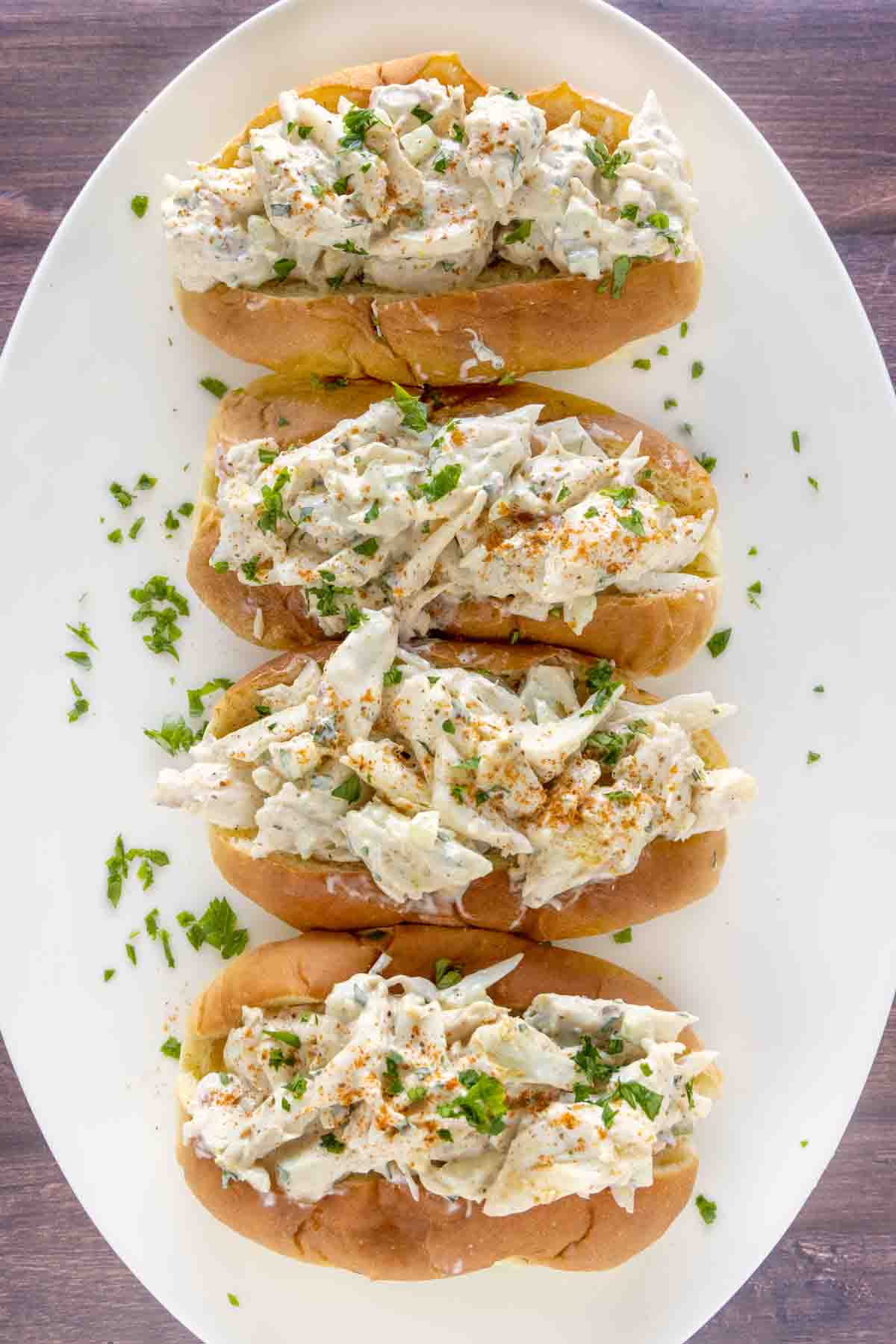 This easy-to-make crab roll recipe takes about ten minutes to make, and I promise it will be better than your favorite seafood restaurant.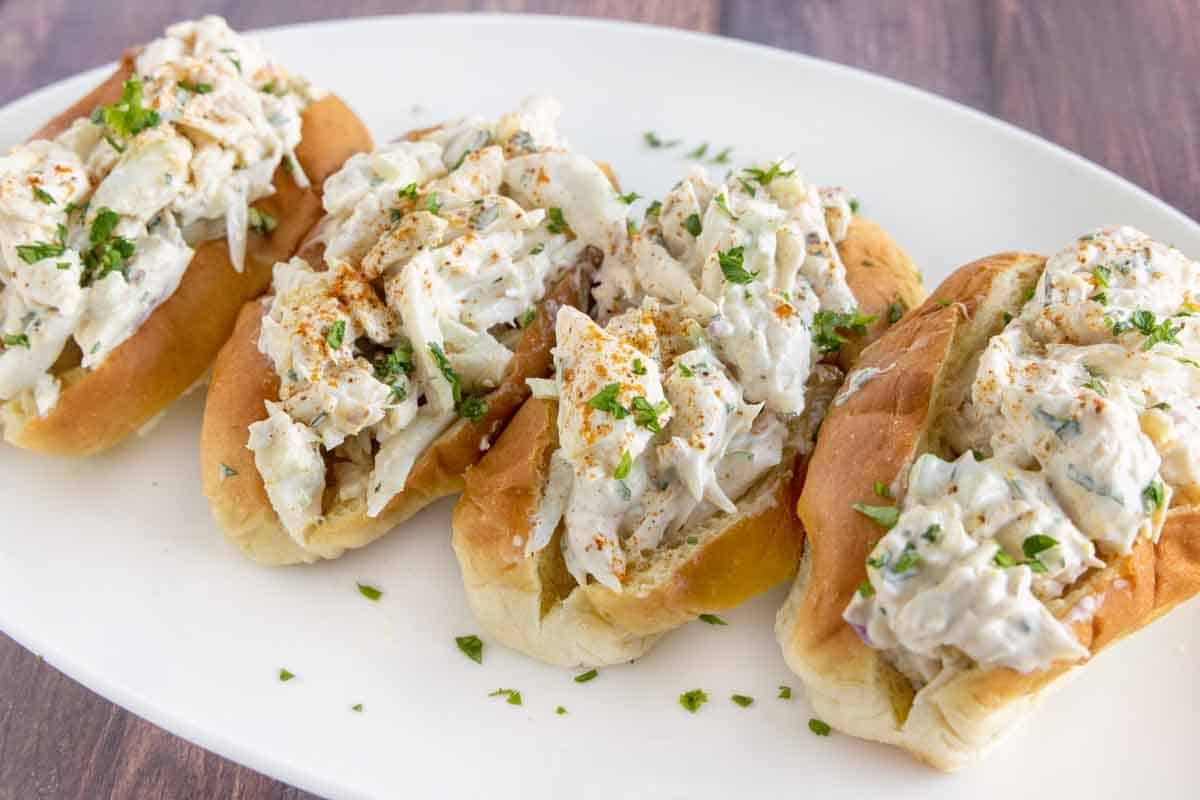 Crab Rolls are definitely a big splurge, but making your own will reduce the cost by 50-75%. And trust me, my classic crab rolls are worth every penny of that splurge!
If you love a good lobster roll make sure to check out my New England Style Lobster Roll.
Ingredients to make Crab Rolls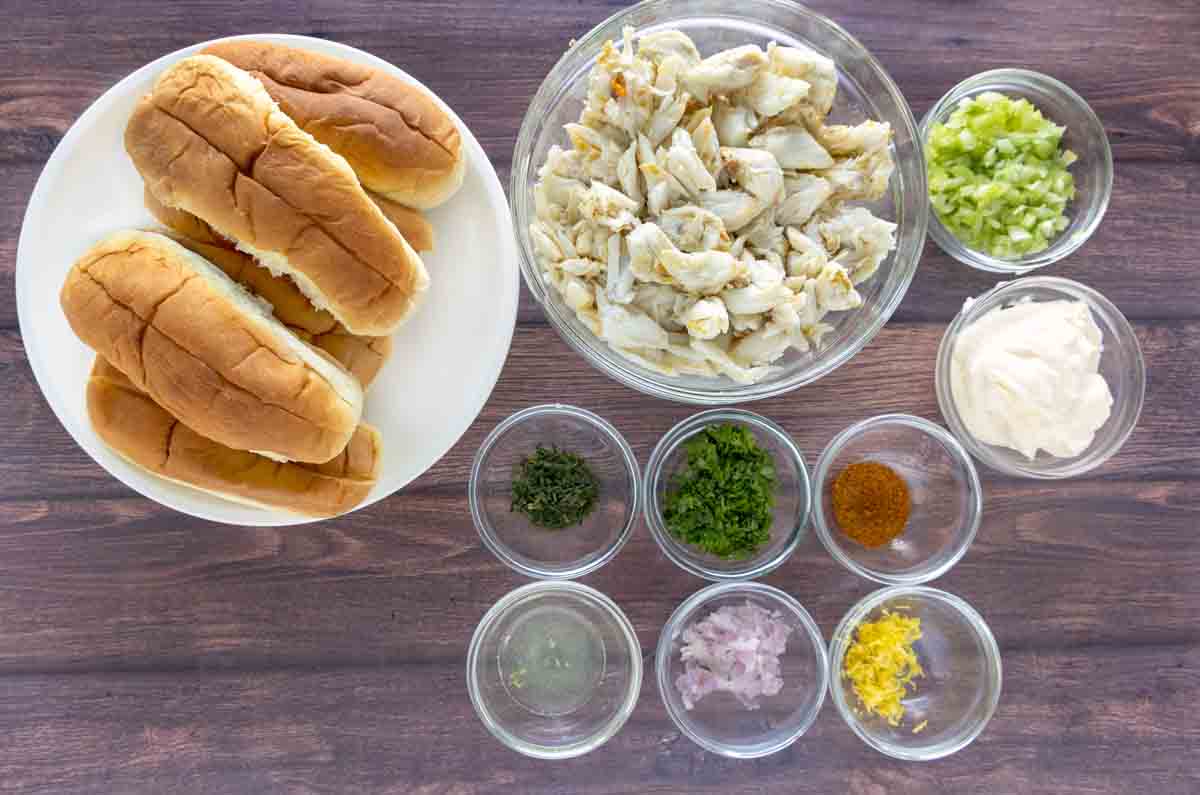 Let's start by gathering the ingredients we need to make my New England Crab Roll recipe. In Chef Speak, this is called the "Mise en Place," which translates to "Everything in its Place."
Not only does setting up your ingredients ahead of time speed up the cooking process, it also helps ensure you have everything you need to make the dish.
Made with simple ingredients
Split-top New England Style hot dog buns that are buttered and grilled are the classic way to serve this delicious crab salad sandwich. If you can't find those, look for regular split-top hot dog buns. Pepperidge Farms makes a few different styles.
Jumbo lump crab meat is used to make a true crab roll. Lump crabmeat and even claw will work, but using "special" would honestly be a waste of money, the stringy small pieces have little flavor and won't make an attractive or flavorful sandwich.
Celery, Shallots, and Chives add a savory flavor boost and a little crunch to the salad.
Mayonnaise is the base of the dressing, so make sure to use a high-quality mayonnaise, like Hellman's, Dukes, or Blue Plate.
Lemon juice and Lemon Zest are the acidic components of the dressing that give the dressing a bright flavor.
Fresh Italian Parsley adds a bit of color to the salad. Fresh dill can also be used if you enjoy that flavor.
Old Bay seasoning is a must when making lobster rolls and crabmeat rolls. You can substitute salt and black pepper, but you'll never know what your missing.
Do I have to use Old Bay Seasoning?
No, you don't and purists would tell you New Englanders don't use Old Bay seasoning, but Old Bay is freaking delicious with crab meat.
If you'd rather not use old bay, simply substitute about one-quarter teaspoon of black pepper and ¼ teaspoon of table salt (or to taste).
Some recipes include a few drops of hot sauce, but since I used old bay, there was no need to add it.
What kind of crab meat should I use to make Crab Rolls?
The best crabmeat for crab rolls is jumbo lump crab meat. I was fortunate enough to find Maryland crab meat which is the gold standard for crabmeat.
You can also use lump, claw, Dungeness, king, snow crab, or even (gasp) imitation crabmeat. Fresh crab meat is always better than frozen or pasteurized.
My main concern when buying crabmeat is the country of origin. If you're buying pasteurized crabmeat there is a good chance it's not from the United States.
Most pasteurized (cans) crabmeat, comes from Asian and Indian waters. Not only are these waters questionable in terms of cleanliness, these are not blue crabs. You'll see blue swimming crabs on the label, but they're not the same and they don't taste the same.
How to make the best Crab Rolls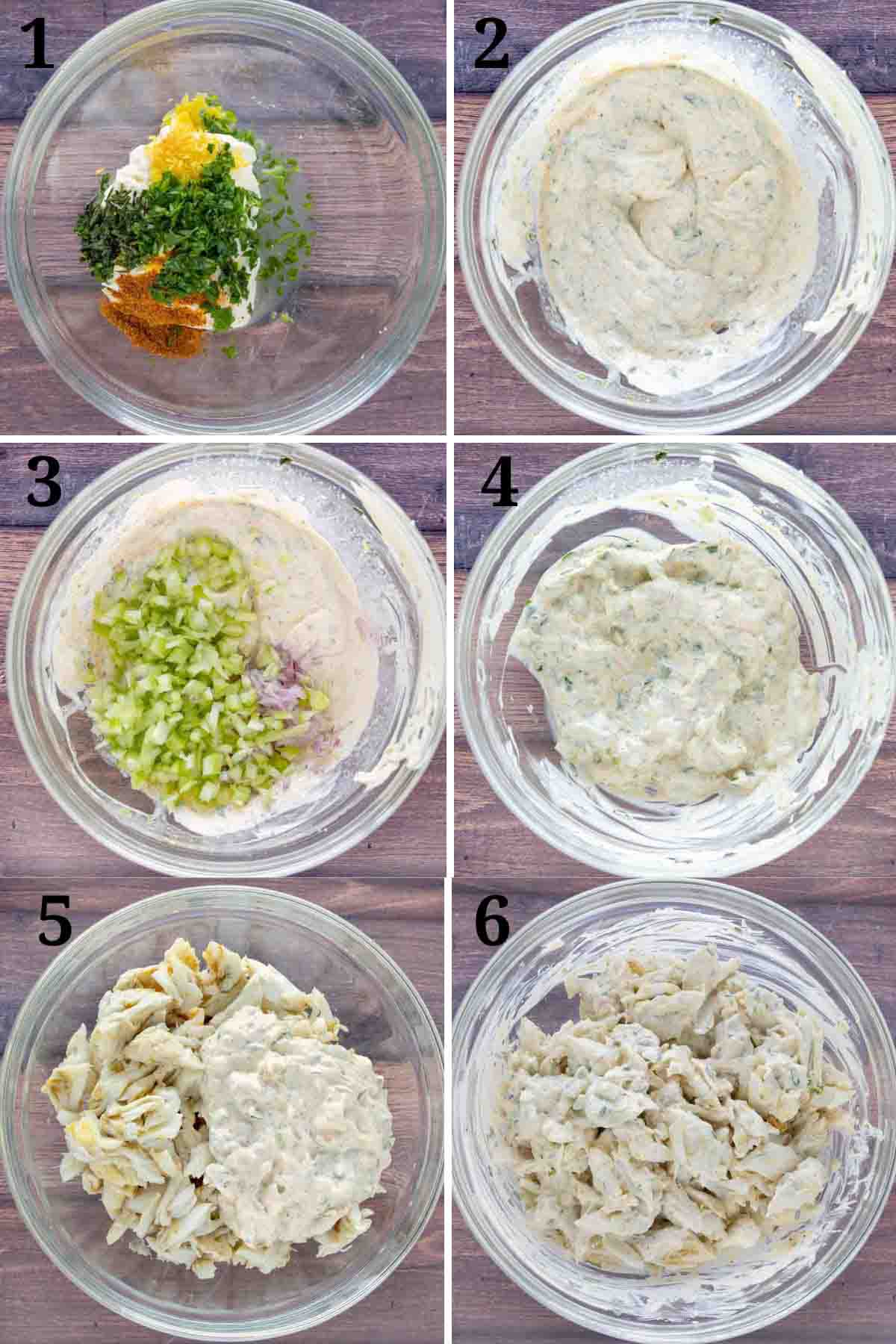 Add the mayonnaise, lemon zest, fresh lemon juice, chives, chopped parsley, and old bay to a medium bowl.
Whisk to combine the ingredients for the mayonnaise mixture.
Add the chopped shallot, and celery to the dressing.
Stir until fully combined.
Add the mayonnaise mixture to the crabmeat in a large bowl.
Very gently fold the crabmeat into the dressing, so you can see the big lumps of crabmeat.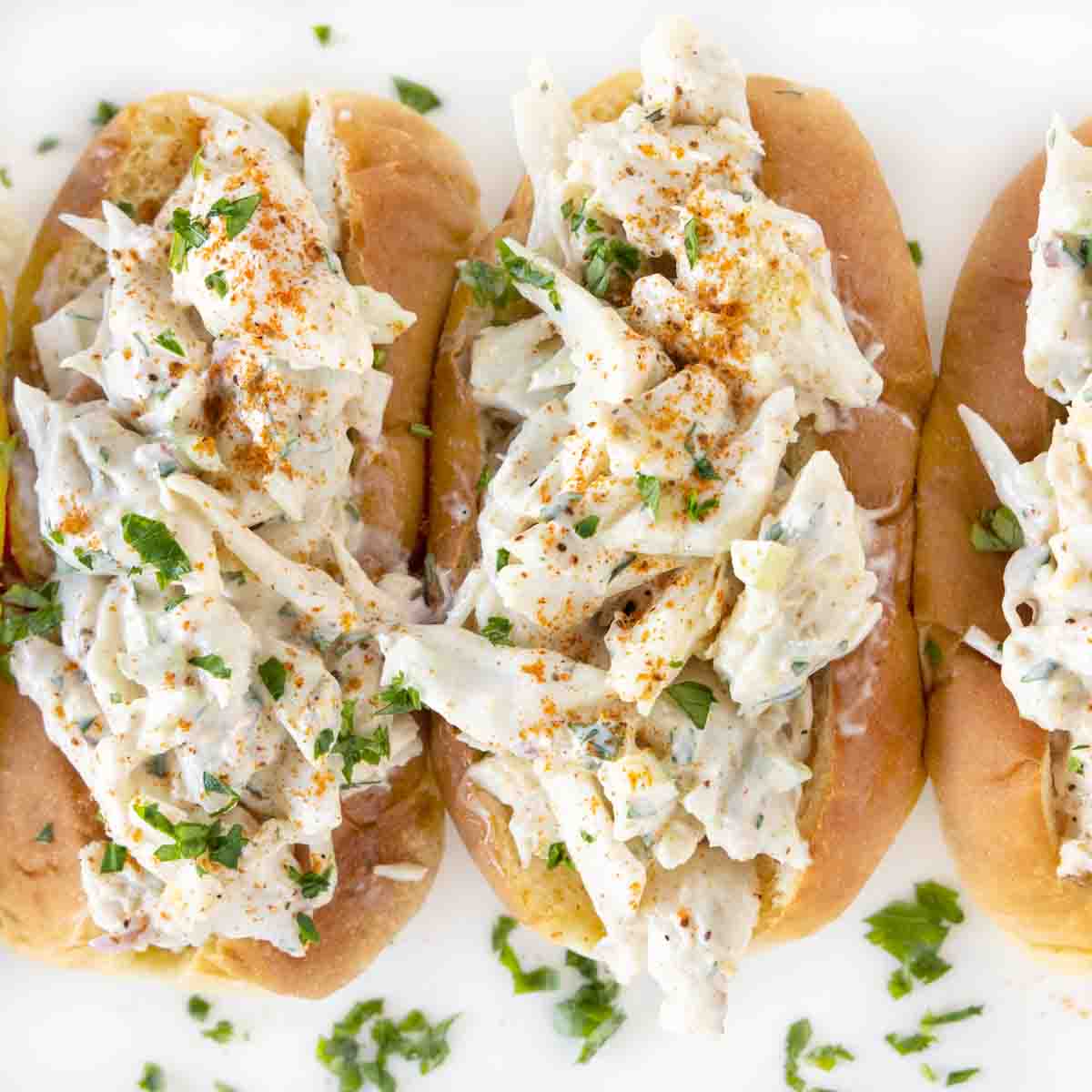 Serve the crab mixture on the split-top roll and garnish with a sprinkle of Old Bay and chopped Italian parsley. You can also use chopped fresh dill or fresh chives as a garnish on my Classic Crab Rolls.
When I can find them I use New England-style hotdog buns, which have more of a white bread side to them. If you find this type of roll, melt some butter and brush it on the sides of the roll and lightly toast the buttered rolls. Serve the crab salad on the toasted bun for a taste of decadent deliciousness.
Some people like to add a bib lettuce leaf to the roll before adding the crab salad. This is totally unnecessary but does add a little pop of color.
Recipe FAQ's
Is crabmeat already cooked?
Yes, it is. In order to pick the crabmeat from the body of the crabs it has to be cooked first. Fresh, pasteurized, canned and frozen crabmeat are already cooked and ready to eat.
Does canned crabmeat taste like fresh crabmeat?
Not at all. It's a sad substitute for anything you want to make out of crabmeat. That being said, if it's the only crabmeat available it will work, but the flavor and texture will not be the same.
Can I make the crab filling ahead of time?
Yes, you can prepare the crab filling in advance and store it in the refrigerator for 24 hours. However, it's best to assemble the crab rolls just before serving so the rolls don't get soggy.
More Recipes You'll Love!